Charter Boat: Size Matters
Boat and Skipper Details
Licensed For:
up to 12 passengers
Hours:
12hr / Multiple Days Trips
Type of Fishing:
Wreck, Reef, Banks and Channel Islands
Tackle Available:
Yes - Contact Skipper
Bait Available:
Yes - Contact Skipper
Boat Specification:
Guimond 45 sports fisherman powered by a vovlvo 615hp turbo charged diesel engine
Additional Description:
Size Matters, a familiar sight in south west waters, is available for charter from Plymouth. This fishing vessel originates from Canada and is a regular visitor to the Channel islands and beyond.

Size Matters operates from a secure walk-on walk-off marina berth in the most accessible part of Plymouth's historic Barbican where long-stay car parking is close by. We sail out under the towering walls of the great Citadel built in the reign of Charles 11, the backdrop for over fifty years of charter angling at its finest level.

From March to October Size Matters will operate from Plymouth.
Size Matters is one of the biggest charter boats in the country and the only one of its kind operating in UK waters. We are very proud to be sponsored by Okuma, Savage Gear, Imax and Water Wolf. We cater for all levels of experience, from the beginner to the seasoned veteran. Size Matters can hold a maximum of 12 people plus 2 crew members. We welcome individuals, small groups, and full charters.

A full range of fishing equipment is available on Size Matters and may be used at no extra cost, though you can bring your own. However, if equipment is lost or broken, we expect to be reimbursed the cost to replace it. Bait is also available to purchase.

Upon booking the charter, if there is a certain species of fish you would like to target, and you require rigs made and/or bait ordered, let Kev know and he will arrange this. Alternatively, you can bring your own tackle & bait and Kev will assist with rig making if necessary,

Here is a list of charters available from Plymouth,
Wreck fishing,
Shark fishing,
Reef fishing,
Plaice fishing,
Multiple day charters to Guernsey for
Bass, Brill and Turbot.

Tackle & Bait
Size Matters has a full ranger of
Okuma, Savage Gear and Imax rods and reels, all loaded with braid. We also carry a wide selection of high quality lures, hooks, leaders, weights, and end tackle.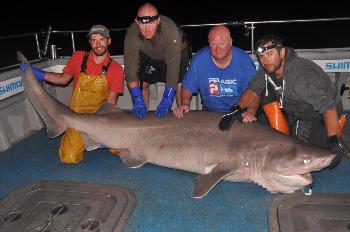 About the Skipper:
Kevin is a mad keen angler as well as a fully qualified charter skipper and has been fishing for over 30 years. He has built up a vast knowledge of all types of fishing not just in the UK but from all over the world at an international level.
He knows a thing or two about hooking and landing big fish, he has caught hundreds of sharks to 1700lb, tuna to 800lb and halibut to 290lb. This is thought to be the biggest halibut ever landed by a UK angler and the list just goes on and on.
Kevin is also a fishing guide for Sportquest holidays and guides fishing holidays all over the world.
Kevin started off his boat fishing days back in 1995, he then owed his first boat in 1998 before he could even drive a car. Since then Kevin has moved on to owning and running his own successful charter boat Brigand from Liverpool.
In 2015 Kevin got an offer he could not refuse, his long time friend for over 20 years and owner of Size Matters Graham Hannaford offered Kevin the chance to skipper his boat in Plymouth. Graham has offered to pass down all his 40 years of fishing and skippering knowledge to Kevin.
So from March 2016 Kevin will be skippering Size Matters along side Graham Hannaford one of the UK's top skippers. All I can say is watch this space because SIZE really does MATTER!!
Sunday
Monday
Tuesday
Wednesday
Thursday
Friday
Saturday

Color for Fully Booked

Fully Booked

Color for Partially Booked

Partially Booked

Color for Available

Available

Color for Not Available

Not Available

Color for Unspecified

Unspecified

N.B. Not all Skippers keep this dairy up-to-date. Always check with skippers before making any plans. Last calendar update: 17-Jul-2018

Sun 1st Jul
Mon 2nd Jul
Tue 3rd Jul
Wed 4th Jul
Thu 5th Jul
Fri 6th Jul
Sat 7th Jul
Sun 8th Jul
Mon 9th Jul
Tue 10th Jul
Wed 11th Jul
Thu 12th Jul
Fri 13th Jul
Sat 14th Jul
Sun 15th Jul
Mon 16th Jul
Tue 17th Jul
Wed 18th Jul
Thu 19th Jul
Fri 20th Jul
Sat 21st Jul
Sun 22nd Jul
Mon 23rd Jul
Tue 24th Jul
Wed 25th Jul
Thu 26th Jul
Fri 27th Jul
Sat 28th Jul
Sun 29th Jul
Mon 30th Jul
Tue 31st Jul
Reviews
Summary:





Nick Shennan (05/08/2016)

Having fished from Liverpool many times with Skipper Kev, this was my first venture out with him on Size Matters from Plymouth... and what a fantastic days fishing it was. Personal best Pollock of 10lb 3oz (which was also best in the boat for all of 2 minutes until Ross landed an 18lber!!), and also a personal best Ling. Lots of other Pollock, Cod, Ling, Gurnard, and even a Conger brought aboard... and of course, plenty of Mackerel! As ever, great assistance (and perseverance) from Kev, ably supported by Mike - thanks Pal. Looking forward to a return trip at beginning of October... Cheers Kev - see you then!

Skippers Reponse: Thanks for the review Nick see you in October.
Latest Catches 435 photos uploaded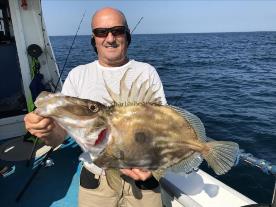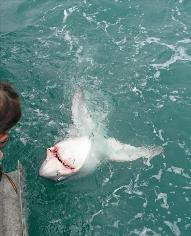 Phil
300 lb Porbeagle
1-May-2018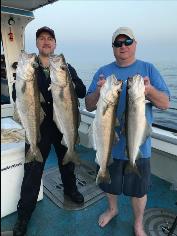 Tony
13 lb 5 oz Pollock
1-May-2018
Latest Fishing Reports
07/2018

Fishing Report by Kevin McKie

Jul 2018 by Kevin McKie

Pollack's, Pollack's and more Pollack's!!

But this wasn't the case a few days ago, we steamed over 100 mile round trip for just 30 Pollack.

It was one of them days where nothing would work and as a skipper it's hard going when you get a day like that.

At one time or another all skippers have bad days and if any skipper says they have never had a bad day then they are just kidding them self.

Thankfully we found where they where the next day, Ebb tide was the best and since then it's been like shelling peas.

Best Pollack was 14lb and lots around the 7lb to 10lb mark, perfect eating size.

We have got a very interesting week starting tomorrow, a group of 5 anglers from the Wirral have booked the boat for 5 days.

The plan is to target every type of fishing on offer from Plymouth, they have definitely got the weather for it so watch this space.

I have a cancellation on Monday September 10th 1 place available 12 hour Wrecking trip £75.

Thanks
Kevin Mckie
Size Matters (Plymouth)
07999628511

#Shimano
#Mckiesfishingcharters

07/2018

Fishing Report by Kevin McKie

Jul 2018 by Kevin McKie

The fishing has slowed over the last few days, I think this is because lots of bait fish have arrived along with plenty of mackerel.

When this happens it can be hard to catch on artificial lures so fresh or live mackerel is much better.

The size of the fish is very good, most of the lads onboard smashing there PBs!!

Ling to 32lb,
John Dory to 7lb (a new boat record),
Pollack to 10lb,
Conger to 35lb,
And yet again a good old 45lb Sunfish on the legendary orange jelly worm .

As you can see from all our regular reports, the quality of the fishing on offer in Plymouth makes it one of the best sea fishing ports on the south coast.

Sadly we are fully booked for the rest of 2018,
We do have 1 day available for 2019 from Plymouth.

Tuesday July 17th 2019 perfect sharking or wrecking tide whole boat booking only.

Thanks
Kevin Mckie
Size Matters (Plymouth)
07999628511.


07/2018

Fishing Report by Kevin McKie

Jul 2018 by Kevin McKie

Another good day onboard Size Matters from Plymouth.

Between 10 anglers they caught,
93 Pollack to 11lb,
21 Ling to 20lb 8oz,
16 Coalfish to 6lb,
3 Megrim to 1lb 8oz,
1 Conger 25lb,
1 Cod 5lb,
And yet again a good old Sunfish about 30lb!!

This was the first time I have seen Megrim caught on rod and line.
They where caught on lures while drifting over the wrecks.

As for the Sunfish we catch them pretty regularly on orange jelly worms when they are on the surface .

The rest of 2018 is fully booked from Plymouth but I have 4 days available for 2019 from Plymouth.

July 17th, 18th, 31st,
August 21st,

These dates are available for whole boat only charter in 2019.

Thanks
Kevin Mckie
Size Matters (Plymouth)
07999628511.

#Shimano

07/2018

Fishing Report by Kevin McKie

Jul 2018 by Kevin McKie

I had a group of regular anglers on today from Bristol, they wanted to try for some big Ling.

Conditions where perfect to target big Ling on the drift, no wind and a neap tide.

So I decided to take the lads to one of my honey holes where I have caught lots of monster Ling over the years.

As soon as we got to my chosen mark the lads where in to Ling from the first drift.
We also put a rod out for mackerel and they where coming in by the string full, FINALLY!!!

The lads caught 30+ Ling, 8 Conger and a Sunfish.

The biggest Ling was caught by 70 year old Chris Brown, it tipped the scales at 36lb 8oz and was the biggest Ling he has every caught in 55 years of fishing!

It was his first time onboard Size Matters and I am sure it won't be his last.

I have a fishing club out with me on Sunday July 15th they have 4 places available.

I also have a fishing club out with me on Saturday and Sunday September 15th and 16th, they have 1 place available.


Thanks
Kevin Mckie
Size Matters (Plymouth)
07999628511

#Shimano





07/2018

Fishing Report by Kevin McKie

Jul 2018 by Kevin McKie

A very nice day yesterday, I had a group of 4 anglers onboard who hired the whole boat, they landed,
80+ Pollack to 13lb, 6 Coalfish to 8lb,
1 Ling 6lb, 15 Blue Sharks to 70lb+ and a good old Sunfish for good measure!!

When we where sharking there was no mackerel at all so we used the fish frames and guts as chum.

The amount of May weed in the water was so bad that we had to clean the shark traces every 30 mins.

Some very good news is we seen two very big Tuna come out the water about 50 yards from the boat feeding on bait fish.
So things are looking good for the rest of the summer season in Plymouth.

I have had a few cancellations for August,
28th Whole boat available.
29th While boat available.
30th 3 places available on a 23 hour sharking trip cost is £220 per person, max 6 anglers everything is included.

Thanks
Kev
Size Matters (Plymouth)
07999628511