Charter Boat: Size Matters
Boat and Skipper Details
Licensed For:
up to 12 passengers
Code Of Practice:
60 miles
Hours:
9hr / 10hr / 12hr Trips
Type of Fishing:
River Mersey Winter Cod Fishing.
Tackle Available:
Yes - Contact Skipper
Bait Available:
Yes - Contact Skipper
Boat Specification:
Gumiond 45 top speed 24 knots.
Facilities:
Toilet, Kettle, Microwave, Heated Cabin with seating for 8 people.
Additional Description:
From October to March Size Matters will operate from Liverpool.
Size Matters is one of the biggest charter boats in the country and the only one of its kind operating in UK waters. We are very proud to be sponsored by Okuma, Savage Gear, Imax and Water Wolf. We cater for all levels of experience, from the beginner to the seasoned veteran. Size Matters can hold a maximum of 12 people plus 2 crew members. We welcome individuals, small groups, and full charters.

A full range of fishing equipment is available on Size Matters and may be used at no extra cost, though you can bring your own. However, if equipment is lost or broken, we expect to be reimbursed the cost to replace it. Bait is also available to purchase.

Upon booking the charter, if there is a certain species of fish you would like to target, and you require rigs made and/or bait ordered, let Kev know and he will arrange this. Alternatively, you can bring your own tackle & bait and Kev will assist with rig making if necessary,

River Mersey Winter Fishing,
Beginning mid-October and running through till the end of March. These trips will last from 8 to 10 hours, with the possibility of staying out longer and at no extra cost.
Mostly targeting Cod, Thornback ray, odd Conger Eel, Whiting, Dab and odd Flounder.

Tackle & Bait
Size Matters has a full ranger of
Okuma, Savage Gear and Imax rods and reels, all loaded with braid. We also carry a wide selection of high quality lures, hooks, leaders, weights, and end tackle.

Baits available:
•Peeler Crab
•Black Lug
•Mackarel
•Squid

To see the
latest fishing reports and catch photos
for Size Matters outside of the October-March season in Liverpool please see
Size Matters Plymouth Page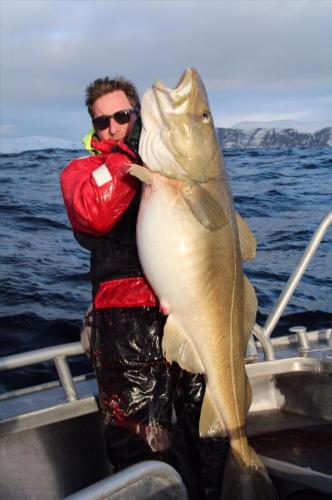 About the Skipper:
Kevin is a mad keen angler as well as a fully qualified charter skipper and has been fishing for over 30 years. He has built up a vast knowledge of all types of fishing not just in the UK but from all over the world at an international level.
He knows a thing or two about hooking and landing big fish, he has caught hundreds of sharks to 1700lb, tuna to 800lb and halibut to 290lb. This is thought to be the biggest halibut ever landed by a UK angler and the list just goes on and on.
Kevin is also a fishing guide for Sportquest holidays and guides fishing holidays all over the world.
Kevin started off his boat fishing days back in 1995, he then owed his first boat in 1998 before he could even drive a car. Since then Kevin has moved on to owning and running his own successful charter boat Brigand from Liverpool.
In 2015 Kevin got an offer he could not refuse, his long time friend for over 20 years and owner of Size Matters Graham Hannaford offered Kevin the chance to skipper his boat in Plymouth. Graham has offered to pass down all his 40 years of fishing and skippering knowledge to Kevin.
So from March 2016 Kevin will be skippering Size Matters along side Graham Hannaford one of the UK's top skippers. All I can say is watch this space because SIZE really does MATTER!!
Sunday
Monday
Tuesday
Wednesday
Thursday
Friday
Saturday

Color for Fully Booked

Fully Booked

Color for Partially Booked

Partially Booked

Color for Available

Available

Color for Not Available

Not Available

Color for Unspecified

Unspecified

N.B. Not all Skippers keep this dairy up-to-date. Always check with skippers before making any plans. Last calendar update: 17-Mar-2018

Thu 1st Mar
Fri 2nd Mar
Sat 3rd Mar
Sun 4th Mar
Mon 5th Mar
Tue 6th Mar
Wed 7th Mar
Thu 8th Mar
Fri 9th Mar
Sat 10th Mar
Sun 11th Mar
Mon 12th Mar
Tue 13th Mar
Wed 14th Mar
Thu 15th Mar
Fri 16th Mar
Sat 17th Mar
Sun 18th Mar
Mon 19th Mar
Tue 20th Mar
Wed 21st Mar
Thu 22nd Mar
Fri 23rd Mar
Sat 24th Mar
Sun 25th Mar
Mon 26th Mar
Tue 27th Mar
Wed 28th Mar
Thu 29th Mar
Fri 30th Mar
Sat 31st Mar
Reviews
Summary:





Andy Tsang (09/12/2017)

Great day as always thanks Kev!! Best advice I can give anyone fishing the Mersey,change baits every 15-20 mins and don't be tight with your bait if you want cod use 3 worms minimum per cast.

Skippers Reponse: Thanks Andy,
See you on your next trip, all the best for Christmas and New Year!!

ian Brunskill (07/01/2017)

Another great day on size maters kev works non stop to make sure you have the best possible fishing experience lan brunskill

Skippers Reponse: Thanks Ian,
Glad you enjoyed the day see you on your next trip.
Cheers
Kev

John Johnson (05/01/2017)

Thanks for a great day Kev, beat my personal best for a cod so well happy, good bunch of lads on board will deffo be back soon, all the best Johnno

Skippers Reponse: Thanks for the review John'o see you in February for you next charter.
Cheers
Kev

keith greenhalgh (08/12/2016)

First time fishing on the Mersey, excellent experience, quality skipper would 100% recommend and certainly book again

Skippers Reponse: Thanks for the review Keith, see onboard again soon.

Sarah Devaney (24/08/2015)

Absolutely loved this.. Our first time sea fishing.. Kev is fantastic..but not as good as his dads curry!! Really knowledgable, nothing too much trouble.. Laid back!! Can't wait to get out again.. Don't think about doing it - book it!! Great day out.. Thanks Kev (and dad)!! Sarah & Jan

Skippers Reponse: Thanks for the review Sarah, hope to see you onboard again soon.
Cheers
Kev
Latest Catches 728 photos uploaded
Latest Fishing Reports
02/2018

Fishing Report by Kevin McKie

Feb 2018 by Kevin McKie

Size Matters has now finished on the Mersey for this winter season. The season started off very well back in October/November with good numbers of Rays and Cod showing in the Mersey and the wrecks where full of Pollack.

Sadly from the end of December after that very cold spell we had and all the rain,
the Mersey just never recovered and steadily got worse. On the plus side our last trip out we headed a few miles offshore and the lads caught 19 Rays to 10lb 8oz, Dogfish, Whiting and Dabs.
In the next few weeks the Rays will be back in the Mersey in big numbers and hopefully a spring run of Cod will follow them for the charter boats who fish there all year around.

As a whole this winter season on the Mersey was very poor compared to the previous years, anglers where expecting 30 to 70 Cod per day but we where lucky to get 15 keepers per day. I would like to thank everyone who fished with us this winter season on the Mersey, even though the fishing was not the best my hard core regulars still kept booking trips and kept us 98% fully booked all season.

If you like to fish from a charter boat that is clean, well maintained, fast, very comfortable and with more deck space than the QE2 then Size Matters is the boat for you.

Here is a list of available dates sailing from Liverpool next winter. If you want weekends or midweek with good sailing times then you need to book early. I will update my calendar on my website and CBUK as soon as possible so you can see what dates are available.

Mersey trips are £45 per person this includes all tackle and hot drinks, duration is 9 to 10 hours depending on the lock times, bait is extra on the day if you need it.

Wrecking trips are £80 per person this includes all tackle and hot drinks.
Any tackle you lose you must pay for, duration is 11 to 12 hours.

23 hour Wrecking trips are £160 per person this includes all tackle and hot drinks.
Any tackle you lose you must pay for.

October
Tuesday 23rd Mersey 11.30am sailing whole boat available.
Sunday 28th 23 hour Wrecking trip 1am sailing 6 places available. (Max 10)
Monday 29th Wrecking or Mersey 3.30am sailing whole boat available.
Tuesday 30th 4am sailing Wrecking or Mersey whole boat available.
Wednesday 31st 5am sailing Wrecking or Mersey whole boat available.

November
Thursday 1st Wrecking 5am sailing 8 places available.
Saturday 3rd Wrecking 7.30am sailing
3 places available.
Saturday 10th 23 hour Wrecking trip 1.30am sailing 10 places available. (Max 10)
Sunday 11th Mersey 1.30pm sailing 10 places available.
Thursday 15th Mersey 5am sailing 11 places available.
Tuesday 20th Mersey 9.30am sailing 11 places available.

December
Thursday 13th Mersey 3.30am sailing
11 places available.
Sunday 16th Mersey 5.30am sailing 10 places available.
Thursday 20th Mersey 9.30am sailing
9 places available.
Saturday 29th Mersey 5am sailing 10 places available.
Sunday 30th Mersey 5.30am sailing 8 places available.

January
Thursday 3rd Mersey 9.30am sailing 10 places available.
Sunday 6th Mersey 11.30am sailing 10 places available.
Thursday 17th Mersey 8am sailing 8 places available.
Saturday 19th Mersey 10am sailing 11 places available.

February
Sunday February 3rd Mersey 10.30am sailing 10 places available.
Thursday 14th Mersey 6am sailing 8 places available.
Saturday 16th Mersey 8.30am sailing
11 places available.

Thanks
Kevin Mckie
Size Matters (Liverpool)
07999628511
mckiesfishingcharters@hotmail.com



02/2018

Fishing Report by Kevin McKie

Feb 2018 by Kevin McKie

Yet again the weather has put the fishing on hold for the time being.
Over the last few days we have caught Cod to 8lb 13oz, Rays to 6lb 13oz, Flounder, Whiting, Dabs and Dogfish. The fishing has been difficult at times both off shore and in the Mersey. Our anglers have still fished hard knowing there is a chance of winning £100 for the first Cod of the day over 10lb and £500 for the first Cod over 20lb. We only have 2 places available next week and our last charter on the Mersey is February 17th.

February
Tuesday 13th Mersey 10.30am sailing 1 place available.
Wednesday 14th Mersey 11am sailing 1 place available.

If you would like to book any of the above dates or like more information please contact me.

Cheers
Kevin Mckie
07999628511
mckiesfishingcharters@hotmail.com

01/2018

Fishing Report by Kevin McKie

Jan 2018 by Kevin McKie

Over the last set of tides we managed to get out to the wrecks for the first time since November.
The day before I explained to the lads we have had gales up to 60 knots in recent days and if the water is coloured we will struggle to catch. The lads decided they still wanted to go because the weather forecast was so good and it made a nice change from the Mersey.

Sadly when we got to our first wreck there was only about one meter visibility, we tried three wrecks with only half a dozen small Pollack being caught.
I then told the lads we would anchor a wreck on the flood tide to see if that made a difference. The lads caught plenty of Whiting, odd Dogfish and a single Pouting. The lads didn't skip on bait either they used 24lb of Squid in 3 hours, I had the boat positioned perfect just up tide of the wreck. It was one of them days where nothing was working, you get this on the big jobs sometimes ha ha.

The highlight of the trip was when one of the lads caught a Whiting about 1lb and it spat out a Mantis Shrimp. It's the first one I have ever seen in UK waters and I didn't even know we got them in the UK.
So I am claiming the first ever Scouse Mantis Shrimp! Thank god Forest Gump wasn't onboard ha ha.

The Mersey is tough going for Cod with our best one in the last week going 8lb 6oz, there is still plenty of Whiting, Dabs and the odd Ray showing.

Since I payed out £100 for a Cod over 10lb every group I have had onboard have asked me to do the same for them and being the gentleman that I am I have honoured it.
It's actually worked out well giving the lads an incentive to change the bait more regular resulting in some better Cod coming out.

So from February 5th to 17th I will be offering £100 to the person who catches the first Cod of the day over 10lb and I am offering £500 to the first person of the day to catch a Cod over 20lb. Only paying out two cash prizes per day, one for a Cod over 10lb and one for a Cod over 20lb. I don't have to do this because we are 98% fully booked but when the fishing is not at its best my anglers appreciate something to encourage them to fish hard or die trying!!

We are fast approaching the last set of tides on the Mersey for this winter, here are the last few available places for February.

February
Monday 5th Wrecking 4am sailing 3 places available.
Thursday 8th Mersey 5.30am sailing 1 place available.
Friday 9th Wrecking 7am sailing 1 place available.
Tuesday 13th Mersey 10.30am sailing 1 place available.
Wednesday 14th Mersey 11am sailing 1 place available.

If you would like to book any of the above dates or like more information please contact me.

Cheers
Kevin Mckie
07999628511
mckiesfishingcharters@hotmail.com





01/2018

Fishing Report by Kevin McKie

Jan 2018 by Kevin McKie

The Cod fishing on the Mersey during January has been hard at times, this is due to all the flood water flowing down the river. We have managed to land some nice Cod to 11lb 9oz and with our best day being 13 keepers to 8lb 8oz. The anglers who change there baits every 15 to 20 mins are getting the best results. On one of the trips we hadn't caught a fish for the first two hours, so to turn the lads in to lean mean Cod fishing machines. I offered to give anyone who catches a Cod over 10lb £100 cash and anyone who caught a 20lb Cod £500 cash. The lads started changing there baits regular and about an hour later Martin Grimshaw landed a Cod of 11lb 9oz it was 29 inches long and as fat as a big girls shoe!! To top it off it was Martin's 62nd birthday, he caught his PB cod and took £100 off the skipper, well done Martin. It just goes to show if you put a little bit more effort in and anything can happen.
On another trip I told the group of lads who had booked the boat we had wind against tide on the flood SSE 18 to 25 Knots. I told them the boat was going to swing all over the place, they told me they don't mind and still want to go. Now I have cancelled quite a few trips this winter on this type of forecast even though the lads still wanted to go. On this occasion I went with what the anglers wanted to do, big mistake when the flood tide arrived the boat was swinging from side to side for over 4 hours totally wasting half there trip because they couldn't fish properly. I am not in this business to rip people off, if you book on my boat and I cancel due to wind against tide in the Mersey this is the reason why!!

Here are the last dates available this winter onboard Size Matters.

January
Tuesday 23rd Mersey 4am sailing 2 available.
Wednesday 24th Mersey 5am sailing 2 places available.
Thursday 25th Mersey 5am sailing 1 place available.
Friday 26th Wrecking 5.30am sailing 2 places available.

February
Monday 5th Wrecking 4am sailing 5 places available.
Tuesday 6th Mersey 5am sailing 3 places available.
Thursday 8th Mersey 5.30am sailing 2 places available.

If you would like to book any of the above dates or like more information please contact me.

Cheers
Kevin Mckie
07999628511
mckiesfishingcharters@hotmail.com


01/2018

Fishing Report by Kevin McKie

Jan 2018 by Kevin McKie

During the holiday period we only managed to get out twice because of the weather forecast and on some of the days we cancelled the forecast was much better than expected.
When we did get out we caught cod to 7lb, plenty of whiting and Dabs. It's now the half way point of our winter season on the Mersey and this year especially I have noticed some big changes. We are catching more cod and bigger ones on the tides ranging from 28ft to 30.5ft, I think this is because there has been so much fresh water in the Mersey and the bigger tides are bringing in more salt water which in turn is helping the fish feed more. Also since the completion of L2 container terminal the flow of the Mersey has changed and so have some of the areas we fish especially this winter season. You can fish the Mersey on a 30ft tide from the boat and the run is just like a 27ft tide in certain places.
We also have a few wrecking trips coming up, please remember the weather forecast for the Mersey is not the same as 60 miles out in the Irish Sea. For these wrecking trips to happen at this time of year the forecast has to be very good to travel the distance.
Let's hope some good big cod have turned up after this set of big spring tides and storms we have had.
Mersey trips cost £45 per person includes all tackle, hot drinks and are 9 to 10 hours.
Wrecking trips cost £80 per person and include all tackle, hot drinks and are 12 hours. Any tackle you lose while wrecking you have to pay for.
Here are the last available dates this winter season onboard Size Matters from Liverpool.

January
Friday 12th Mersey 8.30am sailing 2 places available.
Saturday 13th Mersey 9am sailing 1 places available.
Monday 15th Mersey 10.30 sailing 1 place available.
Tuesday 16th Mersey 11.30am sailing 1 place available.
Wednesday 17th Mersey 12pm sailing 7 places available.
Thursday 18th Mersey 12.30pm sailing 12 places available.
Friday 19th Mersey 1pm sailing 9 places available.
Sunday 21st Mersey 3am sailing 2 places available.
Monday 22nd Mersey 3.30am sailing 12 places available.
Tuesday 23rd Mersey 4am sailing 7 available.
Wednesday 24th Mersey 5am sailing 6 places available.

February
Monday 5th Mersey 4am sailing 12 places available.
Tuesday 6th Mersey 5am sailing 8 places available.
Thursday 8th Mersey 5.30am sailing 3 places available
Friday 9th Wrecking 6am sailing 4 places available.
Tuesday 13th Mersey 10.30am sailing 2 places available.
Wednesday 14th Mersey 11am sailing 10 places available.
Thursday 15th Mersey 11.30am sailing 12 places available.

If you would like to book any of the above dates or like more information please contact me.

Cheers
Kevin Mckie
07999628511
mckiesfishingcharters@hotmail.com