Charter Boat: Spindrift New Dawn
Availability Calendar
20 Reviews

Reviews Unaccepted: 1
Boat and Skipper Details
Licensed For:
up to 12 passengers
Code Of Practice:
m.s.a 60 mile c.o.p
Hours:
2hr / 4hr / 8hr / 10hr Trips
Type of Fishing:
New Dawn Specialise in fishing the Holyhead Deeps for Tope /spurdogs/ we also have access to excellent grounds wrecks. reefs . mud banks with a wide range of fish
Tackle Available:
Yes - Contact Skipper
Bait Available:
Yes - Contact Skipper
Boat Specification:
New Dawn is a Lochin Sports - Cruiser 40 Lochin have Exceptional sea keeping vessels it has all the Latest marine Electronics . Powered by a Caterpillar 420hp . New Dawn was Built For Comfort at sea
Facilities:
Large Cabin . with seating cooker oven toilet
Additional Description:
New Dawn will fish all year round the charter trip includes tea-coffee biscuits quality tackle for use at no extra cost for experienced and novice anglers also soft drinks sweets pot noodle for sale.Other duties.Work boat endorsement .safety boat.Guard boat.Survey.Crew transfers.1050Kg Cargo.filming.spindrift can provide a Risk assessment on request.Scientific fish Taging .or a pleasure cruise to south stack ligthouse wonderful place to watch thounsands of seabirds,guillemots,razorbills and puffins,Established 1809 20 Nautical mile light range.also the skerries ligthouse completed 1717 extended 1778 which has a vast seal colony and seabirds.and marine wildlife dolpins porpoise minke whales. Spindrift charters wants everybody to have an enjoyable experience safety is the key factor with people leaving with smiles on their faces Now takeing bookings for 2018 book early for small tides the Deeps /still some dates available for mays spurdog and tope fishing in the DEEPS and mays smooth-hound fishing or book on to a 2hr specials £10.00 each with bait + tackle and this year 8 hr Ray trips to Ty Croes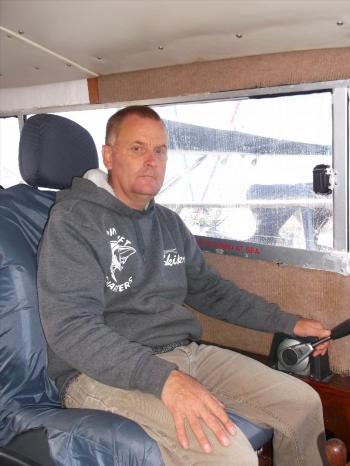 About the Skipper:
Gareth has been fishing for over 38yrs he is a friendly and experienced skipper his Knowledge off sea man ship and the angelsey coast is second to none.He is one off the pioneers to fish the Holyhead Deeps back in the 80"s and he will make your trip as enjoyable as possibie Qualifications.RYA/MCA Adv powerboat+commercial enddorsement with New PPR Course New Sea fish Lifejacket course Sea survival Safety awareness Accident prevention and risk assessmnt.First aid.Fire fighting and fire prevention.Maritime and radio operator certicate/VHF/DSC Gareth is also the Attendant for the skerries lighthouse for Trinity House with a big responsabitity maintaining the light and fog station for all seafarers passing the north angelsey coast
Upcoming Individual Spaces on Spindrift New Dawn
Reviews
Summary:





Reviews Unaccepted: 1
Tony Saunders (28/05/2016)

A great day out at the deeps with Gareth, weather perfect and Gareth kept us on the fish all day and was always available to help with any problems and giving tips when bringing in the big fish.. Tope, Smooth hounds, Pollock, codling and more Bull Huss than you could shake a stick at!! Got my Pb Spur Dog of 18lb. A Big thanks to Gareth from all the Betty Fords Angling club.

Derek Parkes (30/07/2015)

Gareth is a very friendly and knowledgeable person and made the whole experience enjoyable from start to finish,great value for money trip and I would recommend to anyone. Thank you Derek Amanda abd Larry

Skippers Reponse: Thank you Derek see you all next year . Gareth

Jon Wheway (11/07/2015)

posted this earlier but in slightly the wrong place (see bottom of page). Gareth is a top bloke from the moment i booked the trip to the time we stepped off the boat. He works hard to keep the fish coming aboard and is constantly on hand with help, advice, rigs etc.looking forward to booking on again and bringing my son for his first boat trip, Thanks.

Skippers Reponse: Thank you jon see you soon Gareth

geoff howard (27/06/2015)

Had another great day with Gareth on board Spindrift. We go out with Gareth every year and each time he provides us with a great days fishing no matter what the conditions are. He never fails to put us on the fish. We were forced to stay in the bay due to high winds but we still managed to catch pollock, wrasse, doggies, bullhuss and smoothhounds. His boat is always well stocked with hot food, hot drinks and a host of different fresh baits not to mention the lively banter.Thanks for another great day Gareth, see you next year.

Skippers Reponse: Thanks Geoff see you all next year all we need is no wind on the day

geoff howard (27/06/2015)

Great Day
Latest Catches 213 photos uploaded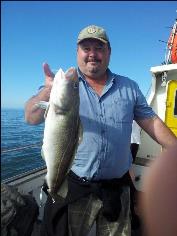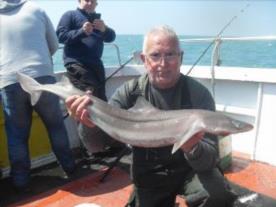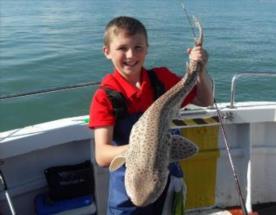 Latest Fishing Reports and News
07/01/2019

Fishing Report by Gareth williams

7 Jan 2019 by Gareth williams

Tope in the Holyhead Bay in January first for me also fishing North off the Holyhead Deeps Spurs & Huss

04/2018

Fishing Report by Gareth williams

Apr 2018 by Gareth williams

Well back on the fishing with the New Boat spindrift new dawn I have only been north of the Deeps so far in april with spurs up to 17lbs Huss & dogs the stacks have had Pollack up to 3lbs & coalfish as well on the drift inshore fishing on the mud . dabs whiting dogs huss and coalfish rays .

10/02/2017

Fishing Report by Gareth williams

10 Feb 2017 by Gareth williams

The Holyhead Deeps are fishing well for this time off year with spurs Huss dogs Tope Ling whiting rays also Big congers on one off the wrecks the Holyhead Bay has been good as well Huss whiting pout dogs Pollack coalfish rays, had a trip with A B C Local club 4hr evening 216 fish in total so far so good in 2017

17/01/2017

Fishing Report by Gareth williams

17 Jan 2017 by Gareth williams

north off the Holyhead Deeps have fished well in 245 feet water with spurs up to 18lbs Huss dogs as well the 4hr evening trips been okay as well fishing in to the wreck with congers up to 25lbs Huss dogs whiting pout small ling rays I have dates free for the Deeps and fishing smooth hounds 2017

18/06/2016

Fishing Report by Gareth williams

18 Jun 2016 by Gareth williams

Nice Pollack on the stacks up to 8lbs so far and smoothes up to 21lbs in the Holyhead Bay the fishing in june has been v good Tope up to 30lbs spurs Big Huss as well in the Deeps .