Charter Boat: Spirit of Adventure
Licensed For:
up to 12 passengers
Code Of Practice:
60 miles
Hours:
2hr / 3hr / 4hr / 5hr / 6hr / 7hr / 8hr / 9hr / 10hr / 11hr / 12hr / 24hr / Multiple Days Trips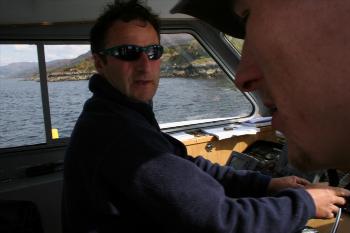 Type of Fishing:
Pollock, Conger eel, Thorn Back Ray, Cod, Dog Fish, Spur Dog, Smooth Hound, Coalfish, Mackeral, Skate, Wrasse
Tackle Available:
Yes - Contact Skipper
Bait Available:
Yes - Contact Skipper
Boat Specification:
Venum 38
Facilities:
Toilet, Heating, Refreshments, Shelter, Live bait box, Fully equipped.
Additional Description:
Operating from Kyle of Lochalsh, Spirit of Adventure has easy access to many fishing locations up to 200mtrs depth. Within close proximity we have a WWII wreck, loaded with pollock, saithe, conger and wrasse. Skate, spurdog, occassional tope, mackeral and cod are all within easy reach. Accomodation can be arranged for those wishing multiple day charter. We are never far from shelter and are based amongst the most outstanding scenery in Scotland.

DIVE CHARTER - We are based 2 miles from the WWII HMS Port Napier Shipwreck, and not far from various other interesting and popular dive sites.
This Charter has been listed as Suitable for Diving Trips. Contact the Skipper for full details.
Latest Fishing Reports
19/11/2012

Fishing Report by nigel smith on Spirit of Adventure

(Kyle of Lochalsh, Highland)

19 Nov 2012 by nigel smith

November Trip for Porbeagles - none caught this time, but Spurdog, Mackeral and Pollock very plentiful.
A great 3 day trip 19th - 21st Nov.

01/08/2012

Fishing Report by nigel smith on Spirit of Adventure

(Kyle of Lochalsh, Highland)

1 Aug 2012 by nigel smith

Summary 2012 season.
Many great trips with varied catches.
Weather mostly excellent throughout the whole year.
Prolific Species caught in 2012 - mackeral, coalfish, pollock, thorn-back, cod, dog fish and conger.

Less frequent - whiting, wrasse, greater sandeel!, herring, sea trout and spurdog.

High lights -

Very large skate 200lb+ tackle too light unable to land.

Big Tope - crimp gave out on trace, but not before we had a good look at the fish on the surface. 6 foot.

Big Conger - all in same location.



19/11/2012

Fishing Report by nigel smith on Spirit of Adventure

(Kyle of Lochalsh, Highland)

19 Nov 2012 by nigel smith

November exploratory trip for Porbeagle shark. With poor weather hampering our intended plans, we resorted to sheltering in relatively shallow water at anchor. Much chumming, with mature and fresh bait - produced eight spurdog all between 5 and 6 lb's. Mackeral were numerous, with some very big. We also hit a great spot with some extremely good pollock... no Porbeagles this time, but we'll keep trying.

11/2011

Fishing Report by nigel smith on Spirit of Adventure

(Kyle of Lochalsh, Highland)

Nov 2011 by nigel smith

Spirit of Adventure completed another good year in and around Lochalsh.

With large shoals of young herring, sprats and white bait observed right through the season.

Still catching big mackeral in November.

Species list caught in 2011. Bait - mackeral strips, feathers & lures.

Tope, Thornback ray, Cod, Poor Cod, Pollock, Saithe, Bib, Gurnard, Dog Fish, Spurdog,
Starry Smoothhound, Conger, Skate, Mackeral, Herring, Ling, Haddock, Greater Sand eel !,
Dab, Plaice, Cuckoo Wrasse, Ballan Wrasse, Short Spinned scorpion fish !

01/07/2010

Fishing Report by ROBERT HEPBURN on Spirit of Adventure

(Kyle of Lochalsh, Highland)

1 Jul 2010 by ROBERT HEPBURN

excellent boat and skipper found us fish and a new species for me 15lb starry smooth hound very good 3 day charter pity about the weather
View All Fishing Reports
Edit this boat listing
Last Minute
Availability
AUGUST - 2015

| Su | Mo | Tu | We | Th | Fr | Sa |
| --- | --- | --- | --- | --- | --- | --- |
| 26 | 27 | 28 | 29 | 30 | 31 | 1 |
| 2 | 3 | 4 | 5 | 6 | 7 | 8 |
| 9 | 10 | 11 | 12 | 13 | 14 | 15 |
| 16 | 17 | 18 | 19 | 20 | 21 | 22 |
| 23 | 24 | 25 | 26 | 27 | 28 | 29 |
| 30 | 31 | 1 | 2 | 3 | 4 | 5 |
Color for Fully Booked

Fully Booked

Color for Partially Booked

Partially Booked

Color for Available

Available

Color for Not Available

Not Available

Color for Unspecified

Unspecified
N.B. Not all Skippers keep this diary up-to-date. Always check with skippers before making any plans. Last calendar update: 24-Jul-2012
Reviews
Summary:





ROBERT HEPBURN (01/07/2010)

excellent boat and skipper found us fish and a new species for me a 15lb starry smooth hound
View All Reviews
Add A Review