Charter Boat: Spirit of Adventure
Boat and Skipper Details
Licensed For:
up to 12 passengers
Code Of Practice:
60 miles
Hours:
1hr / 2hr / 3hr / 4hr / 5hr / 6hr / 7hr / 8hr / 9hr / 10hr / 11hr / 12hr / 24hr / Multiple Days Trips
Type of Fishing:
Pollock, Conger eel, Thorn Back Ray, Cod, Dog Fish, Spur Dog, Smooth Hound, Coalfish, Mackeral, Skate, Wrasse
Tackle Available:
Yes - Contact Skipper
Bait Available:
Yes - Contact Skipper
Boat Specification:
Venum 38
Facilities:
Toilet, Heating, Refreshments, Shelter, Live bait box, Fully equipped.
Additional Description:
Operating from Kyle of Lochalsh and Kyleakin on the Isle of Skye, Spirit of Adventure has easy access to many fishing locations up to 200mtrs depth. Within close proximity we have a WWII wreck, loaded with pollock, saithe, conger and wrasse. Skate, spurdog, occassional tope, mackeral and cod are all within easy reach. Accomodation can be arranged for those wishing multiple day charter. We are never far from shelter and are based amongst the most outstanding scenery in Scotland.
NOTE: Curently operating from Kyleakin on the Isle of Skye (IV41 8PL)

DIVE CHARTER - We are based 2 miles from the WWII HMS Port Napier Shipwreck, and not far from various other interesting and popular dive sites.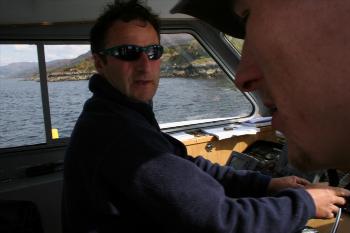 About the Skipper:
40 Years of experience in the local area.
This Charter has been listed as Suitable for Diving Trips. Contact the Skipper for full details.
Upcoming Individual Spaces on Spirit of Adventure
Sorry, there are currently no Individual Spaces at present.
Reviews
Summary:





ROBERT HEPBURN (01/07/2010)

excellent boat and skipper found us fish and a new species for me a 15lb starry smooth hound
Bait & Tackle
J.graham & Co

Inverness, Highland, Highlands and Islands, Scotland
Latest Catches 10 photos uploaded
Latest Fishing Reports and News
01/11/2017

Fishing Report by nigel smith

1 Nov 2017 by nigel smith

2017 was a great year for pollock, mackerel, thorn back ray, herring, saithe, skate, dog fish, cod, wrasse and whiting. Weather was good throughout the season. Biggest fish caught was the 52lb skate.

Offering trips throughout the winter : every Friday, Saturday, Sunday, Monday and Wednesday.
Excluding Christmas period and New Year.

03/2016

Fishing Report by nigel smith

Mar 2016 by nigel smith

Season started early for us this year. Been fishing since the 21st March. Catching some very nice Pollock at the moment. Trolling in depths of 15 - 20mtrs.

27/02/2016

Fishing Report by nigel smith

27 Feb 2016 by nigel smith

Almost ready for the 2016 season. First trips start out on the 22nd March. Book ahead or call the day before to secure your place onboard. We do trips most days, evening trips also available. Varied fishing available.. We will be submitting fishing reports as the season develops.

06/11/2015

Fishing Report by nigel smith

6 Nov 2015 by nigel smith

Great Trip out Thursday 5th Nov. Two very keen Romanian Anglers (fly fishermen) catching 10lb Pollock on light gear. A few cod and saithe adding to the mix. Weather has been very good so far this Autumn, a few windy days ahead, but there still looks like some fine fishing weather coming this month. Not very many folk around these parts in November, so we are happy to do deals, just to get the boat out of the harbour! Get in touch if you want to fish this winter.

09/2015

Fishing Report by nigel smith

Sep 2015 by nigel smith

2015 Report (07/09/15 better late than never!) - Been too busy to keep up to date! To summarise the season so far, there has not been a day without good fishing since we started up in April. Big pollock at some of our prime sites, and lots of them. Cod just about everywhere we go. Mackeral came early and will still be around for several months to come. Tope, Spur dog and smooth hound caught frequently this year. Thorn backs in abundance. Going to keep fishing up to 30th November.