Charter Boat: Starfish Of Conwy
Boat and Skipper Details
Licensed For:
up to 12 passengers
Code Of Practice:
Catagory 2 - 60 nautical miles from safe haven
Hours:
6hr / 8hr / 10hr / 12hr Trips
Type of Fishing:
All types of fishing - rod & reel hire included - whole boat bookings only
Bait Available:
Yes - Contact Skipper
Boat Specification:
Starfish 10 charter boat
Facilities:
Tea and Coffee, 240v system for charging any electrical items it also has a grill hob and microwave onboard.
Additional Description:
The boat is available for:
Photography and film making
General sea fishing
Guard boat duties
Light cargo duties
Water sampling
Private charter
Sport diving
Survey work
Sightseeing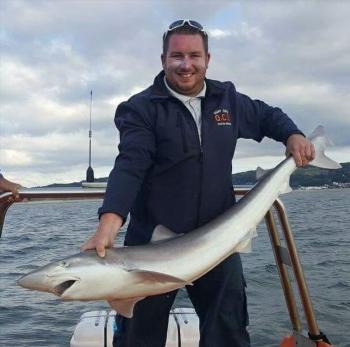 About the Skipper:
Tommy- Third generation boatman from Conwy with over 25 years experience on commercial boats.Has been a commercial skipper for the last 18 years operating in the local waters with vast knowledge of the local area and still looks forward to going out every trip and spending time on the water.

Gary-Second generation boatman coming from a commercial boating background situated in Conwy. Started as crew for us at a very young age and later progressed to obtain his skippers licence. Gary has always proved a hit with the anglers due to his witty banter. A keen angler himself with a great knowledge of different methods of fishing for various species.
This Charter has been listed as Suitable for Diving Trips. Contact the Skipper for full details.
Sunday
Monday
Tuesday
Wednesday
Thursday
Friday
Saturday

Color for Fully Booked

Fully Booked

Color for Partially Booked

Partially Booked

Color for Available

Available

Color for Not Available

Not Available

Color for Unspecified

Unspecified

N.B. Not all Skippers keep this dairy up-to-date. Always check with skippers before making any plans. Last calendar update: 17-Apr-2018

Tue 1st May
Wed 2nd May
Thu 3rd May
Fri 4th May
Sat 5th May
Sun 6th May
Mon 7th May
Tue 8th May
Wed 9th May
Thu 10th May
Fri 11th May
Sat 12th May
Sun 13th May
Mon 14th May
Tue 15th May
Wed 16th May
Thu 17th May
Fri 18th May
Sat 19th May
Sun 20th May
Mon 21st May
Tue 22nd May
Wed 23rd May
Thu 24th May
Fri 25th May
Sat 26th May
Sun 27th May
Mon 28th May
Tue 29th May
Wed 30th May
Thu 31st May
Latest Catches 6 photos uploaded