Charter Boat: Stella Spei
Boat and Skipper Details
Licensed For:
up to 6 passengers
Code Of Practice:
20mile/cop
Hours:
4hr / 8hr / 12hr Trips
Type of Fishing:
Down/uptiding for smoothound,Bass,Roker and Cod and anything else that"s hungry
Tackle Available:
Yes - Contact Skipper
Bait Available:
Yes - Contact Skipper
Boat Specification:
28ft STARFISH. SPECIALISING IN SMALLER PARTY'S.
Facilities:
Hot-cold drinks,/ midweek available..
Additional Description:
There is great fishing most of the year as the catch pictures show on the many wrecks and sand bars in the thames estuary ,steaming from historic queenborough,within an hour YOUR FISHING/seal and bird watching trips,visit's to Montgomery wreck,world war gun towers along with safety boat duty's and film crew services also available.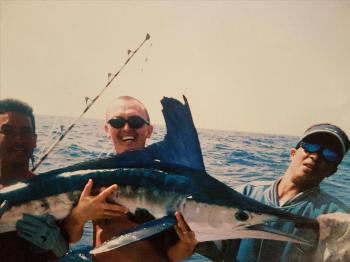 About the Skipper:
Born to fish,holding ALL relevant paper work to comply,20 yrs local experience,nothing makes me more happy than a bend in that rod,available to fish seven days a week.my aim is for you to have the best day possible. several years commercial fishing so your catch can be prepared for the table -NO PROBLEM. EMAIL.stella.spei@Google mail. Com.
Sunday
Monday
Tuesday
Wednesday
Thursday
Friday
Saturday

Color for Fully Booked

Fully Booked

Color for Partially Booked

Partially Booked

Color for Available

Available

Color for Not Available

Not Available

Color for Unspecified

Unspecified

N.B. Not all Skippers keep this dairy up-to-date. Always check with skippers before making any plans. Last calendar update: 28-Oct-2017

Thu 1st Feb
Fri 2nd Feb
Sat 3rd Feb
Sun 4th Feb
Mon 5th Feb
Tue 6th Feb
Wed 7th Feb
Thu 8th Feb
Fri 9th Feb
Sat 10th Feb
Sun 11th Feb
Mon 12th Feb
Tue 13th Feb
Wed 14th Feb
Thu 15th Feb
Fri 16th Feb
Sat 17th Feb
Sun 18th Feb
Mon 19th Feb
Tue 20th Feb
Wed 21st Feb
Thu 22nd Feb
Fri 23rd Feb
Sat 24th Feb
Sun 25th Feb
Mon 26th Feb
Tue 27th Feb
Wed 28th Feb
Reviews
Summary:





Reviews Unaccepted: 1
Nick Wheeler (31/05/2017)

Superb day out, great guy, thank you for the extra help with the kids, highly recommended

colin tyrrell (17/04/2016)

Great day aboard the stella spei :>) with a variety of baits from bluey herring and peeler crabs we headed out to our spot .With a fresh breeze and the sun shining we had a steady flow of nice thornback rays and doggys n the odd whiting thrown in .The best ray of the day went 9 n half pound .Think i can say for everyone on board that a great day was had ...cheers baz and cya again soon

Richard Diedo (02/04/2016)

Fantastic skipper, friendly, enthusiastic and patient. Quick to help or offer advice when required. Supplied plenty of fresh bait and worked hard to get us on the fish. Sizeable thornbacks were the reward. Plenty of tea and coffee, hot dogs were very nice too! Will definitely use again.

Skippers Reponse: Cheers Richard ,the cheque is in the post for the comments ,pleasure to have you all aboard,look forward to next time, all the best to you all Baz.

Chris Jenner (31/10/2015)

2nd time out on this boat and will be booking again soon

Keith Pilbeam (14/11/2015)

Great Day out again in difficult conditions lots of small stuff but did manage the target species of cod in the end. Looking forward to the next trip with this great skipper.
Latest Catches 59 photos uploaded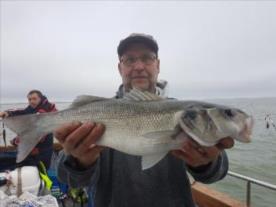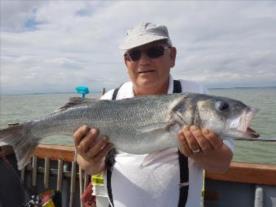 Unknown
16 lb Starry Smooth-hound
Jun-2016
Alan.
11 lb Smooth-hound (Common)
May-2016
Latest Fishing Reports
06/2017

Fishing Report by Barry Ratcliff

Jun 2017 by Barry Ratcliff

June has got of to a great start with the nice weather so we started having a go on the wrecks for bass and weren't disappointed with results,fish to 8lb coming up mainly to crab or shrimp ,I can supply these on the day. Good hounds to 15lb so far . Early morning sessions proving to be more productive .
Enjoy. BAZ....

05/2017

Fishing Report by Barry Ratcliff

May 2017 by Barry Ratcliff

Packs of larger hounds showing now with fish into double figures being landed,mainly to crab and prawn baits which I can supply on the day. Some nice bass showing on some days to so if your lucky with the weather there's some good sport .
4or more we're going.
All the best Baz..

04/2017

Fishing Report by Barry Ratcliff

Apr 2017 by Barry Ratcliff

First run of smoothound showing now amongst the rays mainly to prawn and crab baits,first run of fish are normally 3/5lb males but we have had some females up to 8lb.so with some more warm weather in the next week or so should see some doubles.some bass showing too so happy days ahead.
Fishing 7 days a week. 4or more and we go.
Fresh baits available..

03/2017

Fishing Report by Barry Ratcliff

Mar 2017 by Barry Ratcliff

After a slow couple of months first run of spring Fish are now here,rays showing in good numbers with 60 odd Fish being landed in just a couple of sessions,most Fish caught on fresh herrings which I can supply on the day .


12/2016

Fishing Report by Barry Ratcliff

Dec 2016 by Barry Ratcliff

Only see. 4 codling so far this autumn.. lots of mixed fish good size skate about if you manage to dodge whiting for 5minutes big shoals of herring about which is top bait..I have plenty in stock so just turn up and have a go..
All the best to old and new customers,
Wishing you all a good Christmas and new year.Baz.