Charter Boat: Supanova II
Boat and Skipper Details
Licensed For:
up to 12 passengers
Hours:
4hr / 6hr / 8hr / 10hr / 12hr / 24hr / Multiple Days Trips
Type of Fishing:
Wreck, Reef, Bank, Channel Islands, Multi day trips from Weymouth, species hunts, Competitions, Specialist small groups, Beginners more than welcome, Bass, Bream, Cod, Rays, Congers, Tope, Turbot, Brill
Tackle Available:
Yes - Contact Skipper
Bait Available:
Yes - Contact Skipper
Boat Specification:
B.W Seacat S.P.E.E.D 11, the latest in the catamaran market powered by 2x 200hp Nani engines giving a cruising speed of 16knts.
Facilities:
Toilet for all to use, Oven for warming up them Pies!! Red hot Kettle for your complimentary tea, coffee or soup! Insulated fish hold. Skipper more than happy to gut anf fillet fish you wish to take for the table.
Additional Description:
2018/2019 DIARY NOW OPEN PLEASE FEEL FREE TO GET IN TOUCH WITH YOUR REQUIREMENTS FOR WHAT LOOKS LIKE ANOTHER BOOMING YEAR HERE IN WEYMOUTH!

CALENDAR FULLY UPDATED< GET IN TOUCH NOW FOR A TRIP WITH A DIFFERENCE!


************ 2018/2019 DIARY NOW OPEN AND FILLING FAST CALL 07976876667 FOR THE BEST QUALITY TRIP ON THE SOUTH COAST ***********



SINCE 2013 AND BEYOND SUPANOVA II WILL BE SPONSORED BY TACKLE GIANT SNOWBEE! YOU WILL BE ABLE TO TRY A VAST ARRAY OF QUALITY SNOWBEE TACKLE ON BOARD JUST ASK AND HAVE A PLAY!

If you would like to be added to my mailing and short notice trip list please drop me a text to 07976876667 or email lyle@deepsea.co.uk

Check out our Website www.supanova-charters.co.uk

*********** Supanova II Top Boat in 2017 WIBAC (Weymouth International Boat Angling Challenge)**********

********** Supanova II Top Boat in 2017 Weymouth Conger Comp***********

*********** Supanova II crowned Top Boat in 2014 EFSA European Championships*************

************ SUPANOVA CROWNED TOP BOAT IN EFSA EUROPEAN CHAMPIONSHIPS 2011*************

SUPANOVA IS NOW AVAILABLE FOR BOOKING FOR 2018/2019, GET IN NOW TO GET THE BEST TIDES FOR WEYMOUTH AND THE CHANNEL ISLANDS.


Nothing is too much trouble on board Supanova, If you have no gear, NO PROBLEM. Never been fishing before, NO PROBLEM. It is my aim to offer everybody who steps foot on board Supanova the best day possible.You can expext as much complimentary tea and coffee as you can handle and a good laugh to boot (Normaly at Lyle's expense) and with a bit of luck a few nice fish for the table. All enquiries are welcome please do not hesitate to contact me by any means.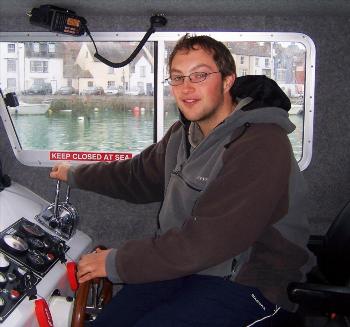 About the Skipper:
Hi i'm Lyle your friendly skipper/owner of Supanova II. Here's a bit about me. I have been fishing the waters around Weymouth and Portland since the tender age of 5 years old and since then I would like to think I have developed into a well respected young skipper in the port. On leaving school at 16 I joined as crew aboard the famous Weymouth charter boat Tiger Lily skippered by the legendary Chris Caines and over the next two and a half years I gained masses of experience from Chris and at the age of 17 I became the youngest skipper in the country and from gaining further experience running boats such as Tiger Lily, Lone Shark, Channel Chieftain, Flamer and Revolution and small stints as a commercial fisherman on various vessels in the port I decided In 2009 to take the leap and purchase my own boat for charter angling. Supanova was an 8m Cougar Catamaran and served me very well for three seansons and in 2013 I purchased the current vessel Supanova II. In my spare time I just can't stay away from boats and the sea, for the past 11 years I have been an active volunteer on Weymouth Lifeboat Crew. It's great to be able to give something back to the local community that has always and will continue to support me and my family.
Sunday
Monday
Tuesday
Wednesday
Thursday
Friday
Saturday

Color for Fully Booked

Fully Booked

Color for Partially Booked

Partially Booked

Color for Available

Available

Color for Not Available

Not Available

Color for Unspecified

Unspecified

N.B. Not all Skippers keep this dairy up-to-date. Always check with skippers before making any plans. Last calendar update: 17-Jan-2018

Mon 1st Jan
Tue 2nd Jan
Wed 3rd Jan

Inahore for Whiting, Cod, Congers Rays etc £55pp 6 spaces 07976876667

Thu 4th Jan
Fri 5th Jan
Sat 6th Jan

Inshore Whiting, Rays, Cod, Congers etc £55pp 07976876667

Sun 7th Jan

Wrecking for Pollack £75pp 07976876667 gufferslim@hotmail.co.uk

Mon 8th Jan
Tue 9th Jan
Wed 10th Jan
Thu 11th Jan

Wrecking for Pollack £75pp 07976876667

Fri 12th Jan
Sat 13th Jan

Wrecking for Pollack £75pp 8 spaces 07976876667

Sun 14th Jan
Mon 15th Jan
Tue 16th Jan
Wed 17th Jan
Thu 18th Jan
Fri 19th Jan
Sat 20th Jan

Wrecking for Pollack today £75pp 07976876667 gufferslim@hotmail.co.uk

Sun 21st Jan
Mon 22nd Jan

Wrecking for Pollack £75pp 9 spaces 07976876667

Tue 23rd Jan
Wed 24th Jan
Thu 25th Jan
Fri 26th Jan
Sat 27th Jan

Big Blonde Ray trip 9 spaces £55pp 07976876667

Sun 28th Jan

Inshore Whiting, rays, congers £55pp 07976876667

Mon 29th Jan
Tue 30th Jan
Wed 31st Jan
Reviews
Summary:





gregg harman (09/10/2016)

lyle is a most welcoming skipper who has always got hot water for the coffees, the one thing i always look for is a good skipper and keep in my book for future bookings and would recommend lyle to other fishermen ( friendley courtious and helpfull )

Skippers Reponse: Thanks for your kind words Gregg, Look forward to seeing you soon mate.

Lyle

Stephen Maidment (10/06/2016)

A great trip. Lyle found the cod for us yesterday, lots of quality cod of 10lb plus and a few pollock. He spent over an hour filleting the catch on the way in. Thanks for a great day out.

Mick maher (12/08/2015)

My son david and I booked this trip after checking the reviews of most of the Weymouth charter boats. We made a really good choice as we had an excellent day out. We did not catch a lot of fish but the flowing tea and the help that Lyle gave us was second to none. He was always checking our methods and bait and did all he could to get fish on the boat. Every time we moved, we caught the species that he said we would. We have just booked two weeks holiday in Weymouth for 2016 and Lyle and Supanova 11 will be our first port of call. Many thanks Lyle. Mick Maher

Mick maher (12/08/2015)

My son David and I booked this trip after checking the reviews on most of Weymouths charter boats. To say that we made a good choice is an understatement. We did not catch a lot of fish but had a fantastic day out with Lyle and a group of his regulars. The tea kept flowing and we had several moves. Each time, we caught the species that Lyle said we would. He was extremely helpful to the pair of us as we did not have the local knowledge that the other anglers had. He was always checking our methods and bait and did everything he couild to put fish on the boat. We have just booked another two weeks holiday in Weymouth for 2016 and Supanova 2 will be the first place we book our tripes.

Skippers Reponse: Many Thanks Mick,

Great to see you, see you in 2016!

All the best,

Lyle

Phil Ross (03/10/2014)

A cracking day out with lyle. The boat is spotless, a great skipper who couldn't do enough to make everyone feel welcome ! - Top Marks

Skippers Reponse: Thanks Phil,

Was great to have you on board, hope to see you again soon.

Tight Lines,

Lyle
Latest Catches 1,013 photos uploaded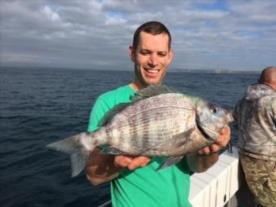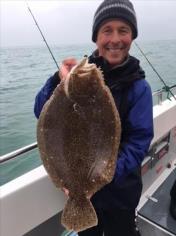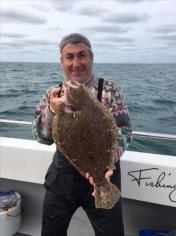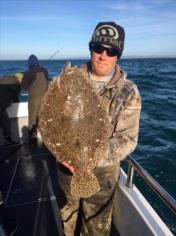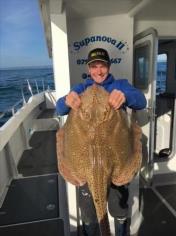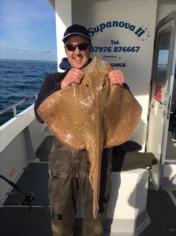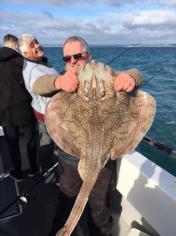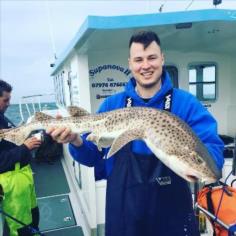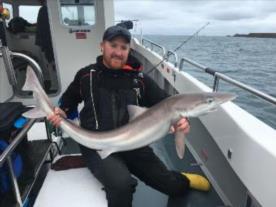 Latest Fishing Reports
11/2017

Fishing Report by Lyle Stantiford

Nov 2017 by Lyle Stantiford

Well the season is beginning to wind down from here on in as the weather begins to beat us a little more frequently than we'd like.

It's a big shame as the fishing has been superb the last month or so with the stand out, the absolutely phenomenal Bream fishing. On a couple of marks when the tide comes right sport has been bonkers with double and even treble shots common place and not small fish either with the best in the last month 4lb 7oz for Southampton angler Andy Hayden. The Blonde Ray fishing has been fantastic on the small toes with up to 50 fish coming to the net and all released to fight another day. Best the last month was 28lb. A bit of squid fishing will often feature in the last hour of trips this time of year, with many people never having targeted them let alone caught one it is great fun! They fight like mad and great eating too.

We have a bit of time off in December but a few trips with place still remain.

29th November Inshore £55pp 7 spaces
16th December Inshore £55pp 3 spaces
17th December Wrecking £75pp 7 spaces
27th December Wrecking £75pp 10 spaces
28th December Inshore £55pp 8 spaces
30th December Wrecking £75pp 2 spaces

Thanks to all that have made this month fun and continue their support to Weymouth.

Tight Lines,

Lyle

Pictured is Lib with a gurt big Weymouth Squid!!!

11/2017

Fishing Report by Lyle Stantiford

Nov 2017 by Lyle Stantiford

Well I have been hopeless with reports this year, it's been manic old year, please accept my apologies.

How has it been i hear you ask?????? Well in all honesty its been a pretty tough season all in all, expectations were high but at times it has been disappointing. Little glimmers of Brilliance but they didn't seem to last long enough to be reliable.

The early wrecking season was good with good catches of Pollack and then a fantastic month of ling on the small tides, the best I have seen for in excess of a decade. At the end of the Ling we would expect the Cod to arrive but they just didn't seem to appear in any great numbers, they are one of those cyclical species so we weren't too perturbed as usually the lack of competition for food means the Pollack will home back in on the wrecks for the summer months. Unusually they didn't which made for a tough old time wrecking wise in June and July.

As the summer rolls on our usual attentions turn to the inshore fishing and this has been our saving grace this year that's for sure. Fantastic sessions on the anchor have seen ungulates to 18b, Blondes to 28b, Toe to 50lb, Huss to just under 15lb, More congers than you can shake a stick at and the real saving grace for the summer Autumn has been the outstanding Black Bream fishing both inshore and on the Wrecks. I don't think I have ever seen a year with more Bream over 4lb than this year.

The Banks have fished steadily for Turbot and Brill throughout the summer/autumn but the majority have been small with a few better Brill of late. I have been focussing some time on a little Mark I have been fishing the last few years for Turbot and Brill and while you don't see loads of fish the quality has been good so I hope to spend a bit more time at it next summer.

The Channel islands has been very poor on a whole. A couple of early trips weren't too bad and the later trips were actually pretty good with a good mixed bag. Good Bassing, amazing Bream, Couch's included, a run of flats and some monster Tope. I'm not too worried however as it has been bad before in my early days and what followed was the best fishing anyone has seen over there. Fingers Crossed for 2018.

Competitions this year have been very successful, The conger comp was a huge success and we finally managed to win it with a fish of 73lb For Rod Adamson to take the title over the three days.

The 5 day WIBAC (Weymouth international boat angling challenge) was once again a huge success with anglers coming from all over Europe to battle it out. Winner after the 5 day multi discipline was Jon Law from wales who walked away with a cool £3000 for his efforts. Once again we were on a roll and Managed to clinch Top Boat for the week.

The support to us all here in Weymouth has just been superb this year and exciting opportunities lie ahead for us here. We thank all who continue to support our wonderful port and long may it continue!

Tight Lines,

Lyle

Pictured is Keith Newton with the best Turbot of the year so far 21lb 10oz

08/03/2017

Fishing Report by stuart cross

8 Mar 2017 by stuart cross

Managed to sneak out in a tiny weather window on tuesday with Lyle. Must be honest thought it was going to be a lot rougher than it was, good call lyle. A couple of hours traveling and were ready to do battle with that 20lb pollack lyle keeps telling me about. [I think shes called poppy] Some of you have most probably fished with me and my dad Bri, if you have you will know i am by far a better angler than him for he is quite simply rubbish. He lands an odd fish here and there but they are normally very small.It must have been a solar eclipse because he did actually land one more than me. Obviously mine were bigger but i suppose i have to be nice sometimes and let him think he won. (family politics and all that) Trevor Lockyer landed a coalfish on the second drift which i think went 10lb, a cracking fish by any ones standard.Bri romped away early the scores being 3-1 but lyle was quick to help by being 'otherwise engaged' with the net as number 4 escaped boat side, i think it was something to do with the £10 i gave him.! A smallish tide and coming up to slack did not see the fish rise up in the water, instead they were mainly under 20 turns. The new tide came but it was hard work, a couple of moves and my rod slams over i,m glad i had my reel serviced as this could be poppy. I gain line and lose it quicker but manage to control the mighty beast. In the meantime Bri's rod seems to be a little bent as well (normally the wreck) but he seems to have caught a blind pollack. Trying to steal the lime light he lands a15lb+ fish but my fish is still diving (stand clear dear daddy let the master have some room) but the dives are getting shorter and less powerful then i can see leader. After lyle fails to knock it off the hook shes on the deck i have a bigger one than you i tell dad, his face beaming with two great fish on the boat. A tad over 17lb means poppy is still out there none the less a great fish. It was a good fun day with good company with everyone catching fish, thanks Lyle. Final scores Bri 8 Stu 7 I didn't lose i came second.!! Photo on Lyles facebook page. PS Bri keeps the scores in his book but he seems to write in pencil, something fishy going on here i believe................

01/2017

Fishing Report by Lyle Stantiford

Jan 2017 by Lyle Stantiford

Happy New Year to you all and Tight Lines for 2017

A quick note to wish all our customers old and new a very Happy New Year and a massive thank you for your support throughout 2016.

It was a bit of a funny year at times but it gave us the opportunity to try some different things, some of which were very successful and we look forward to developing in 2017.

To those of you that have booked already for 2017 thanks very much, for those that haven't take a look at the calendar and see what takes your fancy. If there is nothing there that suits your diary or takes your fancy then please get in touch and we will see what we can do.

Throughout Jan, Feb and March we will be offering a bit of a fun competition for the BIGGEST POLLACK. £2 in the pot per angler for the period and biggest Pollack over the three months will take the money simples!! It's optional to enter but will make for a bit of fun!

There are still a couple of spaces on the Supanova & Meerkat specimen league and a chance to win £1000 cash. Check out the calendar for more info or drop me a line.

2016 fish of the year has to be Steve Juggins' New British Record Undulate Ray of 22b 13oz, well done Steve!!!

Any enquiries are welcome please call/text 07976876667 gufferslim@hotmail.co.uk

The Pollack are coming!!!!

Tight Lines,

Lyle

10/2016

Fishing Report by Lyle Stantiford

Oct 2016 by Lyle Stantiford

Since the last report things have been fairly hectic.

August was fairly slow on the fishing front to be honest apart from anchoring on the wrecks where plenty of Bream could be found for those on squid baits and a steady run of decent pollack and the odd Bass falling to live Mackerel.
Congers for those that wanted to target them were plentiful and Tope as you swing away from the wreck proved a bit of fun. Plenty of blown off trips in August! What more can you expect when the kids are off school.

September gathered pace quickly and saw us complete our final 2 runs to Alderney, Fishing was patchy but Bass, Bream, Pollack, Tope, Brill and Turbot all featured. In Weymouth Turbot and Brill fishing has been frantic although mostly small fish there has been the odd good Brill around to 9lb, The small fish certainly Bodes well for the coming seasons. Bream fishing was good and has got better and better as the weeks have gone by with some cracking fish around, with the best numbers of fish over alb I have seen for a very long time. Kidney Banks have fished for Blonde rays fairly steadily but the shortage of squid for bait hasn't helped this. Bass have been few and far between and what we have found has mostly been small.

The remainder of October and into November should see continued decent Bream and Turbot fishing, improving Bass fishing and the arrival of everyones favourite the ATLANTIC SQUID!!

Thanks to all for continuing to make Weymouth what it is and offering the finest fleet in the UK your support and custom. We all appreciate it!!

Tight Lines,

Lyle