Charter Boat: T.J.Gannet
Licensed For:
up to 10 passengers
Code Of Practice:
20miles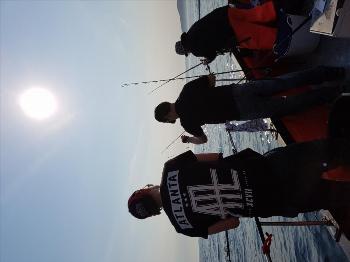 Type of Fishing:
wreck and rough ground
Tackle Available:
Yes - Contact Skipper
Boat Specification:
Versatility
Facilities:
Hot drink and toilet available
Additional Description:
TJ Gannet is a commercial built Versatility and was commissioned to do shell fishing in the Solent. The boat has a stability certificate for 10 passengers and 2 crew, MCA 20 mile code of practice certificate, this includes life raft for 12, first aid kit, flares, life jackets etc etc. I have a full comprehensive insurance for passengers and crew.
Electronics, fishfinder /dsc radio (sends boat details and exact location to emergency services with one touch of a button). echo sounder, fish finder, radar and gps chart plotter.
******** GIFT VOUCHERS ALSO AVAILABLE ************

All In All Out Competition For The heaviest Cod And Ling
Starting from the 1st of April 2015 we will be running a competition for the heaviest cod and ling caught on T.J.GANNET. Prize money will be split 50/50. Competition will end on the 31st of October 2015.

£1 entry fee per person, on the day.

Money to be paid before first stop to fish.

No competition entry will be accepted once fishing starts.

Competition will be open to all paying customers. No family or close friends!

TIGHT LINES TO ALL THAT ENTER



Please check out the website, tjgannet.co.uk for updates.

Catch Stats
Latest Fishing Reports
03/07/2013

Fishing Report by Bernard Walls on T.J.Gannet

(Hartlepool, Durham)

3 Jul 2013 by Bernard Walls

Just a short report for yesterdays fishing 3-7-2013.
Some very nice fish being caught now that the mackerel are in and with a bit of luck the fishing should be getting even better. Biggest ling came in at 11lb 8oz and the biggest cod was a nice 11lb 12oz.
Many thanks for a great day with a cracking bunch of lads.

06/05/2013

Fishing Report by Bernard Walls on T.J.Gannet

(Hartlepool, Durham)

6 May 2013 by Bernard Walls

Hi all
Just a quick report for the bank holiday. Sunday 5th went from mark to mark and wreck to wreck for next to nothing all day until we dropped on to a mark for the last hour. We then got half a dozen cod all around the 3lb mark. Monday 6th
Went straight back to the last mark from yesterday and started catching cod straight away. All still around 3lb then we had a couple around 4lb. After a couple of hours we decided to have a move, looking for something a little bigger but to no avail. We ended moving back to original mark and started catching cod around the same size plus a small pollock and an octopus! Ended up with 14 cod (+ 4 put back in) 1 pollock, 1 octopus, 5 pouting and the obligatory half doz whiting.
Hope to see you all soon
Berney

09/2012

Fishing Report by Bernard Walls on T.J.Gannet

(Hartlepool, Durham)

Sep 2012 by Bernard Walls

Just a few pics of Marty and a couple of mates. It has taken a while to get them out but it was worth it, i hope.Pics are from 2 days in September 2012. The cod are starting to be replaced with some nice ling, ( well done on the 17 and a half pounder Marty) still mackerel about and some nice pollock.

02/03/2012

Fishing Report by Bernard Walls on T.J.Gannet

(Hartlepool, Durham)

2 Mar 2012 by Bernard Walls

A good days fishing lads, whitey's, what are they? hope this is a sign of things to come.

01/03/2012

Fishing Report by Bernard Walls on T.J.Gannet

(Hartlepool, Durham)

1 Mar 2012 by Bernard Walls

Well done Kyle, you beat your dad fair and square mate.
View All Fishing Reports
Edit this boat listing
Last Minute
Availability
OCTOBER - 2017

| Su | Mo | Tu | We | Th | Fr | Sa |
| --- | --- | --- | --- | --- | --- | --- |
| 1 | 2 | 3 | 4 | 5 | 6 | 7 |
| 8 | 9 | 10 | 11 | 12 | 13 | 14 |
| 15 | 16 | 17 | 18 | 19 | 20 | 21 |
| 22 | 23 | 24 | 25 | 26 | 27 | 28 |
| 29 | 30 | 31 | 1 | 2 | 3 | 4 |
Color for Fully Booked

Fully Booked

Color for Partially Booked

Partially Booked

Color for Available

Available

Color for Not Available

Not Available

Color for Unspecified

Unspecified
N.B. Not all Skippers keep this diary up-to-date. Always check with skippers before making any plans.
Reviews
Summary:





Reviews Unaccepted: 1
thomas boddy (11/07/2017)

first time out boat fishing enjoyed the day see you next week berney, totally looked for fish all day a big well done, you got me hooked

colin bateson (26/05/2015)

Thanks Berney for a fabulous day out. Good fishing, good weather and a great skipper what more could you get, Oh! plenty of fish!! Thanks again skipper hope to see you again very soon, Colin

Skippers Reponse: It was a pleasure Colin, I also enjoyed the day mate. See you Soon

john soady (21/09/2013)

A bigthanks to you both again Barney, not wanting to repeat myself, but everyone from the Quaker house pub had a fantastic day with yourselves, and everyone commented on the work you put in to find the fish. You might need a bigger boat though, cos now everyone in the pub wants a crack! Thanks again, John and the lads from the Quak.

Skippers Reponse: Many thanks for the review John, not many take the time. Great bunch of lads, always a pleasure.

MORRIS OLIVER (21/10/2012)

another great day best skipper in hartlepool it was pretty quiet but we caught whiting ling and a crackingling of 17lbs and a laugh a minute thanx barney

Skippers Reponse: Yes it was a great day, cracking bunch of lads, always a pleasure never a chore. See you soon ;-)

ian oliver (21/10/2012)

if you want a skipper that works all day to get you on the fish this is your man thanks again mate see you in 3 weeks

Skippers Reponse: Cheers Ian, well worth the move, 14 mile out then 4 mile back in to find fish!
Great day with great lads. Many thanks looking forward to the next challenge lol
View All Reviews
Add A Review