Charter Boat: Valkyrie
Licensed For:
up to 12 passengers
Code Of Practice:
Cat 2 - 0 to 60 Miles
Hours:
8hr / 10hr / 12hr / Multiple Days Trips
Type of Fishing:
Wreck - Channel Islands
Tackle Available:
Yes - Contact Skipper
Bait Available:
Yes - Contact Skipper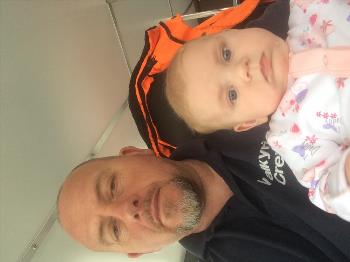 About the Skipper:
Glen has fished out of langstone Harbour since he was old enough to hold a rod, now he enjoys taking people fishing so he can share his passion with others.
From the dedicated serious angler to the beginner just looking for a nice day at sea, all are welcome.
This Charter has been listed as Wheelchair Accessible. Contact the Skipper for full details.
Latest Fishing Reports
01/04/2016

Fishing Report by stuart cross on Valkyrie

(Langstone Harbour, Hampshire)

1 Apr 2016 by stuart cross

Fishing report by Stuart Cross on Valkerie

Me my Dad and my son Andrew [aka mini me] had a good bash at some Pollock on Friday with Zac. He had a very sore throat, so Dave the crewman had to sing for him as the wreck came up. Its only Andrews second time wrecking so I showed him once more how to drop retrieve and drop again. Second wind up one 12lb Pollock to Andrew followed by a massive grin. When the score sheet read Bri 4 Andrew 4 me 0 I was getting twitchy. 'Can I have a go with your rod?' Andrew asked. Now they were on identical reels and I stupidly opted for the faster retrieve reel due to the low neap tide. 'He's got 4' I thought 'this will let me catch up'. Stupid me - 2 doubles on two drifts to Andrew and I'm still fishless. Zac is now grinning just as much as Andrew and Bri - its not going well. Andrew then topped it off with telling me [so that everyone could hear] that 'I could reel in the next one he caught' which by the way was a bass [returned] the only one of the day.
The fish were high on slack 30 -40 turns coming right down to the bottom as the tide was in mid flow. Scores Bri 7, Andrew 7 plus the bass including 4 doubles. I came third, stop laughing Glen it's not funny. All in all it was a great day with a nice bunch of chaps, I'm now taking up knitting- until next time!


16/06/2013

Fishing Report by Steve L on Valkyrie

(Langstone Harbour, Hampshire)

16 Jun 2013 by Steve L

Many thanks to Glen & his Son for a cracking days wreck fishing Weather was a little choppy to start with but thanks to the great training from his dad Zack had us bang on target , With all of us making great catches of bass, Pollock, & odd pouting,
This was only my second trip out & I thoughly enjoyed every minute of my day & am looking forward to my next trip. rest assured we all will be visiting Glen & the boys again, Many thanks . Steve

16/06/2013

Fishing Report by Peter Stotesbury on Valkyrie

(Langstone Harbour, Hampshire)

16 Jun 2013 by Peter Stotesbury

Great day on Valkyrie7 with Glen on the wheel. At the first wreck a steady catch rate of Pollack falling to brighter coloured sidewinders and shads. The last of the ebb tide we tried hard for a cod or two but just came up with Pollack 6lb to 10lb. Having had some practice even the less able where catching. Glen then moved us to a small wreck again looking for cod but this wreck was also full of Pollack. With a few fish pushing 12lb it was time to move on again looking for cod. We hoped to find some Mackerel for bait but these were absent the fish were coughing up a mixture of Spratt, Herring and cuttlefish. Conditions became brighter and the lure colours with yellow and orange worked best. Glen tried a third wreck this finally produce 3 cod two too hopping with twin tails and 1 to feathers. There was a bonus bass and a ling. The fish were feeding high in the water up to 60 turns up which was good as with slow retrieve and a bit of care some went back for another day.
We ended up with about 20 fish per rod with 12 fishing. I switched to using 8" lures trying to find a bigger fish and was rewarded with one of 14lb, the best until a 15lb fish surfaced.
Even the weather behaved for a change with the forecast doing as it said the wind decreasing all day.
Valkyrie 7 had plenty of room for 12 and is very dry and stable even at 18knotts. There was a swell and steady chop on the sea but unlike most cats does not lift up in bows but remains level cutting through rather than over the sea. The tea making is good with constant hot water from the water boiler. Highly recommened for a great day out!
Pete



04/2013

Fishing Report by Glen Cairns on Valkyrie

(Langstone Harbour, Hampshire)

Apr 2013 by Glen Cairns

Sunday 21st April - Hayling - Valkyrie 6 (Zac Cairns)

The first wrecking trip for the club this year. The first trip with Zac at the helm.

At seven o'clock with ten members aboard and we headed out to the banks to try for a few mackerel.
The north side of the bank produced a few mackerel for bait, as did the south side but we only ended up with a dozen or so.
The next stop was a small wreck well inside french waters where we were soon into good sized pollack on sidewinders and storms of various colours.
After a few drifts that just produced pollack and the occasional pout the activity seemed to stir the ling into action as well so we tried using baits. The ling proved to be unfussy, as besides artificials, they took fresh and frozen mackerel as well as cuttle and squid.
Not wanting to take too much from one wreck we then went off to a larger one a few miles away where we had more pollack and ling and lost a lot of lures bravely trying for cod (unsuccessfully).
The fourth stop was just a couple of drifts over another wreck which also had pollack and ling and then we headed back toward Hayling.

Some of us opted to just gut their fish on the way in, others also removed their heads as well, and some actually filleted theirs.

A great trip. Well done Zac!. A flat sea, little wind, a bit of sun and everybody had ling (up to 22lb) and most had pollack (up to 15lb) to take home.

Biggest fish was a Nigel Cross's ling of 22lb and Roy Hebburn and Mick Doody shared the honours for most species with 4 each.

[Report by Jim]

08/12/2012

Fishing Report by RICHARD SAXBY on Valkyrie

(Langstone Harbour, Hampshire)

8 Dec 2012 by RICHARD SAXBY

Sorry for late report.
fished on Valkyrie on 8-12-12.
lots of whiting, pout, doggies, thornbacks, spotted rays, poorcod and a lunker cod of 31lb 8oz to Paul.
another great trip in perfect winter conditions.
cheers Glen.

[IMG]http://i617.photobucket.com/albums/tt260/dicky_08/30-11-12bos8-12-12valk009.jpg[/IMG]
View All Fishing Reports
Edit this boat listing
Last Minute
Availability
DECEMBER - 2017

| Su | Mo | Tu | We | Th | Fr | Sa |
| --- | --- | --- | --- | --- | --- | --- |
| 26 | 27 | 28 | 29 | 30 | 1 | 2 |
| 3 | 4 | 5 | 6 | 7 | 8 | 9 |
| 10 | 11 | 12 | 13 | 14 | 15 | 16 |
| 17 | 18 | 19 | 20 | 21 | 22 | 23 |
| 24 | 25 | 26 | 27 | 28 | 29 | 30 |
| 31 | 1 | 2 | 3 | 4 | 5 | 6 |
Color for Fully Booked

Fully Booked

Color for Partially Booked

Partially Booked

Color for Available

Available

Color for Not Available

Not Available

Color for Unspecified

Unspecified
N.B. Not all Skippers keep this diary up-to-date. Always check with skippers before making any plans. Last calendar update: 29-Nov-2017
Reviews
Summary:





Reviews Unaccepted: 4
amir bashir (14/11/2017)

love to go again its been a really good fishing day with glen

Skippers Reponse: Thanks Amir, it was a pleasure to take you all fishing

James Wolfendale (07/09/2015)

Another great day out on the boat with glen, this time for a trip at anchor over a wreck....mackerel conspicuous in their absence, but a great day had nonetheless, lots of ling, conger, and bream, as well as pout, bullhuss and a great sun tan :P good banter on board as always, and glen seriously knows his stuff, couldnt reccommend him highly enough :)

Lee Rossie (27/03/2015)

Top day's fishing with Zak, for the first time. Plenty of mid-channel wrecks fished, some produced while other drew a blank. Glen was out and fishing some of the wrecks together. Zak soon picked up the pace and put us on the fish. Between wrecks we were treated to a pod of Dolphins chasing the bow wave. People pay good money for such trips and here we were with a value add. The sun shone, the wind dropped, and the fish just kept coming, credit to Zak. With the 2nd ice box, so many fish, in use by the end of the trip, top Day, Recommended.

Skippers Reponse: Thanks Lee, im sure Zac will appreciate your kind words,

Jim Bater (11/07/2014)

another cracking day, this time out on valkyrie 7 with Glen. cod, pollock, bass and ling on the boat. as usual Glen worked hard to put us on the fish. can't recommend valkyrie enough, looking forward to my next wrecking trip. but I hope glen leaves his Johnny cash cd at home!

Skippers Reponse: Got to have Johny Cash on..

MICKY PLEDGE (14/06/2013)

cracking day !!! bent rod most of the day. Stable boat, plenty of room and help and advice from Glen. Can;t wait to go again. MICKY PLEDGE.

Skippers Reponse: Well thanks Micky it was nice to have you onboard, did you get the photo ?
View All Reviews
Add A Review