Charter Boat: Vanishing Point-2
Boat and Skipper Details
Licensed For:
up to 12 passengers
Code Of Practice:
60 Miles
Hours:
8hr / 10hr / 12hr / 24hr / Multiple Days Trips
Type of Fishing:
Uptide and downtide
Tackle Available:
Yes - Contact Skipper
Bait Available:
Yes - Contact Skipper
Boat Specification:
51 ft x 17ft - Powered by 2 x 450 iveco engines..
Facilities:
Heated fully enclosed wheel-house 14 seats, full size toilet with electric flush, large fridge, 4 burner gas hob, domestic electric kettel, George Forman Grill, and Domestic Microwave oven.
Additional Description:
Vanishing Point-2 was built at a cost of £700,000.00 and is one of the fastest large Catamaran in the UK at 28 knts.
She was built to a very high standard, for a duel roll, Fishing, and some Wind farm transfer work, but with a specification to be envied by any Charter boat operator…!!
She seats 14 inside her large wheel-house, on fully sprung CAB seats with safety belts and headrests, with the door closed and inside temperature in winter kept to around 70 degrees, so very comfy for all..
We have a large fridge, George Forman Grill, 4 burner gas hob, and a Micro wave oven, domestic electric kettle, and for summer time we have a new boat BBQ, which Nicola cooks fresh Mackerel, for the parties as you catch them, and she cooks fresh Cod in winter if anyone wants fish for lunch..!! Or bring sausages and bacon and just have a fry up..!!!
This boat is unrivalled for charter fishing,…. it's got a cruising speed of 22 knts and a top speed of 28!!, Tons of room inside, and this new vessel includes a drying room heated to 80 degrees for any wet clothing and storing you fishing tackle, and outside, great cooking facilities, aircraft type toilet, and shower, heating for those cold days at sea, and lovely rest area to take a well-earned break for lunch in the warm..!!! and at no more cost per head than our old boat Cacheflow…!!!!

About the Skipper:
I have been charter fishing for over 30 years now, and like others that operate from our port, we all have a wealth of knowledge to put you over the fish.
I am not one of these skippers that try to rubbish my colleges to make out I am so much better than the rest, that kind of thing makes me quite angry, and really makes you look unprofessional..! That comment is not aimed at other Pro skippers like myself, but those who would operate outside the law. the cowboy skippers!, unlicensed that make our fishing sport, which we have to be licensed to the hilt to operate, makes a nonsense of it all, and it's only members of the public that value their lives so little to save a few pounds, go with these guys that do not have the experience and that's when the accidents happen.
So stay safe, go with a Po skipper, and enjoy your sport and return home safe to fish another day..!!!

We (Nicola and I) have been working in the North West of England for the last 5 years, and we have gained a lot of experience as skipper and crew, in really harsh weather conditions that only the Irish sea can throw at you, and off the Cornish coast, where you get those huge Atlantic swells off the Doom bar, and also the seas around Wales, I think to become a seasoned marina you need to work outside your comfort zone, to really get a grip of what nature can truely throw at you, then, and only then, are you equipped mentally to take people safely 60 miles off-shore, many who do advertise trips of 60 miles endurance off-shore have rarely gone more than 25 to 30 miles from a safe haven, and hence when things go wrong, they are not equipped to deal with the situation.!!!.
.

I am extremely lucky!! in as much as my wife Nicola, is also a fully licensed Skipper and in an emergency could take full control of our vessel and bring her home safely, and she knows exactly what I require as my right hand man (so to speak) without me having to ask, she really is the best crew I have ever had, which clearly shows through on our fishing charters, if Nicola is not on board..... (rare) but the guys are all disappointed, and ask where she is, she is a breathe of fresh air on the boat, and nothing is ever too much trouble for her, from helping inexperienced anglers bait up, cast out, gutting and skinning their catch, as well as cooking there bacon, sausages, burgers...ect, and laughing all the way through the day,... !!
Tight lines..!!!!!!!!!!!!!!!!!!!!!
This Charter has been listed as Suitable for Diving Trips. Contact the Skipper for full details.
This Charter has been listed as Wheelchair Accessible. Contact the Skipper for full details.
Sunday
Monday
Tuesday
Wednesday
Thursday
Friday
Saturday

Color for Fully Booked

Fully Booked

Color for Partially Booked

Partially Booked

Color for Available

Available

Color for Not Available

Not Available

Color for Unspecified

Unspecified

N.B. Not all Skippers keep this dairy up-to-date. Always check with skippers before making any plans. Last calendar update: 20-Oct-2017

Mon 1st Jan
Tue 2nd Jan
Wed 3rd Jan
Thu 4th Jan
Fri 5th Jan
Sat 6th Jan
Sun 7th Jan
Mon 8th Jan
Tue 9th Jan
Wed 10th Jan
Thu 11th Jan
Fri 12th Jan
Sat 13th Jan
Sun 14th Jan
Mon 15th Jan
Tue 16th Jan
Wed 17th Jan
Thu 18th Jan
Fri 19th Jan
Sat 20th Jan
Sun 21st Jan
Mon 22nd Jan
Tue 23rd Jan
Wed 24th Jan
Thu 25th Jan
Fri 26th Jan
Sat 27th Jan
Sun 28th Jan
Mon 29th Jan
Tue 30th Jan
Wed 31st Jan
Reviews
Summary:





Reviews Unaccepted: 2
Martin Jewson (22/04/2017)

What a fantastic day, great boat,great crew, great fishing, get on this boat if you want a good days fishing

Skippers Reponse: Thank you Martin, we are glad you enjoyed your dsy..!!
snd thank you for taking the trouble to write a review

Chris Mitchell (13/05/2017)

Superb boat, easily the best appointed UK charter boat I've been on in over 30 years of fishing. Terry and Nicola looked after us and did their best to ensure we had a good day, which we did. Clearly fishing is in their blood and they are keen to pass on their knowledge and experience to their customers. How they do it for the money they charge is beyond me.

Skippers Reponse: Hi Chris, what a lovely review, that means the world to us to hear our customers have had a great experience and share that with everyone... just means me and Nicola have done our job well .... see you on the next adventure on Vanishing Point-2

Jeremy Spencer (08/04/2017)

As usual a wonderful day afloat aboard Vanishing Point 2. Terry put us straight on the fish and we caught skate all day long. Thank you especially to Nicola for cooking our food, helping with landing the fishing and also for providing some tips and tuition on filleting our fish. This is why we will come again. The service is second to none

Skippers Reponse: Thank you so much Jeremy, it was our pleasure to have you chaps on board our vessel VP-2 and look forward to seeing you all again for another fishing adventure... tight lines...!!!

Ian Wells (15/08/2016)

I'm not what most people would call a seasoned sea angler, but I've been on a few boats over the last few years. This is definitely one of the best all-round fishing experienced I've had. The boat is stable, fast (bloody fast) and as comfortable as you're going to find this side of Monaco. Terry and Nicola are friendly and very helpful. I organised a team day out with some workmates many of whom had never fished before, and they all raved about what a great day they'd had. Looking forward to the next one outdoor a few cod.

Skippers Reponse: Thanks Ian... glad you all had a great day, looking forward to the next trip..!!!

Steve Lemon (03/06/2016)

First time out on vanishing point 2, certainly won't be the last. Terry and Nicola made us feel very welcome and like we had been fishing for years on the boat. Pleased to land my first skate, not so pleased I was out fished by the girlfriend on her first boat trip in the uk. Thanks guys and hopefully see you in the not too distant future. Steve & Kate.

Skippers Reponse: Thanks for the report it was great meeting you both, and well done in having a go at skinning the skate you caught today.
Latest Catches 56 photos uploaded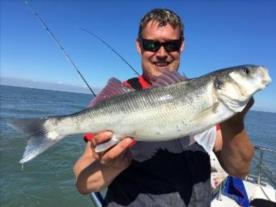 Mark
14 lb 6 oz Starry Smooth-hound
5-Jun-2016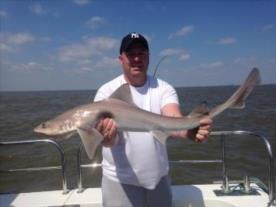 Peter
10 lb Starry Smooth-hound
17-May-2016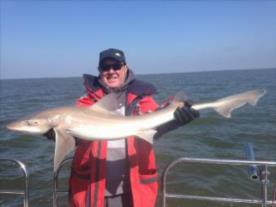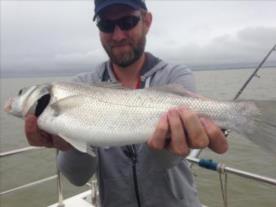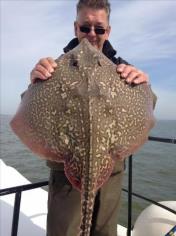 Barry
11 lb 3 oz Thornback Ray
6-May-2016
Latest Fishing Reports
01/12/2017

Fishing Report by TERRY BATT

1 Dec 2017 by TERRY BATT

At this time Of year when many charter boat on the South coast are sadly blown off because of the weather, although we don't have the same amount of species they do on the Essex coast we do have very sheltered waters that hold Whiting, Codling, Pouting, Thornback Rays, and lot's of inshore
e Dab's, and virtually never have to cancel to weather... so if you are serious about getting out and don't want to be cancelled call Vanishing Point-2 one of the largest Catamarans in the UK fleet in the River Blackwater in Essex for a trip un-spoilt by the weather.

Even on these bitter cold days with wind chill factor of -3 outside the temperature inside her massive wheelhouse is kept to 67 degrees all day long so no need to freeze yer whats-it's off...

So if your interested in having an un-spoiled non-disappointed trip on one the UK's premier charter boat:
Call: Terry 07768306646
( and as far as I am aware we are the only sports charter boat licenced to do Clay pigeon shooting)

So that number again..... 07768306646 GREAT CORPORATE TEAM BUILDING DAY OUT

21/11/2017

Fishing Report by TERRY BATT

21 Nov 2017 by TERRY BATT

WELL FISHING HAS BEEN QUITE GOOD IF YOU YOUR IN THE RIGHT SPOT...!! AND A FEW CODLING HAVE BEEN SHOWING UP WHICH IS A BIG IMPROVEMENT ON LAST YEAR WHEN WE HAVE VIRTUALLY NONE..
DON'T GET ME WRONG THERE AREN'T LOADS OF COD BEING CAUGHT BUT A FEW MOST DAYS....ALONG WITH RAYS GOOD SIZE WHITING AND SOME DOGS YOU CAN HAVE A REASONABLE DAY'S FISHING, AND OF COURSE IF YOU WANT TO DO CLAY PIGEON SHOOTING TO STAY BUSY OVER THE SLACK WATER PERIOD WHEN NOT MUCH HAPPENS... IT MAKE THAT 40 MINUTES FLY PASSED AND IS A GREAT TEAM BUILDING EVENT AS THERE ARE TROPHIES AND MEDALS TO THE WINNING TEAM..... AND NOT FORGETTING TEAM BUILDING EVENT IS 100% TAX ALLOWABLE...!!!

SO FOR ALL YOUR CORPORATE TEAM BUILDING EVENTS ON THE UK'S BIGGEST MOST COMFORTABLE SPORTS CHARTER VESSEL CALL:
07768306646 TO BOOK YOUR EVENT .......


22/10/2017

Fishing Report by TERRY BATT

22 Oct 2017 by TERRY BATT

Now drift fishing for Bass in the Blackwater Eastuary .......

14/10/2017

Fishing Report by TERRY BATT

14 Oct 2017 by TERRY BATT

Hi guys... sorry it's been a while but been busy with late season Bass fishing which I have to say has been as good as it's ever been, despite what the doom and gloomers would have you believe...!!!
There are a few Cod being reported close in now, I have not had any on my boat yet but in fairness we have not really tried in earnest for them, but a pal of mine on another charter boat told me of a 16lbs Cod caught just two days ago right where we were fishing yesterday, I am not at all surprised, as there are large shoals of Whiting in the area now, so it might be worth putting out a live bait to tempt a large Cod to the hook..!!
There quite a lot of Thornback Rays moving in now we had over 20 yesterday along with Doggies and Whiting all the lads were happy filleting on a slow ride home back to Bradwell..... well done everyone great day, and good company...... see you all again soon.
The Vanishing Point-2 has been out of the water for a good spruce up polished anti-fouled a few cosmetic repairs and it looking like new again....
If you want to get out during the week, as we have very little space on weekends, then give us a call on: 07768306646


23/09/2017

Fishing Report by TERRY BATT

23 Sep 2017 by TERRY BATT

With the water temperature now starting to fall, and the whiting have arrived in large numbers, and there have been reports of a few Codling caught on the night tides from the Clacton area and a few have been netted in the trawl nets.... so do we dare to hope we may well have a showing of Cod this year... well the signs are looking quite good...!!

Still a lot of Bass at the moment off-shore these wont be there for much longer and before the weather takes a turn for the worse .....

But the good mainstay of Thornback Rays are there in good numbers, so you could in fact get 5 species in a single trip..!!!
Call: 07768 30 66 46 to book a trip