Charter Boat: Voyager
Boat and Skipper Details
Licensed For:
up to 12 passengers
Code Of Practice:
60 Miles
Hours:
8hr / 10hr / 12hr / Multiple Days Trips
Type of Fishing:
Wrecking,3 to 5 day Alderney trips, needles cod, bass trips, off shore banks and reefs, shark trips,summer Bream trips and conger fishing.
Tackle Available:
Yes - Contact Skipper
Bait Available:
Yes - Contact Skipper
Boat Specification:
32ft South Boat Catamaran
Facilities:
Flush toilet. oven to heat pies, seating in the wheelhouse.
Additional Description:
Voyager is a 32ft South Boat Catamaran which is a roomy and stable platform from which to fish, built with modern anglers in mind. She has state of the art navigation and safety equipment with seating available in the wheel house. Voyager has over 400hp available, so getting to distant mid channel marks are easily obtainable in a short space of time.

Hot drinks are available free of charge from the famous red hot kettle. We also have flush toilet facilities direct from the deck.

There is a wide range of Shimano tackle available for you to try whilst on board.

Voyager works out of south coast port of Lymington 52 weeks of the year.

Beginners and individuals are welcome.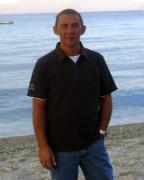 About the Skipper:
I am the owner and skipper of Voyager,I bought Voyager from Roger Bayzand when she was called Sundance. Before that I had an offshore 32 for several years, which I also ran from the southcoast port of Lymington and before that several smaller boats that I used to fish the Needles and solent area. I have been fishing this area now for the best part of 35 years and still enjoy every minute and every fish caught.
Upcoming Individual Spaces on Voyager
Sorry, there are currently no Individual Spaces at present.
Reviews
Summary:





Tim Vacher (17/11/2013)

I travelled from Switzerland to join my brothers and friends for a days fishing with Kevin and it was worth every penny. Kevin knows his stuff and is down to earth and up for a laugh, he does everything possible to get you a decent catch and we were not disappointed at all. I've been over twice now and we will arrange another trip next spring.

Mark Cullen (05/01/2013)

First time out with Kevin, trip to the Needles, no cod but plenty of whiting pout and dogs. Plenty of tea, Plenty of room, Plenty of time for fishing. Skipper was on hand when ever it was needed. Reccomend to all, looking forward to next trip, Thank you

Peter Cotterill (01/06/2011)

Absolutely Fantastic Skipper and Boat, Kevin was excellent he knows his grounds like the back of his hand and delivers a great day. There were 10 of us who travelled from the North East of England and will definately be back with Kevin.
Latest Catches 10 photos uploaded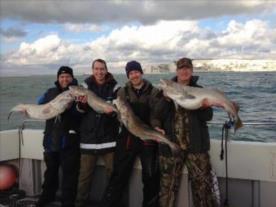 Paul
26 lb 8 oz Cod
19-Nov-2014
Latest Fishing Reports and News