Charter Boat: Warrior
Boat and Skipper Details
Licensed For:
up to 12 passengers
Hours:
3hr / 4hr / 8hr Trips
Type of Fishing:
Everything for the experianced Anglers to family Fun days . Bass,wreck inshore Trips, Half Day ,catch and cook
Tackle Available:
Yes - Contact Skipper
Bait Available:
Yes - Contact Skipper
Boat Specification:
Aquastar 38
Facilities:
Tea and Coffee Available, Toilet
Additional Description:
##Mid week special offer for new groups ##
Eight hour trip for up to 6 people,1st may/30th june may ,Including Rods, bait and tackle for £350
Please ring Adam on 07900086085 for more information and/or to book.
Warrior is part of Something Fishy Fishing Charters fleet . Shaw Thing II is Warrior's little sister.
Both boats are twin engined and are capable of getting you to your fishing grounds as quickly as possible.
Whether you are looking for a full days fishing or just a few hours fishing then we can cater for all of your needs.
During the summer months we run Half Day fishing trips. This is ideal if you haven't been fishing before or if you would like to bring the family with you.
Our Skippers are both experienced and helpful they are there to make sure you have a day to remember.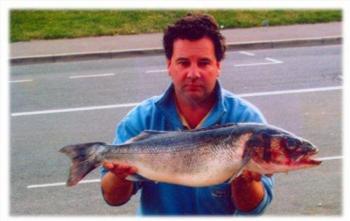 About the Skipper:
Adam Shaw has been fishing these waters for 30 years, He has a diverse knowledge of the area and is extremely passionate about sea angling and fish conservation. At the age of 18, Adam got his skippers licence. He started fishing commercially off Selsey, fishing for lobster, flatfish and oysters. In 1989 Adam bought his first charter boat, Shaw Thing. In 2000 Shaw Thing was replaced with Shaw Thing II. Warrior was added to the fleet in 2012.

Adam has two additional skippers Gary Reeves a retired crab boat skipper he has a wealth of knowledge of all the fishing grounds of selsey with a passion for angling .
Graham Lawrence is a bass long line fisherman he specialises in inshore fishing ,his hobby is chasing big unusual fish around the world in inhospitable regions ,he is off to Africa next month to try and catch some strange thing with teeth .
So between us we have 8o years of fishing experience and a will to catch fish .
Upcoming Individual Spaces on Warrior
Sorry, there are currently no Individual Spaces at present.
Latest Catches 28 photos uploaded
Latest Fishing Reports and News
27/04/2016

Fishing Report by Adam Shaw

27 Apr 2016 by Adam Shaw



Weather was great for a spot of bream fishing ,with the flood tide and light wind together we were full of hope ,The fish Started of feeding very well with fish to 2.5lb landed ,but as the tide changed the fishing tailed off with the afternoon being a wash out for bream .We found a few thornbacks on a near by sand bank and the usual dogs ,the first mackerel and a couple of hounds >but the main thing is the bream are there to be caught so give it a go light tackle ,small leads and shallow water .What could be better ?

12/03/2016

Fishing Report by Adam Shaw

12 Mar 2016 by Adam Shaw


With a fantastic forecast for the day we left chichester marina full of hope ,although this time of year can be slow inshore i was our first trip after refit .We headed out to fish marks near the nab the first one on the north side was a bit slow with a few small whiting but as the tide eased back we headed for a bit rough ground .there was only a short window of a couple of hours due to the 5 meter tides but the fishing was ok with conger,thornbacks ,spotty rays ,whiting ,dogs and pout to keep thing going .Not a record breaking trip but ok for early March


12/2014

Fishing Report by Adam Shaw

Dec 2014 by Adam Shaw

Here we are at the end of another year, with only two weeks left until our last trip of 2014, it is time to sit down and evaluate the past few months.

2014 was our first season working out of Chichester Marina, this has worked well for both us and our customers, with the easy access to the boat, the free parking, and the cafe that has provided us with bacon or sausage baps in the mornings and a beer upon our return

After the winter gales and unsettled weather, our spring season got off to a good start. We had warmer sea temperatures, meaning the fish didn't need much encouragement to come inshore.
Our first few trips of the year we were fishing for rays. We found many rays, including Blondes, Undulates, Small eyed, Thornbacks and Spotted rays. None of them were massive however the biggest were a 14lb Undulate and a 10lb Small Eyed. There were still a few congers and cod around at the end of March and April, which added variety to our days fishing. The 3rd of April Saw our first couple of Bream landed on our first half day trip of the year, this was the start of our summer season.....

We had fantastic weather this year, it felt like a proper summer, and we had very few cancellations. The biggest problem, which was for everyone along the South coast, was the lack of mackerel. The marine biologists have put this down to the fact that there was a lack of plankton in the channel at the beginning of the year.
As there was not much mackerel showing, our half day trips saw us looking a little further afield. Our half day trip customers who come every year, were quite surprised as instead of mackerel they were catching other species such as Dogfish, rays, gurnard, bass, bream, tope and smoothounds with the odd mackerel thrown in.
The best day on mackerel saw just under 100 being landed with around about 30 bass.
On the upside we had a few customers achieve their personal bests on Blonde rays, undulates, conger, bass, tope and brill. The boat had 2 new records, which were the biggest conger of 75lb, and two days of around about 70 tope each day.

At the end of August we saw our first run of codling and whiting, they were quite small, but still very nice to see that early on in the year.
September was a slow, hard month, with not much showing apart from the odd small codling or whiting.
We had a good few days in October with the best day landing 68 sizable bass., and the second best day landing 30 bass. We also had our best day on the rays, with 11 landed in 2 hours, the biggest being a 17lb undulate.

The winter fishing has seen us catching a lot of little whiting, the odd codling and a few rays. However Adam and I have both had 18lb cod on the boat, which has made us feel a little better.
So overall this year was disappointing, but with the abundance of codling, it has made us look forward to next year already.

As we say though, a bad days fishing is better than a good day at work.

We will be keeping one boat in the water until late January, so if you fancy catching a big cod, then please contact Adam on 07900 086085.

We look forward to seeing you all next year.

Bex


08/2014

Fishing Report by Adam Shaw

Aug 2014 by Adam Shaw

August has come and gone in the blink of an eye, and I must admit, it has been a tough one.
At the beginning of the month, the mackerel were showing an average of one per day, increasing to around 7-8 a day average by the end of the month. This made our half days a little more difficult. Thankfully, the harbour has produced a nice number of fish for us this summer and has saved the day on many occasions. Instead of drifting for mackerel for our trips we were anchoring up and finding a whole new variety of species for our beginners. We found ourselves relying on catching dogfish, smoothound and the odd ray amongst other species on most days.
Our full days gave a good opportunity to go further afield. This month has thrown a few nice fish our way including a 4 and half lb Brill, 26lb Blonde Ray, and lots of double figure bass, 12lb being the biggest. Of course this was a very welcoming sight and has made all the hard work pay off.
A few species that were a nice surprise in August were Gilthead Bream, Silver eel and Squid, all coming to worm Baits.
The best part of the last week has been the very welcoming sight of mackerel, with our best day being 95 in an hour, this was our best mackerel trip of the year so far. Also the amount of shoal bass that has turned up has been phenomenal and nice to see, giving us something to have a play with on our way in and out on trips.
Overall a very productive month considering the slow start we had. Our half days are now coming to an end, however they are still available on a charter basis, and throughout the October Half Term.
Call Adam on 07900086085 for more information.

05/2014

Fishing Report by Adam Shaw

May 2014 by Adam Shaw

SOMETHING FISHING FISHING CHARTERS HALF DAY FISHING TRIPS ARE NOW WELL UNDER WAY.

OUR HALF DAY FISHING TRIPS HAVE PRODUCED A GOOD FEW FISH ALREADY. FISH INCLUDING BREAM MACKEREL, SMOOTHOUND, BASS, DOGFISH, POUT, WHITING, RAYS, TOPE, WRASSE, A 3LB LOBSTER, ETC.
SOME DAYS HAVE BEEN SLOW AND NOT ALOT OF ACTION, BUT THE FISH THAT DO COME ON BOARD ARE WORTH IT WHEN THEY DO.

THESE TRIPS ARE RUN IN THE MORNINGS OR AFTERNOONS USUALLY FROM 9-1 OR 1.30 - 5.30, DURING THE SCHOOL HOLIDAYS AND SUMMER TIME. THEY ARE AN IDEAL INTRODUCTION TO BOAT FISHING ESPECIALLY FOR FAMILIES AND CHILDREN WHO DON'T WANT TO BE OUT AT SEA FOR TOO LONG.