Charter Boat: Yellowfin
Boat and Skipper Details
Licensed For:
up to 12 passengers
Code Of Practice:
cat 2 60 miles
Hours:
4hr / 8hr / 10hr / 12hr / Multiple Days Trips
Type of Fishing:
Drifting and Anchoring over Wreck's for Cod, Pollack, Bass, Ground Fishing with bait for Brill, Turbot, Plaice, Cod, Tope,Bream, and many other Species.
Tackle Available:
Yes - Contact Skipper
Bait Available:
Yes - Contact Skipper
Boat Specification:
40 FEET LONG x 12 Beam (96 FEET of Fishing Space all round the Boat)SAFE STABLE Twin Engined,Top speed 25 knots, Massive Deck Space with ALL SAFETY EQUIPMEMT AND LIFE RAFT.Dive door on side and stern of boat with dive ladders. Dive inshore or offshore ship wrecks.
Facilities:
TEA & COFFEE OR SOUP, FLUSING TOILET, ROD HOLDERS ALL ROUND BOAT& ROD RACK, WALK BOAT ON VIA SIDE & STERN DOOR. INSIDE & OUTSIDE SEATS, BAIT TABLES,AND PHONE CHARGERS
Additional Description:
ON BOARDING THE BOAT IF YOU ARE DRUNK OR APPEAR TO BE DRUNK YOU WILL NOT BE ALLOWED ON BOARD NOW TAKING BOOKINGS FOR 2019 COD AND POLLACK TRIPS START LATE JANUARY TO MARCH AND APRIL WE START TO FISH FOR BREAM & RAYS TURBOT AND BRILL . ROD & REEL HIRE £5 PER PERSON CALL ME ON 07731465992 IF YOU BOOK A SPACE OR THE WHOLE BOAT PLEASE CALL THE NIGHT BEFORE TRIP TO MAKE SURE THE WEATHER IS OK FOR THE TRIP.REFUNDS GIVEN IF WEATHER IS TO WINDY OR BOAT OUT OF SERVICE. OR IF YOU WANT TO CANCEL YOUR TRIP YOU NEED TO GIVE ME AT LEAST 1 MONTHS NOTICE TO GET A REFUND,IF THE TRIP IS CANCELED AND YOU DON'T REBOOK WITHIN 6 MONTHS YOU WILL LOSE YOUR DEPOSIT. ROD & REEL HIRE IS £5 PER PERSON. POST CODE FOR BOAT BN9 9DL NO DRUNK PEOPLE ALLOWED ON THE BOAT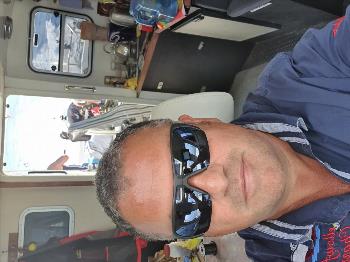 About the Skipper:
Skipper started fishing age 5 with grandad and dad fishing on the river seven for barbel, chub and perch , then moved on to sea fishing . I started fishing out of newhaven in 1993 on own boat Also been crew man for charter boat,still love to fish myself when i get chance,get a buzz from giving people a good days fishing,or somebody catching a personal best.Will help you set up your gear,and any help you need for the day.
This Charter has been listed as Suitable for Diving Trips. Contact the Skipper for full details.
This Charter has been listed as Wheelchair Accessible. Contact the Skipper for full details.
Sunday
Monday
Tuesday
Wednesday
Thursday
Friday
Saturday

Color for Fully Booked

Fully Booked

Color for Partially Booked

Partially Booked

Color for Available

Available

Color for Not Available

Not Available

Color for Unspecified

Unspecified

N.B. Not all Skippers keep this dairy up-to-date. Always check with skippers before making any plans. Last calendar update: 10-Sep-2018

Sat 1st Sep
Sun 2nd Sep
Mon 3rd Sep
Tue 4th Sep
Wed 5th Sep
Thu 6th Sep
Fri 7th Sep
Sat 8th Sep
Sun 9th Sep
Mon 10th Sep
Tue 11th Sep
Wed 12th Sep
Thu 13th Sep
Fri 14th Sep
Sat 15th Sep
Sun 16th Sep
Mon 17th Sep
Tue 18th Sep
Wed 19th Sep
Thu 20th Sep
Fri 21st Sep
Sat 22nd Sep
Sun 23rd Sep
Mon 24th Sep
Tue 25th Sep
Wed 26th Sep
Thu 27th Sep
Fri 28th Sep
Sat 29th Sep
Sun 30th Sep
Reviews
Summary:





Jeff Tugwell (25/03/2018)

Great days fishing yet again with 4 pollock up to 12lb and a bonus cod on the last wreck cheers mate see you soon.

Skippers Reponse: Thanks very much enjoy the fish, your a star thanks for all
your help rebuilding and repairing Yellowfin over the years.

darius dapkus (24/03/2018)

Thanks for a good day out definitely back very soon

Darius- Luton

Skippers Reponse: Hello Darius thanks you are very welcome any time.

Paul Wilkins (11/03/2018)

Fantastic days wreck fishing on the yellowfin with the skipper Kurt and deckhand Simon yesterday, 29 pollock caught biggest of the day 14 lbs, great boat to be on Kurt has a great knowledge of the wrecks and really does everything to get you on the fish, Simon's extremely helpful he doesn't do a bad cuppa tea either lol . I highly recommend Kurt and the yellowfin thanks for a great day

Paul Wilkins (11/03/2018)

We had a great day out wrecking on the yellowfin with the skipper Kurt and deckhand Simon yesterday with 29 pollock caught and a few lost biggest of the day 14 lbs. I highly recommend Kurt and his boat great to have a skipper that does everything he can to get you on the fish, Really enjoyable day thanks, kurt, and Simon

Skippers Reponse: Hello Paul Thanks very much for your custom all welcome anytime, glad you all had a good day and thanks for the review.

haig McNaughton (01/12/2017)

I had a brilliant day out in Dec 2017 and caught my first cod can't tell you how happy I was ,Yellowfin is a great boat to go on if your a first timer with really helpful skipper ,and I highly recommend it .

Skippers Reponse: Hello Haig you're welcome any time, glad you had a good day,
hope you enjoyed your fish, don't forget we have now started
Wreck fishing for Pollack. Hope to see you soon.
Happy New Year to you.


Latest Catches 1,251 photos uploaded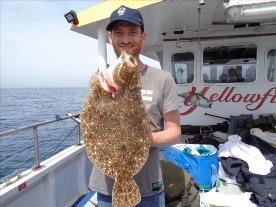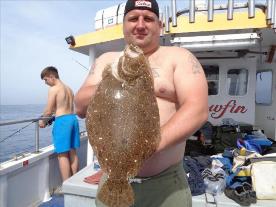 George
5 lb 4 oz Brill
Aug-2018
Latest Fishing Reports
12/2017

Fishing Report by kurt lander

Dec 2017 by kurt lander

Haig from Tunbridge Wells caught his first Cod on Blacklug and Squid combo, it was not the best year for inshore cod fishing so glad to see the back of 2017.
Yellowfi will be out Wreck Fishing on December 28th weather permitting, I have room so if you fancy ending the year with some Pollack fishing call me.

And Happy Xmas and the best New Year to all My friends customers Tight Lines to you all .

07/2017

Fishing Report by kurt lander

Jul 2017 by kurt lander

Pictured are retired commercial airline pilot Nigel and retired commercial fisherman Julian
Both caught personal best Turbot of 10lb 6oz. Nigel went on to catch Thorneback
and Undulate Rays. If you want to go Turbot or Brill fishing please give me a call.

04/07/2017

Fishing Report by kurt lander

4 Jul 2017 by kurt lander

Bill Standing from Kent had a good birthday fishing trip with family and friends, pictured
with one of his 3 Brill and Turbot he caught on the day.

11/2016

Fishing Report by kurt lander

Nov 2016 by kurt lander

Raymond Hempstead the Skipper of Charter Boat SORCERER from West Mersea, and David Newcombe a Landscape Gardener from Norfolk, both pictured with personal bests Cod, David's 20lb and Ray's 18.4lb

Both fish was caught on Squid & worm bait, on a flowing trace with 6/0 hooks. These 2 cod are the biggest on
Yellowfin so far this winter cod season if you fancy trying to do the same give me a call or email, room on the
boat on week days in November and December.

A big thank you to Ray and all the group for making a long journey to fish on Yellowfin. And wishing Ralph a
speedy recovery .

24/08/2016

Fishing Report by James Palfreyman

24 Aug 2016 by James Palfreyman

Went out with Kurt on yellowfin 24th aug out for turbot after a speedy trip out we were into fish from the off loads of gurnard and dogs over the slack water then as the tide started to move we had some nice undulates and thornies then the turbot came out to play with 7 being landed to 7lb and a couple of lost ones at the net...great to be back out with kurt and a great mixed bag of fish!