Charter Boat: Yellowfin
Licensed For:
up to 12 passengers
Code Of Practice:
cat 2 60 miles
Hours:
4hr / 8hr / 10hr / 12hr / Multiple Days Trips
Type of Fishing:
Drifting and Anchoring over Wreck's for Cod, Pollack, Bass, Ground Fishing with bait for Brill, Turbot, Plaice, Cod, Tope,Bream, and many other Species.
Tackle Available:
Yes - Contact Skipper
Bait Available:
Yes - Contact Skipper
Boat Specification:
11.5 Metres of Fishing Space on both sides of Boat.4 Metres Beam,Twin Engined,stable boat. Massive Deck Space With Seating for All
Facilities:
Tea or coffee, and soup, oven for hot food in winter,Iceytec cool boxs to keep your catch fresh , flushing toilet,
Additional Description:
NOW TAKING BOOKINGS FOR 2014. WEEKENDS FILLING UP SO HURRY IF YOU WANT A TRIP. BIG COD AND POLLACK TRIPS START LATE JANUARY TO MARCH AND APRIL . CALL ME ON 07731465992 IF YOU BOOK A SPACE OR THE WHOLE BOAT PLEASE CALL THE NIGHT BEFORE TRIP TO MAKE SURE THE WEATHER IS OK FOR THE TRIP.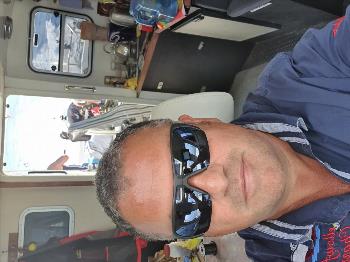 About the Skipper:
Skipper started fishing age 5 with grandad and dad fishing on the river seven for barbel, chub and perch , then to tenby so the sea fishing began, then to looe in cornwall so summer holidays spent fishing there. I started fishing out of newhaven in 1993 on own boat Also been crew man for charter boats,still love to fish myself when i get chance,get a buzz from giving people a good days fishing,or somebody catching a personal best.Will help you set up your gear,and any help you need for the day.
This Charter has been listed as Suitable for Diving Trips. Contact the Skipper for full details.
Latest Fishing Reports
13/11/2013

Fishing Report by michael button on Yellowfin

(Newhaven, East Sussex)

13 Nov 2013 by michael button

Had a great day out , first time out on yellow fin with Kurt. Ran out of bait despite taking a lot , caught 7 cod , dogfish , whiting pouting , Kurt put us right on the mark . Surrounded by other boats not catching anything , everyone on board were into cod. We had action from when he dropped the anchor to when he pulled it up. Lots of hot coffee and soup , couldn't ask for anything more really , thanks Kurt ill be coming back

08/2013

Fishing Report by kurt lander on Yellowfin

(Newhaven, East Sussex)

Aug 2013 by kurt lander

August has been a good month for fishing inshore and offshore on wrecks and ground fishing marks, on the inshore fishing Plaice bream mackerel gurnards smoothhounds been caught, on the wrecks more fish been caught anchored up with bait, rather than drifting over with lures, Turbot and Brill fishing has been good on one trip just under 30 turbots and 1 brill caught, Paul Walker catching his first Turbot of 9lb 6oz, And Calvin caught his first Brill, so if you want to catch some lovely turbot give me a call and make a booking.

Many Thanks to all our customers.

Tight Lines.

07/2013

Fishing Report by kurt lander on Yellowfin

(Newhaven, East Sussex)

Jul 2013 by kurt lander

June was a bit of a windy month but we still managed to get out to some long distance wrecks to catch some fine Pollack, not many cod in june this year but are now starting to show now in july, still lots of good fishing on light tackle on the inshore marks for plaice dabs sole bream and smoothounds. We have been catching lots of Turbot and Brill on live sand eel and on fresh Mackerel , on some new inshore marks. David link had two nice Brill and turbot, Jez thought he had a nice turbot only to find when it got near the boat it was a tshirt full of sand better luck next mate ! Ray caught turbot and was very sporting and let them go after picture taken, Tony Stream caught his first turbot of 8lb . Lots more to catch so give me call to book your spot on Yellowfin.

06/2013

Fishing Report by kurt lander on Yellowfin

(Newhaven, East Sussex)

Jun 2013 by kurt lander

At last the weather has warmed up, and the summer species are showing now, we have had our first Turbots of the year, two people catching their first ever Turbots,
Bream, Plaice and smooth hounds, Tope been caught on the rough ground.
As you can see some very nice Pollack been caught on the wrecks, best ones caught
on the new style redgills, and sidewinders and shads still catching nice fish.

A big thanks to all our customers tight lines to you all.

04/06/2013

Fishing Report by Charlie Bronse on Yellowfin

(Newhaven, East Sussex)

4 Jun 2013 by Charlie Bronse

Went out on a lovely, sunny but breezy evening with Kurt on Yellowfin. The brisk NE breeze meant we had to stay inshore but that didn't stop us catching ! 10 plaice up to 2lb, countless small dabs with a couple of keepers, 2 lovely sizeable bream, a couple of macks, a smoothound, a decent Channel whiting and the obligatory baby pout.

A great evening with a great skipper and we can't wait to get out again.
View All Fishing Reports
Edit this boat listing
Availability
DECEMBER - 2013

| Su | Mo | Tu | We | Th | Fr | Sa |
| --- | --- | --- | --- | --- | --- | --- |
| 1 | 2 | 3 | 4 | 5 | 6 | 7 |
| 8 | 9 | 10 | 11 | 12 | 13 | 14 |
| 15 | 16 | 17 | 18 | 19 | 20 | 21 |
| 22 | 23 | 24 | 25 | 26 | 27 | 28 |
| 29 | 30 | 31 | 1 | 2 | 3 | 4 |
Color for Fully Booked

Fully Booked

Color for Partially Booked

Partially Booked

Color for Available

Available

Color for Not Available

Not Available

Color for Unspecified

Unspecified
N.B. Not all Skippers keep this diary up-to-date. Always check with skippers before making any plans.
Reviews
Summary:





david link (16/11/2013)

Another good day out with Kurt, plenty of Whiting, Dogies The odd Cod and a Conger. We had a medical emergency on board which was dealt with in a truely professional manner by Kurt and his crew.This is a boat to feel safe on should the unforeseen happen.Many thanks Kurt

Skippers Reponse: Thanks David you and your friends always welcome, hope Alex gets better asap. All the Best

michael button (13/11/2013)

Had a great day out , had lots of cod , Kurt put us right on the mark , whilst the boats surrounding us were catching nothing. Lots of hot coffee and soup , lots of banter , couldnt ask for much more from a skipper , thanks Kurt

Skippers Reponse: Thanks Michael enjoyed your company, thanks for your custom hope to see you again. Glad you had a good day All the best.

James Palfreyman (23/08/2013)

Yet again Kurt put us in the action after the weather finally have way and we got out!! Loads of turbot & brill with plenty of other species making an appearance great skipper great boat, great day out

Skippers Reponse: Thanks James and all, a great bunch to take out fishing glad you all had a good day see you again soon.

chris hodson (01/07/2013)

a great days fishing had by all the skipper is a credit to his profession hoping to return soon for another trip i would recommend A*****

Skippers Reponse: Thanks chris glad you had a good day and hope you enjoyed eating your brill and turbot, many thanks, All the best

david link (06/07/2013)

Excellent day out with Kurt and his crew. One of the roomiest boats that we have ever fished from. Took home some nice Brill and Turbot. I would recommend Yellowfin to anyone looking to charter a boat out of Newhaven. Thank you Kurt we will be back again this year.

Skippers Reponse: Thanks David and Adrian a pleasure to have you on the boat, hope to you soon, Tight lines mate
View All Reviews
Add A Review