Charter Boat: Yell Rebel
Boat and Skipper Details
Licensed For:
up to 10 passengers
Code Of Practice:
60 MCA area 2
Hours:
8hr / Multiple Days Trips
Type of Fishing:
Deepsea angling on wrecks & Banks 6 years fishing from Cullivoe in Shetland
Tackle Available:
Yes - Contact Skipper
Boat Specification:
Rodman 12.50 sports fishing boat and Lochin 33 fast fisherman
Facilities:
Cold drinks and all tackle provided
Additional Description:
***** OPERATING FROM CULLIVOE MAY AND SUMMER THEN BACK TO LA GOMERA IN SEPTEMBER *****

We offer big game fishing from one day to a full week. Top of the range Shimano and Penn international tackle included as part of your charter. Catch Blue fin tuna, Big eye tuna and yellow fin.. This is wicked Tuna in reality!

In Shetland i established the first fishing charter boat in Cullivoe in 2010 and have all the experience of fishing these northern waters for over 6 years. I aim to target the many species available in Shetland and often try new reefs and wrecks. Shetland should not be about Cod bashing it's about experiencing the best anging available in the UK. My new boat is a Lochin and coded for 10, however i seldom fish more than 6. Your trip should be about your enjoyment & quality fishing and with six i can assist you and gaff your fish. I can take 7 or 8 but with these numbers i will have crew to assist. If you want to discuss a possible trip feel free to give me a call on 07793120958. I'm only to happy to spend time and answer and questions you may have on the fishing or travel.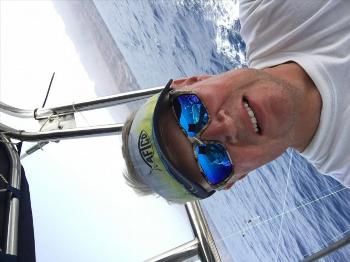 About the Skipper:
I have been fishing for 40 years and started chartering in the UK in 2004. In La Gomera since 2015. My objective is to help you catch the biggest fish of your life.. Always an adventure with us aboard Oberon of Yell.
In two seasons we have caught many large fish. With Bluefin to 850 lbs and Marlin to 700 lbs. In Shetland i established the first charter angling from Cullivoe in 2010. My old boat Oberon is now run by Kenny Graham. I'm now back from 2018 and looking forward to once again putting my anglers onto marks that have never been fished. If i get the weather i'm happy to run 30 miles from base to explore new wrecks. The two wrecks that lie within 12 miles of Cullivoe produce good ling but they have been fished constantly for 5 years with charter angling and jigging boats. the wrecks i target are never fished. one that is 38 miles from base has only been fished 4 times in 5 years. Every ling i have taken off it has been over 40 lbs. With Cod to 40 often just off the wreck.
Sunday
Monday
Tuesday
Wednesday
Thursday
Friday
Saturday

Color for Fully Booked

Fully Booked

Color for Partially Booked

Partially Booked

Color for Available

Available

Color for Not Available

Not Available

Color for Unspecified

Unspecified

N.B. Not all Skippers keep this dairy up-to-date. Always check with skippers before making any plans. Last calendar update: 15-Oct-2017

Mon 1st Jan
Tue 2nd Jan
Wed 3rd Jan
Thu 4th Jan
Fri 5th Jan
Sat 6th Jan
Sun 7th Jan
Mon 8th Jan
Tue 9th Jan
Wed 10th Jan
Thu 11th Jan
Fri 12th Jan
Sat 13th Jan
Sun 14th Jan
Mon 15th Jan
Tue 16th Jan
Wed 17th Jan
Thu 18th Jan
Fri 19th Jan
Sat 20th Jan
Sun 21st Jan
Mon 22nd Jan
Tue 23rd Jan
Wed 24th Jan
Thu 25th Jan
Fri 26th Jan
Sat 27th Jan
Sun 28th Jan
Mon 29th Jan
Tue 30th Jan
Wed 31st Jan
Latest Catches 3 photos uploaded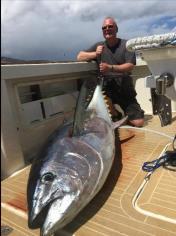 Latest Fishing Reports
07/08/2017

Fishing Report by john keggie

7 Aug 2017 by john keggie

Oberon has just reached the midway point in our second season in La Gomera. We had a great start to the season with many species caught. During March & April we caught a number of Bluefin with many around 700 lbs. Two of our best went over 800 lbs on the measurement charts. We also caught a number of Big eye tuna with the best at 271 lbs for Dave Wilson.

In 28 days on the Blue Marlin we have had 17 marlin with 8 captured to the boat. All nice fish with a number around 500 lbs.