Charter Boat: Yorkshire Lass II
Availability Calendar
32 Reviews

Reviews Unaccepted: 1
Boat and Skipper Details
Licensed For:
up to 12 passengers
Code Of Practice:
20 miles from safe haven
Hours:
2hr / 3hr / 4hr / 5hr / 6hr / 7hr / 8hr / 9hr / 10hr / 11hr / 12hr / Multiple Days Trips
Type of Fishing:
WRECK, REEF, ROUGH GROUND, UPTIDE AND LIGHT LINE LURE FISHING
Tackle Available:
Yes - Contact Skipper
Bait Available:
Yes - Contact Skipper
Boat Specification:
40ft. PURPOSE BUILT ANGLING BOAT. LARGE SPACIOUS DECK
Facilities:
TOILET, AMPLE SEATING, HOT AND COLD WATER
Additional Description:
YORKSHIRE LASS specialises in fishing charters for the enjoyment of yourself, the other anglers on the charter, skipper and crew.Therefore NO ALCOHOL is allowed on this vessel..

BIGGER BOAT NOW OPERATING FOR 2013

2,3 and 4 hour trips are run APRIL to SEPTEMBER afternoons and evenings. Ideal for families..

FREEZER FACILITIES - for anglers fishing muliple days.



Whatever length or type of trip you require we can put together a package to suit.
Individual anglers, small groups aswell as full charters are catered for.

YORKSHIRE LASS II IS A 40 FOOT PURPOSE BUILT ANGLING LAUNCH, POWERED BY A 130HP FORD ENGINE. FULL ELECTRONICS AND SAFETY EQUIPMENT. PROFESSIONALLY RUN AND WELL MAINTAINED YORKSHIRE LASS IS LICENCED FOR A MAXIMUM OF 12 ANGLERS, WHO CAN FISH IN COMFORT ON HER LARGE UNCLUTTERED DECK. A CHOICE OF RODS ARE PROVIDED FREE FITTED WITH MULTIPLIER REELS TO SUIT THE INDIVIDUAL.
About the Skipper:
PAUL HAS BEEN FISHING OUT OF BRIDLINGTON FOR THE PAST 30 YEARS ON BOTH CHARTER AND COMMERCIAL BOATS, THE PAST 17 YEARS AS A BOAT OWNER AND IS NO STRANGER TO COMPETATIVE ANGLING. I FISHED FOR MANY YEARS IN THE BRIDLINGTON BOAT TEAM AROUND THE COUNTRY INCLUDING THE TVS FINAL IN GUERNSEY.
WHETHER IT IS WRECK, REEF, ROUGH GROUND OR LIGHT LINE LURE FISHING I ALWAYS AIM TO GIVE MY ANGLERS A SUCCESSFUL AND ENJOYABLE DAY OUT.





.
Now taking bookings for 2017


All deposit cheques should be made payable to Paul Chapman and sent to 37 ST AIDAN ROAD, BRIDLINGTON, EAST YORKSHIRE, YO16 7SN
Upcoming Individual Spaces on Yorkshire Lass II
Sorry, there are currently no Individual Spaces at present.
Reviews
Summary:





Reviews Unaccepted: 1
steven hilton (26/08/2016)

I haven't been fishing from Bridlington for many years but decided to give it a go......had a fantastic day and the fishing was great. The skipper was brilliant - really helpful given my novice status with a sea rod as opposed to a fly rod which i am used to!...will book another trip soon...thanks for a great day ou!

Skippers Reponse: Thanks for the review steven. Glad you enjoyed your day out even if the weather was far from favourable. Look forward to seeing you on your next trip. Regards paul.

Alistair Campbell (25/06/2016)

Just back from a trip out with Paul. 6 novices and two with some experience. Paul and Gordon were abosulte stars and looked after us well. What an amazing day despite the hangovers. I will definitely be coming back with 2 or 3 of the others to have a go at the wreck fishing. Thanks for an amazing day Paul. From Ally and all the lads on 26th June 2016

Johnathon Gledhill (03/10/2015)

Thanks to Paul for looking after us and also arranging another boat as we had 22 guys present. Not massive catches but everyone had a great day and the first timers are up for another trip. Thanks again Paul for a cracking day.

Skippers Reponse: Thanks for the review johnathon. A good group of lads which made a very enjoyable afternoon. look forward to seeing you all in the spring. Regards paul.

John Egan (26/09/2015)

Had a great day fishing on the Yorkshire Lass last Saturday. Caught plenty of codling over the wrecks and rough ground and everyone had a great time. I would highly recommend Paul to any anglers wishing to have a fantastic day sea fishing. John Egan Reckitss Sea Angling Club, Hull.

Skippers Reponse: Thank-you for your review John. You have been lucky with the weather on this years trips, resulting in some good fish being taken off the wrecks. See you all again soon, regards Paul.

Chris Bowater (13/09/2015)

Great day on Yorkshire lass. Skipper real friendly and helpful will be seeing you soon Paul. Cheers for a great day out

Skippers Reponse: Thank-you for the review Chris. Glad you enjoyed your day out and look forward to seeing you on the 10th, regards Paul.
Latest Catches 50 photos uploaded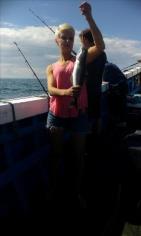 Charlotte
3 lb Coalfish (Coley/Saithe)
25-Jun-2016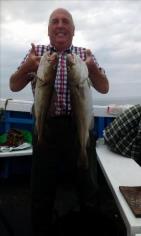 Latest Fishing Reports
22/06/2016

Fishing Report by Stuart Watts

22 Jun 2016 by Stuart Watts

Great day out with Paul on referendum day. There were 7 blokes from The Robin Hood fishing club in Derbyshire who made me most welcome. The boat had had a bumper haul of mackerel and herring the day before so there was a bit of banter of "you should have been here yesterday" I personally caught about a dozen big mackerel, a couple of hearings, 3 keeper cod, a few coal fish, a ling and plenty of pouting. Even had the one that got away when I was snapped off. We started under the cliffs at Flamborough and later moved onto a couple of wrecks. Paul tried really hard to put us on fish and the last wreck produced cod to 6lb plus some nice ling. Great day out and already booked up for a day in July. Tight lines Paul. All the best Stuart

23/06/2016

Fishing Report by Trevor Sharpe

23 Jun 2016 by Trevor Sharpe

Great day out with Paul who moved around to find fish all trip. We found a few mackerel, coley, whiting and Herring during the early part of the trip which culminated in a super finish to the day in the afternoon on two wrecks where good cod were caught by all

Paul is experienced skipper and nothing is too much trouble, he wants all to have a good day fishing and in my experience this last two years we always have a good day.

Great stuff Paul look forward to our next trip

Trevor

26/05/2015

Fishing Report by Paul Chapman

26 May 2015 by Paul Chapman

Pictured is Bob on the first of his 7 midweek 10hr wrecking trips. Bob took the sweep money with the heaviest fish of the day, a 12lb Ling.

For once the weather was perfect and everyone went home with a good catch of mainly Cod, with a few Ling at slack water.

The wrecks are now fishing with Cod up to 8lb and Ling into double figures.

The Insure fishing has greatly improved with plenty of Cod, between 2lb and 5lb.

A variety of trips are available from 10hr wrecking trips to 3hr inshore trips which are ideal for families.

Whatever your requirements we can arrange a fishing trip to suit.

Regards Paul.

24/12/2014

Fishing Report by Paul Chapman

24 Dec 2014 by Paul Chapman

YORKSHIRE LASS 2 FISHING CHARTERS would like to take this opportunity to wish all our customers a MERRY CHRISTMAS and a HAPPY NEW YEAR.
Thank-you all for your continued support and look forward to seeing you on board in 2015.
Regards Paul, Jackie & Ryan

06/2014

Fishing Report by Paul Chapman

Jun 2014 by Paul Chapman

Fishing remained good throughout June on the Flamborough rough ground marks, with Cod and Ling into double figures now showing on the wrecks. Pictured is Bob Boryszczuk and the rest of his party on the first of his 7 mid-week trips. Catch total was 150 Cod plus Pollock and Colley.