Charter Boat: Anna 3
2 Reviews

Boat and Skipper Details
Licensed For:
up to 10 passengers
Hours:
3hr / 4hr / 7hr Trips
Tackle Available:
Yes - Contact Skipper
Boat Specification:
10 Metre Catamaran
Facilities:
DGPS, RADAR, Echo sounders, VHF and LAPTOP COMPUTER Navigation System. Toilet facilities.
Additional Description:
The Best Fishing in Jersey - For daily fishing trips throughout the year, come aboard the 'Anna 3' 10 Metre Catamaran.
Whether a seasoned professional, or a complete beginner, we will welcome you aboard and take you to some of the best off-shore fishing Jersey has to offer!
A full day off shore fishing, mainly bottom fishing for mixed species, including; Black Bream, Conger, Tope, Bull Huss, Turbot & Brill (when in season), various types of Ray's, Pollock, and many more.
The trip includes all equipment (rods, reels, end tackle) and Bait. Plus free Tea/coffee, biscuits and bottled water. Tuition, if needed, is provided Free of charge.

Jersey has some amazing coastline and off-shore fishing locations, so with over 25 years experience, we will find the spot thats just right for your trip.
'Anna 3' is fitted with full safety equipment and fully licensed and insured as a charter vessel. We take pride in our reputation for providing fantastic fishing, and keeping your safety as a priority whilst at sea.
About the Skipper:
Tony Heart was introduced to fresh water angling by his father at the tender age of seven.
This became his passion right through his teenage years and into adulthood. Freshwater became salt, both shore and boat angling, when he first arrived in Jersey in 1972.

He has fished Jersey waters from various vessels, including his own charter boats, for almost 30 years. In this time he has gained many specimen certificates, and held the Channel Islands 'Smoothhound Record' from 1987 to 1994, when the record was broken by one of his very own customers on Anna II with a fish of 20lbs 4oz!

Since then Tony has become one of the only charter skippers to hold a British Record for the largest 'Ballan Wrasse' ever recorded on rod and line, a fish of 9lbs 7oz 12drms. During Tony's 19 years as a professional charter boat operator, no less than eleven record fish have been caught while he was skipper.

Tony has owned the Anna 2 for 17 years, but her successful working life as an angling boat spans over 25 years. This makes here the longest established Charter Angling boat in the Channel Islands.

Skipper - Qualifications
Tony holds the Royal Yachting Association (RYA) Yachtmaster Offshore Certificate of Competence, and is fully compliant with E.U. code of practice licensing scheme, and local boatman's licence.
Upcoming Individual Spaces on Anna 3
Sorry, there are currently no Individual Spaces at present.
Reviews
Summary:




mark greely (10/07/2015)

2 day's fishing aboard Anna 11 both great days with plenty of fish caught with some big bream. a very thoughtful skipper and Diego the deckhand always there to help the the experienced and the learner I would highly recommend

jon old (02/09/2014)

Great day out with Tony, first time for us, would highly recomend, faultless, coming back to Jersey as extremely impressed. Jon Old.

Skippers Reponse: Thanks Jon, I didn't know you cared. Your very welcome any time and I must come and check you out maybe Oct if we can get time off.

Cheers for now,
Tony & Kathy.
Latest Catches 11 photos uploaded
Austin
15 lb 6 oz Turbot
Oct-2019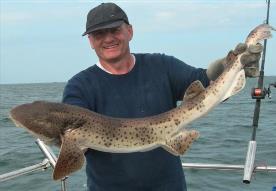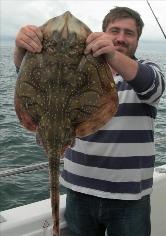 Mark
11 lb 6 oz Undulate Ray
Aug-2019