Charter Boat: Atlantic Blue
Availability Calendar
7 Reviews

Reviews Unaccepted: 1
Boat and Skipper Details
Licensed For:
up to 10 passengers
Code Of Practice:
60 miles
Hours:
2hr / 4hr / 6hr / 8hr / 10hr / 12hr / Multiple Days Trips
Type of Fishing:
Sharking, fishing at anchor over sand or rough ground, drifting over inshore and offshore reefs. Main species blue and porbeagle shark, pollack, codling, coley, whiting, bass, ray, flatties, huss, hounds and tope. Please refer to website for more details on trips and charters.
Tackle Available:
Yes - Contact Skipper
Bait Available:
Yes - Contact Skipper
Boat Specification:
Modern Evoluton 33 with single 420hp caterpillar engine. Strong and powerful, re-manufactured 2020. Plenty of deck space. WC. All the usual electronic navigation aids - chart plotter, radar, fish finder, AIS.
Facilities:
Tea, and coffee provided FOC. Tackle, rods and reels available.
Additional Description:
Broadside Boat Charter have been run out of Dale, a picturesque seaside village near the mouth of the Milford Haven waterway, April to September then Milford Marina for the Autumn/Winter period. Plenty of parking.

AVAILABLE FOR CHARTERS ALL YEAR
2022 BOOKINGS ALSO BEING TAKEN.
BESPOKE CHARTERS AVAILABLE.
Shark charters 12 hrs £695 or £150pp as individuals including tackle
Offshore reefs (Hats & Barrels) 10 hrs £550 or £70pp as individuals
Stackpole 10 hrs £550 or £70pp as individuals
Inshore island 8 hours £450 or £60pp as individuals
Inshore 6 hours £400 or £50pp as individuals
Haven 6 hours £300 or £40pp as individuals
Inshore trips 4 hours £350 or £40pp as individuals
Inshore trips 2 hours £190 or £20pp as individuals

PLEASE CHECK LADY GAIL II if the dates you want are already taken on Atlantic Blue.

OPERATING COMMERCIALLY FROM DALE FOR OVER 15 YEARS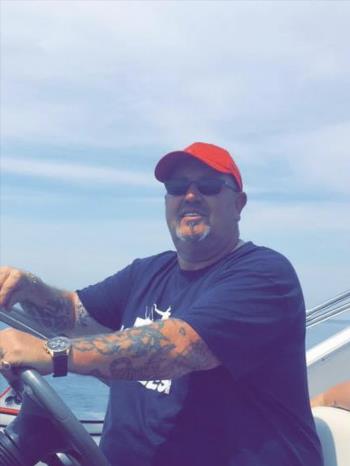 About the Skipper:
Andy was born and bred in the area and has fished the local waters for as long as he can remember from boat and shore.
Sunday
Monday
Tuesday
Wednesday
Thursday
Friday
Saturday

Color for Fully Booked

Fully Booked

Color for Partially Booked

Partially Booked (Individual Spaces)

Color for Available

Available (Whole Boat)

Color for Not Available

Not Available

Color for Unspecified

Unspecified

N.B. Not all Skippers keep this dairy up-to-date. Always check with skippers before making any plans. Last calendar update: 26-May-2022

Sun 1st May More...
Mon 2nd May More...
Tue 3rd May More...
Wed 4th May More...
Thu 5th May More...
Fri 6th May More...
Sat 7th May More...

Inshore reef

Sun 8th May More...
Mon 9th May More...
Tue 10th May More...
Wed 11th May More...

Free from 2pm

Thu 12th May More...
Fri 13th May More...
Sat 14th May More...

Inshore

Sun 15th May More...
Mon 16th May More...
Tue 17th May More...
Wed 18th May More...
Thu 19th May More...
Fri 20th May More...
Sat 21st May More...

Inshore reefing

Sun 22nd May More... 6 hour reefing trip from 10am
3 spaces @ £50pp
Mon 23rd May More...
Tue 24th May More...
Wed 25th May More...

Inshore reefing

Thu 26th May More...

Tope

Fri 27th May More...
Sat 28th May More...

Seasearch

Sun 29th May More...

Seasearch

Mon 30th May More...
Tue 31st May More...
Upcoming Individual Spaces on Atlantic Blue
Reviews
Summary:




Reviews Unaccepted: 1
Ian Bowmer (27/05/2021)

Great days fishing off Skokholm and Somerset. Everyone caught including Pollock up to 4lb, strap conger, cod and dogfish. Andy is a very knowledgeable skipper. I would recommend him to anyone, experienced or not. You'll have a great days fishing

Mike Dabek (15/09/2018)

Had a fantastic day sharking with Andy, great skipper and put us on some great sport. I and my three mates were buzzing to say the least! Cheers Andy, we'll be back.

Skippers Reponse: Cheers Mike, glad we got that window in the weather and you had a couple of qualifiers for the shark club. Look forward to seeing you next year.

Vernon Leadbetter (13/08/2015)

What a day! Well over 30 Blues , Fantastic- Many thanks Andy

Skippers Reponse: Hi Vern. My pleasure, look forward to the next one. Another 150lb porgy today, been a brill season for them. Hope you hook one up soon.

Des Kendall (05/07/2014)

The plan was to catch our first ever sharks, anything that looked like a shark was fair game! Andy was super confident from the outset with a charisma to match. His calm easygoing manner ensured everyone got on and he worked hard all day long to get us fish.

Luke Rees (27/05/2012)

The Danglers had our first tope trip with Andy at the weekend and what a hot trip it was. Bringing 24 Tope to the boat to 23lb, 40+ Huss to 14lb 8oz and Pollack to 10lb. The club is reeling with Andy next, can't wait. Cheers
Bait & Tackle
Anglers Corner

Milford Haven, Pembrokeshire, South West Wales, Wales

County Sports

Haverfordwest, Pembrokeshire, South West Wales, Wales
Latest Catches 142 photos uploaded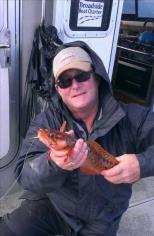 John Brooks
1 lb 12 oz Three Bearded Rockling
29-Sep-2017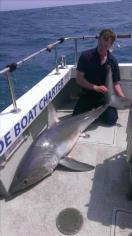 Latest Fishing Reports and News
20/06/2013

Fishing Report by Keith James

20 Jun 2013 by Keith James

Our first time out with Andy we all enjoyed ourselves,plenty of fish lol, seriously loads of fish, god craic our Andy,tries very hard to put you on the fish, very strange no mackerel about at the time,will be booking a trip hopefully in Sept this time offshore hope we have a good day ,will also try in the winter Keith James(SAM)

28/04/2012

Fishing Report by Luke Rees

28 Apr 2012 by Luke Rees

Yesterday the Danglers plus guests and friends, potential new members... there was a rabble of us any who, made for the bank in rather choppy conditions, to try our hand at some flatties.
[IMG]http://i822.photobucket.com/albums/zz142/luke_westwalesfishing/2012/DSC00598.jpg[/IMG]

On board Volsung with skipper Andy we tried to drift the bank first, which didnt work out too well with the wind and tide together pushing us off the bank. We did manage to pick up some small dabs and gurnards though.

We dropped the anchor and sat there bobbing... and bobbing and bobbing.. and then the fish came. We had plaice, lots of dabs and some good ones too, as well as many a gurnard of which some were kept for the pot too. Not for me though, I was out for the fun of it today. Heres Joe with a double shot of dab, and a very tangled rig!
[IMG]http://i822.photobucket.com/albums/zz142/luke_westwalesfishing/2012/DSC00595.jpg[/IMG]

Mike the strike was using a sea searcher rig, it was around 25ft long and had three snood, each 4.2 metres long. It worked, he had triple shots and a few of them! He had dab gurnard dog, gurnard gurnard gurnard and more. 

New member to be Brain then went and nabbed a Turbot at anchor, on my rig, with mackerel I prepared for him.. I did tell him I charge per fillet on comission. Well done fella, it weighed 2lb 8oz. 
[IMG]http://i822.photobucket.com/albums/zz142/luke_westwalesfishing/2012/DSC00593.jpg[/IMG]

The dabs and gurnards and of course dogfish continued and everyone bagged up. The tide had picked up by now on the bank so it was time to head in towards the reefs and see if we could snag a rock or two... I mean a pollock.

A fellow charter boat popped out to see us... The biggest LNG tanker that enters and exists the Haven, I think.
[IMG]http://i822.photobucket.com/albums/zz142/luke_westwalesfishing/2012/DSC00596.jpg[/IMG]

The first drop into the reefs and the fish were right under us, Pollack here, Pollack there and then a cod and the odd ballan wrasse for good measure. Of course coming to a grand variety of colours and shapes, fantastic fun on light gear.

A Ballan for Mike..
[IMG]http://i822.photobucket.com/albums/zz142/luke_westwalesfishing/2012/DSC00599.jpg[/IMG]

A Pollack for Andy's guest Chris..
[IMG]http://i822.photobucket.com/albums/zz142/luke_westwalesfishing/2012/DSC00601.jpg[/IMG]

A lovely reef Cod of 3lb 10oz for Chris' friend Alec..
[IMG]http://i822.photobucket.com/albums/zz142/luke_westwalesfishing/2012/DSC00602.jpg[/IMG]

Brian with a string of 4 Pollack!!!! 
[IMG]http://i822.photobucket.com/albums/zz142/luke_westwalesfishing/2012/DSC00603.jpg[/IMG]

Keith thought he would feed the local contingent of black back and sea gulls. Nearly bagged himself another Gannet today too, dived for his bait.
[IMG]http://i822.photobucket.com/albums/zz142/luke_westwalesfishing/2012/DSC00600.jpg[/IMG]

We managed species 11 today, Dogs, Dab, Plaice, Grey Gurnard, Tub Gurnard, Turbot, Pollack, Launce, Mackerel, Ballan Wrasse, Codling.

So a decent session on the bank followed by hectic action on the reefs made for a very enjoyable day out on the boat despite the fairly rough sea, with good tea and chatter with skipper Andy thanks as always, good company with friends... but no cake. I have to own up mum did make some but I didnt get round to picking them up.. sorry guys. Next month mind. 

Lets hope these easterlies dont last and some high pressure settles.
Cheers
Luke


21/08/2011

Fishing Report by Luke Rees

21 Aug 2011 by Luke Rees

A first for the Danglers. A trip out of The Haven, turning right and going beyond the beautiful inshore island of Skomer and surroundings and heading North to The Bishops and Clerks. Today we were on board Volsung from Dale with skipper Andy. Earlier in the year Andy has had some cracking reef Pollack up to just under double figures. Hopes were high among the 10 Danglers on board for some good fish and we weren't to be disappointed.

I myself had yet to bag a Cuckoo Wrasse this year, and wanted one for my species hunt. I was not let down as on the first drop of my Silver Blue Dream Lures I had a good knock and took up the first fish of the day, a Cuckoo Wrasse. There's a way to start the day, one happy Dangler.

There was then a steady stream of smaller Pollack and small Coalfish, along with the odd Ballan Wrasse before anything of size came up. But it did. Interesting to note that despite excellent persistence from Daihook gilling with a Sidewinder, he didn't land a fish with this method. Others tried and failed too... All good fish today came on Hokkai's and after making the switch Daihook (Ian) did hit some good fish.

Here's a good Pollack had by Mike Middleton, a nudge over 5lb. Mike took the fish using orange hokkais.

We hit a patch of good ground, I'm told there was a small wreck around the area and fishing was hectic so I didn't have many opportunities to take pictures. My brother Tom who was guest for the day lost a rig so I set him up quickly with my previous rig ready to go, first drop he had a cracking Pollack and over 5lb. I had a smaller one at the same time too. Brotherly picture ey.

Tom was feeling a bit queasy and had it up over the side a few times which limited his fishing time but he did well to persist and bag a few fish. Jim was also ill and slept it off in the cabin all day. I managed a pretty good Pollack of my own at a nudge over 5lb, he just would not stay still for the picture so Greg gave the fish his last rights and we had a good picture.... then I forgot it was dead and chucked it back as I was on a Cod mission today ...ooops. Luckily the net was handy and we scooped him back up.

Mike Middleton was having a cracking day, in the end he managed the biggest Pollack of the day and one of the few Codling we managed to muster off the reefs. His Pollack was 5lb 14oz and the Codling was 5lb 4oz.

Greg, being the Samaritan he is went to help Mike net a fish while Andy was making a tea. Now Greg did ask me to watch his rod while he went and helped. So I did, until in the blink of an eye there was a huge bit on it and it got ripped straight in. Despite my dive for it that Ian said Warren Gatland would have been proud of it was now the property of a large Pollack somewhere around the Bishops. So he had a bun had reflected on the one that got away, by the time we got home it was talked up to a double figure Cod I think.

Here are the buns expertly modeled by Ian before being ravaged at the hands of the Danglers. You cant beat an afternoon tea break out there.

I managed to get a nice picture of the rocky formations of the Bishops as we left. They were a beautiful and eerie place to fish. We made a pit stop on the way home at Martins Haven to bag up with some Mackerel for tea and freezer filling. They were of a smallish size here, nothing like the size from the Smalls last week.

Thanks to Andy for a great day out. The trip was a first for the club and was rated a success with the good average size of the Pollack. They were of a much better size than the Hats and Barrels. Today we had Ballan Wrasse, Cuckoo Wrasse, Mackerel, Launce, Coalfish, Pollack and Codling so a nice mix of species.

Cheers
Luke

09/07/2011

Fishing Report by Keith Jones

9 Jul 2011 by Keith Jones

Out again while on holiday in the area with the expert skipper Andy Truelove ., this time drift fishing near bishops and clerks .It was an outstanding day for all of us onboard , especially myself, being from the midlands and a hundred miles from the nearest sea it is always a treat to get out on a boat ..
i enjoyed tremendously the company of the local lads fishing that day ..Andy .The Skipper was superb again with help and advice to myself and others aboard Volsung. Pollack in vast numbers were caught by all along with wrasse..cod ,codling ..we ended the session trying for mackerel for later bait / tea ..but the shoals were ellusive ..and only a few caught .
All in all a superb day out for the anglers ..thanks very much Andy ..see you soon ..before i go home .
Keith (casey) Jones

10/04/2011

Fishing Report by Andy Truelove

10 Apr 2011 by Andy Truelove

First trip of the season for Volsung saw an vast improvement on last years initial catch of flatties. In all there were 3 plaice, 6 turbot and 29 dabs as well as the usual gurnard and dogs. Hopefully this bodes well for the season ahead. Things didn't go quite so well drifting over the reefs for a couple of hours. Only saw about a dozen pollack, biggest 3lb. This time last year we were seeing 8lb pollack and cod. This should improve as things warm up.