Charter Boat: Bluedawn
Boat and Skipper Details
Licensed For:
up to 12 passengers
Code Of Practice:
20 miles
Hours:
3hr / 5hr / 8hr / 9hr / Multiple Days Trips
Type of Fishing:
Ground Fishing,Tope Fishing
Tackle Available:
Yes - Contact Skipper
Bait Available:
Yes - Contact Skipper
Boat Specification:
Suffolk 35 massive deck space, with all the latest navigational aids and equipment, and safety equipment
Facilities:
Hot Refreshments served onboard
Additional Description:
Bluedawn is a well proven charter boat, , a very comfortable boat in whatever sea you may be in having a wide beam giving extra stability along with comfort, can comfortably fish 10 anglers, although it is licenced for 12 for that little extra space I would advise 10 persons max but its your call, everything you catch is for you to keep, or return for another day, provided it is of size, unlike some skippers who let you only take a percentage of your catch, we are moored in Great Yarmouth's river Yare, there is ample safe parking for cars/vans close to the boat. and easy access,

We cater for the beginners as well as the seasoned angler ,full instruction given. On Board toilet Bait ,tea ,coffee, all included , please bring what you like though. PLEASE NOTE. IF YOU WANT TO USE WORMS ALL DAY BRING YOUR OWN KEEP THEM TO YOURSELF DUE TO THERE EXPENSE. Open deck for uptiding. Plenty of free parking off road. We also do NIGHT TIME trips please ask for details .Also tope and bass specialist trips in the summer.. GIFT VOUCHERS available please email, can be used up any time of year great birthday and Christmas gifts. Normal trips costs £50 for the day, bait included.

IMPORTANT. on booking the whole boat, we are coded for 12 places which has to be covered, it means what it says not expecting to pay for 6 places when your mates let YOU down. Organisers of trips please be aware best to collect all funds before sail date to protect the others in case of let downs, responsibility is the group who have booked not the skippers.

REMEMBER TO BOOK PRIOR TO COMING ON HOLIDAY TO GUARANTEE YOUR PLACE:- If you are planning a holiday or just a short day and full day trips, fishing from Great Yarmouth . easy parking and boat access. We will also do longer trips as required. Booking for winter fishing running trips daily.

For the best price and probably the cheapest on the East coast, give Richard a call discounts for mid week trips.

Please phone for prices

If you are coming down to the Norfolk area for a holiday or just a day out, try to ensure you book your trip with us before you leave to guarantee your place on the Bluedawn, not always necessary but strongly advised

Tea and Coffee and biscuits provided if you chose to bring pies I will gladly heat them up for you.

Please note I am not one for putting lots of photographs on the website as a lot are made up come with us and enjoy a good day out,
NOW TAKING BOOKING NOW FOR WINTER FISHING,2021 LOOK FORWARD TO SEEING YOU ALL AGAIN.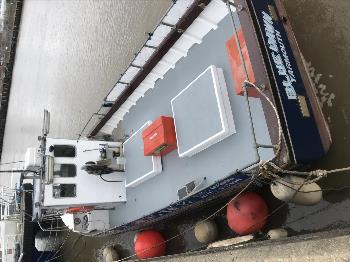 About the Skipper:
Richard has over 30years as a charter skipper and all spent in this area so a vast local knowledge of the grounds you will be fishing,as well as a commercial fisherman in this area, he holds all the valid certificates required by the MCA for chartering, he is a Skipper/Owner, so the boat as well as your safety and enjoyment are paramount to him, catering is for individuals, groups, and block bookings,even the person who has never fished on a boat or fished before and would like to give it a go, tuition is given, along with help and advice as needed
Upcoming Individual Spaces on Bluedawn
Sorry, there are currently no Individual Spaces at present.
Reviews
Summary:




Leigh Newton (03/08/2021)

We had a fantastic time out with Richard and his dad today. We caught some bass and whiting. The whole experience was great. Richard and his father such lovely people. We'd definitely come back and recommend to our keen fishing friends and anyone that would like a brilliant day out.

Skippers Reponse: Thank you for you review it was a pleasure to meet and take you all, hope to see you all again take care and stay safe Richard

Neil Warren (07/07/2021)

We recently spent a fantastic day fishing with Richard aboard his excellent boat, Blue Dawn. Richard provided all the tackle we needed including replacements when we lost lines during the day and it was of high quality - as was the bait, also provided. This meant we managed to catch significant Whiting, Smooth hound and Huss throughout the day in more than enough quantity to feed 17 people in the evening for dinner. The boat was very spacious, in excellent condition and we couldn't recommend the day or the skipper highly enough. If you book with Blue Dawn charters you will be well looked after - Richard knows his stuff and is a thoroughly nice bloke into the bargain. Neil, friends and family.

Bradley Veitch (09/07/2021)

A great day out! Richard the skipper was very friendly yet professional and knowledgeable helping to keep us on the fish all day. All 5 of us had a great day and would not hesitate to recommend Richard and his boat Bluedawn.
Thanks again for today, hopefully be back on board soon!

Skippers Reponse: Thanks Bradley delighted you all enjoyed your fishing great to meet you guys looking forward to next time

Graham Hunt (16/07/2020)

Myself and my son booked a trip with Richard on Bluedawn on 16/7/20. Richard is clearly an experienced skipper , his knowledge of the area is good and nothing was too much trouble. As soon as we set anchor my son caught a 2 1/2lb dog fish (??) and in the following 3 hours we both had numerous Whiting. If your looking to book a sea fishing trip I would highly recommend booking Bluedawn.

Skippers Reponse: Thank you Graham so pleased you both enjoyed yourselves looking forward to seeing you both again at some point in time

Gabriel Han (16/07/2020)

I had a great time on Bluedawn with Richard as skipper on Thursday morning. His knowledge of the local waters and fishing techniques is amazing, and his international travels broadened his horizons making him an extremely enjoyable companion. I always felt safe on the boat and was given the appropriate level of safety info at the start. We fished with mackrell and squid as bait and caught about 50 good size whiting between the two of us in just three hours - often two fish at a time! Many thanks Richard for a great fishing trip, hope to come back with a couple of friends soon!

Skippers Reponse: Thank you Gabriel, so pleased you enjoyed your trip hopefully we will see you again in the not so distant future
Latest Catches 33 photos uploaded
Latest Fishing Reports and News
10/2021

Fishing Report by Richard Green

Oct 2021 by Richard Green

Hi Everyone, fishing at the moment very good from Great Yarmouth with Thornback Rays, Doggies abundance of large whiting and codling just sstarting to show, booking being taken now for short or full days individual or block bookings, Bluedawn is a large renown vessel built for comfort, teas and coffees provided, discounts for weekends,

We are now taking booking for Tope & Bass fishing for next year, I know its a bit of a way off, but you need to book to get your places, before they have all gone, our prices wont be beaten, phone for details. I have been commercial and charter angling skipper for over 30 years hope to hear from you all,

10/2021

Fishing Report by Richard Green

Oct 2021 by Richard Green

Hello all, we are now taking bookings for winter fishing, the first signs are good, with an abundance of good quality Whiting, Roker and still a few doggies showing, should be anytime now that we start to see the start of the winter cod moving in, Bluedawn is a renown charter boat for space and sea capabilities, so if you fancy a great day, give us a call to book your place, hope to hear from you soon

18/07/2021

Fishing Report by Richard Green

18 Jul 2021 by Richard Green

Great days fishing yesterday with a good sprinkling of sea Bass to 5.5lb and plenty of large common and starry smoothounds, catching on Squid and mackeral, thoroughly enjoyable fish were fedding as soon as we got to the marks and stayed feeding throughout the whole day
don.t forget to book if you are looking for a trip spaces are filling fast, look forward to seeing you and hopefully let you share a bit of the action

05/2021

Fishing Report by Richard Green

May 2021 by Richard Green

Hi All
Plenty of fish currently showing on known marks with Thornbacks, large Smoothounds, and occasional Bass, now showing up, best bait seems to be crab, squid and all fish baits, please note that Bluedawn won't be available for charter until the 5th June, but from then it will be all systems go so if you fancy a trip, and a good cup of tea or coffee, please don't hesitate to give me a call, to ensure your place and enjoy a great day at sea, with me,

18/04/2021

Fishing Report by Richard Green

18 Apr 2021 by Richard Green

Great day yesterday with an abundance of fish, very nice sized Thornback Rays, few smoothounds and good sized whiting kept everyone onboard busy throughout the day dispite the cold North Easterly winds, fished the flood tide throughout the day which kept the sea state down, best bait squid & mackeral, don't forget to book your place on Bluedawn, to enjoy this lovely time ater such a long time in lockdown, looking forward to seeing and hearing from you all once again, Tight Lines Richard.