Charter Boat: FairWay AQUA STAR
Boat and Skipper Details
Licensed For:
up to 11 passengers
Code Of Practice:
60 miles cop
Hours:
3hr / 4hr / 5hr / 6hr / 7hr / 8hr / 9hr / 10hr / 11hr / 12hr / 24hr / Multiple Days Trips
Type of Fishing:
Wreck fishing tope and general
Tackle Available:
Yes - Contact Skipper
Boat Specification:
40 foot aqua star massive deck space forward wheelhouse toilet and cooking facilities there is seating on this boat . We only use steps to load or unload anglers no ladders to climb.
Facilities:
Toilet cooking facilities free rods and reels to use free of charge also tackle and bait if required
Additional Description:
NOTE SPECIAL RATES FOR GENERAL FISHING .If you get cancelled else where don,t ruin your day out we have a lot of shelter with deep water close in pollack reef fishing and good bottom fishing at a cheap rate.The boat is well know for its large catches of pollack cod and coalfish which the larger ones are caught on offshore wrecks. Book early for 2019 to make sure you get on this great boat .The deep water off Amlwch means you can catch the likes of Tope bullhuss in vast amounts just off the coast but the wreck fishing is brilliant if weather allows but will go wherever to suit your needs. You might travel a little further by road to Amlwch by but the fishing warrants it see photos. The WRECKS THAT PRODUCE ARE OFF AMLWCH NO LONG JOURNEYS ..BY SEA MORE FISHING TIME MIDWEEK OFFSHORE WRECK TRIPS from £350 . Proven record of good wreck fishing at reasonable rate SEE UP TO DATE CATCH PHOTOS of recent catches. We do our best to get you fish weather permitting.
About the Skipper:
Been on sea chartering from amlwch for over fifty years I hold all relevant certificates to hold mca 60 mile licence you won't find anyone with more experiance wreck fishing. Will give you expert advise on best methods and gear required . Our prices are realistic for good fishing why pay more? Phone 07974477081 to contact boat for all your needs
Sunday
Monday
Tuesday
Wednesday
Thursday
Friday
Saturday

Color for Fully Booked

Fully Booked

Color for Partially Booked

Partially Booked (Individual Spaces)

Color for Available

Available (Whole Boat)

Color for Not Available

Not Available

Color for Unspecified

Unspecified

N.B. Not all Skippers keep this dairy up-to-date. Always check with skippers before making any plans. Last calendar update: 06-Dec-2019

Sun 1st Dec More...
Mon 2nd Dec More...
Tue 3rd Dec More...
Wed 4th Dec More...
Thu 5th Dec More...
Fri 6th Dec More...
Sat 7th Dec More...
Sun 8th Dec More...
Mon 9th Dec More...
Tue 10th Dec More...
Wed 11th Dec More...
Thu 12th Dec More...
Fri 13th Dec More...
Sat 14th Dec More...
Sun 15th Dec More...

7 hour trip

Mon 16th Dec More...

7 hour trip9

Tue 17th Dec More...
Wed 18th Dec More...

7 hour trip

Thu 19th Dec More...
Fri 20th Dec More...
Sat 21st Dec More...

8 hour trip

Sun 22nd Dec More...
Mon 23rd Dec More...
Tue 24th Dec More...
Wed 25th Dec More...
Thu 26th Dec More...
Fri 27th Dec More...

7hour trip sail8am

Sat 28th Dec More...

7 hour trip

Sun 29th Dec More...

7 hour trip

Mon 30th Dec More...

7 hour trip

Tue 31st Dec More...
Upcoming Individual Spaces on FairWay AQUA STAR
Reviews
Summary:




Reviews Unaccepted: 2
john mitchell (29/06/2019)

North reddish sea anglers we have just had one of our best fishing days in our clubs history with Roy smith on Aqua star went out wreck fishing with all members catching record fish thanks to Roy putting us onto the fish looking forward to our next trip with Roy

Skippers Reponse: Thanks for comments let's hope we get good weather to do it again next time

Adam Scriven (14/06/2019)

Had my first wreaking trip with Roy today was great will totally recommend !!! Nice guy Caught so many pollock and COD

josh wood (04/11/1992)

Great day. Lots of fish caught for the freezer. Went out to try for tope, lost one at the boat and plenty of spur dogs and huss.

Skippers Reponse: Thanks josh for nice comment but the year is 2018 we went on trip not 1992 thanks all the same. Hope to see you next year cheers roy

David Martin (24/06/2016)

Loads of Cod caught between 4lb-9lbs on perks & Hockies along with Caolfish to 6lb. Brilliant day Roy, hope to get out again in the near future.

Steve Roberts (27/06/2016)

Fishing on the Fairway, great experience and really good wreck fishing boat, plenty of space on boat. Really good day, loads of double figure pollock, large coalfish too. Really good skipper and a good laugh also. Highly recommended.
Latest Catches 241 photos uploaded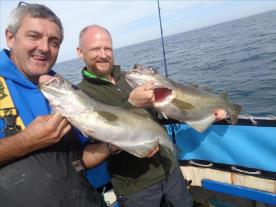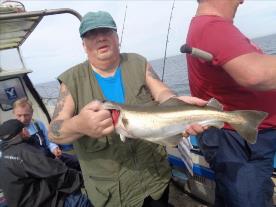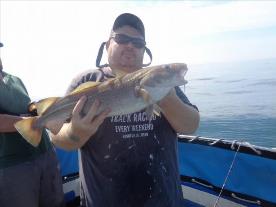 Latest Fishing Reports and News
11/2019

Fishing Report by Roy Smith

Nov 2019 by Roy Smith

Hi sorry folks still wind in east weather too bad at moment to get anywhere decent. Hopefully the wether will improve cheers ROY

11/2019

Fishing Report by Roy Smith

Nov 2019 by Roy Smith

Hi weather holding us up at moment east winds I don,t like. Will try to get somewhere decent when possible should be big pollack on far wrecks now at this time of year. Cheers roy

17/10/2019

Fishing Report by Roy Smith

17 Oct 2019 by Roy Smith

Hi out today not too far due to weather but spurdog s still close inshore along with Huss whiting odd mackerel coalfish nice to see spurdog s arriving cheers Roy

10/2019

Fishing Report by Roy Smith

Oct 2019 by Roy Smith

Hi out over weekend fishing still very good with a good number of species caught including spurdogs tope Huss pollack coalfish and wrasse. The mackerel are still with us as are Hugh shoals of whiting some very good ones amongst them.. Looks promising for good winter fishing cheers ROY

10/2019

Fishing Report by Roy Smith

Oct 2019 by Roy Smith

Hi out Friday and Saturday fish caught Friday includedcoalfish pollack wrasse smoothounds spurdog mackerel big whiting and Huss . On Saturday shorter trip but still plenty of fish including tope spurdog s Huss big whiting and mackerel. Nice to see mackerel still here. We fish all through winter in deep water both wrecks and general cod whiting fishing offshore when weather allows cheers Roy