Charter Boat: High Flyer 2
Boat and Skipper Details
Licensed For:
up to 10 passengers
Code Of Practice:
60 miles COP 2
Type of Fishing:
Wrecking,uptiding,winter cod,Tope and bass,summer mackerel, night fishing.
Tackle Available:
Yes - Contact Skipper
Bait Available:
Yes - Contact Skipper
Boat Specification:
Procharter P4 . Cummins 480 hp turbo , 18knots cruise. Top 25knots. On deck toilet.
Facilities:
On board Toilet ,Tea, Coffee, Soups,, biscuits chocy bars if your good!
Additional Description:
Cater for beginners ,full instruction given. On Board electronic flush deck toilet. Bait ,tea ,coffee, all included , we use latest ABU and PENN and AKIOS tackle ,please bring what you like though. PLEASE NOTE. IF YOU WANT TO USE WORMS ALL DAY BRING YOUR OWN KEEP THEM TO YOURSELF DUE TO THERE EXPENSE.. Keep what you catch within size limits or release. Open deck for uptiding. Plenty of free parking offroad.We also do NIGHT TIME trips please ask for details .Also tope and bass specialist trips on the distant banks in the summer. You can also add your email or mobile number to our database for specials to get info before main website. GIFT VOUCHERS available please email, can be used up any time of year great birthday and xmas gifts. Normal trips costs £45 for the day, bait included also tea ,coffee etc. We ask £20 deposit on Paypal and rest on the day.
* Note for 2014* With regret we are going to ask £5 for rod,reel,tackle hire for the day per rod if you use our tackle as we spend a fortune on replacement as we use Abu and Penn latest gear, does not affect the trip price when you bring your own tackle. IMPORTANT. on booking the whole boat, we are coded for 10 places which has to be covered, it means what it says not expecting to pay for 6 places when your mates let YOU down.Organisers of trips please be aware best to collect all funds before sail date to protect the others in case of let downs, responsibility is the group who have booked not the skippers.

If you have a certain day or date in mind or wish to target a certain species we will make up trip for you will even try add people from our own database so you dont have to book the whole boat. Best to talk about your day first to make sure you pick the right tide for best fishing for what you want to do.

Please bear in mind boat bookings ten places have to be covered financially up to you how many people you have onboard up to ten which will split the cost. This however gives you control over departing and returning times to suit yourself.

Self employed or company corporate days why not ask for written receipt as fully tax deductable.

We do from time to time television work/surveys, sonar towing, item recovery, involved in bird and seal survey if we can help we will. Unfortunately this new vessel is not suitable for diving.

WE HAVE NOW PRINTED A COLOUR BROCHURE IF YOU WISH TO RECEIVE E A FREE COPY PLEASE EMAIL OR TEXT YOUR ADDRESS AND WE WILL POST ONE OUT TO YOU.

PLEASE NOTE. 2019 DUE TO CONSTANT LETDOWNS WE WILL BE ENFORCING £20 PER HEAD DEPOSIT AND REST ON DAY TO SECURE YOUR PLACE .

You can also keep up to date on our Facebook page under https://www.facebook.com/HighFlyerFishing/
About the Skipper:
Owner /skipper full time. Stopped commercial fishing now concentrating on charters only.
BSAC /PADI Diver
Winner of Sea Anglers Top Skipper Awards 2017 .
Member of Angling Trust
Member of Federation Of Sea Anglers
Member of Professional Boating association. (PBA)
Sunday
Monday
Tuesday
Wednesday
Thursday
Friday
Saturday

Color for Fully Booked

Fully Booked

Color for Partially Booked

Partially Booked (Individual Spaces)

Color for Available

Available (Whole Boat)

Color for Not Available

Not Available

Color for Unspecified

Unspecified

N.B. Not all Skippers keep this dairy up-to-date. Always check with skippers before making any plans. Last calendar update: 24-Nov-2023

Wed 1st Nov More...

7 places left

Thu 2nd Nov More...
Fri 3rd Nov More...
Sat 4th Nov More...

1 place left

Sun 5th Nov More...

5 places left

Mon 6th Nov More...
Tue 7th Nov More...
Wed 8th Nov More...

8 places left

Thu 9th Nov More...
Fri 10th Nov More...
Sat 11th Nov More...
Sun 12th Nov More...
Mon 13th Nov More...
Tue 14th Nov More...
Wed 15th Nov More...
Thu 16th Nov More...
Fri 17th Nov More...
Sat 18th Nov More...
Sun 19th Nov More...
Mon 20th Nov More...
Tue 21st Nov More...
Wed 22nd Nov More...
Thu 23rd Nov More...
Fri 24th Nov More...
Sat 25th Nov More...

5 places left

Sun 26th Nov More...
Mon 27th Nov More...
Tue 28th Nov More...
Wed 29th Nov More...
Thu 30th Nov More...
Upcoming Individual Spaces on High Flyer 2
Reviews
Summary:




John Bould (05/11/2023)

First opportunity to get out after several cancellations due to strong winds. We stayed inshore protected from the gusty westerly wind. Bit chilly but escaped any rain.Fishing was slow until the tide turned but then doggies and whiting were coming aboard regularly. One thornback about 4lbs returned to fight another day. Everyone on coffee today which was flowing freely as usual along with biscuits.

Skippers Reponse: Not a bad day in all john hope we get a weather break soon mate!!! Cheers

John Bould (05/11/2023)

First opportunity to get out after several cancellations due to strong winds. We stayed inshore protected from the gusty westerly wind. Bit chilly but escaped any rain.Fishing was slow until the tide turned but then doggies and whiting were coming aboard regularly. One thornback about 4lbs returned to fight another day. Everyone on coffee today which was flowing freely as usual along with biscuits.

John Bould (24/08/2023)

Good days fishing today. It was a bit lumpy to start but we were able to fish comfortably. Hunting for mackerel for bait we were initially plagued with sand eels. We did start getting mackerel of a good size the biggest around 2lbs. We then drifted a wreck waiting for tide to start running but only got a pouting a tub Gurnard and a couple of weavers. We then anchored up on the tope ground and boated 10 lost one at the side of the boat and two which dropped the bait after a short run. Jon and Paul generously handed their rods to a couple of the lads who had never caught a tope to make their day although I think Paul was tired having caught three already. Jon was busy landing tope but still managed to make tea and coffee . All tope were close to 40 lbs and biggest 55lbs and all were returned safely

Skippers Reponse: Think we have to leave Paul at home next time John give ourselves a chance!!!! Not a bad day in all mate.
Cheers

Derek Ball (20/07/2023)

another excellent day out with Jon, fishing was a bit slow but he managed to put us amongst smooth hounds and we had some real sport. thank you Jon, for the biscuits, choc bars and refreshments. looking forward to our next trip.

Skippers Reponse: We got there in the end Derek many thanks for the day mate
Cheers Jon

Sam Bowley (09/07/2023)

Fishing was a bit slow today but John worked hard (and succeeded) to find us some fish. A regular supply of hot drinks and a friendly positive attitude onboard made for a very enjoyable day. Will definitely come again. Many thanks Sam

Skippers Reponse: Thanks sam sorry about the travelling today was hard work least we got a few. Many thanks for coming out bud. Cheers Jon
Latest Catches 1,058 photos uploaded
Kojak
40 lb Tope
10-Sep-2020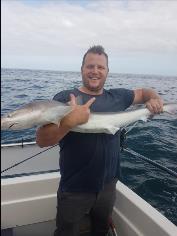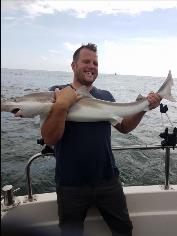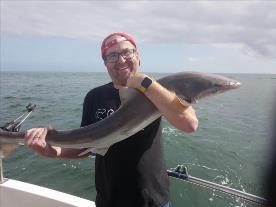 bob
31 lb Tope
10-Sep-2020
Latest Fishing Reports and News
02/10/2023

Fishing Report by jon old

2 Oct 2023 by jon old

Looking forward to colder weather lets hope the cod come in for us, been a strange year really with the wind in the summer north east alot not a great deal of mackerel or tope to speak of, now running just the one boat so bookings in advance neccessary or you will miss out. Going to enforce the paypal deposit system due to the constant letdown by people who dont have no respect for self employed who rely on your word for turning up i can only apoligise to the reliable people in this world who pay the penalty for these idiots comduct. I must apoligise for the lack of information this year but due to personal circumstances which are now getting sorted hopefully will get back to normal . So looking ahead already the whiting making a show odd codling this weekend on another local vessel so fingers crossed for this winter looking forward to being of service see you all soon. Jon High Flyer 2

29/05/2023

Fishing Report by jon old

29 May 2023 by jon old

Up to date at last getting our summer species catching thornbacks ,spotty dogs, smoothounds bit slow on the bass at the moment. Will be updating more regular on here alot of personal circumstances have taken its toll lately hopefully back to normal soon. Website up to date our tope trips are filling up so get your name down for one. Picture today of regular paul with one of yesterdays thornbacks. Look forward to seeing you soon.
Jon. High Flyer 2

13/10/2022

Fishing Report by jon old

13 Oct 2022 by jon old

up to date looking forward to start of winter had alot of nice bass to end summer of with very pleased with that . Catching odd thornback at moment lot of spotty dogs and start of the whitting ! Had couple of small spurdogs recently will be heading offshore in calm weather this winter if possible to find them hopefully watch this space. Weekends getting full for the winter run get your name down to avoid disappointment.
High Flyer 2

29/07/2022

Fishing Report by jon old

29 Jul 2022 by jon old

Not a bad day in lumpy easterly wind to start first time my prop came out water!! Big thanks 2 all day ended up ok. Looking forward to calm weather this weekend !!! Keep u posted. High flyer 2

07/07/2022

Fishing Report by jon old

7 Jul 2022 by jon old

Few fish from beginning of week started well Had tope trip tuesday was a disaster from start with forecast totally wrong very lumpy, caught bass and mackerel etc not a tope run in sight went different places not feeding at all big thanks to person who left me a bad review about the day on google really helps mate much appreciated ! Lost last few days with bad weather hoping to get out friday will keep you posted with either pictures of fish or bad reviews! Seems you cant please everyone, Cheers Jon. High Flyer 2