Charter Boat: High Flyer 2
Boat and Skipper Details
Licensed For:
up to 10 passengers
Code Of Practice:
60 miles COP 2
Type of Fishing:
Wrecking,uptiding,winter cod,Tope and bass,summer mackerel, night fishing.
Tackle Available:
Yes - Contact Skipper
Bait Available:
Yes - Contact Skipper
Boat Specification:
Procharter P4 . Cummins 480 hp turbo , 20knots cruise. Top 30knots. On deck toilet.
Facilities:
On board Toilet ,Tea, Coffee, Soups,, biscuits chocy bars if your good!
Additional Description:
Cater for beginners ,full instruction given. On Board electronic flush deck toilet. Bait ,tea ,coffee, all included , we use latest ABU and PENN and AKIOS tackle ,please bring what you like though.. Please note if you wish to use worms all day please bring your own due to their expense. Keep what you catch within size limits or release. Open deck for uptiding. Plenty of free parking offroad.We also do NIGHT TIME trips please ask for details .Also tope and bass specialist trips on the distant banks in the summer. You can also add your email or mobile number to our database for specials to get info before main website. GIFT VOUCHERS available please email, can be used up any time of year great birthday and xmas gifts. Normal trips costs £45 for the day, bait included also tea ,coffee etc. We ask £20 deposit on Paypal and rest on the day.
* Note for 2014* With regret we are going to ask £5 for rod,reel,tackle hire for the day per rod if you use our tackle as we spend a fortune on replacement as we use Abu and Penn latest gear, does not affect the trip price when you bring your own tackle. IMPORTANT. on booking the whole boat, we are coded for 10 places which has to be covered, it means what it says not expecting to pay for 6 places when your mates let YOU down.Organisers of trips please be aware best to collect all funds before sail date to protect the others in case of let downs, responsibility is the group who have booked not the skippers.

If you have a certain day or date in mind or wish to target a certain species we will make up trip for you will even try add people from our own database so you dont have to book the whole boat. Best to talk about your day first to make sure you pick the right tide for best fishing for what you want to do.

Please bear in mind boat bookings ten places have to be covered financially up to you how many people you have onboard up to ten which will split the cost. This however gives you control over departing and returning times to suit yourself.

Self employed or company corporate days why not ask for written receipt as fully tax deductable.

We do from time to time television work/surveys, sonar towing, item recovery, involved in bird and seal survey if we can help we will. Unfortunately this new vessel is not suitable for diving.

WE HAVE NOW PRINTED A COLOUR BROCHURE IF YOU WISH TO RECEIVE E A FREE COPY PLEASE EMAIL OR TEXT YOUR ADDRESS AND WE WILL POST ONE OUT TO YOU.

PLEASE NOTE. 2019 DUE TO CONSTANT LETDOWNS WE WILL BE ENFORCING £20 PER HEAD DEPOSIT AND REST ON DAY TO SECURE YOUR PLACE .

You can also keep up to date on our Facebook page under https://www.facebook.com/HighFlyerFishing/
About the Skipper:
Owner /skipper full time. Stopped commercial fishing now concentrating on charters only.
BSAC /PADI Diver
Winner of Sea Anglers Top Skipper Awards 2017 .
Member of Angling Trust
Member of Federation Of Sea Anglers
Member of Professional Boating association. (PBA)
Sunday
Monday
Tuesday
Wednesday
Thursday
Friday
Saturday

Color for Fully Booked

Fully Booked

Color for Partially Booked

Partially Booked (Individual Spaces)

Color for Available

Available (Whole Boat)

Color for Not Available

Not Available

Color for Unspecified

Unspecified

N.B. Not all Skippers keep this dairy up-to-date. Always check with skippers before making any plans. Last calendar update: 16-Jul-2019

Thu 1st Aug More...
Fri 2nd Aug More...
Sat 3rd Aug More...
Sun 4th Aug More...
Mon 5th Aug More...
Tue 6th Aug More...
Wed 7th Aug More...

9 places left

Thu 8th Aug More...
Fri 9th Aug More...
Sat 10th Aug More...
Sun 11th Aug More...
Mon 12th Aug More...
Tue 13th Aug More...
Wed 14th Aug More...
Thu 15th Aug More...

6 places left

Fri 16th Aug More...
Sat 17th Aug More...

5 places left

Sun 18th Aug More...
Mon 19th Aug More...
Tue 20th Aug More...
Wed 21st Aug More...
Thu 22nd Aug More...
Fri 23rd Aug More...
Sat 24th Aug More...
Sun 25th Aug More...
Mon 26th Aug More...
Tue 27th Aug More...
Wed 28th Aug More...

6 places left

Thu 29th Aug More...
Fri 30th Aug More...
Sat 31st Aug More...
Upcoming Individual Spaces on High Flyer 2
Reviews
Summary:




Attila Czingel (22/06/2019)

What a day!!!! That was my 1st time and I loved it from start to finish so as my friends.
Jon our captain, he is a 6 out of 5 star!!
He is patient, experienced and good laugh as well.

Skippers Reponse: Lovely review Attila many thanks, enjoyed the day pity a bit windy but got a few decent smoothounds. Look forward to crossing paths in the future was a pleasure, Thanks mate. Jon high flyer 2

Ian Blyth (19/06/2019)

Good days fishing loads of skate and a bass cheers Jon

Skippers Reponse: Wasnt a bad day at all for easterly wind Ian i was quite pleased mate. Look forward to next one. Cheers Ian

Ollie West (19/06/2019)

Brilliant day on the high flyer, plenty of skate caught! Followed by food and drink! Always have a good laugh

Ollie West (19/06/2019)

Had a great day on the boat, goof laughs! Great people and and enjoyable fishing! Catching plenty of skate, mackerel and sand eels! Looking forward to the next one!

Skippers Reponse: Cheers Ollie was good thornback session with 24 rays coming out, enjoyed it mate many thanks. Jon

Paul Layton (18/06/2019)

Great days fishing. Unfortunately the Tope didn't show but we still caught mackerel, sand eels, gurnard, weevers, dog fish, smooth hounds, whiting and a silver eel. Thanks Jon, can't wait for the next trip.

Skippers Reponse: Still a bit early for tope i think we all came to conclusion, nice to see some mackerel, good day though Paul enjoyed it. Cheers mate
Latest Catches 897 photos uploaded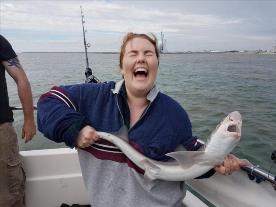 Courtney
4 lb Starry Smooth-hound
6-Jul-2019
matt
4 lb Starry Smooth-hound
30-Jun-2019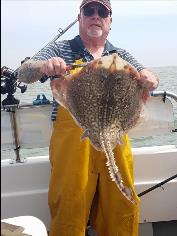 Latest Fishing Reports and News
14/07/2019

Fishing Report by jon old

14 Jul 2019 by jon old

Bringing us up to date of Sunday july 14th quite a lumpy day with 25mph northerly wind straight against tide ! Had to fish inshore but managed to nip out for couple hrs first thing. Pinched a bucket full of fresh mackerel thanks for the weavers as well lads , had half dozen bass thrown in as well which was nice. Biggest one here today pictured with Peter all returned for another day well done for conservation . forced inside we managed couple skate rest was small smoothounds and whiting. Not the greatest day but thought we done well due to conditions. Big thanks to Steve from S&P Leisure Ipswich for organising the trip also to Ninian who supported charity FIsh For Benny was a great day of banter look forward to seeing you all again. Much appreciated.
Jon (High Flyer 2)

07/07/2019

Fishing Report by jon old

7 Jul 2019 by jon old

Up to date weekend of 6/7th July 2019 weird weather again raining and miserable on the saturday and sunny with northerly winds on the sunday. Very strong tides every fish earned to be honest. The mackerel were few and far between managed few bass best was 4.5lb to holidaymaker Kevin from Northampton, best fish in my opinion is the turbot pictured here with Jess Little (returned) nice to see. Few smoothounds thrown in plus the usual whiting, no skate this weekend probably all pinned to the seabed! Looking forward to tides dropping hoping to get on the tope grounds this thursday and weekend so will keep you posted. Big thanks to everyone over the weekend was hard work all round but enjoyed it. Till nextime. Jon (High flyer 2)

24/06/2019

Fishing Report by jon old

24 Jun 2019 by jon old

Monday 24th June 2019 not the most easist of days struggled wth thornbacks today basically they didnt feed! Few small bass today,usual handfull of small joeys and one decent one pictured here with Ben Cole i must say well deserved. Ben is probably one of the most hardest working anglers that comes on High Flyer 2 a live mackerel paid off for him,thought i would let you guys guess the weight a little game i,m playing with Ben.! Well done mate ,fish returned safe and well great bit of conservation. Cheers Jon. (High Flyer 2)


23/06/2019

Fishing Report by jon old

23 Jun 2019 by jon old

Sunday June 23rd easterly wind normally hard work but we had a good day despite conditions. Big thanks to Sharon for putting up with 9 lads was a most enjoyable day all round with mackerel, bass , usual smoothounds and total of 15 thornbacks only 2 kept due to damage rest returned. Many thanks to Pete, Ian and Keith for washing down for me cos of my poorly finger!!!! Cheers guys . Jon (High Flyer ")

22/06/2019

Fishing Report by jon old

22 Jun 2019 by jon old

Sat 22nd June 2019 bit of a lumpy day to start with a south easterly wind against tide. Bit slow to start with catching mid flood but started getting some decent whiting and odd spotty dog as tide eased. Had to fish inside due to the weather, but wall to wall sunshine despite the wind, sum red faces end of day. Few nice smoothounds turned up for us picture today of Attila from London with best fish of the day, many thanks for the trip guys bit of a slow fishing day to be honest but for the weather i thought we done well. Look forward to seeing you guys again at some point. Many thanks . Jon (High Flyer 2)