Charter Boat: Hurricane
Boat and Skipper Details
Licensed For:
up to 8 passengers
Code Of Practice:
MCA 60 Miles
Type of Fishing:
Mostly uptide fishing
Boat Specification:
offshore 105 with all safety equipment
Additional Description:
EFSA - TOP BOAT MAY 2014

450 HORSE POWER BRAND NEW ENGINE FITTED.
TOTAL REFURB ON ENTIRE BOAT.

BOAT CARRIES ALL SAFETY EQUIPMENT TO MCA CODE 2 STANDARD
KETTLE ALWAYS ON THE BOIL
Hot pies on most trips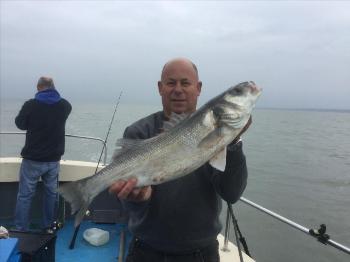 About the Skipper:
RYA YACHTMASTER OFFSHORE COMMERCIALLY ENDORSED
40 YEARS ANGLING EXPERIENCE
EFSA ENGLAND INTERNATIONAL
EUROPEAN FESTIVAL CHAMPION EFSA WALES
Upcoming Individual Spaces on Hurricane
Sorry, there are currently no Individual Spaces at present.
Reviews
Summary:




Bob Williams (25/05/2019)

What an amazing day and experience catching over 50 fish and all 6 on board getting new pb's I highly recommend garath and the hurricane

Skippers Reponse: Youre very welcome please come again soon

M Wrenn (04/07/2018)

Perfect for a sightseeing day out! Gareth was a brilliant host and going out with him on the Hurricane was a terrific way to see this beautiful island from a new perspective. This boat has state-of-the-art navigational equipment and is spotlessly clean. I'm sorry we couldn't add to the fish catch statistics, but we did catch a heck of a suntan and we enjoyed stopping for tea and a very generous assortment of pastries at a small seal colony. Everything was beyond expectation and we will be recommending this wonderful day out to friends! Thanks for everything, Gareth. You're a star!

Skippers Reponse: You are very welcome thanks for the excellent review and please tell your friends to come and enjoy a leisurely afternoon .


Nick Fiandermole (11/11/2017)

Grate fish8ng experience tea coffee on tap spot of dinner all catered for loads of knowledge and advice for a novice like me will come again ... cheers for good day

Skippers Reponse: Pleasure to have you lads on board welcome anytime

Michelle Wainhouse (14/06/2017)

A great fishing experience with lots of fish caught and a wealth of local knowledge. Tea and coffee on demand, hot pies and a wonderful day had by all. oies

Michelle Wainhouse (14/06/2017)

A fantastic day at sea
Latest Catches 44 photos uploaded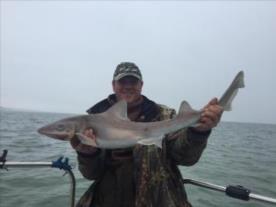 Unknown
14 lb Starry Smooth-hound
Jun-2016
Unknown
10 lb Thornback Ray
Apr-2016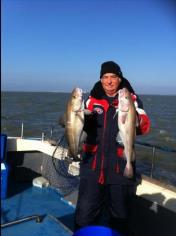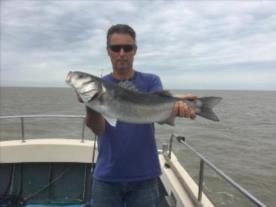 Latest Fishing Reports and News
10/2020

Fishing Report by Gareth John

Oct 2020 by Gareth John

Well despite the terrible loss of days out this year due to COVID when the day came when we could again venture out we found some good fishing with plenty smoothounds and some excellent Bass this year
Now the winter is nearly here and the whiting shoals are starting to arrive and we can only hope for the elusive cod fingers crossed
As I am now full time I can offer midweek trips also
2021 diary is now open and starting to fill up so book early to get the best tides


05/2019

Fishing Report by Gareth John

May 2019 by Gareth John

As of now i am full time available 7 days a week i can do short evening trips if requested or can be flexible to accommodate small groups or individuals.
Plenty of nice fish showing now Bass Rays Smoothound dogs Whiting Dabs


19/11/2017

Fishing Report by Gareth John

19 Nov 2017 by Gareth John

Despite most people complaining about the lack of cod i have been keeping busy still with some nice thornbacks and lots of quality whiting which make for good eating and keep the rods nodding .
I have done it again just like last year and today just caught the first codling which was not huge but a sizeable 46cm and a nice fat fish.
I remain optimistic and my recent trips have seen all the anglers catching nice bags of fish and my recent reviews reflect the happy customers satisfaction.
Theres plenty of fish waiting out there people but you wont catch them from your armchairs .
The good thing about the area i operate is we seldom get blown off

06/2017

Fishing Report by Gareth John

Jun 2017 by Gareth John

spring and summer have arrived along with some nice catches of smoothounds and skate .
we had a bonanza on the skate in early May when huge numbers arrived inshore we recorded catches of up to 100 in a day but they have now spread out a bit and made way for the hounds which is what summer is all about in the estuary.
plenty off bass around and large shoals showing on the fishfinder and birds diving are a good indicator .
feathering produces lots of small bass which is fun but all go back to swim away.
mackerel expected soon and from the 1st July we can retain 1 per angler
some huge hounds about and the females are heavy with pup so a chance of a record breaker is out there somewhere.
the recent charity competition for Demelza was a great day with the largest skate being recorded from my boat
and 21 boats and 96 anglers taking part in what will now become an annual event.

04/2016

Fishing Report by Gareth John

Apr 2016 by Gareth John

After what seems a long fruitless winter the spring has arrived and so have the skate in good numbers our weekend trips proved to be good with catches averaging 30 per day all caught photographed and released .
Some nice whiting and dabs also showing but the cod have failed to show .
Smoothounds expected soon with reports of small males already putting in an appearance on some marks
Weekends filling up fast so book soon to avoid disapointment.