Charter Boat: Kellys Hero
Boat and Skipper Details
Licensed For:
up to 10 passengers
Code Of Practice:
Cat 3 - 20 Miles
Hours:
1hr / 2hr / 3hr / 4hr / 5hr / 6hr / 7hr / 8hr / 9hr / 10hr / 11hr / 12hr / Multiple Days Trips
Type of Fishing:
Rough ground, Skerries sand banks, Reefs and wrecks in Torbay and offshore
Tackle Available:
Yes - Contact Skipper
Bait Available:
Yes - Contact Skipper
Boat Specification:
Mk 2, 'Lochin 33' fitted with a Cummins 335HP engine. (she may not be the fastest boat, but we like her)
Facilities:
Onboard W/C - Tea & Coffee (Free)- Onboard cooking facilities
Additional Description:
Now available is our new 21' Fast Aluminium boat to be used to target the species hunters targeting Bass, Wrasse, Bull Huss, reef Pollack etc. Max anglers on board is 4, call Dave to discuss opportunities

We can arrange for local Hotel accommadation with shuttle service.
Fishing Holidays arranged using local B&Bs or hotels, your choice.
Local tackle shop 'Brixham Bait and Tackle' always worth a visit great local knowledge and advice.

Hourly rate for Kellys Hero Charters is £50, an 8hour whole boat charter is £400 for upto 10 persons, rod hire extra..

We can offer a local fish and chip shop to cook your freshly caught fish call me for details and to book this facility..

NOTE! WE HAVE NO TIDE RESTRICTIONS IN TORBAY
Tide is there 24/7 it's only the weather that stops us going out to fish!!!


Book 4 or more trips via an e mail booking and receive a 10% discount.
About the Skipper:
We have been operating our Charter buisness for a number of years and we hopefully know how to treat our customers.
If when sea fishing we caught fish all the time it would be called 'CATCHING' not fishing, !!!
We will always try do our best to get you on the fish. but can not guarantee the weather, nor the fish are feeding!!!.

Tea and coffee always available plus an oven (NOT microwave) to heat pies etc plus if you wish we can cook your freshly caught fish,
Upcoming Individual Spaces on Kellys Hero
Sorry, there are currently no Individual Spaces at present.
Reviews
Summary:




Bekey Ng (16/08/1970)

We went fishing with my daughter, Florence. With Dave and Sarah's help, she enjoyed her first ever fishing trip very much. Thank you both for giving us a brilliant day out.

Skippers Reponse: Many thanks for taking the time to write a review, it was a pleasure meeting your family.

Scott Henderson (30/08/2017)

My Father and I went out for an 8 hour fishing trip, off the Skerries bank, with Dave and Craig and had a thoroughly enjoyable day. Their hospitality was incredible- always making hot drinks/making conversation and also helping to land the fish. Dave did his upmost to keep us on the fish (where he was very successful) and also provided advice/assistance on how to catch them. His price is very good value for money and we would not hesitate to go out with him again or recommend him to others.

Colin Johnson (04/07/2017)

2 trips out on Kellys Hero last week, my first ever. Great boat and skipper, crewman craig was excelent and helped everone onboard. Dave worked his socks off to put on the fish. Pity the fish wern't co-operating but we did find some fish on both days. Good craic with these guys. Thank you. Will try and get back for more trips soon - Regards Colin (Northampton)

Vic Steventon (04/01/2017)

Had a few trips now with Ian and Bex must say I've had a good time I've rated them 5 star because the fishing was good the company on the boat was good and Ian loves a cuppa great days out I'm booked for more cheers Vic

neil beasley (20/05/2016)

Great few hours fishing with Dave, his lovely dog and my top mate Jamie Brown. Thank you Dave for finding a few hours window in the weather. Sorry for losing a couple of lures. We will be back next year if you'll have us. Thanks again.
Latest Catches 14 photos uploaded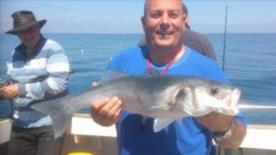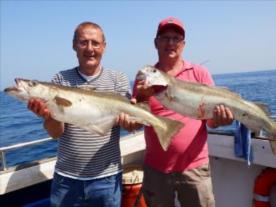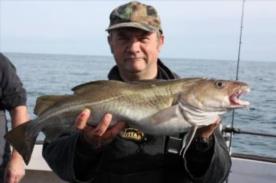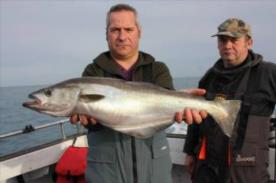 Nic
11 lb 10 oz Pollock
20-Oct-2012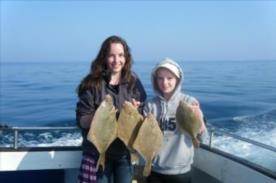 Latest Fishing Reports and News
15/06/2015

Fishing Report by Dave Saunders

15 Jun 2015 by Dave Saunders

Having had an amazing May and June on the Cod wrecks the Bass have now started to move in.
Call us to book your trips as spaces on individual days are still available.

12/2014

Fishing Report by Dave Saunders

Dec 2014 by Dave Saunders

Great view of Brixham Harbour, great place to experience fishing either for the novice or the experienced angler. Looking forward to 2015

05/05/2013

Fishing Report by Dave Saunders

5 May 2013 by Dave Saunders

Good numbers of Plaice still being caught off the Skerries Banks, wreck fishing is still proving to be lean due to the water teperature, May bloom and lack of bait fish this should soon change with the warmer weather.

10/2012

Fishing Report by Dave Saunders

Oct 2012 by Dave Saunders

October has produced some good catches of Pollack on the inshore wrecks with Cod and Bass also making a show on the occasional trip. Sprats are abundant and are the reason that the bigger fish have now started to move onto the inner wrecks.
It's good to have some upbeat anglers making bookings for next year (2013) already. Torbay Fishing Festival was interesting this year with good numbers of Black Bream showing and winning the top prize this year.

Our diary is now available for 2013 bookings, I look forward to help you choose your tides and dates.

Skipper Dave

07/2012

Fishing Report by Dave Saunders

Jul 2012 by Dave Saunders

Good numbers of Pollack coming off the inshore wrecks with weights upto 6 lbs quite common.
Bass now in good numbers on the inshore reefs when tides and conditions are right.