Charter Boat: Kerrykim
Boat and Skipper Details
Licensed For:
up to 11 passengers
Hours:
4hr / 8hr / 10hr Trips
Type of Fishing:
wreck, reef, deepwater and general.
Tackle Available:
Yes - Contact Skipper
Boat Specification:
Aqua Star 33
Facilities:
Large open deck area, toilet, all electronics and safety equipment, fully licensed and insured. Free Tea and Coffee.
Additional Description:
GOOD FISHING AT REASONABLE PRICES!
CHECK OUT OUR CATCH PHOTO'S.
CALL OR TEXT 07818 262 832 FOR A BOOKING.
Special prices midweek, please ring for details, we are probably the cheapest available at weekends too, check our prices!
Kerrykim is a large comfortable fishing boat operating from Amlwch Port, Anglesey. We have a toilet on board and provide refreshments free. We also have rods and reels available free for people who need them (general fishing only). We do carry some tackle on board.
We have operated from Amlwch, Anglesey, for over 40 years and have a wealth of experience and local knowledge.
We do general fishing, deep water and reef fishing and wreck fishing (subject to tides and weather conditions). We do 4 - 8 - and 10 hour trips for full parties and individuals.
We do special rates midweek with 4 hour trips for just £30 and 7-8 hour trips for £40 per person (depending on tidal conditions). We also do species hunts and competitions.
SENSIBLE SAILING TIMES, EITHER 8AM OR 9AM WHENEVER POSSIBLE.
We fish for a good variety of fish including, Pollock, cod, coley, tope, bullhuss, spurdog, mackerel, wrasse ( ballan, cuckoo, corkwing, goldsinny ) conger, etc.
PLEASE RING FOR DETAILS 01407 831526 or 07818 262 832


About the Skipper:
I have been a professional charter skipper and have fished from Amlwch Port for almost 40 years and have a wealth of experience and local knowledge.
I am fully licensed by the MCA and the Kerrykim is fully licensed and insured.

Upcoming Individual Spaces on Kerrykim
Sorry, there are currently no Individual Spaces at present.
Latest Catches 165 photos uploaded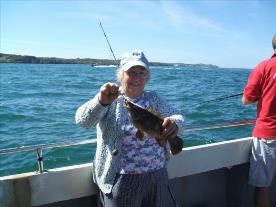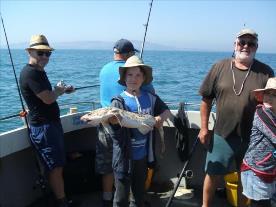 Henry
9 lb 4 oz Bull Huss
Aug-2022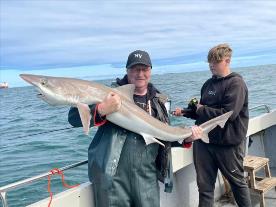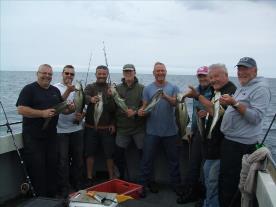 Latest Fishing Reports and News
09/2023

Fishing Report by Pat Jones

Sep 2023 by Pat Jones

Fishing inshore on Saturday because of the big Tides but still managed to bag
some good sized Tope only 3 miles out.

06/2023

Fishing Report by Pat Jones

Jun 2023 by Pat Jones

Hi
Out today fishing the reefs and also Tope fishing.
Lots of reef pollock to 5lbs and Tope to 35lb.
Plenty of Mackerel to be had too.
Regards
Pat

06/2023

Fishing Report by Pat Jones

Jun 2023 by Pat Jones

Excellent day on the wrecks on Saturday with pollock to 9lbs and Coley to 5lbs.
Anchored for the slack and had tope to 35lb with big Huss and a couple of Thornback rays.
Cheers
Pat

06/2023

Fishing Report by Pat Jones

Jun 2023 by Pat Jones

Hi
The Easterly winds finally let us get out on Sunday and we had one of our regular clubs on.
Excellent fishing on the wrecks with plenty of Pollock and Coley to 8-1/2lb.
Loads of Sausage and bacon and loads of banter, what could be better.
Regards
Pat

05/2023

Fishing Report by Pat Jones

May 2023 by Pat Jones

Hi
Out yesterday and had a good day. We fished for Mackerel first and found plenty of them at the first mark.
We then went out to some wrecks and had a good few hours catching Pollock and Coley, nothing massive but
plenty of good eaters in the 4lb to 6lb range.
All in all a very enjoyable day with plenty of sunshine too.
Regards
Pat