Charter Boat: Lead Us
Boat and Skipper Details
Licensed For:
up to 11 passengers
Code Of Practice:
20 miles cat 3
Hours:
4hr / 8hr / 10hr / 12hr Trips
Type of Fishing:
uptiding / downtiding contours / banks etc
Tackle Available:
Yes - Contact Skipper
Bait Available:
Yes - Contact Skipper
Boat Specification:
32 ft Yorkshire coble
Additional Description:
bottom fishing trips available all year winter time for cod, whitng, etc. summer time for bass, rays, smoothounds etc.
summer evening trips available may to september
tuition for beginers and help and advice for all
hot drinks provided

Vouchers:
For a special gift which someone will really appreciate, vouchers can be purchased for all of our trips. You may either select a date or have an open-dated voucher, where the recipient chooses a suitable date themselves.

Corporate/ Private Days:
For an extra memorable day out, with the boat to yourselves and a hamper lunch please take advantage of these special trips.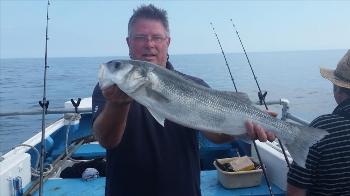 About the Skipper:
Fully qualified skipper RYA Yachtmaster with many years experience of fishing the local area, both commercially and for pleasure.
Upcoming Individual Spaces on Lead Us
Sorry, there are currently no Individual Spaces at present.
Reviews
Summary:




Steve Bale (23/06/2018)

Great day again, Colin had us on the fish from the off, great fun and sport with hard fighting smoothies up to around 7lb and plenty of them. Thanks Colin see you soon cheers Steve

Skippers Reponse: It was good to see everyone catching and enjoying themselves

Alloysius Bloomfield (05/08/2017)

Had a great days fishing thanks to the skipper Colin very friendly and welcoming took us to great spot caught loads of dog fish and smooth hound absolutely brilliant day

Skippers Reponse: Thanks for that glad you enjoyed your day see you again soon

Kacy Fenwick (22/04/2017)

Great day out briliant frendly skiper showed me what to do also caught some nice fish in cluding the boat record for scate very happy would deffenately go again

Skippers Reponse: Glad you enjoyed yourselves and 2 great fish see you again sometime

bob lightfoot (20/04/2017)

great day, plenty of fish & great skipper

Skippers Reponse: good to see you all enjoying yourselves and catching plenty of fish cheers Bob

Anton Bull (01/09/2016)

A great day out for my son, his friend and I. A 15th birthday fishing trip that couldn't have gone better. Colin was very welcoming and looked after us really well. My son caught his first smoothound (starry - 3lb) and his friend then caught a smoothound (common - 4lb). A few whiting thrown in as well and we went home with plenty for dinner. A great day out and we'll be back again.

Skippers Reponse: Thanks Anton it was nice to see the boys catch a decent fish each
Latest Catches 43 photos uploaded
pedro
10 lb 2 oz Spurdog
20-May-2018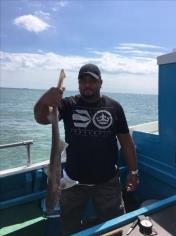 Paul
10 lb 1 oz Bass
22-Jun-2017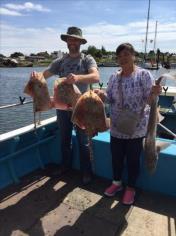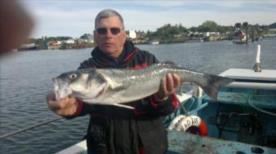 dave
8 lb Bass
3-Jun-2013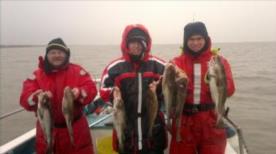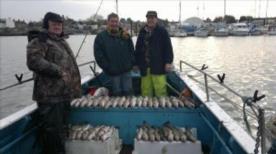 malcom
4 lb 8 oz Cod
29-Jan-2012
Latest Fishing Reports and News
28/09/2019

Fishing Report by Colin De Block

28 Sep 2019 by Colin De Block

A blustery day out of Lowestoft on Lead Us
Sat 28-09-19
A great day out with Steve and the lads from Tubes Scaffolding, had to stay inshore due to the blustery conditions, but that didn't stop the fish which started coming within minutes of dropping the anchor and continued steadily throughout the day , with lots of good sized whiting plenty of doggies and 2 nice thornbacks

26/06/2018

Fishing Report by Colin De Block

26 Jun 2018 by Colin De Block



Lead Us charters, Lowestoft fishing trips

Hounds abound on Lead Us
Following the success of Saturdays trip we headed back to the same mark anticipating similar results. Well we weren't disappointed with 5 hounds coming in on the first cast of the day just as the tide was dying away and a couple more at slack water. Things were quieter on the start of the ebb with the odd fish being landed, then mid tide it was if the switch had been thrown and things got hectic. On several occasions more than one fish was being landed at the same time this continued through the rest of the day with close on 50 hounds being landed most in the 5 to 7lb range with several fish being lost. To add to this great catch we had 4 Bass to 4lb plenty of whiting and a few spotties . A fantastic days fishing on Lead Us
To book a trip on Lead Us call 07803270798
Cheers Colin

23/06/2018

Fishing Report by Colin De Block

23 Jun 2018 by Colin De Block


Feeling/Activity

Write Note










Lead Us charters, Lowestoft fishing trips
Houndtastic action on Lead Us
20-06-18 / 23-06-18
The first of our evening trips on 20th produced some good fish with half a dozen hounds to 7lb. Steve christened his new rod with a plump 2.5lb codling and a nice little thornback plus the compulsory spotties and whiting. More evening trips can be arranged on request
Saturday 23-06-18 with the weather and tide in our favour headed to a mark I had been wanting to try for a while now and boy was it worth it. We arrived just as the tide was starting to ebb with the odd hound coming in then as the tide picked up things got hectic on numerous occasions there were 2 or 3 fish coming in at the same time with some lovely Hounds being landed along with some nice Bass. This continued throughout the day with everyone on the boat landing some nice fish until the weather beat us ending up with 36 Hounds between 5 & 7lb plus smaller ones. 4 Bass all around the 4lb mark all returned plus plenty of whiting and a couple of spotties a great day on Lead Us
To book a trip on Lead Us call 07803270798
Cheers Colin

20/05/2018

Fishing Report by Colin De Block

20 May 2018 by Colin De Block



Lead Us charters, Lowestoft fishing trips

A PB and new boat record this weekend on Lead Us
with a good forecast and great fishing conditions this weekend produced some excellent fish. A PB and boat record for Pedro in the shape of a 10lb Spurdog its good to see these hard fighting fish returning again. Some nice Rays , a 5lb Cod, Bass to 4lb plus plenty of spotties , whiting and a handful of hounds
To book a trip on Lead Us call 07803270798
Cheers Colin

12/05/2018

Fishing Report by Colin De Block

12 May 2018 by Colin De Block



Lead Us charters, Lowestoft fishing trips

Hounds & Rays on Lead Us 12-05-18
Mixed amongst the endless supply of doggies at the moment are some nice Thornback rays, and smoothounds a great fighting fish
to book a trip on Lead Us call 07803270798
Cheers Colin