Charter Boat: Lillie May
Availability Calendar
1 Reviews

Boat and Skipper Details
Licensed For:
up to 11 passengers
Code Of Practice:
category 5
Hours:
<1hr / 2hr / 4hr / 8hr Trips
Type of Fishing:
General inshore wreck and reef
Tackle Available:
Yes - Contact Skipper
Bait Available:
Yes - Contact Skipper
Boat Specification:
purpose built cygnus marine angling boat fishing all year
Facilities:
insulated fish tub for improved catch quality
Additional Description:
2019 Prices
8 hour whole boat charter £200
4 hour individual trips £30
1 hour mackerel fishing trips adults £ 9 children £7
respectful scattering of loved ones ashes at sea £70
To Book Phone 07779 040491 or 01297 23455


Upcoming Individual Spaces on Lillie May
Reviews
Summary:




Adrian Cawte (25/09/2014)

25/09/2014. We set off from Beer just after 08:00 with five of us fishing, clear skies and a light wind. A few hundred yards offshore we stopped for about fifteen minutes to feather for Mackerel to use as bait with everyone catching. That done the skipper, Paul took us a couple of miles out and we anchored over a reef on the falling tide. My first cast brought in a Dogfish and not long after another angler, Marcus brought in a nice sized Gurnard. From then on, the Black Bream started hitting our baits and they were coming aboard at a reasonable rate. It took me a while to connect with one but while I was waiting I landed a Gurnard and a nice Thornback ray. During the middle of the day on slack water, a shoal of Mackerel moved through and were taking the baits meant for Bream on the drop and on the retrieve. We all changed to feathers and had ten minutes of fast and furious action as we hauled in the fish, most hooks being filled on every drop. That over, we went back onto the Bream. The action quietened down over slack water but there were enough knocks and the occasional fish to keep everyone interested. As the tide swung in the early afternoon, the wind got up and pushed the swell up the channel. This made for some interesting fishing as the boat pitched but more importantly, the Bream were showing again with more regularity with everyone on board landing fish and I got four on board within about an hour and a half. The fish were taking small slivers of Mackerel on small hooks. I think we were all using three hook traces with the bottom two hooks taking the fish. Eventually good things come to an end and with conditions becoming ever more choppy the decision was made to head for the shore because it was fast becoming difficult to stand up and keep tackle boxes and gear from sliding around. On the return we again stopped for Mackerel but none were showing. At the end of the day (between the five of us) we landed about 25 Bream weighing in between 1-2lb, 4 Dogfish, 3 Gurnard, a Thornback, countless Mackerel but more importantly we all had a thoroughly enjoyable day with fish showing continuously all day. Many thanks to Paul for a great day and I think we will all look forward to a return trip very soon.
Latest Catches 10 photos uploaded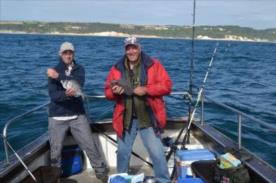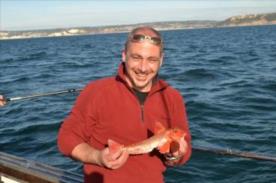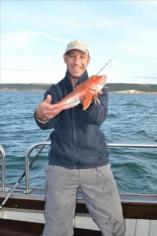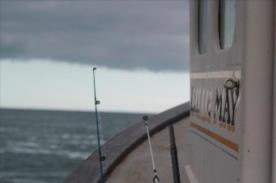 Latest Fishing Reports and News
25/09/2014

Fishing Report by Adrian Cawte

25 Sep 2014 by Adrian Cawte

25/09/2014.

We set off from Beer just after 08:00 with five of us fishing, clear skies and a light wind.

A few hundred yards offshore we stopped for about fifteen minutes to feather for Mackerel to use as bait with everyone catching. That done the skipper, Paul took us a couple of miles out and we anchored over a reef on the falling tide.

My first cast brought in a Dogfish and not long after another angler, Marcus brought in a nice sized Gurnard.
From then on, the Black Bream started hitting our baits and they were coming aboard at a reasonable rate.

It took me a while to connect with one but while I was waiting I landed a Gurnard and a nice Thornback ray.

During the middle of the day on slack water, a shoal of Mackerel moved through and were taking the baits meant for Bream on the drop and on the retrieve. We all changed to feathers and had ten minutes of fast and furious action as we hauled in the fish, most hooks being filled on every drop.

That over, we went back onto the Bream. The action quietened down over slack water but there were enough knocks and the occasional fish to keep everyone interested.

As the tide swung in the early afternoon, the wind got up and pushed the swell up the channel. This made for some interesting fishing as the boat pitched but more importantly, the Bream were showing again with more regularity with everyone on board landing fish and I got four on board within about an hour and a half.
The fish were taking small slivers of Mackerel on small hooks. I think we were all using three hook traces with the bottom two hooks taking the fish.

Eventually good things come to an end and with conditions becoming ever more choppy the decision was made to head for the shore because it was fast becoming difficult to stand up and keep tackle boxes and gear from sliding around. On the return we again stopped for Mackerel but none were showing.

At the end of the day (between the five of us) we landed about 25 Bream weighing in between 1-2lb, 4 Dogfish, 3 Gurnard, a Thornback, countless Mackerel but more importantly we all had a thoroughly enjoyable day with fish showing continuously all day.

Many thanks to Paul for a great day and I think we will all look forward to a return trip very soon.

21/08/2014

Fishing Report by Anthony Hobden

21 Aug 2014 by Anthony Hobden

Great time fishing with my boy - Paul was a very experienced and helpful skipper