Charter Boat: Lucky Dip II
Boat and Skipper Details
Licensed For:
up to 10 passengers
Code Of Practice:
60m, cat 3
Hours:
1hr / 2hr / 3hr / 4hr / 6hr / 8hr / 10hr / 11hr / 12hr / Multiple Days Trips
Type of Fishing:
Wreck, banks and deep water along with lightweight lure and saltwater fly. Pollack, Conger, Tope, Bass, Skate, Bull Huss, Blue shark and Porgies
Tackle Available:
Yes - Contact Skipper
Boat Specification:
9.6m x3.5m BJR Westral workboat with over 50ft of clear rail to fish from! Fully refurbished in 2020 with a newly fitted 350hp Caterpillar engine with a top speed of 18 knots.
Facilities:
Free Tea and coffee onboard. Bait and tackle can be supplied for additional cost. ONBOARD TOILET(not 5 star). We are also offering fully catered sports fishing days including bait, tackle and food onboard, ask for details.
Additional Description:
PLEASE NOTE WE WILL ONLY CONFIRM TRIPS A MAXIMUM OF ONE DAY PRIOR TO THE BOOKING.
THIS IS NOW NECESSARY DUE TO THE CHANGABLE WEATHER!!
Contact me for information on our all inclusive sports fishing days starting at just £80 each, this includes all tackle and bait for big fish hunting plus some great food onboard.
The 2020 season has been another outstanding one with Tope(60lb), Spurs (500+ lb a day) Smoothound and Huss(15.4lb) plus plenty of Cod n Haddock to keep the anglers happy. We saw a few newcomers to the sport and many repeat customers and friends to keep me on my toes with a few club records and plenty of PBs and firsts too!
Plus a new Scottish Pouting record for June Marshall of 3lb 13oz !!!
Skate were around in numbers to 217lb, numerous Spur in the double figure and into the 20lb mark and an awesome Starry Smouthound of 20lb 4oz confirmed as a potential Scottish record but released to fight again. We will also be looking to put some shark on the boat to and will have tackle onboard for rental that should cope if needed.

DUE TO A HIGH DEMAND JUST NOW PLEASE CONTACT ME VIA PHONE OR TEXT TO THIS NUMBER 07841114489

About the Skipper:
The owner/skipper Steve has fished most of his life for pleasure, food and competition. Since moving to Stranraer he has owned several small fishing boats and knows the area well. Fishing and boats are his thing which is why he is also an active helm of the RNLI Stranraer ILB and crew on the Portpatrick ALB. Last year proved very successful with most weekends booked fully with fishing charters so he is putting maximum effort into checking out old and new marks to make sure they are still working well. We are looking to drift some deep but large reefs this year that just don't get fished so who knows what is down there(200+ft) .
This Charter has been listed as Suitable for Diving Trips. Contact the Skipper for full details.
This Charter has been listed as Wheelchair Accessible. Contact the Skipper for full details.
Upcoming Individual Spaces on Lucky Dip II
Sorry, there are currently no Individual Spaces at present.
Reviews
Summary:




Jean-Donan Olliero (03/08/2018)

7 of us went fishing with Steve last week and we had a terrific time. Steve was extremely knowledgeable taking us to ideal locations to fish various species, he is very professional, always available and can sort all possible issues on board. The boat has plenty of space for all and is well organised. Overall we all had a fantastic time and felt in really good hands with Steve. We would all thoroughly recommend

Skippers Reponse: Many thanks for the feedback Jean. i am glad that you all enjoyed your time afloat with me on Lucky Dip II.
welcome back anytime too.

John Monteith (07/01/2018)

Just back from a fantastic days fishing on the Lucky Dip 2. Would highly recommend. Steve really knows his stuff and was extremely helpful for us novices. Caught my first ever Haddock, Herring and Spurdog. We will definetly be back soon. Thanks again, John

Skippers Reponse: Many thanks for the feedback John. Glad you all enjoyed the day out and looking forward to seeing you all again. All the best. Steve

Jane Mudge (27/08/2017)

Have to Recommend Steve, we go out with him regularly. The bacon rolls and the coffee are an added bonus. Steve takes care of everyone, he loves the catch no matter the size. :-). Due to his experience on the water, I feel very safe with him if there was to be an emergency and the catches are great. Yes we have had a couple of times when we have blanked but majority of our trips are really productive. Thank you Steve :-)

Skippers Reponse: Always good to see you both, and your welcome anytime for a cuppa. Thanks for the review and see you again soon.

Grant Thorne (16/07/2016)

Nine of us had booked Steve's boat for a trip last Saturday. Accommodation sorted, we were looking forward to the annual fishing competition. As agreed, I tried to contact Steve mid-week to check the weather was ok for the trip. 4 phone calls, 2 messages and an email via this site were all ignored. Just as I was about to give up my wife called and miraculously got through to be told the trip was on. Three carloads drove from Glasgow to Portpatrick. When we arrived at the dock we said hello to Steve who said he'd be over at the steps to pick us up shortly. I watched on with a sinking feeling as Steve and a few other people started to scratch their heads, grab some tools and remove batteries from nearby cars to put them in his boat. Thirty minutes later Steve came over to say that he had just developed electrical problems so the trip was off. Apparently he needed some more tools to fix the problem so I asked if we could just do an afternoon trip. He said he had a 'big doo' starting at 6:30pm that night so that clearly wasn't happening despite having the boat booked for the full day. As we sat at the harbour that evening drowning our sorrows, we watched on in dismay as the other skipper, Dominic, arrived back with his charter, full of happy anglers. We're collectively about £450 out of pocket for accommodation and fuel with a promise of a discounted future trip…date yet to be confirmed!!!

Skippers Reponse: Unfortunately we do get negative reviews and I won't hide them. Unfortunate as it was having to cancel the trip safety is of the utmost importance. The problem turned out to be terminal with the starter motor arcing out and destroying its self. At £290 each and having to get one posted from Preston it was not going to be a quick fix. When the group decide to rebook we will honour the discount offered.
Steve

Gordon Lawson (11/06/2016)

Great morning's fishing. It was only my son and I as another party had called off. Having the boat to ourselves meant we had some really good banter with Steve the skipper. Right nice bloke and very knowledgeable. Plenty of fish caught , although no record breakers plenty of variety. Great morning.

Skippers Reponse: Many thanks for the great feed back. was an enjoyable morning out with you both.
Latest Catches 51 photos uploaded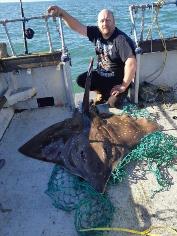 Unknown
107 lb Common Skate
28-Feb-2021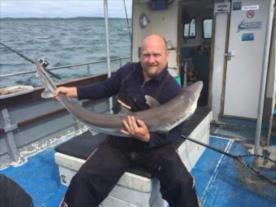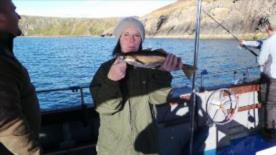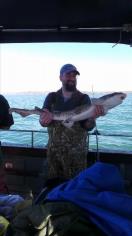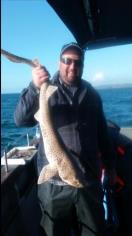 Robert
13 lb 2 oz Bull Huss
8-Oct-2015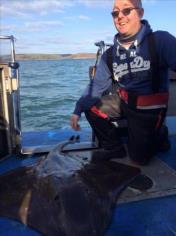 Steve
86 lb Common Skate
3-Oct-2015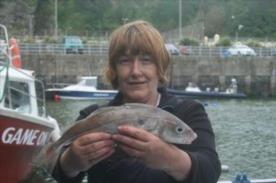 Latest Fishing Reports and News
28/02/2021

Fishing Report by steve stringer

28 Feb 2021 by steve stringer

So what with this weather giving us some really settled seas me n the misses decided on a couple of hours fishing. The plan was to head out and fish one of our deeper (40m) marks at anchor. With the anchor set after just 15mins motoring we put two half mackerel baits down to see what was about while setting up our lighter rods. Before my second rod was ready my rod showed an interest with some gentle nods before line started to be taken. Setting the drag and lifting into the fish i just knew we had hooked my first target, a Common(flapper) skate. while i was coming to terms with a stubborn fish my misses landed a fine 10lb dark grey Spur followed shortly by a LSD. After an hour we finally had the skate aboard, unhooked from the barbless 10/0, photographed, and released this fine male went 107lb when measured. Another bait sent down saw me land one final spur of about 5lb before the tide started to rip through again. pulling the anchor we set of to scout a newly rediscovered wreck that seemed to hold a lot of fish and in just 56m water is prime for another session soon.

11/2017

Fishing Report by steve stringer

Nov 2017 by steve stringer

The weather has made getting the boat out fishing really difficult, but when we do get out the fishing has been of the wall!!! Lots of large Spurs were around until September with several over the 20lb mark and at least three of nearly 25lb ( the current Scottish record is 20lb 6oz ), lots of big tope are still showing as are large numbers of large skate with a very large one lost today(8/11/2017) . Plenty of other fish are still around for the catching so we just need the weather to sort itself out.
We are putting the price up next year from Jan 1st to £45 including free hot roll plus any number of cuppas!!

03/12/2015

Fishing Report by steve stringer

3 Dec 2015 by steve stringer

We managed to get out on Thursday 03/12/2015 for a days angling. The rain was horrendous but within ten minutes we were into the fish with Whiting and Haddock being taken on the drift. We sat at anchor for a bit and still they came with some nice fish lost. Moving inshore to try and hide from the rain we were still picking up whiting and some really large LSDs. We moved up to try a flattie mark at anchor and It proved worth it with plenty of fine Dab coming up on some light gear with a good fight from them. More large LSD and a coalie topped off what was another great day afloat.

03/10/2015

Fishing Report by steve stringer

3 Oct 2015 by steve stringer

So the day started a bit slow with some massive tides making fishing hard, and the challenge of matching up to the lads trip to Norway that saw one Cod beating 70lb! finding some fresh bait was hard but we found the fish and hit into Herring and mackerel for fresh bait.
Tried a few marks but ended up fishing another spot I had kept an eye on and boy did it produce the goods! two Common Skate of 86lb and 110lb, 9lb Huss, one Smooth hound and 15 spurs to about 6lb. The lads went home aching but happy as did I. I think we managed to match Norway if not in quantity then definitely size!!!

25/08/2015

Fishing Report by steve stringer

25 Aug 2015 by steve stringer

Took me n the misses off for a check of some marks to see how they were fishing and introduce June to some new species for her. Went off in search of fresh bait and put 30 mackerel into the tub so headed of to anchor up. another deep mark I have been keeping an eye on produced three thornbacks, and grey Gurnard. the tide really picked up so decided to try in the 300ft banks but the wind was holding us against the tide now so went scratching for species. Introduced June to scratching with light weight gear and some 50 codling, 30 haddock and a nice Tub Gurnard. We kept 6 of the largest fish for the table putting the rest back to fight another day before heading in to clean down the boat.

GREAT FISHING STILL!!!!
PS that's a 20lb class rod with the bend on!!