Charter Boat: merlin
Boat and Skipper Details
Licensed For:
up to 10 passengers
Code Of Practice:
Cat 2 - 60 Miles
Hours:
5hr / 8hr / 10hr Trips
Type of Fishing:
Tope - smoothhound - General - Bass-gurnard-huss-plus many many more.
Tackle Available:
Yes - Contact Skipper
Bait Available:
Yes - Contact Skipper
Boat Specification:
32 aquastar with modern electronics package, furuno GPS system, Lorence chart plotter and koden sounder
Facilities:
Tea/Coffee Free.
Additional Description:
Fishing in Rhyl all year round doing individuals and charters.
tuition for beginners.
About the Skipper:
I started full time charters with Merlin in 1999.
I owned two private boats before Merlin.
Started Crewing on charter boats at the age of eleven in the summer holidays and weekends.

Sunday
Monday
Tuesday
Wednesday
Thursday
Friday
Saturday

Color for Fully Booked

Fully Booked

Color for Partially Booked

Partially Booked (Individual Spaces)

Color for Available

Available (Whole Boat)

Color for Not Available

Not Available

Color for Unspecified

Unspecified

N.B. Not all Skippers keep this dairy up-to-date. Always check with skippers before making any plans. Last calendar update: 21-Jul-2019

Tue 1st Oct More...

5hr trip 10.30 sail

Wed 2nd Oct More...

5hr 11.15 sail

Thu 3rd Oct More...

5hr 12 sail

Fri 4th Oct More...

8 or 10hr trip 5.30 am sail or 5hr 12.30 sail

Sat 5th Oct More...

8 or 10 hr trip 6am sail or 5hr 1.30 sail

Sun 6th Oct More...

8 or 10 hr trip 7am sail

Mon 7th Oct More...

8 or 10 hr 8am sail

Tue 8th Oct More...

8hr 9.30 sail or 10hr trip 8.30 sail

Wed 9th Oct More...

8hr trip 10.15 sail or 10hr trip .15 sail

Thu 10th Oct More...

5hr 7am sail, 10hr 9am sail, or 8hr 11am sail

Fri 11th Oct More...

5hr 7.45 sail

Sat 12th Oct More...

5hr 8.15 sail

Sun 13th Oct More...

5hr 8.45 sail, 8 spaces

Mon 14th Oct More...

5hr 9.15 sail

Tue 15th Oct More...

5hr 9.45 sail

Wed 16th Oct More...

5hr 10.15 sail

Thu 17th Oct More...

5hr 10.30 sail

Fri 18th Oct More...

5hr 11.15 sail

Sat 19th Oct More...

5hr 11.50 sail

Sun 20th Oct More...

8hr 5,30 sail, or 5hr 12.30 sail

Mon 21st Oct More...

8 or 10 hr 6.30 or 5hr 1.30

Tue 22nd Oct More...

8 or 10 hr 7.30

Wed 23rd Oct More...

8hr 8.30

Thu 24th Oct More...

8hr 9.30 sail

Fri 25th Oct More...

5hr 6.30 sail or 10hr 8.30, or 8hr 10.30 sail

Sat 26th Oct More...

5hr 7.15 sail or 10hr 10.15 sail, or 8hr 11.15 sail

Sun 27th Oct More...

5hr 7am sail or 10 hr 9am sail or 8hr 11am sail

Mon 28th Oct More...

5hr 7.45

Tue 29th Oct More...

5hr 8.30 sail

Wed 30th Oct More...

5hr 9am sail

Thu 31st Oct More...

5hr 9.40
Upcoming Individual Spaces on merlin
| | | | | | |
| --- | --- | --- | --- | --- | --- |
| Thu 01/08/2019 | | | £32.00pp | 5hr trip 9am sail, 7 spaces | View details |
| Fri 02/08/2019 | | | £32.00pp | 5hr trip 9.45 sail, 8 spaces | View details |
| Mon 05/08/2019 | | | | 5hr tip 12pm sail, 6 spaces | View details |
| Thu 15/08/2019 | | | | 5hr 9am sail, 7 spaces | View details |
| Sun 25/08/2019 | 8 Spaces | | £38.00pp | 8hr trip 8am sail 2 spaces | View details |
| Fri 30/08/2019 | | | £32.00pp | 5hr 8.45 sail, 6 spaces | View details |
| Sat 31/08/2019 | | | £32.00pp | 5hr 9.30 sail, 2 spaces | View details |
| Sun 01/09/2019 | | | £32.00pp | 5hr 10.15 sail, 5 spaces | View details |
| Sat 07/09/2019 | 4 Spaces | | £38.00pp | 8hr 7.30 sail 7 spaces | View details |
| Sat 14/09/2019 | | | £32.00pp | 5hr 9.15 sail, 8 spaces | View details |
| Sun 13/10/2019 | 8 Spaces | | £32.00pp | 5hr 8.45 sail, 8 spaces | View details |
| Sun 17/11/2019 | 8 Spaces | | £32.00pp | 5hr 10.45, 8 spaces | View details |
| Fri 20/12/2019 | | | £38.00pp | 8hr 7.30 sail, 8 spaces | View details |
View more availability on the Full Calendar
Reviews
Summary:




Jon Wheway (04/11/2018)

Another great day out with Roger (remember the chocolate biscuits next time). 8 hour trip from 9am . Started with usual odds n sods but the day took a lovely turn when we bought along side a surprise spurdog. This promptly bit through the hooked whiting. But it was the first of 13 hooked and 11 boated. Brilliant experience and as Roger said, other than the occasional fish the first he'd had on his boat for 20 years. Pics uploaded. Thanks Roger, see you next year

Tony Peters (06/08/2018)

Thanks for a great trip out Roger,
3 of us boarded a full boat of 10 at 8am yesterday. sailed out to the first mark which was a bit slow same at the 2nd mark.
Roger then moved again and put us right on the fish, plenty of mackerel, Rays whiting and Bullhuss came out and everyone on the boat was into fish, some quality fish coming out keeping the skipper busy all afternoon ( you earned your crust Roger) hahaha.
2 birthdays on board yesterday so out came the party gear CAKE which went down a treat.
Weather was hot some of us took the knock late afternoon.
Quality day with a quality skipper and boat will defo be booking again mate.
All the best Liverpool Lads Tony, Tommy and Dave

Chris Lloyd (02/08/2018)

Great day out on Merlin. It was my 14 year old and his mates first fishing trip and Roger looked after us really well. Good variety of fish caught with the mackerel in the fridge and freezer now. They opted for a Dominos pizza on the way home though and when i suggested Anchovies on top they weren't keen - apparently look like the lug worm bait!! Thanks again - a great day. Chris

Jon Wheway (21/05/2018)

Really good day out with Roger. Some good fish caught including ling and some nice cod from a wreck we went out to as the general bottom fishing wasn't lighting up the world - thanks to the skipper for making the call to go out to the wreck. Everyone went home happy and I've got a freezer with some good cod fillets in it. Hopefully be able to book on again some time this summer. Would happily recommend the skipper and the boat

Skippers Reponse: Thanks Jon hope to see you soon .

Justin crowe (06/05/2018)

Well this is our second trip with Roger and wow what a day again...put us on the fish from the first cast to the last. ..between 7 of us we must of had 100s of fish...whiting, dabs,codling,dogs,huss, herring and a nice sea scorpion...this boat and skipper come highly recommended by us and yes we have already booked our next trip....

Skippers Reponse: Thanks mate look forward to your next trip

Latest Catches 19 photos uploaded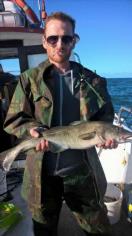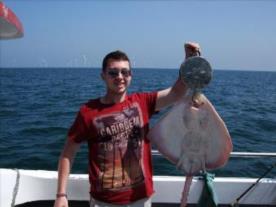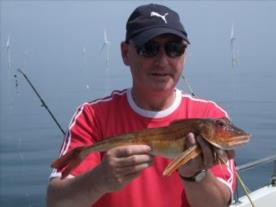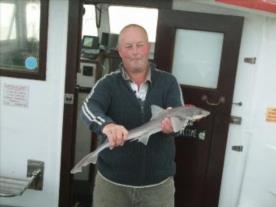 Paul
7 lb Smooth-hound (Common)
14-Jul-2013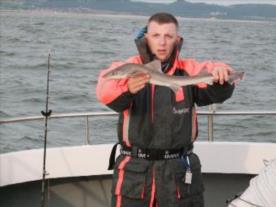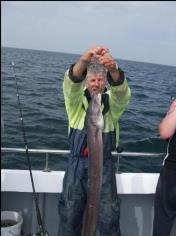 Paul
14 lb Conger Eel
20-Jul-2013
Latest Fishing Reports and News
21/07/2019

Fishing Report by roger daniels

21 Jul 2019 by roger daniels

The weather a bit up/down at the moment, Lots of Mackeral about, good fishing on the Skate ,Bullhuss, plus the usual, Dabs,Whiting,Gunard,Blackbream . Tope ect Just opened up some more dates in September .

08/07/2019

Fishing Report by roger daniels

8 Jul 2019 by roger daniels

8hr trip today , was a fine day , plenty of Mackeral, Whiting good numbers Skare,Bulhuss Dabs and Dogfish, weather looks settled for the week ahead,

07/07/2019

Fishing Report by roger daniels

7 Jul 2019 by roger daniels

Steady fishing over the last couple of trips, plenty of Mackeral, Dabs Whiting,Dogfish, and the odd Skate , Bullhuss, and Gurnard, steady fishing for inshore 5 hour trips,

22/06/2019

Fishing Report by roger daniels

22 Jun 2019 by roger daniels

good fishing on Saturday plenty of Skate and Bullhuss, lots of Mackeral,and steady fishing , Dabs Whiting , Codling,Gurnard, Dogfish, ect , thanks lads,

19/06/2019

Fishing Report by roger daniels

19 Jun 2019 by roger daniels

last 2 days, trips, had plenty of Mackeral , Dabs Whiting, Gurnard, Smoothhound and odd Flounder and small Codling, cheers lads see you again soon