Charter Boat: Mistress Linda
Boat and Skipper Details
Licensed For:
up to 12 passengers
Code Of Practice:
60 mile from a safe haven
Hours:
3hr / 4hr / 5hr / 6hr / 7hr / 8hr / 9hr / 10hr / 11hr / 12hr / Multiple Days Trips
Type of Fishing:
Wreck for Cod /Pollack, Offshore banks for Bass / Rays, Turbot / Plaice drifting, Autumn Sole, Bream /Whiting and winter Cod, species hunts and comps are a favourite, Photography and Corporate trips tailored to your needs
Tackle Available:
Yes - Contact Skipper
Bait Available:
Yes - Contact Skipper
Boat Specification:
Bullet DS38 twin engine charter special with a comprehensive electrionics package and back up systems, MCA Approved CAT 2, brand new FPT engines for 2020
Facilities:
Red hot kettle ( once the 1st fish comes aboard) H/C fresh water, ladies facilities, toilet/shower. Heated wheelhouse, cooking facilities to heat your food
Additional Description:
Operating from Poole Dorset on a DAILY BASIS 364 days a year for all types of sea fishing trips. Mistress Linda is available for angling from the 1st time budding angler to the most competitive competition angler with expert tuition always on hand, photography / corporate (Buffet food can be provided on request) and that special day be it Stag / Hen parties or BBQ afloat watching the famous Bournemouth Air Show (full Ladies facilities on board) Family fun days are tailored to your requirements to maximise your day afloat. We have the facilities on board to keep your catch in pristine condition for your journey home. Come and join us on a trip to the wrecks to catch Cod, Pollack, Ling and Congers or drift the banks for Turbot and Plaice, enjoy the sport of Bream on ultra light tackle, catch a Tope again on light gear, 'live bait' for Bass or just enjoy a general day out fishing viewing the superb scenery surrounding Poole.
A Catch and Release policy is encouraged aboard and only fish above the minimum legal landing size may be kept.
A strict Safety Policy is operated on the Mistress Linda and all those aboard are requested to Read the Policy before leaving the confines of Poole Harbour. T&Cs can be viewed on our website www.mistresslindacharters.com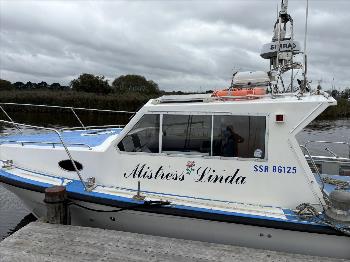 About the Skipper:
Boyhood fanatical angler started fishing in 1968 then moved into chartering and still enjoying fishing along with passing my skills onto the next generation of anglers. I love species comps and scratching days as well as offshore wreck fishing each has their own enjoyment
Long serving Professional Boatmans Association Director and Chairman
I have many years experience fishing the offshore wrecks and inshore marks around Poole and will go the 'extra mile' to find fish .


Sunday
Monday
Tuesday
Wednesday
Thursday
Friday
Saturday

Color for Fully Booked

Fully Booked

Color for Partially Booked

Partially Booked (Individual Spaces)

Color for Available

Available (Whole Boat)

Color for Not Available

Not Available

Color for Unspecified

Unspecified

N.B. Not all Skippers keep this dairy up-to-date. Always check with skippers before making any plans. Last calendar update: 25-Oct-2020

NOTE: CURRENT AVAILABILITIES ARE LIKELY TO BE IMPACTED BY COVID-19 RESTRICTIONS. PLEASE CONTACT SKIPPERS FOR DETAILS

Sat 1st Aug More...
Sun 2nd Aug More...
Mon 3rd Aug More...
Tue 4th Aug More...
Wed 5th Aug More...
Thu 6th Aug More...
Fri 7th Aug More...
Sat 8th Aug More...
Sun 9th Aug More...
Mon 10th Aug More...
Tue 11th Aug More...
Wed 12th Aug More...

Afternoon 3 hr trip

Thu 13th Aug More...
Fri 14th Aug More...
Sat 15th Aug More...
Sun 16th Aug More...
Mon 17th Aug More...
Tue 18th Aug More...
Wed 19th Aug More...
Thu 20th Aug More...
Fri 21st Aug More...
Sat 22nd Aug More...
Sun 23rd Aug More...
Mon 24th Aug More...
Tue 25th Aug More...
Wed 26th Aug More...

Afternoon fishing trip, ideal for families

Thu 27th Aug More...
Fri 28th Aug More...
Sat 29th Aug More...
Sun 30th Aug More...
Mon 31st Aug More...
Upcoming Individual Spaces on Mistress Linda
NOTE: CURRENT AVAILABILITIES ARE LIKELY TO BE IMPACTED BY COVID-19 RESTRICTIONS. PLEASE CONTACT SKIPPERS FOR DETAILS
Reviews
Summary:




anthony beckham (12/07/2016)

First time out on Mistress Linda today, with skipper Philip Higgins. Skip kept us on fish all day, out of the weather and the kettle was constantly on. Undulates to 20lb, plaice, smooth hounds and mackerel. Would recommend this boat if any is looking to go out of Poole harbour.

Mark Laing (31/03/2016)

Had a cracking day out with Phil (skipper) and Carl (deck hand) today. Phil really tried to put us on the fish which resulted in a 15lb (approx) undulate. Totally recommend this boat, loads of room and great facilities. Will definitely be using this chapter and skipper again. You won't be disappointed.

Rob Mortimer (29/03/2016)

First outing in 20+ years with my son, first time with Phil and with Mistress Linda, Top Skipper, friendly, with extensive local knowledge, sadly the fish weren't playing but its not always about getting the fish, had a great time and my son enjoyed the experience too. Cheers Phil, will be seeing you ... best Rob and Darragh

paul quarterman (29/12/2015)

First time out on Mistress Linda in difficult conditions, but skipper Philip managed to get us on the fish

Skippers Reponse: Thank you Paul, as you stated the conditions were challenging thanks to the constant series of bad weather we have suffered but we did manage a few fish, overall catch was below my expectations.
Latest Catches 523 photos uploaded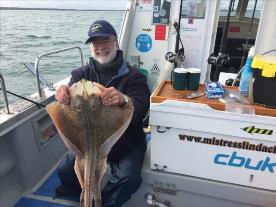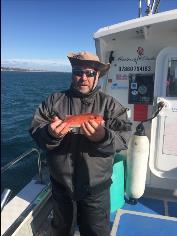 Latest Fishing Reports and News
07/10/2020

Fishing Report by Philip Higgins

7 Oct 2020 by Philip Higgins

In between the current gales a small weather window presented itself today, the plan was to do a bit of Plaice fishing then Rays. We started along the beaches drifting towards Boscombe and this proved fruitless with only the occasional pout bothering the baits so we returned to the Swash channel and again very little but we did manage a small plaice so plan 2 came into action we anchored a bank and immediately had dogs and Rays this set the pattern for the afternoon with plenty more Rays, dogs, hounds and Gurnards coming aboard. Newly weds Russell and Karen outfished everyone landing most of the Rays. Chris Knight who is severely disabled was not to be outdone and landed a fine Undulate ray.
Given the conditions today the fishing was very good .

15/09/2020

Fishing Report by Philip Higgins

15 Sep 2020 by Philip Higgins

With the settled weather we have had the fishing has improved with plenty of good quality Bass being landed during the hardest part of the tide then as it eases our attentions have turned to Plaice making for an enjoyable days fishing, the best of the Plaice season is just starting with catches of 100 plus fish per trip. Whilst fishing for Plaice many anglers have landed bonus fish Turbot, Brill , Sole, John Dory and Cod just to keep things interesting. On the outer banks there has been some good sport with 30lb class Tope and Bull Huss to 15lb giving the anglers a work out on light gear the hardest part of this fishing has been getting enough fresh mackeral which seem more illusive each year. On yesterdays trip we set a new boat record in getting 15 PBs for the crew including a 1st for Martyn with a 6lb Cod whilst Bream fishing at anchor. Today is a day off for me as my crew have gone into isolation to ensure their safety allowing me time to catch up on reports like this.

02/09/2020

Fishing Report by Philip Higgins

2 Sep 2020 by Philip Higgins

As the tides build in strength we have targeted Bass and have they given the team plenty of sport, yesterday the conditions were perfect, no wind beautiful blue skies and fish, these were nearly all well over size limits. During several drifts all the anglers plus myself all hooked up making for some great video and all bar 3 fish being returned. Today promised to be good with perfect conditions but this soon gave way to a fresh breeze causing the boat to go across the tide, the catch rate was well below yesterday but for Chris Bowden to set a new PB Bass of 12lb 10ozs

09/08/2020

Fishing Report by Philip Higgins

9 Aug 2020 by Philip Higgins

Hi
The fishing along the sea front has produce plenty of plaice which vary in size from small to medium but are excellent sport, off to sea during the bigger tides Bass have been th3 main target and have not failed to impress in numbers and quality, the best this week went to Phil with a cracking 11lb 12ozs fish which not only set a PB for him and was his 1st. During the slack water periods plenty of small Tope have kept anglers busy mixed in with some quality Rays. The last few days have seen us during slack water switching to drifting the deep water for plaice which has been successful but the quality has not been there with many small fish being released. It is now time for us to start our Thresher trips as reports have hinted some have been caught, this always brings an extra air of tension and expectation waiting for that tell tale ratchet run. Will keep you posted on the results.

14/07/2020

Fishing Report by Philip Higgins

14 Jul 2020 by Philip Higgins

Hi
After a rather unfortunate collision whilst at anchor the Mistress Linda has with the help of Marine Options Poole, Sillette Sonic and Hamble Propellors undergone a few gel repairs, new prop shaft and rebuilt propellor and will be back in action this week. Many thanks to Pip at Marine Options for some fantastic support his team have just made things so easy.