Charter Boat: Rachel K
Boat and Skipper Details
Licensed For:
up to 12 passengers
Code Of Practice:
20 miles
Hours:
2hr / 3hr / 4hr / 5hr / 6hr / 7hr / 8hr / 10hr / 12hr Trips
Type of Fishing:
Pleasure fishing trips, groups, parties, social groups, work outings, funerals.
Boat Specification:
40ft PURPOSE BUILT ANGLING BOAT, wheelhouse and large open deck with seating.
Facilities:
GPS, radar, 25 life jackets and rafts, life jackets for children, fish finder, boat emergency communications, toilet hot and cold water.
Additional Description:
Telephone: 07932 645770/07455935930

Bait and tackle included in price

£20 (Children £15) for 3 hours
£25 for 4 hours
£35 for 6 hours
£40 for 7 hours
£45 for 8 hours
£55 for 10 hours
2 hour trips available on request.
All ages welcome
Parking available on harbour
Accommodation can be arranged
Ashes can be scattered at sea on request

Rachel K is a purpose built angling boat. She was originally built to carry 40 passengers bug now down to 12 giving anglers ample room


Last minute bookings are available most days. Please just call to check availability before you arrive.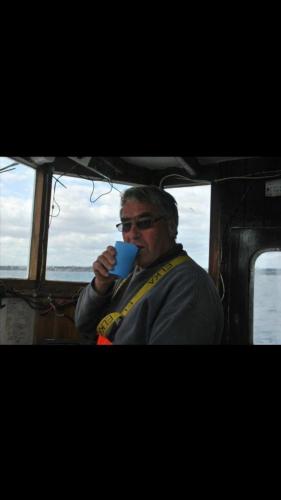 About the Skipper:
Sam has been fishing out of bridlington for the last 12 years on commercial and angling/diving boats. Hes been working as a weekend deckhand on the charter boats out of bridlington since the age of 13 for his passion of fishing. Sam will always do his best to put you on the fish and make sure you have a enjoyable day.
Upcoming Individual Spaces on Rachel K
Sorry, there are currently no Individual Spaces at present.
Latest Catches 29 photos uploaded
Latest Fishing Reports and News
09/06/2019

Fishing Report by Sam Law

9 Jun 2019 by Sam Law

Cod starting to show again in our fishing grounds at flamborough/bempton all my passengers had fish well over the minimum size to take home alone with wrasse,dogfish and plenty of undersized codlings all the chuck back. Few mackerel starting to show in bridlington bay also. All in all was a good day

07/06/2015

Fishing Report by Sam Law

7 Jun 2015 by Sam Law

Once again the cod were biting well off Flambourgh Head.all our passengers caught fish well over the minimum size.A few Mackerel also decided to make an entrance.Good sized Wrasse and small Pouting went back in to annoy passengers on rival boats the following day.Best bait was live mussel tipped off with a small piece of worm.

26/05/2015

Fishing Report by Sam Law

26 May 2015 by Sam Law

The day dawned fair but the fishing was brilliant.We went "round the corner" to marks off Flamborough Head.The cod didn't stop biting and our 5 anglers landed over 50 fish,all well over minimum size.The odd dogfish and some large Wrasse all went back.Boads well for the summer season.

05/2015

Fishing Report by Sam Law

May 2015 by Sam Law

The day dawned fair but the fishing was brilliant.We went "round the corner" to marks off Flamborough Head.The cod didn't stop biting and our 5 anglers landed over 50 fish,all well over minimum size.The odd dogfish and some large Wrasse all went back.Boads well for the summer season.

01/10/2014

Fishing Report by Sam Law

1 Oct 2014 by Sam Law

On a bright and sunny day the Rachel K took three parties of primary school children into Briflington Bay for a fishing taster and to watch local boats bringing in catches of crabs and lobsters.Each party had 16 children and three staff.The trip was part of the children's study into the local coastline.Schools are welcome to contact the skipper to arrange other visits