Charter Boat: Sally Ann Jo
Availability Calendar
5 Reviews

Reviews Unaccepted: 1
Boat and Skipper Details
Licensed For:
up to 12 passengers
Hours:
2hr / 4hr / 5hr / 6hr / 7hr / 8hr / 9hr / 10hr / 11hr / 12hr / Multiple Days Trips
Type of Fishing:
Mark, reef, wreck and drift fishing. Flatties, plaice, turbot, brill, rays, pollack, conger, cod, bream, bass, tope etc
Tackle Available:
Yes - Contact Skipper
Boat Specification:
Blyth 33 Cat, huge deck area, twin 330hp Iveco engines
Facilities:
All usual electrics and saftey equipment. Toilet. Kettle always on. Livebait tank.
Additional Description:
Sally Ann Jo can be chartered as a whole boat, for small groups or as individual spaces. If you would like to book a space, whole boat or be added to our list of anglers with offers of individual spaces, news etc. please email colinbaker1260@gmail.com
We cater for experienced anglers or novices. Tuition and advice is freely available, just ask.
Tackle is available on request, but please ask before the date of your booking.
Bait can be arranged. Weymouth Angling 01305777771 is open at 06.30 every day and less than 5 minutes from the boat.
About the Skipper:
Full time skipper. 15 years as a charter skipper, 25 years owning boats, 45 years an angler.
Experienced and enthusiastic angler, happy to share experience and knowledge with both novices and experienced anglers, just ask.


This Charter has been listed as Wheelchair Accessible. Contact the Skipper for full details.
Sunday
Monday
Tuesday
Wednesday
Thursday
Friday
Saturday

Color for Fully Booked

Fully Booked

Color for Partially Booked

Partially Booked (Individual Spaces)

Color for Available

Available (Whole Boat)

Color for Not Available

Not Available

Color for Unspecified

Unspecified

N.B. Not all Skippers keep this dairy up-to-date. Always check with skippers before making any plans. Last calendar update: 13-Jul-2020

NOTE: CURRENT AVAILABILITIES ARE LIKELY TO BE IMPACTED BY COVID-19 RESTRICTIONS. PLEASE CONTACT SKIPPERS FOR DETAILS

Wed 1st Jul More...
Thu 2nd Jul More...
Fri 3rd Jul More...
Sat 4th Jul More...
Sun 5th Jul More...
Mon 6th Jul More...
Tue 7th Jul More...
Wed 8th Jul More...
Thu 9th Jul More...
Fri 10th Jul More...
Sat 11th Jul More...
Sun 12th Jul More...
Mon 13th Jul More...
Tue 14th Jul More...

Half day afternoon available

Wed 15th Jul More... 3 places available half day morning
1 place available half day afternoon
Thu 16th Jul More...
Fri 17th Jul More...
Sat 18th Jul More...

Mike 07737812373 £100 from 2019

Sun 19th Jul More...
Mon 20th Jul More...
Tue 21st Jul More...
Wed 22nd Jul More...
Thu 23rd Jul More...
Fri 24th Jul More...
Sat 25th Jul More...

Half day afternoon available

Sun 26th Jul More...
Mon 27th Jul More...
Tue 28th Jul More...
Wed 29th Jul More...
Thu 30th Jul More...
Fri 31st Jul More...

Half day morning available
Upcoming Individual Spaces on Sally Ann Jo
NOTE: CURRENT AVAILABILITIES ARE LIKELY TO BE IMPACTED BY COVID-19 RESTRICTIONS. PLEASE CONTACT SKIPPERS FOR DETAILS
Reviews
Summary:




Reviews Unaccepted: 1
Anthony Seymour (25/10/2015)

1st day out on the Sally Ann Jo and it did not disappoint. I had a great time with a good variety of species landed as well as our target: Bream. Colin worked hard to put us on the fish and was an excellent Skipper. Great boat, Great Skipper - I can definitely recommend this charter.

Skippers Reponse: Thanks Tony, I look forward to seeing you again in the future.

Jason Wilkinson (09/03/2013)

Great Day out fishing with Colin, A great skipper who made us plenty of tea and offered plenty of advice. Eight of us on the boat all managed to catch, we all had a couple of plaice to take home at the end of the day.

Skippers Reponse: Thanks Jason, looking forward to seeing you again in May

Tony Hogg (23/05/2010)

Have fished for everything but the Bream on Colins boat this year is the best fishing ever

John Houston (27/06/2009)

Two trips out with Collin inside a month and couldnt wish for more from any skipper, help on tackle & methods, plenty of tea/coffee/bovril/hot choc & sausages. Great fishing on the bream, i will be back asap Cheers

Darron Carver (03/05/2009)

Fantastic day out! Skipper is very friendly and very patient with complete novices such as myself. I would recommend the Sally Ann to anyone, i wll be rebooking very soon hoping with view to taking some of my clients out for the day
Latest Catches 361 photos uploaded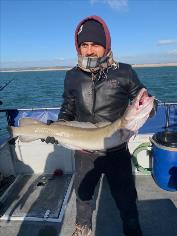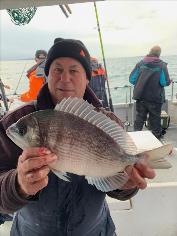 Gareth
2 lb 8 oz Black Sea Bream
28-Oct-2019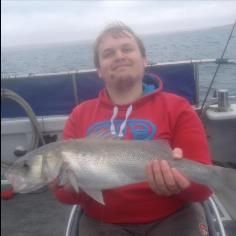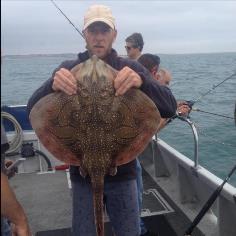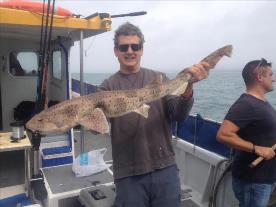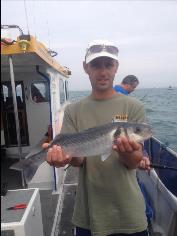 Simon
4 lb Bass
3-Aug-2019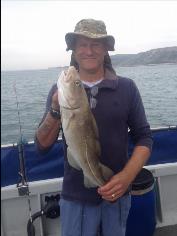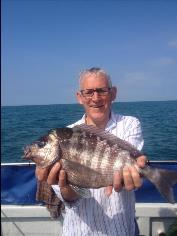 Rolley
4 lb Black Sea Bream
2-Aug-2019
Latest Fishing Reports and News
19/08/2015

Fishing Report by Colin Baker

19 Aug 2015 by Colin Baker

Wrecking trips are still producing a reasonable number of cod. Last Saturdays trip also saw a few red gurnard to lures in 60m of water and this lovely 9.5lb bass for Andy Magor. Reefs and banks are producing good numbers of bream. Bull huss, conger and undulate rays are making appearances and testing light gear when fishing for bream. For the species hunters amongst you theres always the red band fish.
Some spaces still available for individuals in August on half day trips 26th and 27th and full day trips 28th and 30th.

23/05/2010

Fishing Report by Colin Baker

23 May 2010 by Colin Baker

Finaly the summer arrives, the sun comes out, the sea goes flat and the bream turn up. I had Malcolm McMaconell and his party from up on the Humber out Saturday and Sunday. They thought Saturday was good, catching bream to just over 3lb. Sunday was better, again bream to just over 3lb, over 120 between the 6 of them, Malcolm had 42 himself. Brilliant fishing with a good bunch of anglers who returned the majority of female and smaller fish. Roll on the rest of the summer.

09/2009

Fishing Report by Colin Baker

Sep 2009 by Colin Baker

Well the boat is now at Pier Rd, Littlehampton, so if you've been on the boat from Ford note the new location. September saw a total of 16 species on the boat including bream, bass, cod, conger, whiting, tope, thornbacks and smoothounds. The last weekend was probably the best, with the small tides we went out and anchored a deep hole both days and the weather couldnt have been calmer. Saturday saw the first cod to baits at anchor this year and Ron who was out celebrating his 82nd birthday had the best fish, an eel of 40lb. Sundays best fish went to Charlotte on her first trip, the only other fish she has caught being the mackerel bait on the way out. After that she went on to catch another three eels I think. With the cod turning up to baits I look forward to October and the rest of the winter. October shoud continue to turn up big eels as well as bream and bass amongst the cod and other species.

08/2009

Fishing Report by Colin Baker

Aug 2009 by Colin Baker

Winds and weather were not kind in August, however when we have got out the fishing has been good. Pollack to 14lbs and bass from the wrecks on lures when the tides have been smaller. From the banks and reefs a variety of fish including bream, bass, rays, gurnard tope and hounds. Probably the best fish this month was a conger of 50lbs from rough ground at night to Trigger on his first boat trip and his first conger too! Now the evenings are drawing in more opportunity for an evening trip targeting this species are available before the water cools and they move into deeper water. Hopefully the weather will be better for the comming autumn.

06/2009

Fishing Report by Colin Baker

Jun 2009 by Colin Baker

13th, 14th June, what a briliant weekend for the weather, shame the small tides made the fish difficult to keep on the feed, we still managed a good number of bream and three undulate rays between 13lb and 14lb. With weather that good everyone enjoyed themselves, let there be many more.
Colin