Charter Boat: Sea-Juicer
Boat and Skipper Details
Licensed For:
up to 10 passengers
Code Of Practice:
CAT 2 - 60 Miles
Hours:
3hr / 4hr / 5hr / 8hr / 9hr / 10hr / 12hr Trips
Type of Fishing:
Deepwater reef / inshore / general / competition angling & spieces Hunts from marks in the eastern solent & south of the IOW
Tackle Available:
Yes - Contact Skipper
Bait Available:
Yes - Contact Skipper
Boat Specification:
Sea-Juicer is fast fully equipped 38ft bullet with a large cockpit & full range of latest electronic Equipment, Fully insured with a 60 mile cat 2 operating license powered by a single Iveco 550Hp Engine cruising at around 16knts fully loaded
Facilities:
MARINA BERTHED !!!!!! FREE PARKING !!!!!! ONE MINUTE FROM MOTORWAY !!!! VERY EASY ACCESS !!!!!
Additional Description:
Sea-Juicer provides Quality sea angling Trips & boat charters from a marina berth in Portsmouth harbour on the South Coast, Sea-juicer Caters for all types of anglers from total beginners to the most experienced, Individuals, Groups, & not forgetting the lady anglers are all welcome. The Boat is sponsored by Andys Bait so Rods Reels & bait supplied are of the highest quality. helping to improve your chance of catching the BIG ONE !!!!!. Cups of Tea / Coffee are supplied free & not in short quantities. also aboard is a clean toilet . i am licensed for 12 anglers but i only fish a maximum of 10 giving you that bit of extra space.

MANY INDIVIDUAL DAYS AVAILABLE !!!!!!!!!!!!!!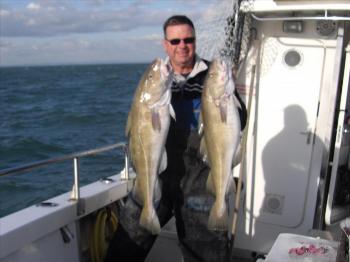 About the Skipper:
Rob is a friendly helpful owner/skipper who likes to have a good Laugh & light hearted banter. Rob is also a very keen angler himself, he has won various angling championships & finished in the top ten of the UK Boat Fishing League for five consecutive years, he has a great knowledge & experience of the local waters which he has been fishing for over 50yrs. Rob is always on hand to offer advice on tactics & what terminal tackle is considered best.
Sunday
Monday
Tuesday
Wednesday
Thursday
Friday
Saturday

Color for Fully Booked

Fully Booked

Color for Partially Booked

Partially Booked (Individual Spaces)

Color for Available

Available (Whole Boat)

Color for Not Available

Not Available

Color for Unspecified

Unspecified

N.B. Not all Skippers keep this dairy up-to-date. Always check with skippers before making any plans. Last calendar update: 14-Nov-2020

NOTE: CURRENT AVAILABILITIES ARE LIKELY TO BE IMPACTED BY COVID-19 RESTRICTIONS. PLEASE CONTACT SKIPPERS FOR DETAILS

Sun 1st Nov More...
Mon 2nd Nov More...
Tue 3rd Nov More...
Wed 4th Nov More...
Thu 5th Nov More... Individual Day
Spaces available
Fri 6th Nov More...
Sat 7th Nov More...
Sun 8th Nov More...
Mon 9th Nov More...
Tue 10th Nov More...
Wed 11th Nov More...
Thu 12th Nov More...
Fri 13th Nov More...
Sat 14th Nov More...
Sun 15th Nov More...
Mon 16th Nov More...
Tue 17th Nov More...
Wed 18th Nov More... INDIVIDUAL DAY
SPACES AVAILABLE
Thu 19th Nov More... INDIVIDUAL DAY SPACES
AVAILABLE
Fri 20th Nov More...
Sat 21st Nov More...
Sun 22nd Nov More...
Mon 23rd Nov More...
Tue 24th Nov More... INDIVIDUAL DAY
SPACES AVAILABLE
Wed 25th Nov More...
Thu 26th Nov More...
Fri 27th Nov More... Individual day
Spaces Available
Sat 28th Nov More...
Sun 29th Nov More...
Mon 30th Nov More... INDIVIDUAL DAY SPACES AVAILABLE
COD CONGER WHITING
Upcoming Individual Spaces on Sea-Juicer
NOTE: CURRENT AVAILABILITIES ARE LIKELY TO BE IMPACTED BY COVID-19 RESTRICTIONS. PLEASE CONTACT SKIPPERS FOR DETAILS
Reviews
Summary:




Mark Peel (20/10/2019)

I found the Sea-Juicer on the CBUK and struck gold. The communication with Rob was first class, the price was competitive, Andy our skipper for the day was very helpful, knowledge and chatty. We had plenty of bait which Rob had arranged for us and well worth the little extra money, there was no shortage. The fishing trip was for 3 Finnish boys aged 14 to 15, my wife and myself. We all had a blast, caught a selection of fish including whiting, a conger eel and dog fish. I would have no hesitation in recommending the Sea-Juicer and her crew, when other family members fly over to see us in 2020 we plan on rebooking, hopefully that speaks volumes for the trip. Thanks Andy and Rob for looking after us so well.

Skippers Reponse: HI Mark
Nice to know you had a great day .look forward to seeing you againg in the future


Shaun Lewis (27/07/2019)

Great day aboard Sea-Juicer, I managed 8 species. Just a all round great day, One of the best skippers you could wish to find.
If you are thinking about booking, and not sure, I promise you that you wouldn't be disappointed.

Skippers Reponse: Cheers
Shaun glad you enjoyed your Experience on Sea juicrt hope to see you again soon


Dean White (01/05/2019)

Great day out with Rob today. Some nice smoothhound, a good number of early season black bream and the occasional dogfish with plenty of tea and biscuits.

Skippers Reponse: Cheers Dean
Good to know you enjoyed your day see you again soon

Kevin Charman (21/05/2018)

Cheers Rob for yet another fabulous day. The guys really enjoyed the variety of fish we caught at the first mark and then catching all those Black Bream on the second Mark. You have a knack of turning novices into fish catching machines in just a few hours. Top tackle, top bait from a top skipper. See you soon. Kevin

Skippers Reponse: Cheers Kev Always Good to get a the beginners catching fish . Especially when they beat the keen Anglers

Ian Miles (28/04/2018)

Yet another rod bending day with Rob Hickin on 'sea juicer'.Over 35 smoothound caught and released along with the undulate ray,strap conger,pout and solent salmon.Everyone caught and well supplied with tea and coffee throughout the day.Brilliant company and a very professional skipper.

Skippers Reponse: Cheers Ian
Always good to have you on Board

Latest Catches 324 photos uploaded
Latest Fishing Reports and News
10/2020

Fishing Report by Rob Hickin

Oct 2020 by Rob Hickin

October continued to be a windy month
Days being able to get out fishing very limited but Nice to see a few cod arriving in the Solent bigger whiting will soon follow .
Elsewhere some nice size bull huss coming from inshore marks & Bass coming on live whiting baits
Hopefully November will be a calmer month
Few individuals spaces left but have been filling quickly due to max of 6

08/2020

Fishing Report by Rob Hickin

Aug 2020 by Rob Hickin

Bit of a challenging month again flat calm the first couple of weeks Then strong winds for the 2nd half with most trips cancelled .
we did still manage a few nice fish on board best the bunch this superb 9lb Turbot on one of my experimental day
along with a good other few species landed
Undulate Rays , Spotted Rays. Thornbacks . Smoothounds, Tope ,Congers ,Bass Mackerel .
as normal the undulates gave anglers some new PBs & a lovely sight to see them swim away unharmed.
I still have a few odd dates & individual spaces available in Sept but boat fills up quickly as i am still restricted in numbers due to covid

26/07/2020

Fishing Report by Rob Hickin

26 Jul 2020 by Rob Hickin

Bit of a challenging week Massive tides with steady breezes made it hard work , along with that the mackerel decided to disappear for a few days , still managed to find a good few species .
Undulate Rays . Spotted Rays Small eyed . Thornbacks . Smoothounds, Tope ,Congers ,Bream Mackerel , Scad & of course the obligatory dogfish although only few.
Once again the the undulates gave anglers some new PBs as normal they all got released to fight another day
Heaviest one boated was just over the 18lb & a cracking fish .
I still have a few odd individual spaces available in August but boat fills up quickly as i am still restricted in numbers due to covid

17/07/2020

Fishing Report by Rob Hickin

17 Jul 2020 by Rob Hickin

A cracking week on the Rays making use of small tides & good weather to fish the deep water banks total in excess of 50 Rays landed during the four days best daily total was 16 mainly undulates over 10lb along with Blondes Thornbacks & Spotted . Many Angler beating their PBs by some margins , like Andy Miller with his fine 22lb blonde Ray. also keeping the rods bending Tope . Smoothounds & Few Bass & not forgetting plenty of mackerel

I Have a few spaces left on some August individual days lets hope the weather continues

27/06/2020

Fishing Report by Rob Hickin

27 Jun 2020 by Rob Hickin

Looks the next week ahead is unsettled
Last week we saw plenty of nice size undulates comming from shallow water on light tackle.
Along with smoothounds blondes spotted & Thornbacks .strapp congers bass mackeral. Even a few nice bream & a bonus Turbot
Few dates / spaces left available for late july