Charter Boat: Strongbow
Boat and Skipper Details
Licensed For:
up to 12 passengers
Code Of Practice:
60 miles
Hours:
6hr / 8hr / 9hr / 10hr / 12hr Trips
Type of Fishing:
Needles Cod fishing and Harbour Flounder book now before the rush, Bass, Bream, Conger, Tope, Shark , Stag and Hen parties undertaken, Budget inshore and harbor Flounder and Plaice trips ring for details .Light line sport fishing a specialty with Bass and Tope etc for the more experienced angler.
Tackle Available:
Yes - Contact Skipper
Bait Available:
Yes - Contact Skipper
Boat Specification:
Strongbow is 38FT tri hull fast Evolution with a sprint speed of 26 knots and a cruising speed of 20 knots It is fitted with a live bait tank, fish hold and diving ladder. Now with a 1600L tank for keeping those specimens for weighing ashore and returning if wanted alive
Facilities:
Free tea and coffee, fitted with microwave, gas hob, heated cabin and deck flush toilet
Additional Description:
Member of Poole Charter Skippers Association.
Member of Lymington fishing club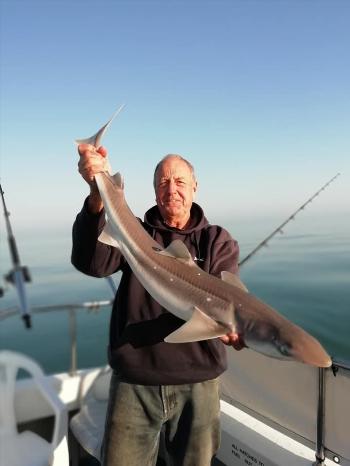 About the Skipper:
50 years of fishing and diving exspirence in the local area so has seen most of the fishing spots under water
This Charter has been listed as Suitable for Diving Trips. Contact the Skipper for full details.
Upcoming Individual Spaces on Strongbow
Sorry, there are currently no Individual Spaces at present.
Latest Catches 50 photos uploaded
Chris
2 lb 3 oz Plaice
Mar-2019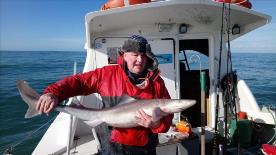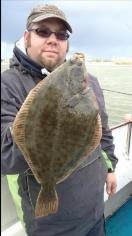 Jamie
3 lb 2 oz Flounder
10-Jan-2016
Hugo
11 lb 4 oz Bass
8-Oct-2015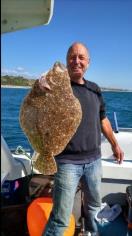 Latest Fishing Reports and News
08/03/2019

Fishing Report by Dick Peckham

8 Mar 2019 by Dick Peckham

out yesterday as part of the Species League along with Ocean Runner Charters. tough weather conditions making for a hard days fishing but the guys still managed 7 species including smoothhounds, whiting, congers, small eyed and blonde rays. best fish of the day a blonde ray weighing 16lb 8oz.

27/02/2019

Fishing Report by Dick Peckham

27 Feb 2019 by Dick Peckham

Perfect weather conditions enabled us to head offshore roughly 12 miles to try out a few new marks. The day started off slowly with a few whiting, congers and small rays, but as the day went on we were able to take full advantage of the excellent tides that day which produced plenty of good sized thornback, spotted and blonde rays and to top the day off three specimen spurdogs.

25/03/2018

Fishing Report by Dick Peckham

25 Mar 2018 by Dick Peckham

WEATHER HAMPERING THINGS STILL BIG SPUR DOGS OFFSHORE ALONG WITH HUSS POLLACK AND RAYS
PLAICE PROVIDING SOME SPORT IN SHORE
THE BREAM WILL BE HERE SOON IF YOU WANT THE BEST TIDES BOOK SOON TO BEAT THE RUSH

16/02/2018

Fishing Report by Dick Peckham

16 Feb 2018 by Dick Peckham

Good fishing with Spur dogs up to 21lb 5oz large Rays Conger and Pollack when the weather allows

01/01/2018

Fishing Report by Dick Peckham

1 Jan 2018 by Dick Peckham

Over the Christmas break the weather again meant we only got out three times , Still plenty of Whiting to 4lb off Bournemouth. Blonde and Smalleyed rays on the 6 mile bank . The Flounders have moved to the lower harbour all we need is some calm weather now.