Charter Boat: Al's Spirit
Boat and Skipper Details
Licensed For:
up to 12 passengers
Code Of Practice:
Cat. 2 - 60 miles
Hours:
4hr / 9hr / 12hr / Multiple Days Trips
Type of Fishing:
Wreck, reef, bank, bass and ground, species hunt, competitions, beginners welcome, Alderney trips available.
Tackle Available:
Yes - Contact Skipper
Bait Available:
Yes - Contact Skipper
Boat Specification:
38' Evolution with a 420hp Iveco Turbo Diesel
Facilities:
Toilet available for all, Fully heated wheelhouse, Microwave oven and a plentiful supply of hot drinks at no extra charge
Additional Description:
Nothing is too much trouble aboard Al's Spirit, whether this is your first fishing trip and you want to use the tackle on board; a seasoned and keen angler searching for a certain species or maybe even arranging a stag weekend and looking for something to fill the daytime hours. Whether you are an individual or a group looking to book the whole boat, I will work hard to give you the best trip possible. I am always happy for you to contact me if you have any questions about the trip or to discuss what we are catching, so please do not hesitate to call or email.

BOOK YOUR 2018 TRIP TODAY


Als Spirit Terms & Conditions for bookings
Deposits - Boat Charter Only
An agreed deposit or full amount will be required to secure a booking.
Should the trip be cancelled by me the skipper due to bad weather or other circumstances then your deposit will be refunded or can be moved to another date.
Late cancellation or failure to turn up by you will result in the full fee being payable if a replacement booking cannot be found.
Late cancellation means one month or less prior to your booking/date.
Deposits - Individuals Places
Note: There must be a sufficient number of people booked on the intended trip for it to take place.
Rolling Deposits (Boat Charter & Individual Places)
A single prepaid deposit can be paid that you can use to cover several bookings, this deposit is known as a "Rolling Deposit" and will carry over until such time as you wish to use it up, this saves you the hassle of repeatedly sending me a deposit for each booking.
Fixtures & Weather
Should fishing trends or the weather dictate or the water clarity not be good enough for the type of fishing intended, then a different type trip will/may be done to the one originally booked.
General Rules
When a booking has been accepted by us, a legally binding contract then exists between the person making the booking (The Customer) and ourselves (Als Spirit Charters), Als Spirit Charters reserves the right to cancel the contract for any one of the following reasons: 1. A bad weather forecast making the trip unsuitable for recreational angling to take place, whether the forecast is 'Unsuitable or Not' will be solely at the discretion of "Als Spirit Charters".
2. A mechanical or electrical system failure of any of the vessels main operating systems.
3. The Skipper or a crew member being unable to perform their duties efficiently due to ill health or injury.
4. A passenger or passengers arriving at the boat that in the opinion of the skipper are unfit to travel or, are likely to put other passengers at risk (No refund will be given in these circumstances)
Make sure you ring me the evening before your trip around 7.00 to 7.30pm to check if the trip is on.
Make sure you are on the boat at least Half an hour before the said departure time as the boat will leave promptly at the departure time.
Please note if fuel prices etc rise, my prices may have to rise as well. So prices are a guide line. Do not hesitate to contact me nearer the time of your trip for any update on the cost.
Boat Charter bookings - A Maximum of 12 anglers.
About the Skipper:
I have been fishing the shores of Weymouth and Chesil Beach since the age of 6. I am passionate about all types of angling and at the age of 17 bought my first boat, an 18' angling pleasure craft mooring it in West Bay harbour giving me the opportunity to combine my two keen interests. After many years of fishing from my own boat as well as the Weymouth Charter Fleet I was given the opportunity by Chris Caines to become a qualified charter skipper and own and run my own boat and business. I look forward to welcoming you on board Al's Spirit so that you can share my enthusiasm and passion for your sport.

W.I.B.A.C TOP BOAT 2012
W.I.B.A.C TOP BOAT 2013

PAIRS COMP TOP BOAT 2017
Sunday
Monday
Tuesday
Wednesday
Thursday
Friday
Saturday

Color for Fully Booked

Fully Booked

Color for Partially Booked

Partially Booked

Color for Available

Available

Color for Not Available

Not Available

Color for Unspecified

Unspecified

N.B. Not all Skippers keep this dairy up-to-date. Always check with skippers before making any plans. Last calendar update: 16-Sep-2018

Sat 1st Sep
Sun 2nd Sep
Mon 3rd Sep
Tue 4th Sep
Wed 5th Sep
Thu 6th Sep
Fri 7th Sep
Sat 8th Sep
Sun 9th Sep
Mon 10th Sep
Tue 11th Sep
Wed 12th Sep
Thu 13th Sep
Fri 14th Sep
Sat 15th Sep
Sun 16th Sep
Mon 17th Sep
Tue 18th Sep
Wed 19th Sep
Thu 20th Sep
Fri 21st Sep
Sat 22nd Sep
Sun 23rd Sep
Mon 24th Sep
Tue 25th Sep
Wed 26th Sep
Thu 27th Sep
Fri 28th Sep
Sat 29th Sep
Sun 30th Sep
Reviews
Summary:





simon hague (04/08/2015)

Brilliant trip to alderney, plenty of flatties, cod, non stop banter !! Top skipper Adi and thanks Jordan for doing filleting.

Lesley Senn (29/08/2013)

We had a really fantastic day's fishing. The crew were friendly and particularly helpful. The boat was immaculate with great facilities on board. Jordan makes a makes a great coffee too! Thanks to Adrian and Jordan for a memorable day. We would definitely recommend this charter and would like to go again.

Skippers Reponse: Hi Lesley
Thank you for your good review and hope to see you again soon. Regards Adrian

Geoffrey Huntington (13/09/2012)

What a fantastic day! Turbot, Plaice, Brill, Black Bream, Tub Gurnard and a Codling! A very hard working and knowledgeable Skipper where nothing was too much trouble! I shall definitely be using Adrian again and may I take this opportunity to thank him personally for providing my Son and I with a very enjoyable, and memorable day out!! Thanks Adrian we will see you soon!

wes kelly (21/08/2011)

many thanks to adrian, who worked extreemley hard to give us a superb day out with plenty of fish on a difficult rainy day. we had some large specimen fish inc: tope conger, bull huss 12lb 4oz bream to 4lb 9oz and various smaller fish. all in all a fantastic day with a top skipper. kind regards wes kelly.

Skippers Reponse: Cheers mate, much appreciated . . . tight lines!!


John Catchpole (04/06/2011)

We have just returned from Weymouth after yet another trip on Al's Spirit and it comes as no surprise to us that the day out was absolutely superb in all respects. We are a mixed group of anglers from Reading comprising of gents and ladies of varying ability. We have been using Adrian Brown for years and it is his enthusiasm, knowledge, personality, seamanship skills and above all his excellent way of dealing with all levels of angler that keeps us coming back year after year. Nothing is too much trouble for Adrian and he will spend a lot of time explaining exactly what's needed to maximise the catch on the day. His knowledge of the fishing marks in the area is spot on and he will ensure that wherever he recommends to fish will have the potential. It's up to you listen to his advice, concentrate on your fishing and the chances are you'll have a great day's catch. An excellent example of this was our last trip. We came back with a boatload of cod, pollack and bass - we know other boats returned with a lot less fish. If the fish are there, Adrian will put you right over them. What puts Adrian apart from the majority of skippers is that he genuinely wants you to have the best day out he can provide, given the conditions on the day. We have found this is not the case on all charter boats. Every sea angler who has been fishing charter boats for a few years will have stories of skippers who simply motor out, stop the boat and just sit in the wheelhouse to let you get on with it. Adrian however will take you straight to a mark that he knows, through years of experience, will be most likely to hold fish. Once the engines stop, he's straight out and will be walking around the boat ensuring that everyone is using the right tackle, the correct bait and the best methods to maximise the catch. And although Adrian's concern for his customer's enjoyment shows in his professional attitude, his sense of humour and easy going character will make the day a pleasure. All in all, we cannot recommend Adrian highly enough. Whether you are an experienced angler or a complete beginner, he will ensure that you'll have a great day aboard Al's Spirit.
Latest Catches 59 photos uploaded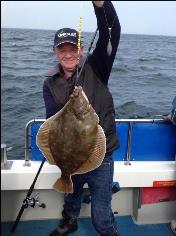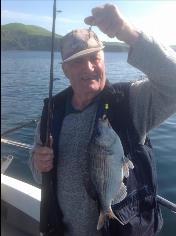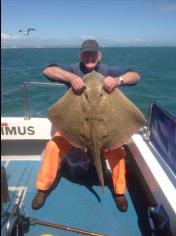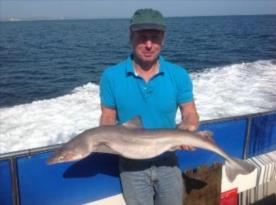 Keith
13 lb Starry Smooth-hound
Jul-2013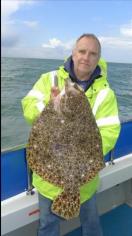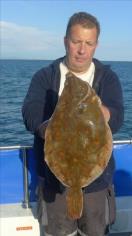 Latest Fishing Reports
06/2018

Fishing Report by Adrian Brown

Jun 2018 by Adrian Brown

With the fishing Inshore now finally in full swing .Now the mackerel are here in numbers we are getting good numbers of Tope , Spurdogs , Congers and Bull Huss on the rough ground. The mussel beds are still producing a few Plaice and the Shambles Bank is always a good bet for a chance of a good Turbot. Black Bream are about after spawning and numbers will increase.

31/12/2017

Fishing Report by Adrian Brown

31 Dec 2017 by Adrian Brown

Looking forward to 2018 and with a new year the Wrecking season is upon us, with some good sized Pollack starting to show.

Don't miss this opportunity and book your Wrecking trip now.

If you didn't already know, Weymouth has its own Pollack competition on 30 March 2018 - check availability to join us.

05/2015

Fishing Report by Adrian Brown

May 2015 by Adrian Brown


Wrecking is still steady with good numbers of Pollack and Ling about with a few Cod showing amongst them. As we get further in to May the Cod should show in more numbers.
Inshore fishing has been good for Turbot on the right tides. Plaice showing in more numbers on the mussel beds and with Bream showing on the spring tides.