Charter Boat: Blue Shark
Boat and Skipper Details
Licensed For:
up to 12 passengers
Code Of Practice:
60 miles
Hours:
2hr / 3hr / 4hr / 6hr / 8hr / 10hr / 12hr / Multiple Days Trips
Type of Fishing:
Reef, wreck, sand banks, bass and sharks.
Tackle Available:
Yes - Contact Skipper
Bait Available:
Yes - Contact Skipper
Boat Specification:
Lochin 33'
Facilities:
Toilet, tea and coffe
Additional Description:
Blue Shark operates from St. Justinians which is a small harbour in Ramsey sound where the St. Davids Lifeboat station is located. It is ideally situated to take full advantage of the great fishing grounds around the islands of Ramsey, Skomer, Skokholm, Grassholm the Bishops and Clarks and the reefs and sand banks of St. Brides bay. It is also a good departure point for the numerous off shore wrecks of the Irish Sea.

We mainly run the shorter trips during the weekdays leaving the weekends free for the longer charters, please check our calendar for availability, or drop us a quick email if you have a trip or date in mind.

We also run three hour trips out to the Bishops and Clarks in search of hard diving Pollock wrasse and other reef species. The larger pollock out on these reefs regularly getting up to 10lbs and great sport on light tackle.

Bass fishing is available on trips from 4 hours plus, dependent on the the right size of tides.
(Please note that during 2019 between April 1st - October 31st, a one bass per angler bag limit applies, any bass caught out of this season have to be returned alive).

The 8 hour trips are a mixture of drifting or fishing at anchor for the many different species the area has to offer and dependent on the size of tides and the season as to what type of fishing these trips will consist of, please contact the skipper for further details.

For the offshore wrecks of the Irish sea a full 10 hour day is needed to take full advantage of the abundance of these deep water fish hot spots. These wrecks mainly dating back to the 1st and 2nd world war offer shelter for Cod Ling and some monster Pollock. There is most defiantly a new welsh record Pollock lurking on one of these wrecks of the deep!
Due to the depth of these wrecks mostly between 70m - 110m they can only be fished on the smaller neep tides, please contact the skipper for the best dates for these trips.

We also run Shark fishing trips out to the Celtic Deep from end of May till November, whole boat charter from £650.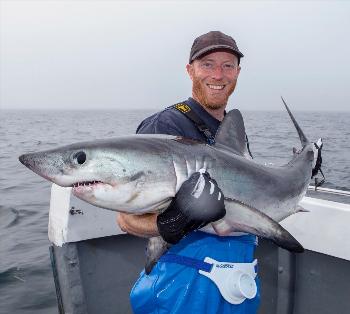 About the Skipper:
Padrig is a keen angler himself and comes from a family of sea farers whom have all worked the north Pembrokeshire waters for many years. As a child spending his holidays on a fishing boat with his dad and then on to the Passenger boats around Ramsey island he developed his love of fishing and the local waters. He started crewing the passenger trips at 19 and skippering at 23 which he has been doing on and off for the last 18 years, along with skippering survey vessel for the offshore renewable and oil and gas industrys.

The Blue Shark is also run by two local fishermen whom also have a keen passion for the sport and also being former Ramsey Island boatmen know the area very well, so you can be rest assured you are always in safe and capable hands of skippers and crews who will do their upmost to get you on the fish!

This Charter has been listed as Suitable for Diving Trips. Contact the Skipper for full details.
Sunday
Monday
Tuesday
Wednesday
Thursday
Friday
Saturday

Color for Fully Booked

Fully Booked

Color for Partially Booked

Partially Booked (Individual Spaces)

Color for Available

Available (Whole Boat)

Color for Not Available

Not Available

Color for Unspecified

Unspecified

N.B. Not all Skippers keep this dairy up-to-date. Always check with skippers before making any plans. Last calendar update: 22-Jan-2019

Fri 1st Feb More...
Sat 2nd Feb More...
Sun 3rd Feb More...
Mon 4th Feb More...
Tue 5th Feb More...
Wed 6th Feb More...
Thu 7th Feb More...
Fri 8th Feb More...
Sat 9th Feb More...
Sun 10th Feb More...
Mon 11th Feb More...
Tue 12th Feb More...
Wed 13th Feb More...
Thu 14th Feb More...
Fri 15th Feb More...
Sat 16th Feb More...
Sun 17th Feb More...
Mon 18th Feb More...
Tue 19th Feb More...
Wed 20th Feb More...
Thu 21st Feb More...
Fri 22nd Feb More...
Sat 23rd Feb More...
Sun 24th Feb More...
Mon 25th Feb More...
Tue 26th Feb More...
Wed 27th Feb More...
Thu 28th Feb More...
Upcoming Individual Spaces on Blue Shark
Reviews
Summary:





john robinson (27/08/2017)

We went out for 1 1/2 hour mackerel trip 8 people of both genders age ranging from 5 to 74. Theper and his crew hand did all in there power to help all on board, nothing was tomutch trubble
Bait & Tackle
Anglers Corner

Milford Haven, Pembrokeshire, South West Wales, Wales

County Sports

Haverfordwest, Pembrokeshire, South West Wales, Wales
Latest Catches 37 photos uploaded
Latest Fishing Reports
07/10/2016

Fishing Report by Allan Godfrey

7 Oct 2016 by Allan Godfrey

October 7th 2016
Had a great trip with Padrig and his crew. He is eager to help every level of angler and is very knowledgable on sea faring ways. We caught mackerel for bait and then went on to catch lots of Pollock with the occasional bonus of a few sea bass. Always moving to put the fisherman on the fish. Highly recommended. Can not wait for our next trip.