Charter Boat: Bonwey
Boat and Skipper Details
Licensed For:
up to 10 passengers
Code Of Practice:
20 Mile
Hours:
4hr / 8hr / 10hr / 11hr / 12hr / Multiple Days Trips
Tackle Available:
Yes - Contact Skipper
Bait Available:
Yes - Contact Skipper
Boat Specification:
hugely stable and comfortable to fish. Recent 1.25 Catapillar engine. high spec navigation equipment.
Facilities:
Seats For Each Angler, Toilet, Rods & Tackle Included In Price and Some Bait. Tea & Coffee available all day. Small hot Snack provided on 8 hr trips. Constant help and tuition on deck. All fish prepared for the oven on board so no mess in the kitchen!.
Additional Description:
Bonwey Charters is dedicated to catering for everyone. Whether you are an experienced professional angler, a beginner eager to learn, or holiday maker looking for an enjoyable relaxing trip, everybody is welcome and fully accommodated for.
We are licensed and insured to carry 10 anglers and have the experience and qualifications to ensure you have a brilliant trip.


PRICES:
Monday to Friday Day Trips - (8am to 4pm): £35 per person incl tackle and some baits

Weekend Day Trips - (8am to 4pm): £40 per person incl tackle and some baits
4 hr evening trips - £25 per person incl tackle and some baits

Whole Boat Monday to Friday £250 incl tackle and some baits (max 10 anglers)

Whole Boat Weekend (Sat or Sun) £300 incl tackle and some baits (max 10 anglers)

PACKAGES:
£50 per person for an 8 hr trip inclusive of breakfast, tackle and all baits

Special Discount for Family of 4+ Evening Trips - Call or Email to arrange

CORPORATE DAYS/LARGE PARTIES:
10 or more anglers - Special Discount depending on number of anglers - Call or email to arrange

Can also accommodate special requests for scattering of ashes and filming - Call or email to arrange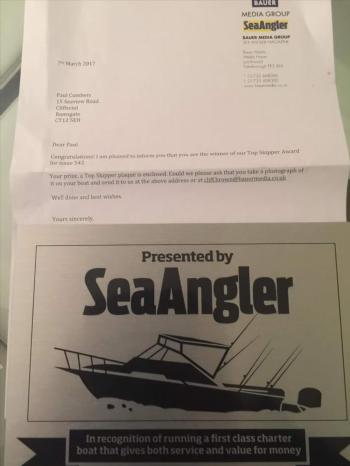 About the Skipper:
Paul Cumbers is a highly experienced angler who has been fishing all his life. He has 20+ years experience on the seas around Ramsgate and is eager to share his knowledge to ensure you have the best possible days fishing every time.Nominated top skipper award Sea Angler March 2017.
Sunday
Monday
Tuesday
Wednesday
Thursday
Friday
Saturday

Color for Fully Booked

Fully Booked

Color for Partially Booked

Partially Booked

Color for Available

Available

Color for Not Available

Not Available

Color for Unspecified

Unspecified

N.B. Not all Skippers keep this dairy up-to-date. Always check with skippers before making any plans. Last calendar update: 19-Mar-2018

Thu 1st Mar
Fri 2nd Mar
Sat 3rd Mar
Sun 4th Mar
Mon 5th Mar
Tue 6th Mar
Wed 7th Mar
Thu 8th Mar
Fri 9th Mar
Sat 10th Mar
Sun 11th Mar
Mon 12th Mar
Tue 13th Mar
Wed 14th Mar
Thu 15th Mar
Fri 16th Mar
Sat 17th Mar
Sun 18th Mar
Mon 19th Mar
Tue 20th Mar
Wed 21st Mar
Thu 22nd Mar
Fri 23rd Mar
Sat 24th Mar
Sun 25th Mar
Mon 26th Mar
Tue 27th Mar
Wed 28th Mar
Thu 29th Mar
Fri 30th Mar
Sat 31st Mar
Reviews
Summary:





Dennis Barker (03/12/2017)

Had a great day out with Paul, didn't get the rays that we were expecting, but caught plenty of whiting and doggies. Better to catch something than nothing. You cant have a brilliant days fishing everytime you go out, but Paul did put us on the fish. Cant wait to organise my next trip with him in the new year.

Skippers Reponse: THanks will always try our best to catch see you soon


Keith PIlbeam (05/08/2017)

What a great Day 10lb Skate and 11lb Bass thanks Paul sure know how to put us on the fish

Skippers Reponse: Thanks Keith I all ways try to catch fish on every trip do get trips when we try everything and fail hopefully not too many.

Alan Parker (03/07/2017)

Top skipper top crew top catch Top of my Favourites list Great day thanks Paul

Paul Stokes (29/04/2017)

Fantastic day out with the lads, great skipper and crew, plenty of fish, looking forward to our next trip

Skippers Reponse: Thanks see you soon

John Bass (09/10/2016)

Thank you Paul and Andy, a great day out. We will be back soon for another.
Latest Catches 430 photos uploaded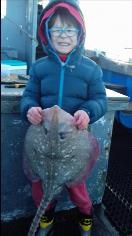 Riley
5 lb Thornback Ray
16-Feb-2018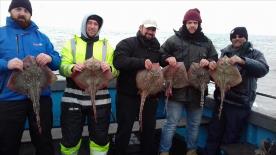 Simon
10 lb 2 oz Thornback Ray
9-Jan-2018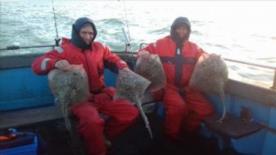 Steve
7 lb Thornback Ray
19-Nov-2017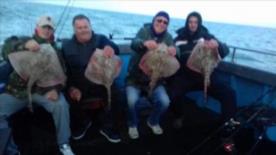 Unknown
8 lb Thornback Ray
3-Nov-2017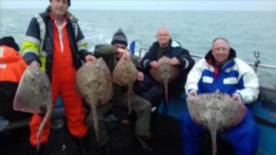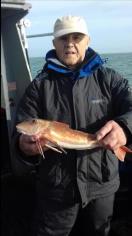 Ron
2 lb 1 oz Tub Gurnard
12-Oct-2017
Latest Fishing Reports
12/2017

Fishing Report by Paul Cumbers

Dec 2017 by Paul Cumbers

Been a good year lots of fish caught want to thank all my customers and wish them a merry Christmas and a happy new year. IF you want to fish over the Christmas period I am fishing everyday except Christmas day boxing day the Christmas vouchers are still available there are still rays whiting being caught and now taking bookings for 2018.

14/07/2017

Fishing Report by adrian martinez

14 Jul 2017 by adrian martinez

Excellent day out with the boys Paul and Andy great service will recomend to anyone looking to fish in the south east... good catch.


06/05/2017

Fishing Report by Paul Cumbers

6 May 2017 by Paul Cumbers

Fishing is getting better each week now Ne winds keeping us in this week will be back out Sunday plenty of Rays ,smooth hounds now showing should start seeing the big ones soon and the odd spur dog being caught call Paul on 07854322856 to book .Photo shows Andy with his Spur dog caught last month.

03/03/2017

Fishing Report by Paul Cumbers

3 Mar 2017 by Paul Cumbers

Lots of Rays being caught now from Ramsgate still whiting doggies it should not be long before the hounds turn up still some available spaces in March photo shows some of the fish caught by John's Party on the 3rd March 2017

19/02/2017

Fishing Report by Paul Cumbers

19 Feb 2017 by Paul Cumbers

Fishing has picked up the rays are showing should see some more on the next building tides the photo shows Crags partys fishing trip on the 16th February 2017