Charter Boat: Brigand
Licensed For:
up to 12 passengers
Code Of Practice:
60 miles
Hours:
8hr / 10hr / 12hr Trips
Type of Fishing:
Wrecking, Rough Ground, Banks. Specialised Charters for Summer Tope Fishing & Winter Cod Fishing.
Tackle Available:
Yes - Contact Skipper
Bait Available:
Yes - Contact Skipper
Boat Specification:
AquaStar ProFisherman 32.5ft, 15 knots.
Facilities:
Toilet, Gas Cooker, Heated Cabin.
Additional Description:
Here on Brigand Charters we cater for all levels of experience, from the beginner to the seasoned veteran. Brigand can hold a maximum of 12 people, 2 crew members plus 10 fishing. We welcome individuals, small groups, and full charters.

Fishing equipment is available on Brigand, and may be used at no extra cost, though you can bring your own. However, if equipment is lost or broken, we expect to be reimbursed the cost to replace it. Bait is also available to purchase.

Upon booking the charter, if there is a certain species of fish you would like to target, and you require rigs made and/or bait ordered, let Kev know and he will arrange this. Alternatively, you can bring your own tackle & bait and Kev will assist with rig making if necessary,

The types of charters we offer are as follows:

Off-shore wrecks, banks and rough ground
These charters consist of 10 to 12 hours at sea, fishing mainly for Rays, Huss, Tope, Cod, Ling, Conger Eel, Pollack, Gurnard and all manner of deep water species.

In-shore
In the Spring and Summer, we mostly target Smooth-hounds, Rays, Plaice, Flounder and Dabs. These trips usually last around 8 to 10 hours, but it has been known for us to stay out for up to 13 hours if the fishing is especially good and at no extra cost!

Winter Cod Fishing
Beginning mid-October and running through till the end of February. Due to fishing in the River Mersey, we are limited to the tides we can fish. Brigand Charters does not fish any tide higher than 28.5 feet as this causes problems with presenting your bait correctly on the bottom due to strong currents and keeping the line free of vegetation. These trips will last from 8 to 10 hours, with the possibility of staying out longer and at no extra cost.

Tackle & Bait
Brigand has on board 10 Shimano Rods, each accompanied by a Shimano Reel loaded with top-quality PowerPro braid. We also carry a wide selection of high quality hooks, leaders, weights, and end tackle.

Baits available:
•Peeler Crab
•Black Lug
•Mackarel
•Squid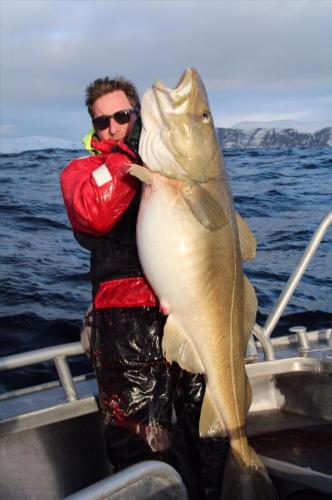 About the Skipper:
Kev is a commercially endorsed offshore yacht master and has been fishing his entire life, from the pond in the back garden of his parents, to battling Black Marlin off the coast of Kenya. With close to 30 years fishing experience, Kev has been a member of several sea angling clubs and was a regular on the North West shore fishing match circuit. On an international level, Kev represented England in the Junior World Championships at the age of 16 in Dieppe, France.

From the age of 16 to 21, Kev worked at Tasker's Angling on Utting Avenue as a Sales Assistant, offering advice on the rig set-ups for different species, and the best areas, tides and times to fish. Kev also wrote catch reports for the North West which were submitted and appeared weekly in The Angling Times.

Taking a break from competitive fishing, Kev travelled the world for 3 years in search of new angling techniques to increase his knowledge, catching various species of Shark, Tuna, and other large pelagic fish in places such as Cuba, South Africa and Indonesia. Not content with just a two week holiday, Kev has lived and fished in both Australia and Canada for long periods of time, landing jobs working on pearl boats and hand-line commercial fishing boats on the Great Barrier Reef.

Kev owned his first fishing boat before his first car, a Warrior 150 moored at Pwhelli Marina, Wales, where he chased Tope, Bass, and Black Bream around Cardigan Bay. With his travelling days limited, Kev is now pursuing his lifelong dream of owning and chartering his own Charter Boat.

Before owning Brigand, Kev fished from a smaller boat (Bayliner Trophy) in 2012 from Liverpool Marina. Kev did 11 trips in total with friends throughout the year, catching 31 different species of fish, the largest being a 67lb Tope. From this experience, and having fished the area all his life, Kev has recognised certain hot-spots and uses these among his charter destinations.

Kev is friendly, approachable, and always happy to share his knowledge and experience… and will no doubt bore you to tears with the tales of the one that got away.

Latest Fishing Reports
09/2014

Fishing Report by Kev McKie on Brigand

(Liverpool, Merseyside)

Sep 2014 by Kev McKie

Species caught: Ballan Wrasse, Bullhuss, Cod, Conger Eel, Dab, Dogfish, Gurnard (Gray, Red & Tub), Herring, Ling, Mackerel, Pollack, Poor Cod, Pouting, Scad, Smoothound (Common & Starry), Sprat, Thornback Ray, Tope and Whiting.

After the very poor August we had, September has been a breath of fresh air. The weather could not have been better for the time of year, the water was clear and there was lots of Mackerel, Herring and Sprats around which brought all the other species of fish back to Liverpool Bay - including dolphins, seals and a big sun fish that swam around the boat one day!

Notable Charters

06/09/14 - We had a group of individuals on-board and decided to give the River Mersey a go as we had not fished there for about a month.

The lads enjoyed the day catching 14 Thornback Ray to 8lb 1oz, Whiting to 1lb and Dogfish.

18/09/14 - We had a group of anglers who booked to go wreck fishing. Most of the wrecks were poor, but on the last two wrecks we landed on a few fish to keep the lads happy!

They caught 22 Pollack to 8lb 3oz, Tub Gurnard, Red Gurnard, Gray Gurnard, Pouting and Mackerel.

20/09/14 - We had Southport S.A.C on-board they wanted to go wreck fishing for Pollack. I told them the wrecks where very hit and miss, so we decided to anchor a small wreck on a big patch of rough ground.

They all enjoyed the trip catching plenty of fish and totalled 12 species, Bull Huss to 12lb, Ling, Cod Dogfish, Mackerel, Tub Gurnard, Red Gurnard, Gray Gurnard, Whiting, Pouting, Poor Cod and Dab.

Fish of the month goes to Nigel for catching a 13lb 11oz Bullhuss, Nigel wins a free individual trip to use when he wishes. Well done Nigel!


20/09/2014

Fishing Report by tony shortall on Brigand

(Liverpool, Merseyside)

20 Sep 2014 by tony shortall

yet another great days fishing with kev for the lads from southport sea angling club, the mackeral have been thin on the ground this year but kev put us on them and after bagging up off we went to fish a wreck to total 12 species including bull huss to 14lb all the lads caught fish and had a geat day out not forgetting rounding the trip off with kevs famous chicken curry nice one la, kev even arranged free parking!! looking forward to the winter cod fishing, any anglers wanting to go charter fishing should call kev first..

08/2014

Fishing Report by Kev McKie on Brigand

(Liverpool, Merseyside)

Aug 2014 by Kev McKie

Species caught: Pollack, Cod, Whiting, Mackerel, Pouting, Red, Sapphirine, Gray, and Tub Gurnard, Sprat, Weaver, Launce, Bullhuss, Dogfish, Ballan Wrasse, Scad and Dab.

Not many skippers are honest and I think I am too honest for my own good sometimes. August was one of the worst months I can ever remember in Liverpool Bay. This was due to all the bad weather we have had, we only managed 5 days at sea. When we did get out the water was very murky with only 6ft visibility at best. This made the Mackerel hard to find for bait, and the wreck fishing was very hard with only 15 to 20 sizeable fish per trip.

All we need is a week of nice weather in September and the fishing will be back to it's best.

Notable Charters

On August 5th, I had a group of nine anglers who wanted to target the wrecks and rough ground.

Fishing was very poor and we done a lot of miles to find just a few fish. Visibility was also very poor, but here is what they caught:

15 Pollack to 7lb 5oz,
3 Cod to 3lb,
Mackerel, Tub Gurnard, Gray Gurnard and Pouting.

On August 8th, I had a group of inexperienced lads onboard. The plan was to go fishing for Rays, Huss and Tope. But the mackerel where very hard to find, so we decided to change the plan and just drift the roughy ground with baited fathers and jelly worms. They caught:

Pollack to 3lb, Codling, Dab, Ballan Wrasse, Red Gurnard, Tub Gurnard, Gray Gurnard, Sapphire Gurnard, Dogfish, Bull Huss, Sandeel, Whiting, Weaver and Mackerel.

Also during August Kevin went on a fishing holiday to Norway with his fishing club Bold S.A.C. He caught a monster 290lb Halibut, that Kevin fought for over 40 minutes on Shimano 30lb class rod and an Accurate 400 reel loaded with 50lb Berkley braid. Not only did he catch the Skjervoy Fishing Camp record Halibut, but it is also thought to be the biggest ever landed by a UK angler.

Fish of the month winner goes to Dez Baskavill for his 14lb 10oz Bullhuss, caught on his first trip on board Brigand. We done Dez you win a free individual trip to use whenever you wish.


07/2014

Fishing Report by Kev McKie on Brigand

(Liverpool, Merseyside)

Jul 2014 by Kev McKie

Species caught: Ballan Wrasse, Bull Huss, Cod, Conger Eel, Dab, Dogfish, Flounder, Gurnard (Tub, Red & Gray), Ling, Mackerel, Plaice, Pollack, Poor Cod, Pouting, Scad, Silver Eel, Smoothound (Common & Starry), Thornback Ray, Tope, Weaver, and Whiting.

July has been a very strange month this year with not many big Tope showing but lots of small Tope inshore. The Mackerel have been very hit and miss - one day you can fill the boat but the next they are very scarce.

The inshore fishing for Thornback Rays, Smoothound and Flatfish has been very good, while offshore the Cod have moved on but have now been replaced with some nice Pollack and Ling.

Notable Charters:

08/07/14 - Had a group of individuals onboard who wanted to fish the offshore marks. Here is what they caught:

16 Pollack from 2lb to 7lb 10oz,
15 Cod from 2lb to 8lb 5oz,
Along with Ling, Tub Gurnard, Gray Gurnard, Whiting, Pouting and Mackerel.

10/07/14 - Had 8 lads from Taskers angling onboard for their monthly trip. With the weather being too bad to fish offshore the only option was to fish the river Mersey. And what a day the lads had! They caught:

23 Thornback Rays to 8lb 10oz,
7 Cod around 2lb,
2 Smoothound to 4lb 8oz,
Whiting, Dab and Codling.

Better than having the day cancelled!!!

Fish of the month goes to peter rose with a 9lb 2oz Pollack! Peter wins a free days charter fishing to use on Brigand. Well done Peter!!!


06/2014

Fishing Report by Kev McKie on Brigand

(Liverpool, Merseyside)

Jun 2014 by Kev McKie

Species caught: Bass, Bull Huss, Coalfish, Cod, Common Eel, Dab, Dogfish, Flounder, Gurnard(Gray, Red & Tub), Haddock, Hake, Herring, Launce, Ling, Mackerel, Pollack, Poor Cod, Pouting, Scad, Scorpion Fish, Smoothound (Common & Starry), Spurdog, Thornback Ray, Tope, Weaver, Whiting and Wrasse (Ballan & Cuckoo).

June was the best month we have had on Brigand so far! We had some very good catches of Cod, Pollack and Ling on the offshore marks and inshore we had very good catches of Thornback Rays and Smoothound. We also totalled 31 species and did our first weeks charter to the Isle of Man.

Notable Charters:

03/06/14 - We had 9 individual anglers on-board fished a mark 30 plus miles from Liverpool and it was none stop action they caught:

62 Cod for 2lb to 8lb 14oz
9 Pollack from 3lb to 6lb 2oz
1 Ling 3lb 12oz
Along with Mackerel, Pouting, Whiting and Red Gurnard.

04/06/14 - We again had 9 individual anglers on-board I told them what the fishing was like the day before and they all said let's give the same mark a go. I was thinking I hope this day doesn't turn out to be one of those "you should of been here yesterday" days. But we did just as good if not better than the day before! There was lots of fish there and here is what they caught:

64 Cod from 2lb to 10lb 2oz including 7lb 13oz, 8lb 7oz, 9lb 1oz
15 Pollack from 2lb to 8lb 8oz
3 Ling from 3lb to 5lb 8oz,
Along with Tub Gurnard, Red Gurnard, Mackerel, Weaver, Scad, Whiting and Pouting.

21/06/14 - We had 8 lads from Jaguar Halewood book Brigand to fish offshore for Tope, Huss and Rays. Unfortunately, the weather was too bad to do that so I give them the option to fish the Mersey as I had not fished the Mersey for about 3 weeks. The first two hours where slow but as low water approached they where into the fish. They caught 18 Thornback Rays to 6lb 10oz, Flounder, Whiting and Eel.

Fish of the Month goes to Bernie Forshaw with a nice 10lb 2oz summer cod. Well done Bernie! You win a free trip on-board Brigand to use when ever you want.

View All Fishing Reports
Edit this boat listing
Availability
OCTOBER - 2014

| Su | Mo | Tu | We | Th | Fr | Sa |
| --- | --- | --- | --- | --- | --- | --- |
| 28 | 29 | 30 | 1 | 2 | 3 | 4 |
| 5 | 6 | 7 | 8 | 9 | 10 | 11 |
| 12 | 13 | 14 | 15 | 16 | 17 | 18 |
| 19 | 20 | 21 | 22 | 23 | 24 | 25 |
| 26 | 27 | 28 | 29 | 30 | 31 | 1 |
Color for Fully Booked

Fully Booked

Color for Partially Booked

Partially Booked

Color for Available

Available

Color for Not Available

Not Available

Color for Unspecified

Unspecified
N.B. Not all Skippers keep this diary up-to-date. Always check with skippers before making any plans.
Reviews
Summary:





Reviews Unaccepted: 1
tony shortall (20/09/2014)

fantastic days fishing for the lads of southport sea angling club aboard the brigand once again kevs experience put us on the fish and saw 12 species caught including some cracking bull huss great boat, great skipper, our advice to other anglers book him!!!

Skippers Reponse: Thanks tony gald you and all the club members enjoyed the trip, see you on your next trip.
Cheers kev

Stu Graham (23/07/2014)

Great day with Kev on Brighand. Defo knows his onions and doesn't stop working to get you on the fish. Really patient Skipper with the less experienced boys. A.N.other skippers around Liverpool should take a leaf out of this lads book ! Not the usual trip to one mark and frightened to burn fuel. Top Class Skipper, good with the kettle and frying pan ! Would highly reocomend. Cheers Kev. Stu

Skippers Reponse: Thanks for the kind words stu gald you and the lads had a good day hope to see you and the lads onboard again soon.

freddie marsh (06/07/2014)

great days fishing, will be definitely coming back, Kev was a great skipper & had plenty of patience with a novice fisherman like myself, i caught the biggest cod of the day & learned loads. Would come back just for the curry, cheers Kev.

Skippers Reponse: Thanks for the review Fred hope to see you again soon on Brigand

James Flynn (07/06/2014)

We had a blinder of a day my best days sea fishing ever wreck fishing several different wrecks cannot fault kev's patience with those people who had limited or no experience in sea fishing looking forward to my next trip

Skippers Reponse: Thank James see you next month

Paul Reynolds (27/04/2014)

We went out with Kev on the Brigand last sunday and had a fantastic time. Not all of us were fishermen but everyone caught, due no doubt to Kevs expertise as a skipper. A great day was had by all and Mrs Mkie's chicken curry was excelent. We will be booking agian.five star rating.

Skippers Reponse: Thanks Paul looking forward to seeing you onboard again soon.
View All Reviews
Add A Review