Charter Boat: DAWN TIDE II
Availability Calendar
13 Reviews

Reviews Unaccepted: 1
Boat and Skipper Details
Licensed For:
up to 12 passengers
Hours:
<1hr / 1hr / 2hr / 3hr / 4hr / 5hr / 6hr / 7hr / 8hr / 9hr / 10hr / 11hr / 12hr / 24hr / Multiple Days Trips
Type of Fishing:
Skate, Bass, Tope, Hounds, Cod, Mackerel, Sole, Plaice, Spurs, and many many more FOR DEALS CALL SKIPPER FOR A PRICE
Tackle Available:
Yes - Contact Skipper
Bait Available:
Yes - Contact Skipper
Boat Specification:
THE DAWN TIDE II 10 meter by 5 meter SOUTH BOAT CATAMRAN VERY VERY LARGE DECK SPACE 24 KNOTS 560hp , NEW TOP OF THE RANGE PLOTTER ,STRUCTURE SCAN SONAR , RADAR, AIS, 2X PLOTTER 3X SONAR
Facilities:
FULL ENGLISH BREAKFAST AVAILABLE AT ESSEX MARINA BAR ON ARRANGEMENT DECK TOILET, MICROWAVE, KETTLE, ROD HIRE, FREE PARKING, DECK SEATING, HEATED CABIN ,UNDER WATER CAMERA EQUIPMENT
Additional Description:
Add us on Social media (Dawn Tide Charters)
FULL TIME RUNNING CHARTER BOAT 7 DAYS A WEEK !!!! Professionally built and run charter boat full time fishing 7 days a week NOT PART TIME. Fully licensed and insured for 12 plus 2 crew 60 mile code of practice. We like to make sure we are on the fish there is no point sitting on a mark if they are not there we are not shy to move or try new methods and marks if needed. We want to give you the best value for money and the best way we do that is to put you on the fish. Once on the fish we then give you tips and knowledge needed to out smart them at the end of they day we want to go home with a boat full of fish along with boat full of happy anglers. Full english breakfast available at Essex marina bar before we depart prior to arrangement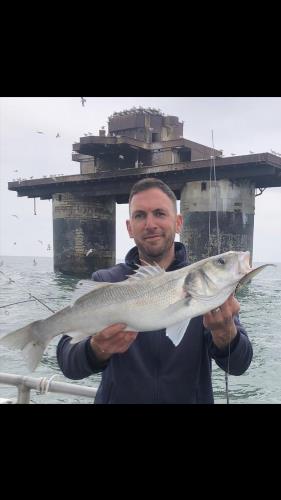 About the Skipper:
Mark Peters 7 days a week skipper and owner of the Dawn Tide II Mark has been fishing the Thames and Essex coats from the age of being able to hold a rod in his hand. Working along side his dad who run a charter boat in Essex for over 35 years with the Essex charter fleet and has a vast knowledge due to the fact. Mark holds a high level of marine and skipper qualifications which is needed when taking customers to sea while being professional and safe and enjoying your trip . Being out more or less every day he has very good knowledge of the fish movements and feeding patterns and knows what grounds Wrecks sandbanks gullys are fishing well on what tides and in what season ect. Being a angler him self unlike other skippers ther has never been a trip when mark has not been out on deck fishing him self showing people aboard The best way to fish the mark !!!! This is why he makes sure you are on the fish as he wants to catch aswell as every one aboard !!!
This Charter has been listed as Suitable for Diving Trips. Contact the Skipper for full details.
This Charter has been listed as Wheelchair Accessible. Contact the Skipper for full details.
Sunday
Monday
Tuesday
Wednesday
Thursday
Friday
Saturday

Color for Fully Booked

Fully Booked

Color for Partially Booked

Partially Booked

Color for Available

Available

Color for Not Available

Not Available

Color for Unspecified

Unspecified

N.B. Not all Skippers keep this dairy up-to-date. Always check with skippers before making any plans. Last calendar update: 23-May-2018

Fri 1st Jun
Sat 2nd Jun
Sun 3rd Jun
Mon 4th Jun
Tue 5th Jun
Wed 6th Jun
Thu 7th Jun
Fri 8th Jun
Sat 9th Jun
Sun 10th Jun
Mon 11th Jun
Tue 12th Jun
Wed 13th Jun
Thu 14th Jun
Fri 15th Jun
Sat 16th Jun
Sun 17th Jun
Mon 18th Jun
Tue 19th Jun
Wed 20th Jun
Thu 21st Jun
Fri 22nd Jun
Sat 23rd Jun
Sun 24th Jun
Mon 25th Jun
Tue 26th Jun
Wed 27th Jun
Thu 28th Jun
Fri 29th Jun
Sat 30th Jun
Reviews
Summary:





Reviews Unaccepted: 1
Chris Underwood (11/03/2017)

Brilliant days fishing yesterday... Loads of fish caught between the guys... Marks knowledge of everything was A* as usual. If you want a guaranteed great experience, use this charter.

Chris Underwood (23/10/2015)

Great days fishing today! Plenty of cod caught throughout the boat. Really knowledgeable skipper, who really cares about getting you on the fish. Highly recommend and for sure will be going again!

Rob Lucas (22/03/2015)

A great day out with Mark once again. He doesnt wait for the fish to come to him! He finds them for us. A great skipper & a great boat. See you next month.

Rob Lucas (01/06/2014)

A Great day out with some good size Bass caught by all. Well done Mark from all the Lads.

Rob Lucas (27/04/2014)

Couldn't fault Mark today. He had us on the fish all day long! A great trip out, all the lads enjoyed it. See you again next month. Many thanks from us all.
Latest Catches 150 photos uploaded
Latest Fishing Reports
06/2018

Fishing Report by Mark Peters

Jun 2018 by Mark Peters

Some good tope fishing about at last biggest fir us so far 48lb plenty of mackerel showing up too and shouling bass aswell call 07523488290

05/2018

Fishing Report by Mark Peters

May 2018 by Mark Peters

May 2018
Its good fishing at the moment wide variety of fish to be had if you put in the hard work !
plaice mackerel bass hounds skate tope spurs and more all different styles fishing and good fun its one of the best times of year to get out and enjoy
see my web site www.dawntidecharterfishing.co.uk
Or all social media pages for full reports daily !

04/2018

Fishing Report by Mark Peters

Apr 2018 by Mark Peters

Plenty of thornback rays around getting 80-100+ most trips now all shapes and sizes biggest 17lb so far this usual for the time of year in our area now great fun and sport see my facebook for videos and pictures of the action ! Had the first hounds and bass of the season last few weeks so summer is well on the way now cant wait !!! summer weekend dates nearly gone for 2018 got a few left in august and september but plenty midweeks available but dont worry weekend night/evening trips during the summer will get you out on the action so follow me on all social media for daily dates spaces reports videos and pictures

03/2018

Fishing Report by Mark Peters

Mar 2018 by Mark Peters

The thornbacks are in abundance not uncommon to get near or over a 100 rays a trip the fishing is good fun get involved !! Bass hounds and tope to follow shortly call 07523488290
Follow us on all socialmedia for daily reports pictures videos and dates @dawntidecharters

02/2018

Fishing Report by Mark Peters

Feb 2018 by Mark Peters

Hopfully the Spring run is kicking off ! pictured below todays catch the Thames Estuary is back to life don't leave it untill they go take advantage hopfully they hang around a while but the skate numbers are also building too !!
Follow me on all social media for up to-date reports pictures and dates

Web www.dawntidecharterfishing.co.uk
Phone 07523488290