Charter Boat: DAWN TIDE II
Boat and Skipper Details
Licensed For:
up to 12 passengers
Hours:
<1hr / 1hr / 2hr / 3hr / 4hr / 5hr / 6hr / 7hr / 8hr / 9hr / 10hr / 11hr / 12hr / 24hr / Multiple Days Trips
Type of Fishing:
Skate, Bass, Tope, Hounds, Cod, Mackerel, Sole, Plaice, Spurs, and many many more FOR DEALS CALL SKIPPER FOR A PRICE
Tackle Available:
Yes - Contact Skipper
Bait Available:
Yes - Contact Skipper
Boat Specification:
THE DAWN TIDE II 10 meter by 5 meter SOUTH BOAT CATAMRAN VERY VERY LARGE DECK SPACE 24 KNOTS 560hp , NEW TOP OF THE RANGE PLOTTER ,STRUCTURE SCAN SONAR , RADAR, AIS, 2X PLOTTER 3X SONAR
Facilities:
DECK TOILET, MICROWAVE, KETTLE, ROD HIRE, FREE PARKING, DECK SEATING, HEATED CABIN ,UNDER WATER CAMERA EQUIPMENT
Additional Description:
Add us on Social media (Dawn Tide II Charters ) Professionally built and run charter boat full time! Fully licensed and insured for 12 plus 2 crew 60 mile code of practice. The aim of the game is to go to sea safely get on the fish land some PBs enjoy the experience and come home safely!!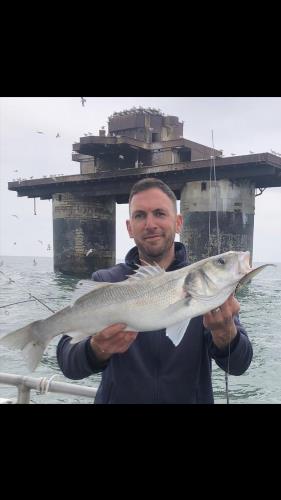 About the Skipper:
Mark Peters skipper and owner of the Dawn Tide II Mark has been fishing the Thames and Essex coast from the age of being able to hold a rod in his hand and owend his own boats for over 15 years he has a vast knowledge and experience of the thames estuary ! Mark and the boat are all fully licensed and insured for the job in hand. Being a angler him self not just the skipper he still has the passion to get out and find the fish and get that mega catch !!
This Charter has been listed as Suitable for Diving Trips. Contact the Skipper for full details.
This Charter has been listed as Wheelchair Accessible. Contact the Skipper for full details.
Sunday
Monday
Tuesday
Wednesday
Thursday
Friday
Saturday

Color for Fully Booked

Fully Booked

Color for Partially Booked

Partially Booked (Individual Spaces)

Color for Available

Available (Whole Boat)

Color for Not Available

Not Available

Color for Unspecified

Unspecified

N.B. Not all Skippers keep this dairy up-to-date. Always check with skippers before making any plans. Last calendar update: 11-Feb-2019

Fri 1st Feb More...
Sat 2nd Feb More...
Sun 3rd Feb More...
Mon 4th Feb More...
Tue 5th Feb More...
Wed 6th Feb More...
Thu 7th Feb More...
Fri 8th Feb More...
Sat 9th Feb More...
Sun 10th Feb More...
Mon 11th Feb More...
Tue 12th Feb More...
Wed 13th Feb More...
Thu 14th Feb More...
Fri 15th Feb More...
Sat 16th Feb More...
Sun 17th Feb More...
Mon 18th Feb More...
Tue 19th Feb More...
Wed 20th Feb More...
Thu 21st Feb More...
Fri 22nd Feb More...
Sat 23rd Feb More...
Sun 24th Feb More...
Mon 25th Feb More...
Tue 26th Feb More...
Wed 27th Feb More...
Thu 28th Feb More...
Upcoming Individual Spaces on DAWN TIDE II
Reviews
Summary:





Rob Lucas (27/07/2018)

A great session aboard the Dawntide 2 with our regular local Skipper Mark Peters. We were out to celebrate our oldest members 75th birthday doing what we enjoy most with lots of banter throughout the day. COLIN aka SANTA also won the Pot for the heaviest catch of the many fish and 7 species caught on the day. All returned safely. BBQ cheeseburgers and Hot Dogs for Lunch and Birthday cake for afternoon tea. A perfect day for Colin. Thanks for everything you do for our crew Mark. Much appreciated.

Skippers Reponse: Top day !!! Thanks

Chris Underwood (11/03/2017)

Brilliant days fishing yesterday... Loads of fish caught between the guys... Marks knowledge of everything was A* as usual. If you want a guaranteed great experience, use this charter.

Michael McHale (01/01/2017)

Not a review of a single trip but rather my review of about 2 years of trips! Dawn Tide II is a nice charter boat with a very large fishing area. Next the Skipper, Mark has very good knowledge of the area and has great advice which, if asked, is happy to share. Mark loves to catch fish himself and will always do his utmost to put you on the fish, always willing to move to track them down. I have had some of my best days fishing on Dawn Tide II including.my PB (and boat record ) Smoothound and can thoroughly recommend a trip out with Mark.

Chris Underwood (23/10/2015)

Great days fishing today! Plenty of cod caught throughout the boat. Really knowledgeable skipper, who really cares about getting you on the fish. Highly recommend and for sure will be going again!

Rob Lucas (22/03/2015)

A great day out with Mark once again. He doesnt wait for the fish to come to him! He finds them for us. A great skipper & a great boat. See you next month.
Latest Catches 159 photos uploaded
Latest Fishing Reports
01/2019

Fishing Report by Mark Peters

Jan 2019 by Mark Peters

Happy new year too every one hope 2019 brings you all the happiness and health !! After a nice 2 week Christmas break with the wife and kids it time to get back at it and find them PB fish
Ther are a few whole boat dates remaining in jan 2019 along with some walk on dates contact for details !! hope to see you all in the 2019 season aboard Dawn Tide II time to get your yearly trips booked in as diary is getting busy especially spring thanks !

Face book https://www.facebook.com/dawntidecharters/
Web site
www.dawntidecharterfishing.co.uk
Phone
07523488290
Email
dawntidecharters@icloud.com

12/2018

Fishing Report by Mark Peters

Dec 2018 by Mark Peters

Hi every one a quick update with walk on spaces coming up aboard Dawn Tide II -

December 2018
28th

January 2019
5th 11th 17th 19th 25th

diary looking busy already for 2019 especially spring so id advise to get booked in asap !!Thanks every one who come aboard and supported me i value all your custom looking forward to 2019 season lots of PB to beat ! merry christmas and a happy new year to you all !!

12/2018

Fishing Report by Mark Peters

Dec 2018 by Mark Peters

Been a very tough few weeks wether wise not getting out much most trips being called off poor forcast very stressful when trying to earn a living !!! im Not about just sitting inshore in rough seas rubbish tides knowing full well from years of experience you wont be catching what you all want this time of year if we cant get out to the proper marks on decent tides thers some nice fish about. I know some of you get disappointed when its callled off but believe me its for the best! fishing wise and safety wise. i will try my best to move your bookings on to the next best available dates please be patient as diary is busy fingers crossed it all calms down soon. Thanks for being understanding and patient i like to think im not just out to take the p**s and take your money i want you to enjoy catch And keep coming back !!! Thank you see you all soon skipper mark peters

10/2018

Fishing Report by Mark Peters

Oct 2018 by Mark Peters

Winter fishing is here stacks of rays over 70 boated last trip good fun!! offshore we have some very good bass fishing at the moment lost count but a fish a cast all day average size 2-3lb with 5lb fish common biggest was just under 7lb very good sport and not long left to enjoy them before they move off. Had a few codling latley nothing big 2lb at a push but a good sign for winter!
all my reports pictures videos and avalibilaty are on my face book page and weekly updated so follow
Dawn Tide II
#dawntidecharters
On all social media to keep in the loop !!!
very busy diary at the moment just a heads up to get booked in advance dont wait until others have caught them as you will find it hard to get booked on just advice thats all any way thanks to every one who come aboard this summer what a cracker it was with big tope big sting rays big bass big hounds big rays mackerel plaice and more hope to see you all this winter with some big cod fingers crossed
Thanks Mark

07/2018

Fishing Report by Mark Peters

Jul 2018 by Mark Peters

Plenty of action around hounds are busy triple hook ups!! lots of bass on feathers and bigger ones on worm and lures. Rays coming back in force now and with the warm weather had some nice stingers lately to 32lb odd tope still about and plaice further offshore Good fishing good weather dont wait until its all gone !!