Charter Boat: Fins-up
Boat and Skipper Details
Licensed For:
up to 12 passengers
Code Of Practice:
60 miles
Hours:
4hr / 6hr / 7hr / 8hr / 9hr / 10hr / Multiple Days Trips
Type of Fishing:
All types including reef - bank - wrecking (our speciality) - competitions - species hunting- multiple days. Trips for individuals, fishing clubs, cooperate days out, full boat charters, bird watching, coastal cruises, photography.
Tackle Available:
Yes - Contact Skipper
Bait Available:
Yes - Contact Skipper
Boat Specification:
Evolution 38 with a Cummins 490hp It has a comfortable cruising speed of 15-18kts and top speed of 28kts. Up to date navigational electroincs, GPS, radar, fishfinders, VHF. The boats is licensed for 12 passengers and 2 crew
Facilities:
Ample seating for all on deck and inside the heated cabin. Toilet on deck. Endless supply of hot or cold drinks.
Additional Description:
Fins-up Fishing Charters runs from Portland Marina which is five minutes from Weymouth on the south coast of Dorset.

As well as been closer to the fishing grounds, Portland Marina also has FREE PARKNG! Trollies are available to help transport your rods and bags. The Marina was built for the 2012 Olympics and has lots of great facilities. A Short stroll past the modern toilet/shower facilities will bring you to the pontoon. The Boat that rocks café/restaurant boasts a large range of food, beverages and live music. A nice cold beer on the terrace is a great way to end a day's fishing overlooking the Marina!

Fins-up has a large fishing platform allowing everyone plenty of space to fish and move around.

We fillet, bag and chill your fish for you ready to take home.

If you have any special requests we can tailor make the day to suit your needs. We are normally at sea between 6 - 10 hours, we can also arrange shorter for longer trips.

COOPERATE DAYS OUT
Why not let us organize a fun corporate day out or a team building trip for your clients or staff!
We'll take you out to the many fishing grounds in Lyme Bay and spend the day helping everyone to try and catch fish. We can put together a package deal to include Light refreshments, cold/hot drinks, lunch, prizes, rod hire and bait.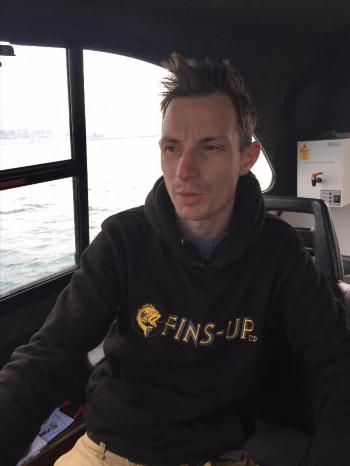 About the Skipper:
Dan has been fishing out of Weymouth, Portland and West Bay since he was a youngster. Fishing has always been his passion and hobby. Dan really enjoys passing on his skills and knowledge that he has learnt over the years.
Sunday
Monday
Tuesday
Wednesday
Thursday
Friday
Saturday

Color for Fully Booked

Fully Booked

Color for Partially Booked

Partially Booked

Color for Available

Available

Color for Not Available

Not Available

Color for Unspecified

Unspecified

N.B. Not all Skippers keep this dairy up-to-date. Always check with skippers before making any plans. Last calendar update: 24-Sep-2018

Sat 1st Sep

FULL

Sun 2nd Sep

FULL

Mon 3rd Sep

FULL

Tue 4th Sep

SPACES AVAILABLE! CONTACT DAN FOR MORE INFO. 07734383440 / 01308488515

Wed 5th Sep

FULL

Thu 6th Sep

SPACES AVAILABLE! CONTACT DAN FOR MORE INFO. 07734383440 / 01308488515

Fri 7th Sep

INDIVIDUAL SPACES FOR REEF/BANK. £50PP FREE PARKING! CONTACT DAN FOR MORE INFO. 07734383440 / 01308488515

Sat 8th Sep

FULL

Sun 9th Sep

FULL

Mon 10th Sep

WHOLE BOAT CHARTER OR INDIVIDUALS. CONTACT DAN FOR MORE INFO. 07734383440 / 01308488515

Tue 11th Sep

FULL

Wed 12th Sep

FULL

Thu 13th Sep

FULL

Fri 14th Sep

FULL

Sat 15th Sep

FULL

Sun 16th Sep

FULL

Mon 17th Sep

FULL

Tue 18th Sep

WHOLE BOAT CHARTER OR INDIVIDUALS. CONTACT DAN FOR MORE INFO. 07734383440 / 01308488515

Wed 19th Sep

WHOLE BOAT CHARTER OR INDIVIDUALS. CONTACT DAN FOR MORE INFO. 07734383440 / 01308488515

Thu 20th Sep full

Fri 21st Sep

FULL

Sat 22nd Sep

FULL

Sun 23rd Sep

FULL

Mon 24th Sep

WHOLE BOAT CHARTER OR INDIVIDUALS. CONTACT DAN FOR MORE INFO. 07734383440 / 01308488515

Tue 25th Sep
Wed 26th Sep

Full

Thu 27th Sep

Full

Fri 28th Sep

SPACES! CONTACT DAN FOR MORE INFO. 07734383440 / 01308488515

Sat 29th Sep

FULL

Sun 30th Sep

FULL
Reviews
Summary:





Trevor Pegg (15/03/2017)

This was my first trip with Dan & Roger and it wont be my last. The facillities at Portland are excellent.fish Dan & Roger never stopped working for crew the whole day and Dan put us on time after time. As per the previous reveiw below, Dan,s bacon butties are a welcome warmer on a chilly morning. Any angler considering fishing in the Weymouth area should seriously consider crossing the causeway to Portland with the new modern facillities of showers, toilets and free parking to fish withFins Up. Dan works hard and he deserves all the support he gets

Ian Nash (17/02/2017)

Good weather today steamed out 25 miles to first wreck ,dan was chef ,bacon butties all round then the serious stuff I had four fish in quick sticks not over big, about4/5 lb. Next wreck patchy so on to next ,bingo larger fish and lots of them , I had 12 fish before the tide dropped away ,everyone caught ,thanks Dan for another great day

Martin Donovan (14/01/2017)

This charter is run but three great lads Dan,Matt and Rodger myself and few other guys have been going out with them for the best part of two years.Yes ther are good days and bad days but between them they work tirelessly to find fish .It doesnt matter if your inshore or offshore wrecking they do their best for you.Plenty of hot drinks on the colder days and cold drinks on those rare warmer days ,even the odd bacon butty enroute to those further wrecks.When you find fish they are there with the net ready and Rodger is always keen to show off his knife skills for gutting and filleting.I have done and will continue to recomend these guys ,Its just a shame we cant get out more due to logistics.Roll on the next trip in Febuary which will no doubt be as enjoyable as all the others...Good guys!

Ian Nash (23/01/2017)

Dan is a really good skipper we always find some great fish

Sean Lewis (21/01/2017)

A small group of us try to get out at least once a month and have used a few boats along the south coast, Fins-up has now become our regular choice due to the efforts Dan and the crew put in (usually Roger). It is ALWAYS a good day with plenty of banter and if any beginers are on they take them under there wing and help them out all day. Highly recommended
Latest Catches 56 photos uploaded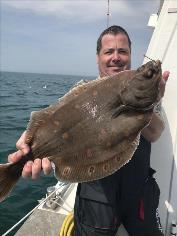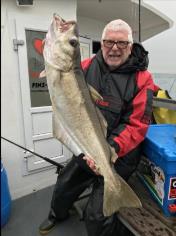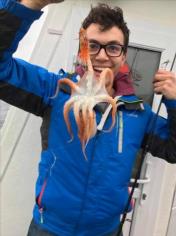 Latest Fishing Reports
23/04/2017

Fishing Report by DAN clarke

23 Apr 2017 by DAN clarke

APRIL 2017
Well, firstly and most importantly what a fantastic spell of settled weather we have had. Fingers crossed it will continue into the summer!  The weather has enabled us to get out on the fish frequently.  We have been concentrating more trips inshore on the flatties and reefs.
The Shambles Bank has been giving up some great fish.  One of the biggest Brill I have ever seen was caught by Rob Symes weighing in at a very modest 11lb 9 oz. A few double figure Turbot were a welcome sight after seeing not much else but pollock whilst fishing offshore over the last  few months.
Tope, Congers,  Spur Dogs have all been landed on the reef and I'm sure it won't be long until we see a scattering of Black Bream.
Offshore wrecks have started to show more and frequent Ling on both lures and baits . The classic rhubarb and custard sandeel always a favourite for the Ling.
Pollock are still in fairly good numbers. Some fish starting to look a little skinny though  after shooting their roe.
Our sponsors Sidewinder have kindly donated a large amount of lures and braided line. If you would like to be in with a chance to win some of this  fabulous  gear, we will be running competition days wrecking on the lures. Please keep an eye on my FB page, I will be releasing the dates soon.


30/04/2016

Fishing Report by DAN clarke

30 Apr 2016 by DAN clarke

30/04/2016 today's catch report - courtesy of Gavin Tyte.

When a Facebook friend asked if he could charter a boat for eight guys to go wrecking and that they were all beginners, part of me thought that this could either be an incredible experience or a complete disaster. The last time I took eight novices wrecking I spent the day mopping up piles of sick, re-loading expensive braid onto reels and re-tying leaders. But times have changed. Firstly, I now have more experience, but more importantly, I know charter skippers who can create a truly inspirational, fun and engaging angling experience. So, I told my friend that, yes, I could put him in touch with a great skipper and that he and his friends would have a day to remember. I also promised that they would catch fish. Okay, so I hoped that they would catch fish, however, knowing the skipper and that the wrecks had been fishing well, I was confident that the group would be able to take plenty of fresh fish home for dinner.

The boat of choice was Fins Up out of Portland Marina skippered by Dan Clarke. I had fished with Dan on several occasions and even notched up my personal best pollack on a recent trip. For me, a skipper makes or breaks a charter. I do not want to spend my hard-earned cash going on a trip with a miserable old bugger who spends the whole day in the wheelhouse chain-smoking roll-ups, and yes, I have experienced skippers like that! Dan, one of a new generation of skippers, realises that he is running a business and that his customers matter. He is not simply a taxi driver to fishing grounds but the creator of an experience.

Portland Marina is a great place to charter a boat. There are loos and shower facilities, a great bar and restaurant with beer at normal pub prices, free parking and trolleys to help you lug your gear to and from the boat; not that you need them with Fins Up as the boat has the closest mooring to the marina entrance! Dan and his deck hand Roger welcomed my friend's group and I was pleased to see that they gave a proper safety briefing to the group prior to departure. We then set off, the kettle was on, and Roger took the group through how to use the rods and reels and answer questions. The sun was shining, the winds were light and we were all excited and hopeful about catching fish.

The trip out to the wrecks can take an hour or so, but there was plenty to see as we rounded Portland Bill and headed for the open ocean. Another reason I recommended Fins Up is the kit. The hire rods are a mixture of Abu and Daiwa 12-20lb class rods fitted with Penn reels loaded with quality braid. The leader is high quality and a sponsorship from Sidewinder means that there is a ready stock of every size, colour and flavour you could ever wish for. After further instruction from Roger and more teas and coffees we reached the wrecks. Dan deftly put us over the wrecks and he is not the sort of skipper who will put up with a poor drift. No, he adjusted the boat or re-aligned if the tide or wind threw us off course. Roger was a super deck hand too. There wasn't a moment where someone needed help and he wasn't already at their elbow offering friendly advice and helping out. It made such a difference to the day knowing the group were well cared for. Oh, and how many wrecking trips have you been on where several non-anglers didn't lose a single weight or lure?

But did they catch fish? Of course! The first fish to the boat was nice cod, and we continued to land cod all day with a few quality pollack thrown in for good measure. At slack water, Dan had prepared ling rigs and brought along squid and mackerel for those that wished to try it. One of the group did manage to hook into a monster ling or conger but sadly it came off as it was being pumped up and away from the wreck. At slack tide we also caught the obligatory dogfish and 'waterproof rats' - otherwise known as pouting. However, despite losing the 'big one', the good news was that everyone caught fish and had a cracking day. On the way back to port, Roger filleted all the fish and popped it in freezer bags which were shared out equally. And when back on dry land we ambled the 20 yards or so to the pub and sat in the sunshine supping beers and retelling stories of fish landed and monsters that got away. As we drained the last of our beers, one of the guys from the group turned to me and said, "You know what? If I'd not caught anything I'd have still had a brilliant day." That just about sums up the whole experience.

To charter a Fins Up experience along with skipper Dan and deck hand Roger costs £600 for a day with free tea, coffee, banter and laughter. The only catch is that you have to invite me along for the ride.

25/03/2016

Fishing Report by DAN clarke

25 Mar 2016 by DAN clarke

25/3
First wreck cod of the year aboard Fins-up!

12/03/2016

Fishing Report by DAN clarke

12 Mar 2016 by DAN clarke

Flat calm today, fine weather and sunshine, all we needed was the fish to play and they did,pollock, ling and congers. Sidewinder day glow orange, candy reds and the new crusader rhubarb custards working well.

24/02/2016

Fishing Report by DAN clarke

24 Feb 2016 by DAN clarke

With the weather looking favourable for a couple of days in a row for a change, a wrecking trip was organised with only short notice. High expectations of light winds and fair weather and some new season fat top Pollock and maybe a ling or two.
As is usual this time of year constantly checking the forecast every couple of hours using the good old met office, wind guru, xc weather and a combination of the bbc, the evening beforehand the weather prediction was doable and decreasing later, but not for fair weather fishermen or picnicking.
As we approached the first wreck with intentions of this been the the first of many fishing destinations planned for the day, the fish started to feed and good fish landed. With some amazing anglers onboard catching great sized fish it was disheartening having to make the decision to call the trip short and head for home as the weather quickly deteriorated. A few brave men fishing hardcore style, fins-up.