Charter Boat: Grey Viking
Licensed For:
up to 12 passengers
Code Of Practice:
Cat.2. 60mile All Weather Plus Workboat Coded
Hours:
4hr / 8hr / 9hr / 10hr / 12hr / Multiple Days Trips
Type of Fishing:
Wreck Fishing for Cod, Pollack, Ling, Bass and Conger - Offshore Turbot Trips - Reef Fishing for Plaice, Bream, Skate etc
Tackle Available:
Yes - Contact Skipper
Bait Available:
Yes - Contact Skipper
Boat Specification:
Fast 440hp Aquastar 38ft Pro Fisherman - 14 knots cruising 23 knots top speed
Facilities:
Covered seating, toilet, water boiler for unlimited tea and coffee, insulated fish boxes, C.H.I.R.P and conventional fish finders, 4 x GPS chart plotters, seabed mapping software, broadband radar, AIS transponder, 2 x VHF DSC radios, full safety equipment, first aid, fully insured
Additional Description:
Grey Viking is one of the busiest charter boats in Brighton with a reputation for putting our anglers on the fish. Specialising in wreck fishing for Cod, Pollack, Ling and Conger. Also offshore Turbot and Brill trips and reef fishing for Bream, Plaice, Skate etc.

**** MY DIARY FILLS QUICKLY - HURRY FOR BEST TIDES !! CALENDAR UPDATED DAILY ****

**** FREE PARKING CLOSE TO THE BOAT !! ****

Winning Charter Boat of the Brighton Pollack Competition 2010 and 2012 sponsored by Daiwa and featured on Sky Sports TV, Talksport and Boat Fishing Monthly. Countless personal bests for our anglers including Cod to 34lb, Pollack to 19lb 8oz, Bass to 11lbs, Conger to 90lbs, Bream to 5lb 4oz and Ling to 24lb

Wreck Fishing specialists virtually all year round for Cod, Pollack, Conger, Ling and Bass, up to 40 miles out. In winter we fish for decent sized Cod within 8 miles of the marina, with winter wrecking trips on some tides too. April to June we also fish the famous Kingsmere Rocks for Black Bream as well as the wrecking trips. August and September is the peak of the offshore Turbot and Brill fishing on the mid channel banks. Spring to Autumn we also have some great Plaice fishing within 4 miles of the Marina.

In addition to full boat charter bookings I run Individuals Days most Mondays, Wednesdays and Fridays and try to offer some weekend dates for Individuals too. Please check my calendar for availability, which is updated daily.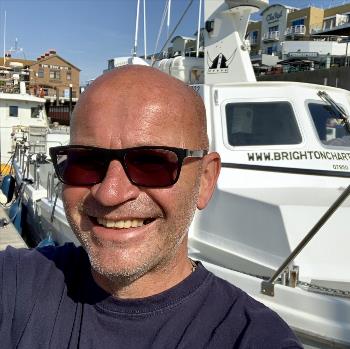 About the Skipper:
Hi, I'm Ray, a qualified RYA Yachtmaster Offshore with an MCA Commercial Endorsement, First Aid and Sea Survival Certificates. I'm therefore licenced to skipper commercial vessels up to 200 gross tonnes within 150 miles of any safe haven.

I've been fishing for over 40 years now and I work VERY hard to put you on the fish and always go the extra mile to find a good catch or a personal best for my anglers. I get a real buzz from the job and enthusiastically communicate with and help beginners and experienced anglers alike to improve their skills and catches. It probably explains why Grey Viking is one of the busiest charter boats in Brighton Marina!
This Charter has been listed as Wheelchair Accessible. Contact the Skipper for full details.
Latest Fishing Reports
17/03/2015

Fishing Report by Chris Mitchell on Grey Viking

(Brighton, East Sussex)

17 Mar 2015 by Chris Mitchell

Ray had a plan and we stuck to it.
Result 8 very happy anglers including some novices.
Everyone caught fish, everyone had a brilliant day, 64 pollack a couple of bass and a gurnard plus a few pout.
Good boat, great skipper, good value.
Thanks Ray.
I'll be back - again and again.

12/2013

Fishing Report by Ray Burn on Grey Viking

(Brighton, East Sussex)

Dec 2013 by Ray Burn

It's been a very hectic summer having been the hottest for years with day after day of calm seas, so it's been a while since I've had a chance to write a report here on CBUK.

However, now we are well into the winter Cod season that hot summer seems like ages ago!

The sea temperatures are higher than normal so far this winter and the inshore Cod season seemed to suffer a late kick off. But as we got into November it started to take off and in the last few weeks we've seen some very good Cod and personal bests landed in the mid double to upper 20lb class, with very few smaller Codling putting in an appearance.

The marks that are producing for us are not plagued to death by Whiting and Dogfish which is a bonus when hunting down those big winter Cod. That said we've seen Bull Huss, Conger and a handful of double figure Smoothhounds fall to our Cod baits so it's been an interesting winter so far.

We've had a couple of days when the Cod haven't wanted to play but mostly we've landed some memorable fish on most of the trips.

The best Cod landed aboard Grey Viking so far this winter fell to Matthew Strowger on the 11th December and weighed in at a very respectable 28lbs, so as you can see the rewards can be high! Needless to say Matt was over the moon as in 5 years of trying on his native East Coast his previous personal best Cod was all of 4lbs, so he's smashed that one out of the park!

Looking ahead if you want to try for a big winter Cod of a lifetime I have availability in January (December is now fully booked) and I expect the Cod to be on the ground throughout January. We will also start mid channel wreck fishing in January on the drift with lures after big Pollack and Cod so there will be plenty to fish for in the weeks and months ahead.

If you fancy booking a trip please have a look at my availability calendar here on CBUK (which is updated at least twice a day) or call me on 07850 171722.

Wishing you all a very Merry Christmas and tight lines for 2014.

Ray

04/2013

Fishing Report by Ray Burn on Grey Viking

(Brighton, East Sussex)

Apr 2013 by Ray Burn

Well the weather has been frustrating with this unprecedented cold spell and more windy days than usual for this time of year. The good news is that we've been on the Pollack since before Christmas and when we are able to get out the fishing has generally been better than the last few years with more Pollack about. They are bigger too with double figure fish commonplace and 8lb is the new small! All good stuff!! We've had at least one personal best on each trip and you can't ask for much more than that.

Looking ahead to April and beyond I think the cold water temperatures will extend the season for big Pollack by at least a month - certainly into May (the May Rot will be late) Cod will be showing on the wrecks soon too.

Inshore the Plaice fishing was good in February and will be back on top form as soon as this cold spell ends. We normally start Bream fishing mid April but again I suspect they will be late and May/June will be the time to target them this year.

As soon as the Mackerel show we will be doing plenty of mid-channel Turbot trips. These will be longer 10 to 11 hour days and limited to 7 anglers with their own tackle (braid essential). We will mix these day's up with some wreck fishing too.

Give me a call and we'll get you booked up on a trip soon.


07/12/2012

Fishing Report by Ray Burn on Grey Viking

(Brighton, East Sussex)

7 Dec 2012 by Ray Burn

Well the winter Cod season here in Brighton is hotting up so just a quick report to keep you up to date. The weather has been kind and we've been out 8 days of the last 10, almost unheard of in winter!

A few Cod are putting in appearance most days but as always some days are better than others. Most of the fish are good doubles with some smaller ones too, in fact I can't recall a winter throwing up so many different year classes of fish, which has to be good for the future!

Highlight of the week has to be the 27lb 8oz fish caught by Chris Mitchell last Friday, one of 5 landed that day. We also did well yesterday landing 5 good doubles to 17lb 8oz and unfortunately losing 3 more! This to a charter of 2 lads so quite a result!

You stand a VERY good chance of seeing a personal best so pick up the phone and book a trip, you'll catch nowt sat indoors!

Call Ray on 07850 171722 to book a trip.

11/2012

Fishing Report by Ray Burn on Grey Viking

(Brighton, East Sussex)

Nov 2012 by Ray Burn

The Cod came inshore from the wrecks quite early this year and we've been catching consistently since the third week in October, with most of the action only 4 to 8 miles from the Marina. So the Winter Cod season is well under way!
We've had a fair few mid doubles in the 14lb to 16lb class and the best so far was caught on by Mike Pile on the 11th November, a proper "mud pig" of 24lbs. So if you are seeking a personal best Cod now is the time!
There are also some smaller Cod about in the 6lb to 8lb class which we've not seen this last couple of winters and that's a good sign for the future.
Our normal winter tactics of fishing big cuttle baits on 8/0 pennel rigs has been working well but this year we've also found scaling down works better some days. This means using black lug tipped with a strip of cuttle on a 6/0 hook.
In addition to Cod there are still a fair few decent Plaice and Bass around plus Whiting, Gurnard, Pout and the like. The other day we had a specimen Tub Gurnard of 4lb 2oz so you never know what might turn up!
If you fancy a crack at a personal best give me a call on 07850 171722
View All Fishing Reports
Edit this boat listing
Availability
NOVEMBER - 2017

| Su | Mo | Tu | We | Th | Fr | Sa |
| --- | --- | --- | --- | --- | --- | --- |
| 29 | 30 | 31 | 1 | 2 | 3 | 4 |
| 5 | 6 | 7 | 8 | 9 | 10 | 11 |
| 12 | 13 | 14 | 15 | 16 | 17 | 18 |
| 19 | 20 | 21 | 22 | 23 | 24 | 25 |
| 26 | 27 | 28 | 29 | 30 | 1 | 2 |
Color for Fully Booked

Fully Booked

Color for Partially Booked

Partially Booked

Color for Available

Available

Color for Not Available

Not Available

Color for Unspecified

Unspecified
N.B. Not all Skippers keep this diary up-to-date. Always check with skippers before making any plans. Last calendar update: 18-Nov-2017
Reviews
Summary:





Mark Hillier (03/04/2017)

Monday was a fantastic day on the Plaice, great crowd of lads on board boating over 70 Plaice guided by Ray the skipper who ive fished with on numerous occasions without ever having a disappointing trip, whether its Plaice,Bream,Turbot,Cod or Pollock Ray always puts you on the fish, he works very hard to find the fish with his vast knowledge of areas and tides,Ray is without doubt my personal favourite skipper, i always look forward to fishing with Ray on the fantastic Grey Viking knowing im going to have a great day with one of the very best Skippers

Dean Murphy-Brown (24/06/2015)

Fantastic day out with Ray as usual! Been out on the Viking a few times now and always have a ball, last trip was no different with over 200 cod boated, many released to chase a rubber worm another day. Highly recommended

Skippers Reponse: What a day Dean! Well over 200 cod caught and load put back which is lovely to see. Always a pleasure to have you aboard mate!

Chris Mitchell (15/04/2015)

Ray had a cunning non conventional plan and we stuck with it. Result 55 cod, 15 pollack, 1 gurnard, 8 very happy anglers.

Skippers Reponse: Cheers Chris, thats two great trips for you recently, always a pleasure to have you aboard mate!

ian burns (23/09/2013)

Great boat and great skipper. Ray certainly knows his stuff. my young lad and myself have done quite a few trips with ray this year. And weve had so many new species and pb's including 20lb ling, young conner had 5 turbot on 1 trip! species this year. plaice. black bream. conger.ling.cod.pollock.bull huss. red gurnard.tub gurnard.strap conger thats just some. you want a good day with a great skipper give him a go. top bloke.

Skippers Reponse: Hi Ian, It's been an absolute pleasure fishing with you and Conner this year and seeing you with some memorable catches !! You're both top blokes and anglers !!

chris marley (02/03/2013)

great skipper put us on the fish had my pb pollock.Very helpfull, knowledge of ground is amazing ,cant wait till next trip thanks ray.

Skippers Reponse: Hi Chris, well done on the personal best and thanks for the kind words!
View All Reviews
Add A Review