Charter Boat: Hard Labour
Boat and Skipper Details
Licensed For:
up to 10 passengers
Code Of Practice:
cat2 code
Hours:
8hr / 10hr / 12hr / Multiple Days Trips
Type of Fishing:
Uptide fishing the Thames Estuary for smoothound, bass, tope, roker, cod etc
Tackle Available:
Yes - Contact Skipper
Bait Available:
Yes - Contact Skipper
Boat Specification:
Blyth 10m, powered by twin perkins sabre 225hp, 18 knot cruise. 16ft wide deck for ample fishing space. side doors for easy boarding / wheelchair access.
Facilities:
Heated wheelhouse, full size on deck toilet and shower, ample seating. Oven for heating pies etc
Additional Description:
Launched at the end of september 2011, after a 10 month build, Hard Labour is fitted out to the highest spec, fully coded and insured, with the latest electronics onboard. She has easy access for wheel chairs and plenty of deck space. Being 33ft long at the waterline and with a beam of 16ft she is an extremley stable fishing platform and with her large deck area she comfortably accommodates the 10 anglers she is coded for. Being the size she is means less days lost to the weather.

Powered by twin Perkins Sabre 225hp engines she has a comfortable cruise of 18kts and a sprint speed of 25kts. Meaning we can fish the distant marks of the Thames Estuary, with less time travelling andmore time fishing.
About the Skipper:
Hard Labour is owned and run by two brothers, Shane and Carl Porter. We have fished the Thames for the past 35 plus years, so have a lot of marks under our belt. Both of us are fully licensed and insured. We have had boats for the last 35 years, . Between us we have a vast knowledge of the marks in the Thames Estuary.

We aim to give our customers a memorable day out and can tailor a trip to suit the needs of individual parties. Beginners are always welcome aboard and where required we will offer as much or as little assistance as is needed to get you fishing with the correct techniques for the area.

We look forward to welcoming you aboard for a great day out.
This Charter has been listed as Wheelchair Accessible. Contact the Skipper for full details.
Sunday
Monday
Tuesday
Wednesday
Thursday
Friday
Saturday

Color for Fully Booked

Fully Booked

Color for Partially Booked

Partially Booked (Individual Spaces)

Color for Available

Available (Whole Boat)

Color for Not Available

Not Available

Color for Unspecified

Unspecified

N.B. Not all Skippers keep this dairy up-to-date. Always check with skippers before making any plans. Last calendar update: 19-Feb-2019

Fri 1st Feb More...
Sat 2nd Feb More...
Sun 3rd Feb More...
Mon 4th Feb More...
Tue 5th Feb More...
Wed 6th Feb More...
Thu 7th Feb More...
Fri 8th Feb More...
Sat 9th Feb More...
Sun 10th Feb More...
Mon 11th Feb More...
Tue 12th Feb More...
Wed 13th Feb More...
Thu 14th Feb More...
Fri 15th Feb More...
Sat 16th Feb More...

Gary

Sun 17th Feb More... Del
Adrian church x 2
Ian Hewitt
kev x 2
Mon 18th Feb More...
Tue 19th Feb More...
Wed 20th Feb More...
Thu 21st Feb More...
Fri 22nd Feb More...
Sat 23rd Feb More...

Nick robbins

Sun 24th Feb More... Jason banks x 4
Martin Webb
Daniel Hunt x 3
Mon 25th Feb More...
Tue 26th Feb More...
Wed 27th Feb More...
Thu 28th Feb More...

Chris Crawley London ambulance service
Upcoming Individual Spaces on Hard Labour
Reviews
Summary:





keith bakewell (05/05/2018)

Always a excellent day out, been out loads of times, skipper's are very helpful and willing to teach you and give you great tips, both do this for the Passion of sea fishing, and not just for the money, which makes it first class, and look forward to many more trips to come :-)

Howard Matthams (30/10/2016)

Another flawless days fishing aboard Hard Labour , nothing is too much for the skipper. Full of advice and knowledge and does everything he can to catch you fish. Thanks again Shane and looking to be back as soon as possible . We all had a brilliant day.

Skippers Reponse: thanks Howard always a good laugh with you and the guys look forward to the next angling adventure

Howard Matthams (26/06/2016)

I fished on Hard Labour, skippered by Shane. We had a great day, my nephews friends had Hounds and Ray ......but not me. Skipper saw a shoal of Bass that saved my blank. My mates had plenty though and we're all happy with a great day. Skipper worked so hard netting and baiting for the novice. Great Skippe, friendly and so was his dad. I had such a good time I've bought a boat rod and reel and hope to book many more trips. Thanks Shane for a great day. Howard

Sylvia Carrasco (12/09/2015)

Amazing day wtih Carl on the Hard Labour. The best experience in a boat that I have ever had. His knowledge, kindness and help was just second to none. Booking as many trips as possible with him from now on. Many thanks!!! Sylvia

Daniel Ashcroft (19/04/2014)

Had a great day we got 65 skate 2eels that went back and a few doggies .bill your £2 is in the post !!! Thanks mark for gutting the fish .cheers Carl don't work to hard tonight
Latest Catches 53 photos uploaded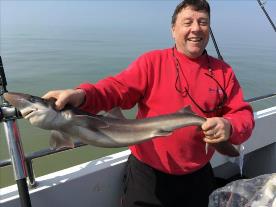 Del
7 lb Spurdog
Apr-2018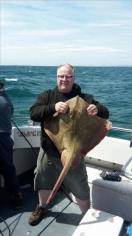 mark
20 lb Blonde Ray
Jul-2016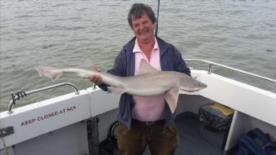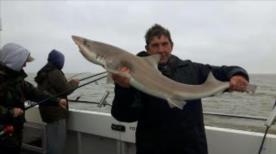 Latest Fishing Reports
07/2017

Fishing Report by carl porter

Jul 2017 by carl porter

Well the last couple of months have been fishing their socks off. Excellent numbers and sizes of smoothounds caught with multiple double figure fish caught each day. Biggest so far this season is a shade over 18lb, but there is always the chance of those elusive 20lb fish. In the last month or so we have done a couple of way offshore sortees with good results on the plaice. The Tope fishing hasnt really kicked off in ernest this season although we have had them to just over 33lb.

Now the Bass ban has been lifted, we have started to target the bass with great success. plenty of fish in the 2 to 8lb bracket, but by far the best specimen locally this season is a 14lb 2oz beauty caught by the skipper. Yes she swam off happily too, no point in killing breeding stock in our eyes.

We are now offering our evening trips as and when required at a reduced rate from full day charter.

We look forward to seeing our loyal customers on the boat soon and welcome any newcomers who have not fished with us before

Shane and Carl

04/2017

Fishing Report by carl porter

Apr 2017 by carl porter

Skate are here in amazing numbers 60 to 70 fish a day most days one day produced 103 to 6 anglers mostly 6-7 lb with a fair smattering of double figure fish
Went offshore earlier this week and found plaice to 2.5lb along with mackerel dabs sandeel whiting weevers and red /tub//and grey gurnard
First hounds are starting to show although small they will increase in size and numbers as the month goes on

04/2017

Fishing Report by carl porter

Apr 2017 by carl porter

Saturday saw us back on the skate again with our anglers taking over 60 many in double figures ...good rod bending fun !!!!
sunday we wanted something different and we got it ......
mackerel / grey gurnard /tub gurnard /sandeel / weaver/ dab / whiting/ herring and about 15 plaice to 2.5lb
summer species are here on the banks and the turbot and brill wont be far away
not to mention the bass and smoothounds that will arrive this month
we often have spaces available at the weekends and during the week so give us a call
to get amongst the fish

04/03/2017

Fishing Report by carl porter

4 Mar 2017 by carl porter

WERE BACK
seeng as the cod fishing failed to materialise this winter we decided to pull the boat out and have a proper clean up and add some more gadgets!!
a new five year codeing has been issued ensuring she is fully compliant and is fully up to date with all safety an life saving equipment
refurbished propellors and a sqeaky clean hull will ensure a fast ride out to those offshore banks
looking forward to the summer now and those big smoothounds and the plaice and turbot fishery we only just
scratched the surface of last year
our first trip this weekend produced over 50 skate for one of our regular crews !!! no monsters but a lot of fun after 3 months ashore ! as the days grow longer and the water warms we should see plenty more and the big girls

08/2016

Fishing Report by carl porter

Aug 2016 by carl porter

after our sucsess with the turbot thought we might turn our attention to plaice
sundays charter had about 35 up to 4lb 4oz along with a couple of turbot plus loads of gurnards
plenty of mackerel around and sandeel /weevers/bass/garfish/scad