Charter Boat: Highlander
Boat and Skipper Details
Licensed For:
up to 12 passengers
Code Of Practice:
cat 2/ 60mls
Hours:
2hr / 4hr / 6hr / 8hr / 10hr Trips
Type of Fishing:
reef, Bardsey Island, Wrecking, General, as boat is fishing from Porthmadog will be doing 4 hr trips for Bass!! in estuary,
Tackle Available:
Yes - Contact Skipper
Boat Specification:
Lochin 38 twin volvo engines
Facilities:
coffee, tea, toilet,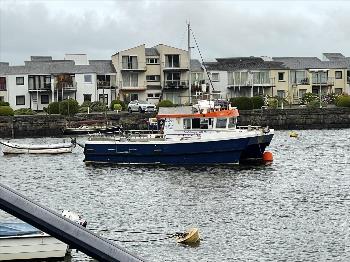 About the Skipper:
charter fishing for 23 yrs, around LLyn Peninsula all kinds fishing.
operated ferry service into Bardsey Island for 10 yrs, so know waters round Bardsey very well,
and Porthmadog estuary for Bass!!

This Charter has been listed as Suitable for Diving Trips. Contact the Skipper for full details.
Sunday
Monday
Tuesday
Wednesday
Thursday
Friday
Saturday

Color for Fully Booked

Fully Booked

Color for Partially Booked

Partially Booked

Color for Available

Available

Color for Not Available

Not Available

Color for Unspecified

Unspecified

N.B. Not all Skippers keep this dairy up-to-date. Always check with skippers before making any plans. Last calendar update: 29-Mar-2016

Mon 1st Oct
Tue 2nd Oct
Wed 3rd Oct
Thu 4th Oct
Fri 5th Oct
Sat 6th Oct
Sun 7th Oct
Mon 8th Oct
Tue 9th Oct
Wed 10th Oct
Thu 11th Oct
Fri 12th Oct
Sat 13th Oct
Sun 14th Oct
Mon 15th Oct
Tue 16th Oct
Wed 17th Oct
Thu 18th Oct
Fri 19th Oct
Sat 20th Oct
Sun 21st Oct
Mon 22nd Oct
Tue 23rd Oct
Wed 24th Oct
Thu 25th Oct
Fri 26th Oct
Sat 27th Oct
Sun 28th Oct
Mon 29th Oct
Tue 30th Oct
Wed 31st Oct
Latest Catches
Be the first to upload your photograph. You never know, you could even be awarded "Catch Of The Month"!