Charter Boat: JFK TWO
Boat and Skipper Details
Licensed For:
up to 12 passengers
Code Of Practice:
CAT 2 - 60 miles
Type of Fishing:
Offshore Wreck & Reef
Tackle Available:
Yes - Contact Skipper
Bait Available:
Yes - Contact Skipper
Boat Specification:
Catapult 396 12mtr catamran powered by twin 500hp caterpillar engines
Additional Description:
***SOME WEEKEND DATES STILL AVAILABLE FOR 2018 GROUPS OF 3 OR 6 OR SO ***


### GIFT VOUCHERS NOW AVAILABLE ###

*** NOW UPTIDING *** BOAT FISHING ALL WINTER ***

NEW WEBSITE NOW UP AND RUNNING AT; WWW.JFK-TWO.COM
JFK TWO A 12MTR CATAMRAN A CATAPULT 396
sarah jfk. and now JFK.TWO. is the longest established charter boat business, out of the river tyne [north shields]
and fitted with twin 500hp engines the fastest
JFK TWO.IS PROUDLY SPONSORED BY
SNOWBEE
and
SIDEWINDER LURES
This ultimate fishing machine will amaze and impress. jfk two is the future of charter fishing and will put all lesser vessels in the shade !.
with a HUGE DECKSPACE AND A HUGE WHEELHOUSE capable of getting all customers in. when the weather turns wet. most other vessels wont even allow you in the wheelhouse. we also have a huge rear shelter to the wheelhouse. YOU NEVER NEED TO GET WET
and the north sea off the tyne is littered with wrecks.so come and join us
visit our website at. www.jfk-two.com
our phone skipper direct 0780 8684358
during summer fishing is mainly on the drift. over wrecks reefs.
December until march mainly fishing at anchor

About the Skipper:
the skipper has been successfully running charter boats full time for over 30 years from the river tyne.
and specialises in wreck and reef fishing.
I have been boat fishing since the age of 8
no one knows the wrecks off the tyne better than us
Reviews
Summary:





Sonny dodd (23/02/2018)

What a day we had today on JFK Two. We got out on the wrecks and it was fish from start to finish, mostly cod but a couple of nice lings and a Pollack for good measure. Best boat and best skipper in the North East, thanks again Allan.

Skippers Reponse: hi sonny was a belter some lovely fish and plenty of them
especially so early season.
looking good for this season

john johnston (15/11/2017)

top class skipper first class boat. All caught fish no monsters today be we wont go hungry with the fish we did keep either

Tom Bellerby (25/03/2017)

Hi great boat and top skipper

Kevin Woodcock (08/09/2016)

I recently used the JFK Two as one of the boats for National competition. First class on everything. Would certainly use the JFK Two again. Allan travelled from Newcastle to Hartlepool to help us out, credit to him, a top man. Thank You!

robert povey (01/10/2016)

grandad and 14 year old grandson out fishing for first time.we both caught plenty of fish including a 25ib ling.our thanks to the crew and other fisherman who were all amazingly helpful

Skippers Reponse: hi bruce glad you both enjoyed your day out, not everybody can say my first ever fish, was a stunning 25lbs ling
nice one
Latest Catches 42 photos uploaded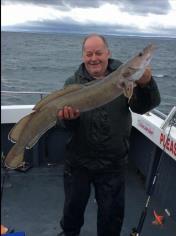 alan
15 lb 8 oz Ling (Common)
14-Oct-2017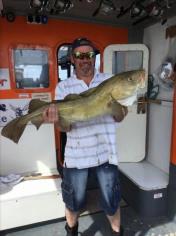 rob
21 lb 12 oz Cod
19-Jun-2017
Latest Fishing Reports
20/06/2018

Fishing Report by Allan Skinner

20 Jun 2018 by Allan Skinner

20th june
fishing is still really good with a lot of fish on the hard ground and inshore wrecks, although the wind did keep us inshore there was still plenty of fish taken
mostly in the 2-4lbs mark and a few 5-6lbs, prawns and squid are essential. and today I would say the prawns outfished all others
the shads still took a lot of fish, but prawns were best bait, with mick and Johnathan taking around 30 fish each.
and as the wind eased teatime, davy took this lovely ling just over 17lbs
so the fishing is still looking really good

we have places available next week please ring for details 0780 8684358

15/06/2018

Fishing Report by Allan Skinner

15 Jun 2018 by Allan Skinner

This week the fishing has again been really steady with between 60 -and over 100 fish most days
Fish just into double most days and a nice stamp of fish 4 to 6lbs through the fish
Prawns is a must for bait along
with squid as the mackrel are still a little patchy . Or getting them to late in the day.
Shads a times tipped with prawns have been deadly . With some anglers getting 20 or more fish each on shads
Also some times 2 at a time on the baited daylites and Hokais
Get yourself out shortly as it is fishing really well at the moment



Tel Allan. 07808684358


09/06/2018

Fishing Report by Allan Skinner

9 Jun 2018 by Allan Skinner

sat 9th june
out again and the fishing was spot on from the off. with cod coming in straight away and even a fair few double shots among them as well.
also a good number of mackerel coming aboard. instantly resulting in ling up to 10lbs coming aboard on the fresh mackerel baits
as well as accounting for the nicer cod again just up to double figures. all wrecks fished steady all day resulting in a terrific days fishing
with mark and keith taking around 50 fish between them and about 200 over all

03/06/2018

Fishing Report by Allan Skinner

3 Jun 2018 by Allan Skinner

Sunday 3rd June
the fishing has again been outstanding. with every trip taking over a 100 cod on board up to 150 plus cod.
all baits have been working. especially prawns followed by mackerel and squid.
when theres plenty drift the sidewinders and shads have been deadly,
blues seeming to have the edge this week, also large numbers of big mackrel being taking
the fishing is as a good as it gets at the moment, you really need to get out there.
most fish in the 3-6lbs bracket
we have spaces midweeks next week please ring 0780 8684358 if you fancy a trip


28/05/2018

Fishing Report by Allan Skinner

28 May 2018 by Allan Skinner

Monday 28th may
this bank holiday weekend has , seen the fishing remaining excellent. with around 80 to 100 fish being taken,
and cracking fun on the shads. with the fish nailing the shads, swallowing them right down.
especially when tipped with prawn and squid,
just as many on the baited hookies and daylites as well
a reasonable stamp of fish with a canny few in the 4 to 7lbs bracket.
and at last a fair few nice mackerel showing up. its all looking very promising.