Charter Boat: JFK TWO
Boat and Skipper Details
Licensed For:
up to 12 passengers
Code Of Practice:
CAT 2 - 60 miles
Type of Fishing:
Offshore Wreck & Reef
Tackle Available:
Yes - Contact Skipper
Bait Available:
Yes - Contact Skipper
Boat Specification:
Catapult 396 12mtr catamran powered by twin 500hp caterpillar engines
Additional Description:
### GIFT VOUCHERS NOW AVAILABLE ###


NEW WEBSITE NOW UP AND RUNNING AT; WWW.JFK-TWO.COM
JFK TWO A 12MTR CATAMRAN A CATAPULT 396
sarah jfk. and now JFK.TWO. is the longest established charter boat business, out of the river tyne [north shields]
and fitted with twin 500hp engines the fastest
JFK TWO.IS PROUDLY SPONSORED BY
SNOWBEE
and
SIDEWINDER LURES
This ultimate fishing machine will amaze and impress. jfk two is the future of charter fishing and will put all lesser vessels in the shade !.
with a HUGE DECKSPACE AND A HUGE WHEELHOUSE capable of getting all customers in. when the weather turns wet. most other vessels wont even allow you in the wheelhouse. we also have a huge rear shelter to the wheelhouse. YOU NEVER NEED TO GET WET
and the north sea off the tyne is littered with wrecks.so come and join us
visit our website at. www.jfk-two.com
our phone skipper direct 0780 8684358
during summer fishing is mainly on the drift. over wrecks reefs.
December until march mainly fishing at anchor

About the Skipper:
the skipper has been successfully running charter boats full time for over 30 years from the river tyne.
and specialises in wreck and reef fishing.
I have been boat fishing since the age of 8
no one knows the wrecks off the tyne better than us
Upcoming Individual Spaces on JFK TWO
Sorry, there are currently no Individual Spaces at present.
Reviews
Summary:





Sonny dodd (23/02/2018)

What a day we had today on JFK Two. We got out on the wrecks and it was fish from start to finish, mostly cod but a couple of nice lings and a Pollack for good measure. Best boat and best skipper in the North East, thanks again Allan.

Skippers Reponse: hi sonny was a belter some lovely fish and plenty of them
especially so early season.
looking good for this season

john johnston (15/11/2017)

top class skipper first class boat. All caught fish no monsters today be we wont go hungry with the fish we did keep either

Tom Bellerby (25/03/2017)

Hi great boat and top skipper

Kevin Woodcock (08/09/2016)

I recently used the JFK Two as one of the boats for National competition. First class on everything. Would certainly use the JFK Two again. Allan travelled from Newcastle to Hartlepool to help us out, credit to him, a top man. Thank You!

robert povey (01/10/2016)

grandad and 14 year old grandson out fishing for first time.we both caught plenty of fish including a 25ib ling.our thanks to the crew and other fisherman who were all amazingly helpful

Skippers Reponse: hi bruce glad you both enjoyed your day out, not everybody can say my first ever fish, was a stunning 25lbs ling
nice one
Latest Catches 56 photos uploaded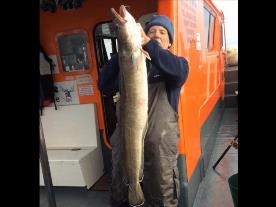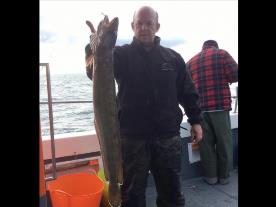 mark
13 lb Ling (Common)
17-Oct-2018
Latest Fishing Reports
17/11/2018

Fishing Report by Allan Skinner

17 Nov 2018 by Allan Skinner

Sat 17th
Out today first since back from hols. Turned out a cracking day with the small tides, first drop produced a cod of 6lbs. Nice start same again next drift, picked up cod on almost all drifts, averaging 4-to 8lbs, a steady stream of fish coming aboard. All cod and a few pollack best 6-7lbs.
As the wind and tide eased further, the ling showed up. First a nice ling of 12.5lbs for alan, lovely fish for late November, swiftly followed by more lings and another couple into double figures, was turning out a lovely day, with now well over 50 nice quality fish aboard, Ronnie had been whopping fish in all day said something nice on here.
Sure enough this white shape was getting bigger and bigger,
What a belter ling fighting fit all the way . Weighed in just under 20lbs Ronnie's personal best, couldn't be more pleased for him
And we still weren't finished picked away the rest of the day, all nice fish
Ending up with over 80 fish

17/10/2018

Fishing Report by Allan Skinner

17 Oct 2018 by Allan Skinner

wed 17th oct
at last a lovely day after all the winds we,ve had. turned out a canny day with husband and wife team JFK-TWO regulars mark and Christine over from Carlisle again
doing very well . with Christine banging in the cod early on, mark eventually catching up a little. but did at the end taken a nice ling of 13lbs. which turned out to be the best on the day.
taken on one of about 8 suprise mackrel to be caught. as with all the dirty water and stirups thought they would be long gone,
but the waters cleaned up nicerly. with michael getting 3 cod on one drift alone on shads. also about 5 pollack taken
ended up with around 40 odd fish best cod around 7lbs
turned out a nice day all round

www.jfk-two.com


30/09/2018

Fishing Report by Allan Skinner

30 Sep 2018 by Allan Skinner

sunday 30th sept
no doubt sept has been a windy old month more or less non stop strong westerly winds. which have definitely made it harder going.
despite this we have managed some reasonable fishing. and stuart managed this nice ling of 16.5lbs
and since the last northerly blow the water inside is dirty and the mackerel now thinner on the ground.

08/09/2018

Fishing Report by Allan Skinner

8 Sep 2018 by Allan Skinner

sat 8th sept
at last a nice day no wind. off round the wrecks, stocked up on mackerel first still plenty about. no problem. down with the mackerel bait's a couple of ling around 6 and 8lbs boated
whilst never fast and furious was steady with a fish or 2 most drifts. ended up a canny day with one drift bringing in 2 lings for Russel and Darren taken the two best fish of the day
both around the 16lbs mark.
also a nice pollack around 9lbs for graham, another 5 or 6 lings into double figures. and a small wolf fish, around 50 odd fish for the day

25/08/2018

Fishing Report by Allan Skinner

25 Aug 2018 by Allan Skinner

sat 25th aug

the weather has been a little more unsettled on and off latterly, as was the day with a fairly stiff breeze and a northerly roll
but despite this we still managed a decent day with a lovely cod of 16lbs for kevin, followed later with a nice ling of 14lbs for
Darren with around 40 to 50 fish being taken