Charter Boat: Lady Grace
Boat and Skipper Details
Licensed For:
up to 12 passengers
Code Of Practice:
Estuary
Hours:
<1hr / 1hr / 2hr / 3hr / 4hr / 5hr / 6hr / 7hr / 8hr / 9hr / 10hr / 11hr / 12hr Trips
Type of Fishing:
Short trips inshore, great for a taster or just to get out.
Boat Specification:
Matlow 21 (open launch)
Additional Description:
The Lady Grace is a 21ft open boat with a speed of around 6-8 knots and is licenced and insured for up to 12 people inside of the Blackwater Estuary. I run my 20 minute boat trips all year round, 364 days of the year, from the harbour for just £3 per person and take up to 12 people. You just need to turn up at the end of the crabbing pontoon at West Mersea and wait for the boat to come in. I run all day everyday, no set times, just when you would like to come out. It is possible to hire the 'Lady Grace' for picnic/photography sunset trips and pirate and mermaid parties for the children too. At Easter and Christmas I also offer themed parties, an Easter Egg hunt with the Easter Bunny aboard Lady Grace and an Elf party at Christmas time to help Santa find all his chocolate reindeers in time for Christmas Eve to ensure the children get their presents delivered on time.
From November to March I also offer bird watching trips as well as the general 20 minute trips. The 'Lady Grace' can then be hired for just £50 per hour for bird watching and for ash scatterings. For the bird watching it is suggested a maximum of 6 persons for comfort.
Call me on 07791 859624 for more information.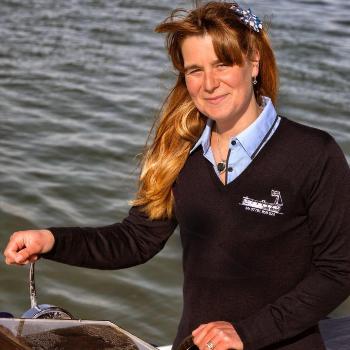 About the Skipper:
Stacey is fully qualified with a commercially endorsed yachthmaster offshore ticket and all of the theory for the ocean master ticket too. Stacey has been fishing all of her life. She started helping her father with nets in the Estuary before meeting her husband Scott and taking up angling. Scott and Stacey own the 'Galloper' which already runs from West Mersea and now after running boats for the local yacht club and spending several years fishing with Scott, Stacey has got her own boat too.
Sunday
Monday
Tuesday
Wednesday
Thursday
Friday
Saturday

Color for Fully Booked

Fully Booked

Color for Partially Booked

Partially Booked

Color for Available

Available

Color for Not Available

Not Available

Color for Unspecified

Unspecified

N.B. Not all Skippers keep this dairy up-to-date. Always check with skippers before making any plans. Last calendar update: 11-Jan-2014

Fri 1st Jun
Sat 2nd Jun
Sun 3rd Jun
Mon 4th Jun
Tue 5th Jun
Wed 6th Jun
Thu 7th Jun
Fri 8th Jun
Sat 9th Jun
Sun 10th Jun
Mon 11th Jun
Tue 12th Jun
Wed 13th Jun
Thu 14th Jun
Fri 15th Jun
Sat 16th Jun
Sun 17th Jun
Mon 18th Jun
Tue 19th Jun
Wed 20th Jun
Thu 21st Jun
Fri 22nd Jun
Sat 23rd Jun
Sun 24th Jun
Mon 25th Jun
Tue 26th Jun
Wed 27th Jun
Thu 28th Jun
Fri 29th Jun
Sat 30th Jun
Reviews
Summary:





Robin Watts (06/07/2013)

LADY GRACE,helmed by Stacey Belbin rescued us,our friends,two tenders,within broken shear pins,all within 10mins of each other. Stacey and Lady Grace were FANTASTIC ! Thank You Rob Daryl Chris Reg and Hollie
Latest Catches 71 photos uploaded
Latest Fishing Reports
24/03/2015

Fishing Report by Stacey Belbin

24 Mar 2015 by Stacey Belbin

Harry and Lily came out for a 3 hour fishing trip today, the first hour at anchor was quiet but it soon picked up and we ended up with 5 codling and 1 dogfish. Biggest cod was 4lb

19/01/2015

Fishing Report by Stacey Belbin

19 Jan 2015 by Stacey Belbin

Today we fished the 3 hours up to high water and caught 2 codling and 2 whiting, glad to see John beat the skipper catching the biggest codling and the most fish!

02/01/2015

Fishing Report by Stacey Belbin

2 Jan 2015 by Stacey Belbin

We had a 3 hour fishing trip today with Phil, Nettie and Chris. Luckily Chris showed them how to catch and had 3 codling and 1 whiting while Phil and Nettie caught crabs and limpet shells. All cod and whiting were released to live another day despite being big enough for the dinner table

25/11/2014

Fishing Report by Stacey Belbin

25 Nov 2014 by Stacey Belbin

Went out on a short 3 hour trip today, Mark showed them how it was done by catching 3 codling, Kevin had 1 codling and just when we had given up hope for Paul catching a cod he pulled one in on his last cast! So we totalled 5 codling and half dozen whiting

22/11/2014

Fishing Report by Stacey Belbin

22 Nov 2014 by Stacey Belbin

Great 3hr fishing trip today aboard Lady Grace, a total of 9 codling and a few whiting. Jess caught the most with 3 codling showing Alex and Joe how it was done. They both had one each too and mum and dad's caught the rest. Lucky one of the dad's is a chef so guess what they are all having for tea tonight! If you fancy a fishing trip please call 07791859624 to book.