Charter Boat: Laura III
Availability Calendar
5 Reviews

Reviews Unaccepted: 1
Boat and Skipper Details
Licensed For:
up to 5 passengers
Code Of Practice:
MCA Cat 2 up to 30 miles
Hours:
8hr / 9hr / 10hr / 11hr / 12hr Trips
Type of Fishing:
Bass, Cod, smoothhound, tope and skate,
Tackle Available:
Yes - Contact Skipper
Bait Available:
Yes - Contact Skipper
Boat Specification:
Fast Aquafish, fully insured and licensed for up to 6 people (which includes skipper)
Additional Description:
Groups and individuals welcome. Weekend bookings for cod are going fast, book quickly to avoid disappointment.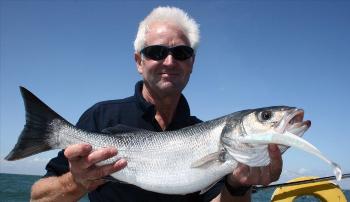 About the Skipper:
Fishing for 35 plus years in the area (I started young!). Bass fishing on the banks is my speciality, (the season lasting from May to September) as can be seen in Boat Fishing Monthly September 2009 and again with Dave Barham's personal best bass of 10lb 3oz in November 2011 issue (best trip so far with 45 bass caught).
This Charter has been listed as Suitable for Diving Trips. Contact the Skipper for full details.
Upcoming Individual Spaces on Laura III
Sorry, there are currently no Individual Spaces at present.
Reviews
Summary:





Reviews Unaccepted: 1
Glen Cronin (02/11/2018)

What a great days fishing, skipper John was first class making you feel like an old friend from the start to the finish. Lots of fish caught which reflects on his local knowledge of where to fish, caught my first ray had plenty of whiting and dog fish along with the rest of the guys on board, we all must have felt nice and relaxed from the start and made me feel like I was fishing with old friends all nice and freindly, good banter with all. But John must learn to distinguish (Coffee from Tea) LOL. Cheers Glen.


craig marven (06/04/2015)

First time out with Laura 111 and what a great day we had . John took us a short distance out of Levington marina straight to where the fish were gathered. Steady supply of cod came in ranging from 2Lb to 5lb ,(31 keeper size in total) we also had some good size whiting ,pouting and half a dozen dogfish.While not a large boat my group of four fished comfortably with skipper on deck all day with help and advice , his tea and bacon roll where good as well Good value for money and a really nice guy. we will definitely use again .

Peter Chadwick (19/10/2011)

I had travelled 280 miles for this trip. John was the perfect captain & host; we were greeted with a warm welcome and after the informative safety briefing John indicated to us some of the marks that he hoped to try. John was around with cups of tea/coffee and cakes on numerous occasions. This was my first uptiding/downtiding experience. I caught 43 fish which were: 40 whiting, 2 dogfish and a pouting: All fish returned to fight another day. I learnt a lot thanks to John and his advice. He is a very kind hearted gentleman who certainly knows his business and treats his customers exceptionally well. A big thank you John, I'll certainly look you up if I ever come down there again. You are a "top man" and it was a great pleasure to have been in your company for the day. Thanks for putting us onto the fish and for everything you did to make the trip so enjoyable. I'll remember this day for a long time to come. Very Best Regards, Peter Chadwick (From Durham City)

Dave Bowman (12/06/2010)

What a cracking days fishing. John put us right amoungst them, we had well over 20 smouthies including this one my personal best hound. After spending time with John, you soon realise this is not just down to luck. But through expierence he has as a skipper and fisherman. I would recommend a trip out on the Laura III to anyone!

Scott Halliwell-Hughes (06/06/2010)

great day with John on LauraIII, a skipper that not only knows he's fishing grounds well but is friendly with it, had a fantastic time on sunday, caught in excess of 40 fish, a 6lb cod, endless dog fish, and some great fighting smoothounds, i would gladly recomend a trip with john any time, you get great hospitality, a fast and comfitable boat, a skipper with great knowledge of his grounds, and which type of set up you need to fish, im looking forward to my next trip on LauraIII, cant come too soon in my book .!
Latest Catches 18 photos uploaded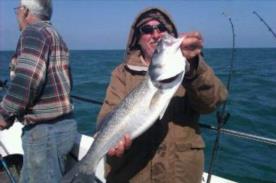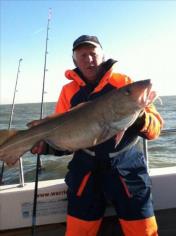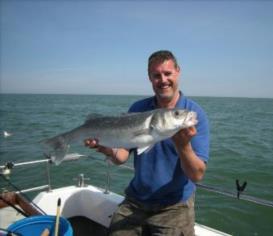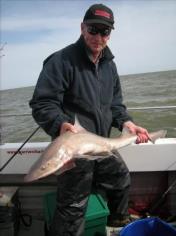 Mark Wray
14 lb Smooth-hound (Common)
May-2011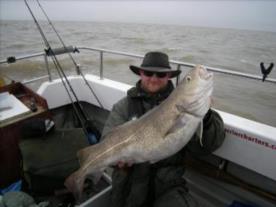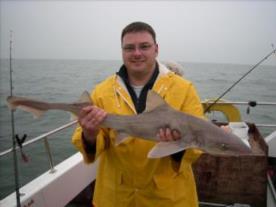 Latest Fishing Reports and News