Charter Boat: Lead Us
Licensed For:
up to 11 passengers
Code Of Practice:
20 miles cat 3
Hours:
4hr / 8hr / 10hr / 12hr Trips
Type of Fishing:
uptiding / downtiding contours / banks etc
Tackle Available:
Yes - Contact Skipper
Bait Available:
Yes - Contact Skipper
Boat Specification:
32 ft Yorkshire coble
Additional Description:
bottom fishing trips available all year winter time for cod, whitng, etc. summer time for bass, rays, smoothounds etc.
summer evening trips available may to september
tuition for beginers and help and advice for all
hot drinks provided

Vouchers:
For a special gift which someone will really appreciate, vouchers can be purchased for all of our trips. You may either select a date or have an open-dated voucher, where the recipient chooses a suitable date themselves.

Corporate/ Private Days:
For an extra memorable day out, with the boat to yourselves and a hamper lunch please take advantage of these special trips.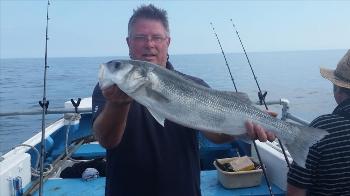 About the Skipper:
Fully qualified skipper RYA Yachtmaster with many years experience of fishing the local area, both commercially and for pleasure.
Latest Fishing Reports
22/06/2017

Fishing Report by Colin De Block on Lead Us

(Lowestoft, Suffolk)

22 Jun 2017 by Colin De Block

Another record smashed and a PB for Paul on Lead Us 22-06-17
unable to proceed out to my chosen mark due to the forecast of increasing winds we headed up to the shelter of the cliffs of Corton. After a bit of searching round we dropped the anchor on the spot showing the most marks on the sounder just as the tide was starting to move. Roland was the first into what looked like a very good fish but unfortunately his line parted and we never saw it. following this the smoothounds started making a good show with everyone getting their share of fish and Bob getting the lions share and the biggest just under 8lbs. Then Paul had a cracking bite which almost dragged his rod over the stern after a very good fight the fish broke the surface to reveal a massive Bass once netted it wieghed in at 10lb 1oz a new record for the boat and a PB for Paul after some admiring looks and comments it was safely returned leaving Paul with a permanent grin for the rest of the day we ended the day with over a dozen hounds upto 8lb , Bass 10lb 1oz , and a few whiting hopefully this excellent run of fish will continue for some time

to book a trip on Lead Us call 07803270798
Cheers Colin

18/06/2017

Fishing Report by Colin De Block on Lead Us

(Lowestoft, Suffolk)

18 Jun 2017 by Colin De Block

SOME BASS-TASTIC SPORT ON LEAD US
With the good weather over the last few days we've had a couple of good trips with some excellent fish plenty of Bass to 7lb all returned. Smoothounds to 8lb Thhornbacks to 6lb endless spotty dogs Whitng and Dabs thrown in for good measure and yesterday we had our first Mackeral only joeys at the moment but should be bigger ones arriving soon.

to book a trip on Lead Us call 07803270798
cheers colin

03/06/2017

Fishing Report by Colin De Block on Lead Us

(Lowestoft, Suffolk)

3 Jun 2017 by Colin De Block

Three good days fishing over the weekend produced some great fish from various marks out of Lowestoft on Lead Us including two boat records a Bass @ 8.5lb and a lovely Blonde Ray @ 10lb. I had fun netting the blonde and bass pictured together as they boat hit the surface at the same time.All Bass pictured where returned. Make the most of the excellent fishing at the moment and give me a call

To book a trip on Lead Us call 07803270798

29/05/2017

Fishing Report by Colin De Block on Lead Us

(Lowestoft, Suffolk)

29 May 2017 by Colin De Block

Out of Lowestoft on Lead Us 25/27/29-05-17
this report covers 3 days over the last week with strong tides lots of weed and often quite breezy conditions things haven't been easy but we still managed to find plenty of fish to keep us occupied. With plenty of spotties as usual a few whiting 2 very large pout whiting @ 1.25lb & 1.5lb an increasing number of smoothounds to 7lb some nice thornbacks to 13lb beating the boat record again this year and a surprise cod @ 6lb with the tides decreasing and the weather set fair the fishing should be good over the coming week

To book a trip on Lead Us call 07803270798

11/05/2017

Fishing Report by Colin De Block on Lead Us

(Lowestoft, Suffolk)

11 May 2017 by Colin De Block

A nice Bass for Brian on Lead Us 10-05-17
After such a poor winter it is great to see some good catches coming aboard, with a constant stream of doggies and whiting 3 hounds to 5lb, 3 Bass to 3.5lb all returned to fight another day and 1 thornback and lovely weather thrown in another great day out on Lead Us


View All Fishing Reports
Edit this boat listing
Last Minute
Availability
JUNE - 2017

| Su | Mo | Tu | We | Th | Fr | Sa |
| --- | --- | --- | --- | --- | --- | --- |
| 28 | 29 | 30 | 31 | 1 | 2 | 3 |
| 4 | 5 | 6 | 7 | 8 | 9 | 10 |
| 11 | 12 | 13 | 14 | 15 | 16 | 17 |
| 18 | 19 | 20 | 21 | 22 | 23 | 24 |
| 25 | 26 | 27 | 28 | 29 | 30 | 1 |
Color for Fully Booked

Fully Booked

Color for Partially Booked

Partially Booked

Color for Available

Available

Color for Not Available

Not Available

Color for Unspecified

Unspecified
N.B. Not all Skippers keep this diary up-to-date. Always check with skippers before making any plans. Last calendar update: 21-Jun-2017
Reviews
Summary:





Kacy Fenwick (22/04/2017)

Great day out briliant frendly skiper showed me what to do also caught some nice fish in cluding the boat record for scate very happy would deffenately go again

Skippers Reponse: Glad you enjoyed yourselves and 2 great fish see you again sometime

bob lightfoot (20/04/2017)

great day, plenty of fish & great skipper

Skippers Reponse: good to see you all enjoying yourselves and catching plenty of fish cheers Bob

Anton Bull (01/09/2016)

A great day out for my son, his friend and I. A 15th birthday fishing trip that couldn't have gone better. Colin was very welcoming and looked after us really well. My son caught his first smoothound (starry - 3lb) and his friend then caught a smoothound (common - 4lb). A few whiting thrown in as well and we went home with plenty for dinner. A great day out and we'll be back again.

Skippers Reponse: Thanks Anton it was nice to see the boys catch a decent fish each

Charles Elderkin (30/07/2016)

A great day out with Smoothound & Thornback to 7lbs. Colin was a friendly, helpful & knowledgeable skipper. Good times had by all.

Robert Sanders (27/07/2016)

Brilliant day out with Colin. Broke my p.b Smooth-hound record twice (best 11 and a half lbs) Certainly put us on two good marks with a steady stream of fish throughout the day.
View All Reviews
Add A Review