Charter Boat: merlin
Boat and Skipper Details
Licensed For:
up to 10 passengers
Code Of Practice:
Cat 2 - 60 Miles
Hours:
5hr / 8hr / 10hr Trips
Type of Fishing:
Tope - smoothhound - General - Bass-gurnard-huss-plus many many more.
Tackle Available:
Yes - Contact Skipper
Bait Available:
Yes - Contact Skipper
Boat Specification:
32 aquastar with modern electronics package, furuno GPS system, Lorence chart plotter and koden sounder
Facilities:
Tea/Coffee Free.
Additional Description:
Fishing in Rhyl all year round doing individuals and charters.
tuition for beginners.
About the Skipper:
I started full time charters with Merlin in 1999.
I owned two private boats before Merlin.
Started Crewing on charter boats at the age of eleven in the summer holidays and weekends.

Sunday
Monday
Tuesday
Wednesday
Thursday
Friday
Saturday

Color for Fully Booked

Fully Booked

Color for Partially Booked

Partially Booked

Color for Available

Available

Color for Not Available

Not Available

Color for Unspecified

Unspecified

N.B. Not all Skippers keep this dairy up-to-date. Always check with skippers before making any plans. Last calendar update: 25-Feb-2018

Thu 1st Feb

5hr, 8.30 am sail

Fri 2nd Feb

5hr, 91.15 sail

Sat 3rd Feb

5hr, 10 am sail

Sun 4th Feb

5hr, 10.45 sail

Mon 5th Feb

5hr, 11.30 sail

Tue 6th Feb

5hr, 12pm sail

Wed 7th Feb

5hr, 1pm sail

Thu 8th Feb

8hr , 6.30 am sail

Fri 9th Feb

8hr, 7.30 sail

Sat 10th Feb

8hr, 8.30 sail

Sun 11th Feb

8hr, 9.30 sail

Mon 12th Feb

8hr, 10am sail

Tue 13th Feb

5hr, 7am sail

Wed 14th Feb

5hr, 7.30 sail

Thu 15th Feb

5hr, 8am sail

Fri 16th Feb

5hr, 8.30 sail

Sat 17th Feb

5hr, 9am sail, 8 spaces available

Sun 18th Feb

5hr, 9.30 sail

Mon 19th Feb

5hr, 10.15 sail

Tue 20th Feb

5hr, 10.45 sail

Wed 21st Feb

5hr, 11.30 sail

Thu 22nd Feb

5hr, 12pm sail

Fri 23rd Feb

5hr, 1pm sail

Sat 24th Feb

8hr, 7am sail

Sun 25th Feb

8hr, 8am sail

Mon 26th Feb

8hr, 9am sail

Tue 27th Feb

8hr, 10 am sail

Wed 28th Feb

5hr 7am sail
Reviews
Summary:





Reviews Unaccepted: 5
darren greatbatch (07/01/2018)

After vid and tom taking the best spots on the boat leaving me and rob to fish against the wind and the tide I decided to let them bag a few so after a hour I decided to put a hook on .soon caught up with them and put two rods out and was catching so many roger had to take over one of the rods.Cheers roger for a great five hour trip we all caught well even though my spot on the boat was poached by my mates.

Skippers Reponse: Any exuses Darren haha glad you had a good day see you next time

M Wingfield (30/08/2017)

Yet another great trip Roger. Plenty of friendly banter and plenty of fish. We all really enjoyed it. We'll be back. Cheers for now, Mike Wingfield

M Wingfield (19/06/2017)

Went with Rob who is one of Roger's regulars on a 10 hour trip.. My first time boat fishing. Absolutely brilliant. Roger is a gentleman, patient and helpful to first timers and also a bloomin' good laugh. I'm hooked. Will be going again asap. Thanks for a great day Roger - Mike W

Skippers Reponse: Cheers mate thanks for the review, hope to see you soon.

Marcos Garcia (20/10/2013)

Absolute gentleman down to earth and very very helpful! Wicked day out all of us caught a mix of 4 different speices cheers Roger for a good day :-) Marcos

STEPHEN MASTERSON (25/09/2011)

an amazing days fishing for 1st timers steve and harry ;roger was excellent captain great day out affordable
Latest Catches 19 photos uploaded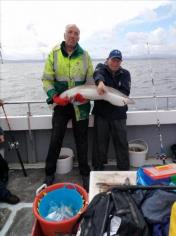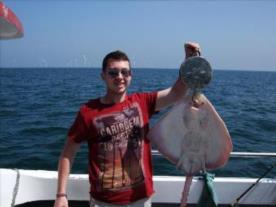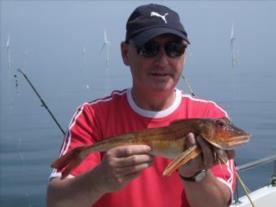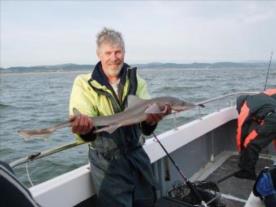 Paul
7 lb Smooth-hound (Common)
14-Jul-2013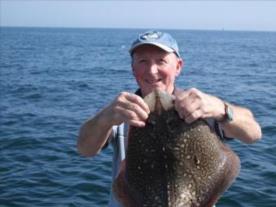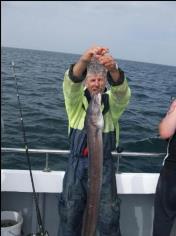 Paul
14 lb Conger Eel
20-Jul-2013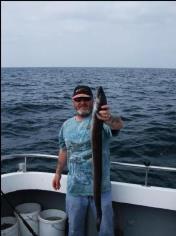 Latest Fishing Reports
07/01/2018

Fishing Report by roger daniels

7 Jan 2018 by roger daniels

Finally got Darren and his mates down from Stoke,after 4 cancellations due to bad weather, fished of Prestatyn again, not as good as Friday due to easterly winds, but still got plenty of Dabs and Whitings and a few Dogs. Darren was last to catch but soon caught up and was top rod, good banter with you all, hope to see you soon, thanks

05/01/2018

Fishing Report by roger daniels

5 Jan 2018 by roger daniels

Got out today the first trip of 2018, due to all the bad weather, went down the East and fished of Prestatyn, plenty of nice big Dabs, lots of good Whiting, the best one being 2lb 12ozs, and a few Dog fish, good fishing for 5 hr trip for this time of year, plenty of dates available for the up and coming year, thanks lads for a good, and banter.

22/09/2017

Fishing Report by roger daniels

22 Sep 2017 by roger daniels

5 hour trip today fished inshore of Prestatyn, lots of nice big Dabs, a few Flounders, a few Whiting starting to show inshore now, one Skate and a few Dogfish, lost one good fish probably a big Bullhuss .

01/09/2017

Fishing Report by roger daniels

1 Sep 2017 by roger daniels

A nice steady fishing over the last few days, still lots of Mackeral about, plenty of Huss, a few Skate and the odd Tope, plenty of Dabs Whiting and Gurnards, and a few other bits and bobs, weather looks good for tomorrow, then going pearshaped, thanks for all the good laughs on board,hope to see you again soon.

25/08/2017

Fishing Report by roger daniels

25 Aug 2017 by roger daniels

few trips in this week, plenty of fish about, tons of Mackerel, some cracking big one,s amongst them plenty of Dabs, Whiting, Dogfish,Gurnards, Huss and Skate, dates still available for September.