Charter Boat: Mistress
Availability Calendar
9 Reviews

Reviews Unaccepted: 1
Boat and Skipper Details
Licensed For:
up to 12 passengers
Hours:
3hr / 4hr / 8hr Trips
Type of Fishing:
Ground and Wreck fishing
Tackle Available:
Yes - Contact Skipper
Boat Specification:
38ft long Aqua Star
Additional Description:
Evening trips start at 5.30 return 8.30 fishing for cod and mackerel £20 per angler . 4hour fishing trips Wrecks and ground fishing £28 per angler . A full day fishing weekdays starting at 8 until 4.30 £45 per angler .Weekends full day £45 per angler
Upcoming Individual Spaces on Mistress
Sorry, there are currently no Individual Spaces at present.
Reviews
Summary:





Reviews Unaccepted: 1
Matt Wright (02/06/2018)

What a skipper!! If there was a 10 star option i would have selected it! I've been out with Tony 3 times now and each time he has chased the fish and found them! His knowledge of the local area and Fish habits is far superior to any other skipper I have used in the north east. Last trip the spring run was on and I took Home 60 decent cod, 10 nice mackerel and threw back dozens more! As a novice in sea fishing not only did he help me get on the Fish he taught me how to gut and fillet more effectively and helped me with my fish mountain. If you want a good day of fishing, banter and success look no further than Tony and his mistress!!

Steven Sharland (13/08/2017)

Brilliant skipper and first class boat. Tony knows these waters very well and put us on some good marks throughout the day, despite having to deal with two beginners suffering badly with sea sickness. Tony dealt with their needs very professionally, caring for them extremely well with liquids and extra clothing to keep them warm until we could get back to shore and drop them off. I was very impressed by the care he showed them, His first aid skills were put to the test and he still managed to get us out fishing with very good results. I had my personal best Cod of 12lbs, plus fifteen mackerel, two pollock and another smaller Cod.

Steven Sharland (13/08/2017)

Have had three trips out with Tony on 'Mistress' this year and thoroughly enjoyed each one. Tony is very pleasant and very knowledgeable, he knows the waters and some good marks extremely well. Mistress is a well maintained, stable and safe boat and I look forward to my next trip out on her soon.

Kevin Woodcock (08/09/2016)

I recently used the Mistress as one of the boats for National competition. First class on everything. Would certainly use the Mistress again. Thank You!

Paul Crow (24/08/2016)

I turned up on a beutiful morning on Wednesday August 23rd to a warm welcome from Tony the Skipperr. The first thing I noticed when we exited the harbour was the spped of the boat which soon had us over the fishing grounds. The equipment on the boat as far as fish finding is very modern . We were soon into mackrel for bait. Once reaching the wrecks we were soon into double figure fish and Ling. I have fished out of the Tyne fo about fourty years so I consider myself experianced, I was totally behind the times. Tony explained to me that nobody fishes with heavy gear like mine anymore. Tony gave me some of his own gear and introduced me to the shad method of fishing. I was straight into fish. Although I did loose some of the boats gear Tony Did not charge me anything extra. Altogether this was a grat days fishing whith a brilliant Skipper an a good set of lads who were willing to give advise on my new found passion of this type of fishing. An excellent value for money experiance. Many thanks Tony.
Latest Catches 3 photos uploaded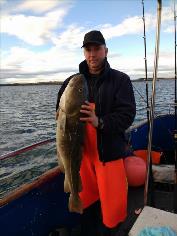 Latest Fishing Reports and News
07/10/2018

Fishing Report by Peter Mackintosh

7 Oct 2018 by Peter Mackintosh

Another cracking day fishing aboard Mistress. Talk about a mixed bag! It was my best day for catching a number of different species.
Tony had to search around before he found some fresh mackerel for bait. After that, we set off and headed to a few wrecks, picking up a few Cod. I had a couple to about 4lb before landing a Ling about the 10lb mark. The I hit a Ballan wrasse, a few Pouting and Coley before, taking a couple of whiting. After catching a weaver fish, I had a fierce bite. Reeling in, I thought the fish was decent; it was fighting hard. When it broke the surface I couldn't believe it- a wolf fish. The first I'd ever caught. Not big by any standards, about 6lb but it put up a great fight. Tony showed me the best way to skin it and recommend frying it like scampi. It's an ugly looking fish, but one of the best I've tasted.
Many thanks Tony, for another's fantastic day.

13/08/2017

Fishing Report by Steven Sharland

13 Aug 2017 by Steven Sharland

Went out with Tony on 'Mistress' on Sunday 13th August '17. Fished rough ground and wrecks. Had my best day's fishing ever with my personal best Cod of 12lb falling to red hokkais with 6/0 hooks tipped with fresh Mackerel. Also caught were fifteen good Mackerel, two Pollock and another smaller Cod. Other anglers on board all had plenty of Mackerel and Cod and one angler had a good Ling which couldn't have been far away from my Cod in weight.
Tony is a very knowledgeable skipper who put us on some very good marks and I look forward to fishing on Mistress the next time I'm in the North East.

17/05/2014

Fishing Report by ricky hedley

17 May 2014 by ricky hedley

What an amazing skipper Tony is he sure knows his water 7 of us went on Saturday the 17th may 2014 and had a cracking day caught lots of cod I'll be eating it for a month.
He met us at exactly 8am as arranged and was out of the harbour wall within 15 minutes and spent a full 8 hours out at sea he provide a light snack to keep us full of energy the weather was amazing and his assistant was great.
After we finished he filleted all of our cod and sent us home smiling we have already discussed returning in the summer.
I recommend tony and andy to anyone thats never been before because they are very patient and very understanding top blokes and we can't wait to go again see you soon tony and andy and thanks for a great experience