Charter Boat: Mistress
Boat and Skipper Details
Licensed For:
up to 12 passengers
Code Of Practice:
60 Miles
Hours:
2hr / 3hr / 10hr / 12hr / Multiple Days Trips
Type of Fishing:
Inshore & Offshore Wreck (Drifting and Anchoring) & Reef, Winter Uptiding, Shark Fishing, Species Hunts & Evening/ Night Trips
Tackle Available:
Yes - Contact Skipper
Bait Available:
Yes - Contact Skipper
Boat Specification:
Fast Offshore 105
Facilities:
Toilet facilities avaialble
Additional Description:
Mistress has been sponsored by Daiwa from the beginning of 2013. Daiwa have kindly given us a selection of their excellent, quality tackle for our anglers to try.

Mistress is a Fast Offshore 105 powered by a large Sabre Turbo Diesel engine. Giving her a top speed of nearly 20 knots. Therefore we can get to all those fishing marks inshore fast or push offshore if we really need to.

Mistress & Skipper Rich are licensed and Insured to carry 12 passengers and 2 crew, allowing us to operate within 60 miles of Whitby, all year round.

There is plenty of space onboard Mistress and ample seating is provided for our anglers' comfort whilst cruising. There is a large bait & filleting station fitted which will also hold up to 12 fishing rods. Rod rests are also fitted to the rails for our anglers use.

Mistress has been fitted with the absolute very latest navigation equipment. She has a fully integrated Raymarine navigation network system & new for 2015 a Maxsea TZ 3D plotter, Giving pin-point accuracy when locating wrecks or prominent fish holding features on the many reefs we fish here at Whitby.

Trips are generally 10 hours in length,
The shorter 2 & 3 trips will be catered for during the evenings throughout the summer, with us offering specialist light gear trips and will require a minimum of 6 anglers.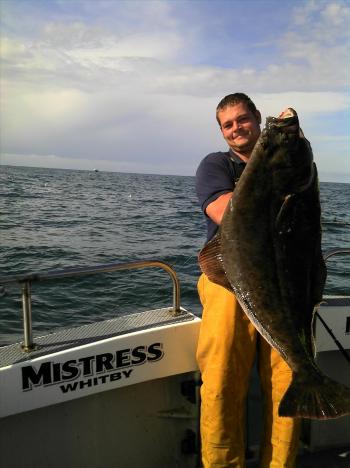 About the Skipper:
I Have been boat angling since I was 7 years old, and I'm keener now than I ever have been! I have over 20 years of local knowledge and experience of the wrecks, reefs and fishing grounds here at Whitby, I am 100% committed to my charters and give 110% effort every time. Im friendly & patient and always at hand to give guidance, assistance and advice.

I take a pride in my boat and the service I provide. All hire tackle is top quality Daiwa multipliers filled with braid line coupled to matching well balanced Daiwa rods.

*** Whitby Charter Skippers Association 2018 Competition Dates ***
Spring Competition - 7th - 22nd April 2018
Summer Festival - 23rd June - 15th July 2018
Late Summer Competition - 15th - 30th September 2018


These events are extremely popular, please book early and get the best tides!!!!

Follow Mistress on Facebook - Mistress Sea Angling Charters &
Twitter @MistressFishing

Contact me by
PHONING 07977 436903 or
E-MAIL seafishingwhitby@hotmail.co.uk for bookings, - All the best, Rich

NOW TAKING BOOKINGS FOR 2018 - BOOK EARLY TO GET THE BEST TIDES!!!
This Charter has been listed as Suitable for Diving Trips. Contact the Skipper for full details.
Sunday
Monday
Tuesday
Wednesday
Thursday
Friday
Saturday

Color for Fully Booked

Fully Booked

Color for Partially Booked

Partially Booked

Color for Available

Available

Color for Not Available

Not Available

Color for Unspecified

Unspecified

N.B. Not all Skippers keep this dairy up-to-date. Always check with skippers before making any plans. Last calendar update: 16-Jan-2018

Mon 1st Jan
Tue 2nd Jan
Wed 3rd Jan
Thu 4th Jan

8 places available

Fri 5th Jan
Sat 6th Jan
Sun 7th Jan

6 places available

Mon 8th Jan
Tue 9th Jan
Wed 10th Jan
Thu 11th Jan
Fri 12th Jan
Sat 13th Jan

3 places available

Sun 14th Jan

6 places available

Mon 15th Jan
Tue 16th Jan
Wed 17th Jan

7 places available

Thu 18th Jan

Night Trip - 5pm-12pm - 1 places available

Fri 19th Jan
Sat 20th Jan

6 places available

Sun 21st Jan

8 places available

Mon 22nd Jan
Tue 23rd Jan
Wed 24th Jan
Thu 25th Jan
Fri 26th Jan
Sat 27th Jan

2 places available

Sun 28th Jan
Mon 29th Jan
Tue 30th Jan
Wed 31st Jan
Reviews
Summary:





tony barrett (10/01/2018)

managed to get out today tide did not look good only 5mts but you have to be in it to win it . Only 2 of us plus rich on the boat after a couple of no shows but all credit to rich for taking us out knowing he not going to make any money for the day. We started out close to the harbour fishing over kelp and had a good hour taking small codling putting a lot back just in size , Had a move when tide got going then had a couple of good hours putting about 12 good size fish in my box from 3 to 8lb . Was quiet for a couple of hours at slack water then back on them for last hour don,t know what final count was but we had a great day cheers rich. ps you guys who didn,t get out missed a cracking day.


Francis Brannigan (05/12/2017)

Sailed with rich for a 6hr trip once again he put us on a good number of decent sized cod...not bad for my first uptiding experience a good day had by all

tony barrett (31/10/2017)

Got out yesterday only managed 6 hours as weather turned bad but still managed 13 keepers and 10 put back all in size great day out cheers rich another good day at sea be back next week .

tony barrett (20/07/2017)

Cheers rich no matter what the final result got my name at the top of the leader board been a good teacher over the last 3years

Andrew Patterson (26/06/2017)

This Skippers Attention to detail is second to none!! He is on the ball, glad to help and gives advice where and when needed, fantastic value for money!! I highly recommend this Boat!! And Skipper Rich, I was on board today, with my 2 sons 9 & 8 years old & and they we're absolutely overwhelmed with this experience, it left them asking when can we come back lol!! Great day had by all!! Thanks Rich!!!
Latest Catches 693 photos uploaded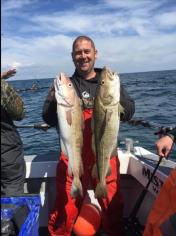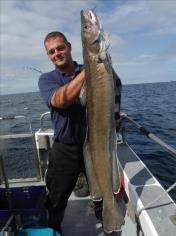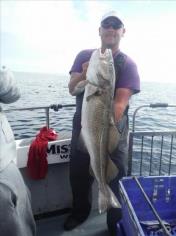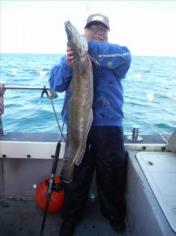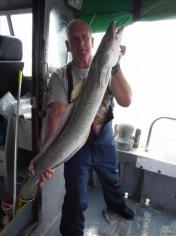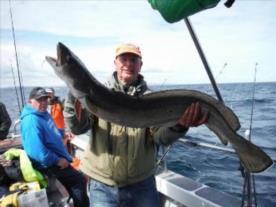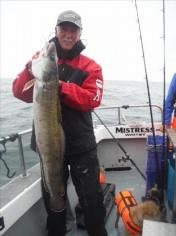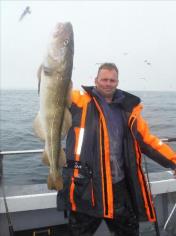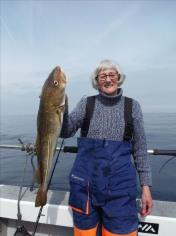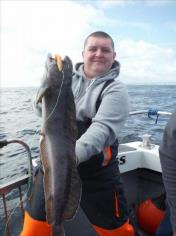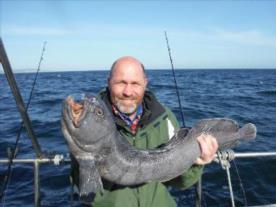 Latest Fishing Reports
14/01/2018

Fishing Report by Rich Cope

14 Jan 2018 by Rich Cope

This reports a bit late in coming, it covers last friday and sunday.

Fishing has remained fairly good. Friday we got among the fish again boating 60-70 keepers, with lots of chuck backs.

Sunday we had a slow start with a lift in tides i tried a few other spots ive not visited for a while, but with it being slow i moved for the start of the flood with 4 hours of the trip remaining, we didnt have to move again. We took a steady picking of codlings keeping around 40 and returning the smaller ones.

Best baits continue to be a mixture of dirty squid, black lug and cart.

The weather looks to be coming back off the land for next week, we only need 3 to sail folks, so if youre interested give me a call or text on 07977 436903 to confirm your place.

Tight lines - Rich

Pictured is Mistress regular with a few out of his 20+ codling haul

10/01/2018

Fishing Report by Rich Cope

10 Jan 2018 by Rich Cope

Cracking day on the Cod here again at Whitby. With a perfect forecast and only two lads I sailed as I didnt want to let them down.

The tides were quite small and thought we were in for a slow day, but it looks like that south easterly motion got the fish fired up in a few places.

We finished up with 60-70 keepers upto 8lb with quite a few throw backs. Best bait was dirty squid and black lug. With a bit of Tonys secret additive!

The best angler caught around 30 codlings himself, the best of the day of 8lb went to Tony from Doncaster.

If you fancy a trip with me, give me a call or text on 07977 436903

Tight lines - Rich

Pictured are Dave from Bradford & Tony from Doncaster with a few of their fish.

03/01/2018

Fishing Report by Rich Cope

3 Jan 2018 by Rich Cope

Good evening guys! Heres an update from Whitby

We've been lucky enough to get to sea a couple of times this week. Both days have been breezy and conditions not perfect but we've still managed to get amongst the fish!

Best fish this week so far was a shade under 10lb, but we've seen plenty in 4-5lb bracket.
And loads of 2-3lbers.
Best bait continues to be black lug, dirty squid and crab cart.

We have 6 spaces tomorrow (thursday 4th jan) and completely free for friday 5th jan. We only need 3 lads to sail. Trips are £5 per person per hour. Bait and tackle can be supplied at cost.

If you're interested please give me a call or text on 07977 436903

Tight lines Rich

The best fish this week, a shade under 10lb

23/12/2017

Fishing Report by Rich Cope

23 Dec 2017 by Rich Cope

Happy Christmas guys, hope youve all had a lovely time.
Leading up to the big day we ran a night trip, a few hours sleep then on to a day trip, my deckhand Clag and me were ready for break following our day at sea!

The fishing was ok too, I only had 5 lads for the night trip but we all took a good few fish, 2 lads took a dozen cod and the rest of us 6/8 cod a piece so a good night was had by all.

We were full for the day trip, but had a drop in tides, and a blustery day, meant we were limited to where we could fish, never the less we took a steady picking of cod finishing up with around 50 keepers again, plus chuck backs. The best angler getting around a dozen.

Best bait remains black lug, unwashed squid and cart.

We're running trips again from the 28th, with a day off for new years day.
If youre interested in a days fishing with me give me a call on 07977 436903
Or mail me at seafishingwhitby@hotmail.co.uk

Tight lines Rich

Pictured is Mistress regular Rob Gillings from Middlesbrough with his best fish of the night

21/12/2017

Fishing Report by Rich Cope

21 Dec 2017 by Rich Cope

We've managed a couple of days at sea this week so far here at whitby, the weather has been very settled and we've had good fishing to go along with it.

Both days saw 50/60 cod upto 7lb kept with around 30 chuck backs on top of that. Both days saw anglers taking over 10 cod home each.
Best baits remain black lug, unwashed squid and cart.

Iam putting an evening trip together this friday (22/12/17) itll run 6pm till midnight and cost £30 person. I have 3/4 people interested already so have space for another 4. Bait can be supplied if required.

I will start my trips again on December 28th and continue on through winter until i have scheduled yearly out of water painting and maintence.

If youre interested in a trip with me on Mistress either winter fishing or through the summer drop me a call on 07977 436903 or email me seafishingwhitby@hotmail.co.uk.

Summer weekends are starting to fill up on the better tides so please book sooner rather than later to avoid disappointment.

Heres a very merry christmas to all mistress anglers, I hope to see you all in 2018.

Tight lines Rich

Pictured is local angler Alan Ward with two of his 20 cod haul yesterday.